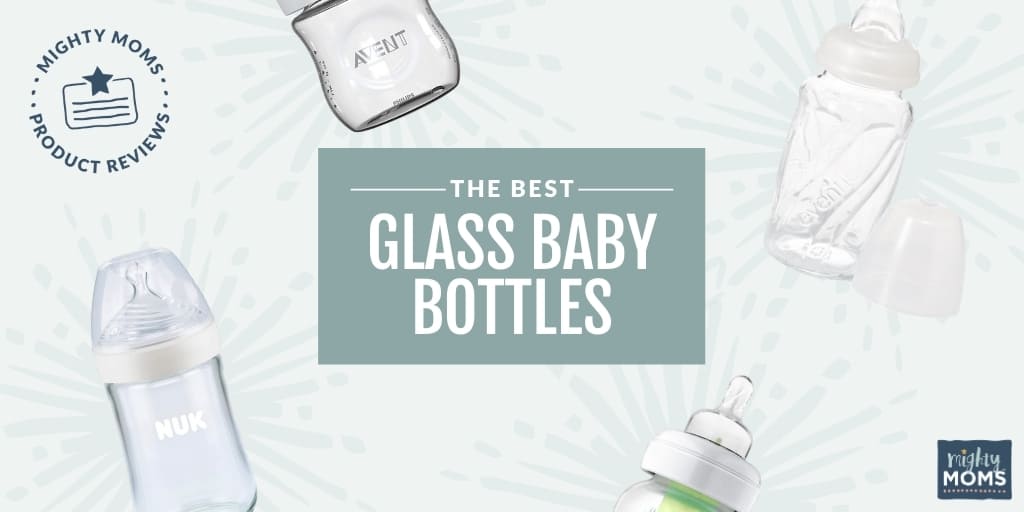 There's a reason so many parents are searching for the best glass baby bottles.
They are better for the environment (in production and in recycling capabilities)
Glass doesn't absorb smells
They don't stain over time, extending their use for years
You don't have to worry about chemicals leaking into your baby's formula or breastmilk during the process of warming or reheating
Sometimes they can be less expensive than many plastic brands!
In 2018, the AAP released a statement of concern about the amount of chemicals that are either added directly to food or come into contact with our baby's food via plates bowls and… can you guess? … bottles.
The best glass baby bottles completely remove that concern! The issue now, though, is which bottle should you buy? Here are the top five best glass baby bottles, detailed for different categories so you can compare.
2 Must-Read Tips for Using the Best Glass Baby Bottles
Before you jump into the comparison chart, though, let me offer a few tips on using these bottles.
Tip #1: Sterilizing Needs to Happen
Yes, you can use the dishwasher, but you will need to make sure to run it with hot water and a hot dry setting. See more tips on this from CDC.
If you don't have a dishwasher, or prefer to keep your glass baby bottles separate from the stroganoff you had for dinner last night, a good sanitizer/steamer will do the trick.
Most bottle brands also have their own sanitizer, but I prefer to get one that will fit with ALL bottles, because my kids are snobs and the bottles Lauren liked, Elena hated, and I didn't want to buy more than one expensive sanitizer. This is the general sanitizer most parents like most.
Tip #2: Remember…Glass Isn't Plastic
First of all, glass breaks. It will happen eventually, although if you choose a bottle with borosilicate glass that "eventually" may turn out to be 10 years. Either way, if at all possible, purchase a silicone sleeve to keep pieces from ending up everywhere.
Secondly, glass is heavier than plastic. Even though the neighbor boy is holding his own bottle at six months, your baby may need a bit more time to lift the heavier glass on his own.
Finally, glass is a better conductor of heat than plastic. This means that it may heat up faster than you were expecting. Keep a close eye on things in the beginning, until you get a feel for the warm times, and don't forget to test that milk/formula on your wrist before handing to your baby!
Rating the Best Glass Baby Bottles
So what, exactly, defines the best glass baby bottles? Here's a quick overview of how I've researched up the winners.
Detailed Reviews of the Best Glass Baby Bottles
The Best Glass Baby Bottles Tick All The Right Boxes
Whether you're breastfeeding or using formula, all these glass baby bottles are sure-fire winners. The real challenge will be determining which factors and benefits are highest on your priority list.
The best thing, though, may be that you are buying something guaranteed to be clean and safe for generations to come. 🙂
We ♥  honesty!  This post contains affiliate links that provide extra money for our mutual coffee habits addictions. Click here to learn more. As an Amazon Associate I earn from qualifying purchases.