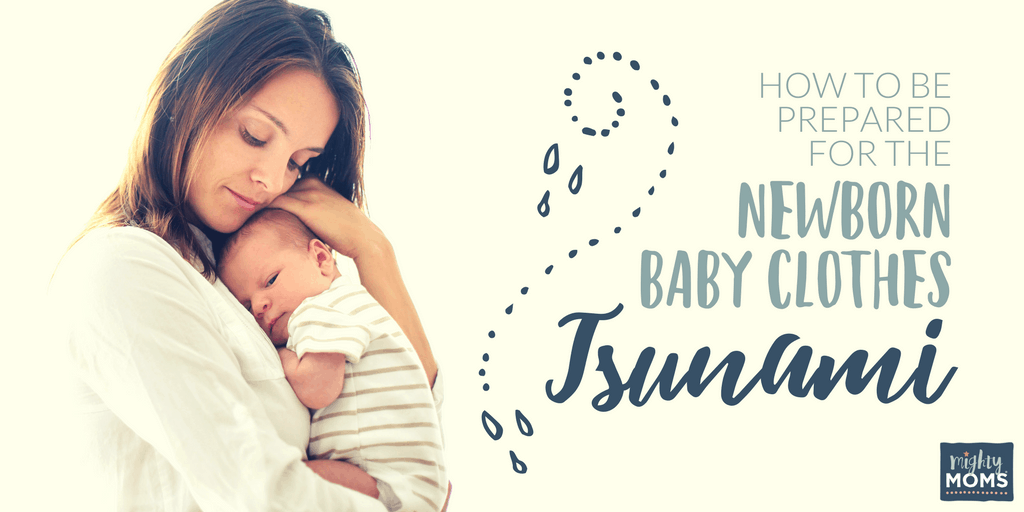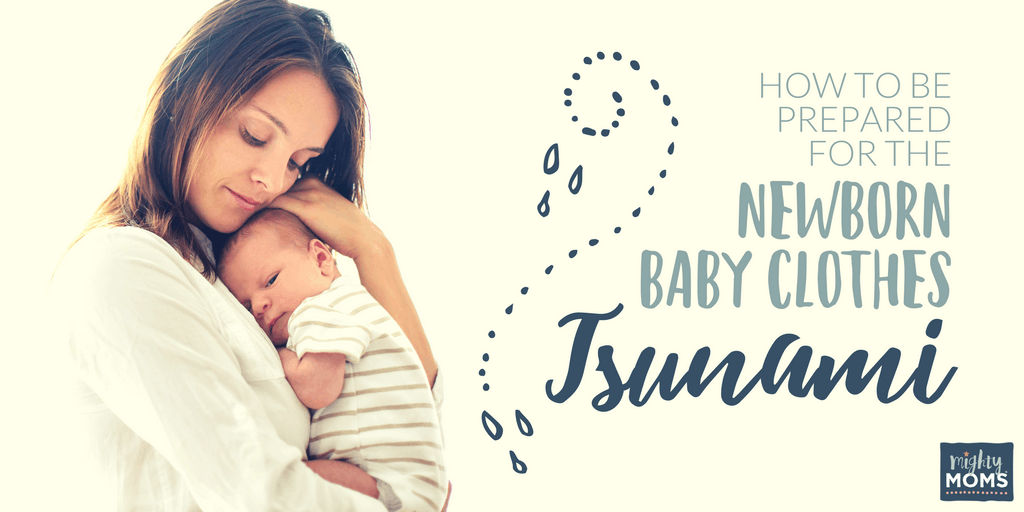 It's coming.
It will take you by storm.
It will build in fury against you.
It will swallow and spit you back out before you even realize it's hit.
What is it, you ask? It's the newborn baby clothes tsunami…nami…nami…nami…
In my experience, no one is safe. Whenever that sweet babe makes her first appearance, well, so will the tsunami.
And do you know what the really crazy thing is? How much those baby stores with their "must-have" items are not helping. They're only feeding the tsunami!
You know the feeling. You take one look at that "baby registry checklist" on all those store websites, and it hits you–your baby is going to need her own house! Because there is no way that you, your spouse, your baby, and all her stuff is going to fit in your two-bedroom apartment.
Now, I can't guarantee that anything I say will keep Grandma from buying 17 Easter dresses, but properly stocking your baby registry can perhaps pull in the reins on most of your friends and family members.
So let's talk about what your baby really needs and how you can maybe help downgrade the tsunami into a nice surfing wave that you can ride straight into parenthood.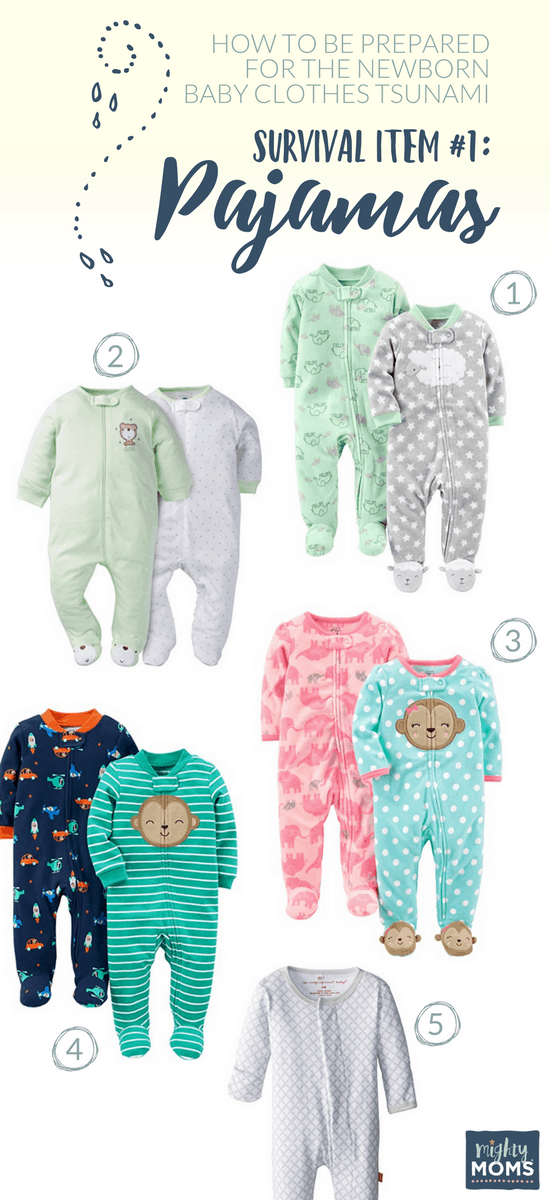 1. Lamb/Elephant  |  2. Teddy PJ's 
3. Monkey/Elephant  |  4. Monkey/Vehicles
5. White Diamonds
Newborn Baby Clothes
Survival Item #1: Pajamas
The #1 secret I wish I'd known before filling out a baby registry is how much time my newborn would spend in pajamas. Sure, all those newborn outfits are more adorable than a panda cub eating a cake pop on a water slide, but nothing beats the convenience and warmth of a good one-piece, footed pajama.
After all, for the sake of recovering from childbirth and protecting your tiny squish from the germs of the outside world, you'll most likely be spending the majority of your time at home for a while. You yourself will probably pass more days in pajamas than you ever have in your life.
Your baby deserves to be just as cozy and comfy in her pajamas as you are in yours. Talk up your desire for sleepers, and you'll feed the tsunami with what you really need. So what should you look for when choosing pajamas?
Pajama Tip #1: Cotton Vs. Fleece
First, consider your climate and what time of year your baby will be born.
Are you expecting a late summer watermelon? (At least, it'll feel like a watermelon in your belly.) Help keep baby from overheating in light cotton pajamas.
Are you anticipating a wintry bundle? Keep baby snuggly warm in a fleece sleeper.
Pajama Tip #2: Snap Alternatives
Second, consider your state of mind.
When it's 4:27 a.m., you're no longer sure what year it is, and you're battling a postpartum emotional hurricane, the last thing you're going to want to deal with is a riddling array of snaps that requires an advanced engineering degree to solve.
Look for pajamas with zippers. Your exhaustion-addled brain will thank you later. Zipper-closure pajamas are becoming consistently easier to find in a variety of fabrics. I'm loving these fleece girly monkey pajamas! (Don't worry future boy moms! I found a boy's version of the monkey sleeper too.)
Another convenient option is a sleeper with a magnetic closure. These are fast and easy to open and close (a bonus for a particularly squirmy newborn!) and are especially useful if you're concerned about keeping baby warm. You can keep the top section across baby's chest closed while you change his diaper instead of having to unzip the entire thing.
So bottom line, you really need:
10-12 sleepers—because spit-up and diaper failures happen far more frequently than should legally be allowed.

1. Long-Sleeved Packs  |  2. Short-Sleeved Packs
3. Organic Cotton Overalls  |  4. Gray/White Bodysuits
5. Girls' Bodysuits  |  6. Boys' Bodysuits
Newborn Baby Clothes
Survival Item #2: Onesies
I'm about 82% sure that the first person who ever said, "Less is more," was thinking about onesies.
Before having kids, when I thought of baby clothes, one of the first things that came to mind was a little white onesie. After all, if you don't have at least one drawer in your house full of plain, white onesies, are you sure you even have a baby?
But let's be honest here. Who is going to reach for a white onesie when you have a closet full of outfits covered in baseballs, elephants, and puppies? Let me challenge you to rethink the plain, white onesie.
The only times I ever reached for white onesies was when adding an extra layer of warmth under an outfit. That's the perfect use for a white onesie! In that situation, a long-sleeved white onesie is worth its weight in gold!
As for other onesies and (even better) rompers–the florals, funny sayings, cute animals, etc.–that's the type of thing you'll probably find yourself swimming in when the tsunami hits! After all, that's the fun stuff everyone wants to shop for. Of course, it doesn't hurt to register for a few of your favorites.
So bottom line, you really need:
1. Anti-Slip Socks  |  2. Little Shoe Socks for Girls
3. Little Shoe Socks for Boys  |  4. Winter Booties
Newborn Baby Clothes
Survival Item #3: Footwear
What is it about baby feet? They are absolutely irresistible! But baby footwear is something we don't think about often enough.
Because, really, who wants to cover up those precious piggies?
The Magical Disappearing Socks
Oh, if only the tsunami was a tidal wave of socks.
There is no such thing as too many baby socks!
The problem with baby socks is two-fold. First, most of them fall off way too easily. Second, their microscopic size means that if you blink in their presence, they will become casualties of the baby clothes tsunami and never seen again.
Here are two quick secrets to reducing sock loss:
Get socks with a good cuff. Cuffed socks have better staying power and are less likely to fall off and disappear.
Check your washing machine really, really well! My front-loading washing machine has a rubber ring near the opening that I thought nothing could fit under. One day, I discovered that dozens upon dozens of baby socks had found their way behind the rubber ring–some of which had been missing for over a year–and were now ruined due to long-term water exposure and bleach. Yuck!
Booties and Slippers and Sneakers, Oh My!
Whereas there may not be such a thing as too many baby socks, the opposite may be true of baby shoes.
I've had two newborns and more pairs of newborn shoes than I care to admit. You want to know how many occasions I've actually used newborn shoes?
Once. For a funeral.
Truth be told, shoes on babies who can't yet walk are more trouble than they're worth. They're always in the way during diaper changes or falling off when you go places. You're better off with socks that look like cute shoes, such as a pair of adorable Mary Janes or some sweet sporty sneakers.
Exception: A pair of warm booties that are nearly impossible to kick off are indispensable for a winter baby or an especially wiggly baby who is remarkably adept at pulling off even the best of socks. Babies can be sneaky little jerks angels, and a good pair of booties might be what you need to ensure their tiny tootsies stay warm–and keep their socks from being dragged to the bottom of the ocean.
So bottom line, you really need:

1. Pink/Gray Jacket Set  |  2. Dotted Set
3. Sweet Bird Set  |  4. Blue Dino Set 
5. Navy Bear Set  |  6. Alien Set 
7. Gray Lamb/Elephant Set  |  8. Good Times Set
9. Snuggle this Muggle Set
Newborn Baby Clothes
Survival Item #4: Everyday Outfits
This is where the tsunami can really build up momentum if you're not careful. Every mom is going to want a few cute outfits for events such as the trip home from the hospital, meeting new family members, baby's first outing, etc.
So, what should you look for in choosing adorable, practical, everyday outfits?
Outfit Tip #1: Think Flexibility
This is especially important if you're having a baby during a seasonal shift.
You know what time of year I'm talking about–when those chilly, frost-encrusted mornings give way to afternoons of staring into Mount Doom, clutching the One Ring.
Look for outfit sets that come with options. Here are some delightful solutions!
Outfit Tip #2: Think Outside Pink and Blue
Whether or not you find out your baby's gender ahead of time, when the tsunami hits, you'll find yourself drowning in either pink or blue–if you don't plan ahead and proactively include other colors in your baby's wardrobe. Give your baby the whole rainbow! You'll appreciate the variation!
These are some of our favorites:
I'm in love with this green/yellow floral ensemble! It's perfect for a spring baby and would stand out in a sea of pink in baby's closet.
Choosing gender-neutral outfits, such as this cheerful grey set, can be a nice alternative to predictable hues. After all, grey isn't dull; it's en vogue!
Any Potterhead (except perhaps a Slytherin) would adore this Gryffindor-colored outfit, appropriate for either gender!
So bottom line, you really need:
2-4 fun, flexible, full-color outfits
Making Tidal Waves
Out of Ripples
As you can see, it turns out that newborns really don't need a ton of clothes!
Let's recap:
10-12 one-piece sleepers
4-5 fun onesies/rompers
2-3 short-sleeved plain onesies
3-8 long-sleeved plain onesies (depending on the season)
7+ pairs of socks
1-2 pairs of booties
2-4 cute everyday outfits
That doesn't seem too overwhelming, does it?
Of course, a few useless fun items will make their way into your baby's closet, due to you or someone else uttering the words, "Isn't this the cutest thing you've ever seen?!?" (I'm thinking about you, Yellow Ducky Bathrobe I bought when five weeks pregnant with Baby #1 which has never left its hanger.)
But if you can focus your baby's needs on the basics, it is possible to tame the tsunami and allow for smooth sailing into building a baby wardrobe!
Share this article and help your friends and family know what your biggest baby needs are! Or help a friend or family member who is expecting her first and unsure where to begin!
Have You Read These Yet?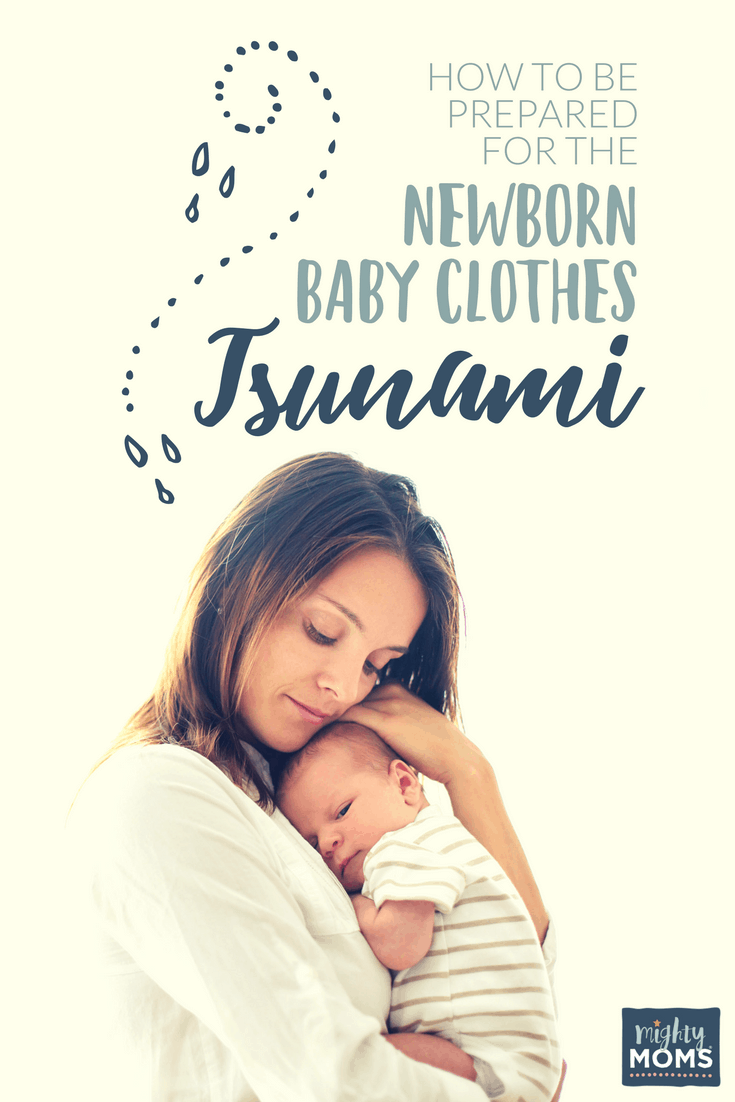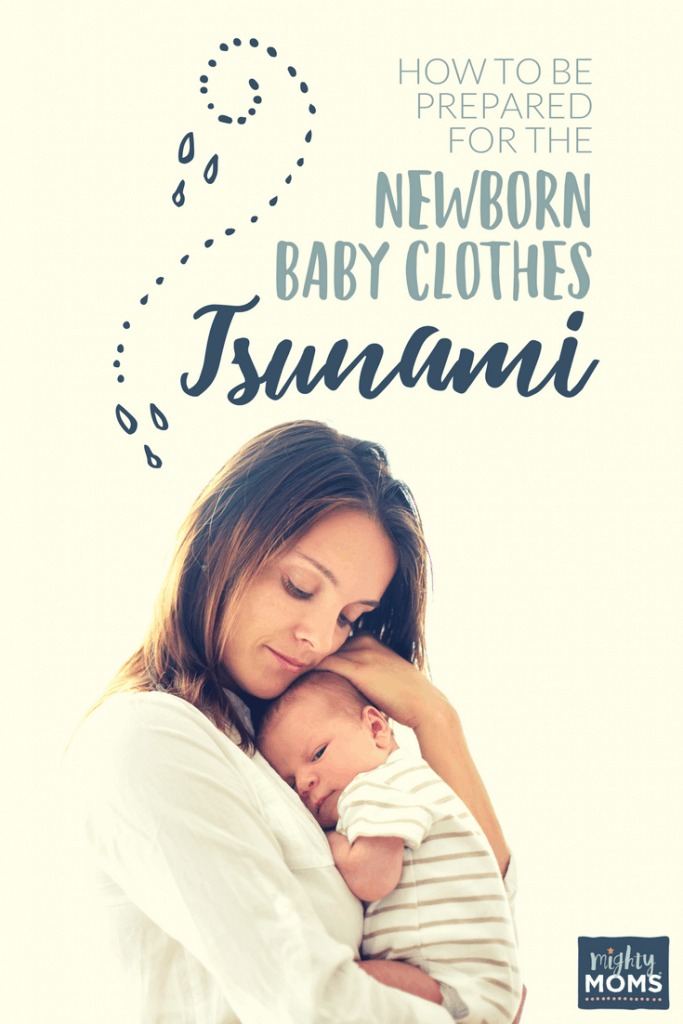 We ♥  honesty!  This post contains affiliate links that provide extra money for our mutual coffee habits addictions. Click here to learn more. As an Amazon Associate I earn from qualifying purchases.