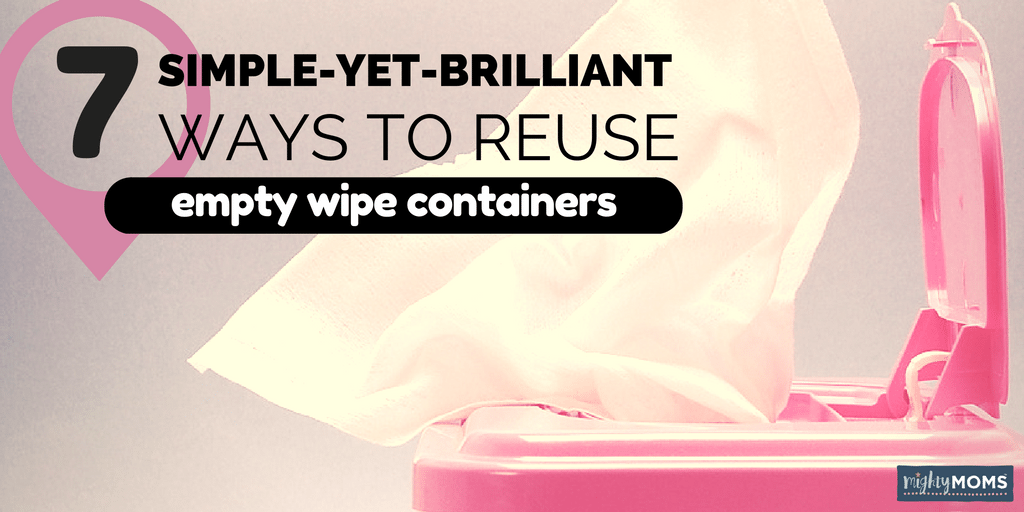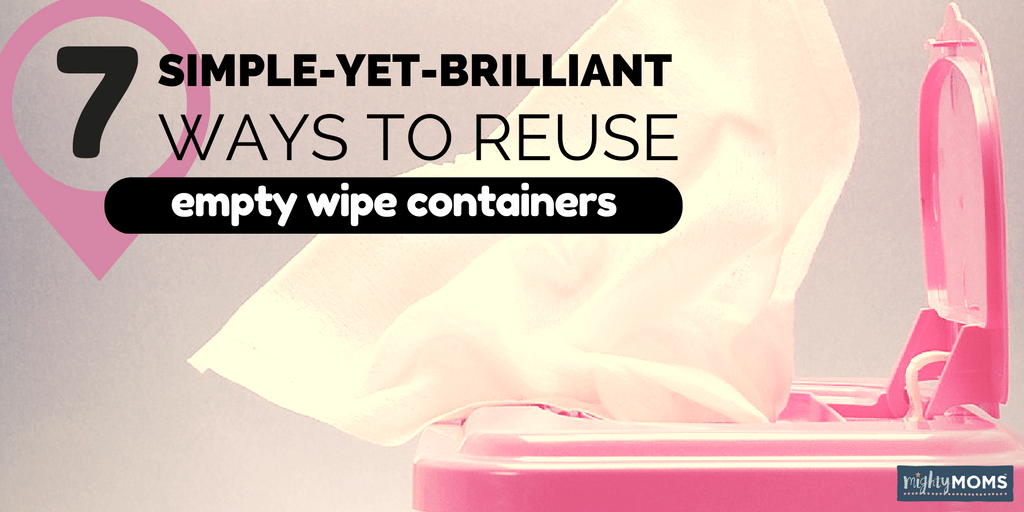 What do you do with baby wipe containers once the wipes have all been used?  I'm guessing you throw them away.   
Am I right?
I know that my baby wipe containers always end up in the trash.  100% of the time. What else am I supposed to do with them?  In fact, I purposely buy wipes in those soft travel packs (you know, these ones) so that they take up less space in the trash can.  Should I hide my head in shame?   I'm not an earth hater, I promise!
Perhaps if we had another use for those baby wipes containers, we'd not feel so guilty about tossing them.  A little less plastic in the local landfill is probably a good thing, right? So today I'm going to toss up some very clever ideas on how other moms have taken this trash and remade it into treasure.  
They are fast, simple, versatile, and in most cases, involve very few extra supplies. Win-Win!  After all, who has time for anything besides FAST and EASY?!?! So, let's jump on the DIY bandwagon and take a look at 7 ways to repurpose old baby wipe containers.
Smart Hack #1:
Reuse as Breastmilk or
Baby Food Containers
I know it may seem silly to say that you should reuse a container as a container, but I had to include it.  It's just to easy to forget to think outside the box baby wipe container for new uses.  (Bonus: No glue or glitter required!)
For all the nursing mamas out there, Lansinoh milk storage bags fit perfectly inside the wipes containers.
Why is this significant?  Because by keeping the milk flat as it freezes, you eliminate extra air in the bags, making it easier to to store more in less space.  In other words, you can maximize your storage.  

Another great repurposing trick is for baby food.
Once your child reaches the age where you can make your own pureed baby food, you can also store that in these bags in the freezer. So, hang on to your wipes containers for when that day arrives. (Sooner than you'd think!)

Smart Hack #2:
Feed the Monster Game
Inventing new activities for our growing baby to accomplish can be challenging. They get tired of the same old toys and want more to do.
Well, this little DIY game will keep them busy for a while! Your baby should be old enough to sit and sort items (without eating all of them). 
You simply make a little monster face on the lid of the wipes container – it could even be drawn on with a black sharpie. Then have a tray of various items that your baby can fit into the monster's mouth.  (Best for 1-2 year olds.)   
WARNING:  This is NOT the type of game you can let your baby play unsupervised!  This is a "Play with me,  Mama!" type of activity.  You need to watch him carefully to make sure none of those pieces up in HIS mouth instead of the monster's!
Anything from milk carton caps to Q-tips will work. Your baby will love pushing the items through the opening and also like feeling the texture of the different items.  An A++ in regards to teaching fine motor skills and texture awareness!
Smart Hack #3:
Traveling Boo Boo Kit
Here's another practical use for travel wipes containers – a traveling boo boo kit.
Throw it in your diaper bag or suitcase, or (my personal favorite) keep it in the glove box of your car.   Safely store extra bandaids, ointment, cleansing cloths, and other medical baby items you might find handy when traveling but always forget to buy. 
Smart Hack #4:
Peek-a-Boo House
This DIY project may take a little more time and need some additional resources, but it is an guaranteed baby-pleaser because…
Babies love to stare at pictures of themselves.
Babies love to start at pictures of loved ones.
Babies love to open things.
Babies love to close things.
This peek-a-boo house fulfills all four of these loves, making it a great homemade birthday or Christmas gift.  
Here's a full list of additional supplies needed:
3 old baby wipe containers

piece of cardboard

colored felt

hot glue gun

tape

scissors

pictures of your loved ones
You'll need to cut out (or pull off) the plastic openings of 3 travel wipes containers in order to make your "door" and "windows. And then attach everything to a piece of cardboard. The windows and doors can be covered in felt to make them colorful and realistic. Click here for the full instructions. This should take less than 45 minutes total!

Smart Hack #5:
Drawer Organizers
If there's one thing most every house with a baby needs, it's more organization! Baby stuff takes up a lot of space even though individual items can be quite small. Here's where old wipes containers can once again come in handy.

Deep dresser drawers are easily overloaded with items, but the baby wipe containers help separate everything so it's easy to see and easy to put items away. Keep things like baby onesies, socks, pants, bibs, and burp cloths each in its own container. A super simple way to organize.

Of course, this can be used throughout the home in your own drawers, the kitchen pantry, or an office desk. Once the lid is removed, wipes containers give you the perfect little storage space.
Smart Hack #6:
Lift-and-Find Matching Game
Similar to the peek-a-boo house, this DIY game focuses on lifting up wipes lids to reveal the picture hidden below.  However, this has an added educational component by allowing the child to match items on each side of the page.
In order to make this fun and easy game, you'll need a clear plastic protective sleeve and some glue. Simply attach the wipes lids to the top of the plastic with the glue and let it dry. Then print a little insert that goes into the sleeve for the matching game and you're good to go.  
While you could use the free printable here that focuses on color matching, you could also make your own that focuses on shapes or letters or numbers. Playtime is learning time for little ones. So, make the most of it!

Smart Hack #7:
Traveling Treasure Boxes
Lastly, travel boxes are another innovative way to reuse those baby wipe containers.
Versatile for children of all ages, these will keep you from stuffing toys down in your purse or diaper bag to keep baby entertained in the car and in stores, and help ensure they don't get lost. Just fill the empty wipes containers with a variety of small toys and store it in the car for upcoming road trips. Easy peasy.
Toys could include teething rings, small books, rattles, finger puppets, or little stuffed animals.  Click here for inspiration on the latest award-winning developmental toys you can fit inside. 

You could create several of these (because we all have too many baby toys anyway) and rotate them every so often. Baby will love seeing "new toys" to play with in the car!

Toys can also be switched as baby gets older and has different interests. And for toddlers or young children, you could include things like a notepad, crayons, and stickers. This will make your next car trip a breeze! 
Smart Hack #8
Readers Choice!
Well, there you have it – 7 ways to reuse baby wipe containers as promised.  Surely we can add one more!  
I know we've got some creative crafty mamas out there with some brilliant recycling hacks.
Share the your recycling idea below in the comments!
Hopefully, you feel as inspired as I do to make good use of the "junk" around the house instead of always throwing it away.
If you need me in the next day or two, you can find me with a stack of baby wipe containers creating peek-a-boo houses for Christmas gifts and organizing my dresser drawers!
We ♥  honesty!  This post contains affiliate links that provide extra money for our mutual coffee habits addictions. Click here to learn more. As an Amazon Associate I earn from qualifying purchases.
Have You Read These Yet?