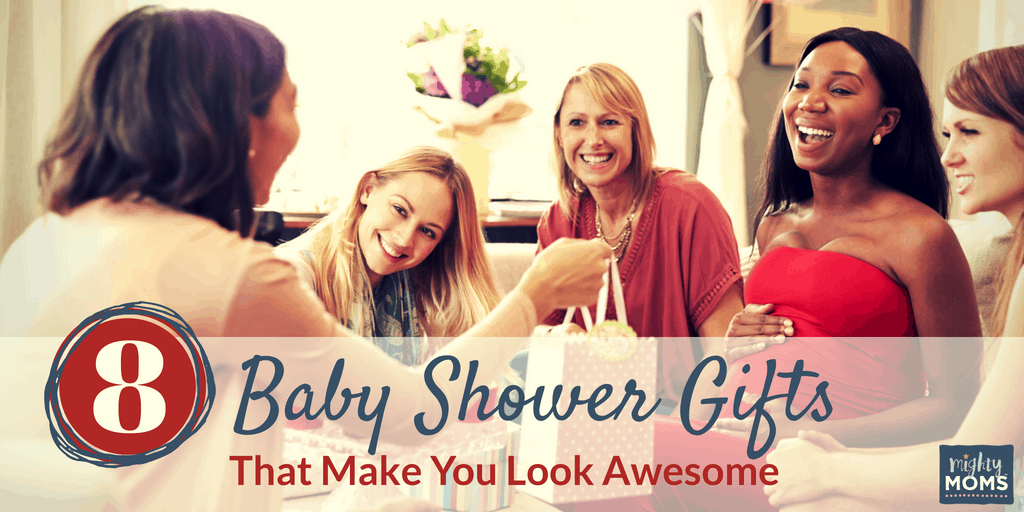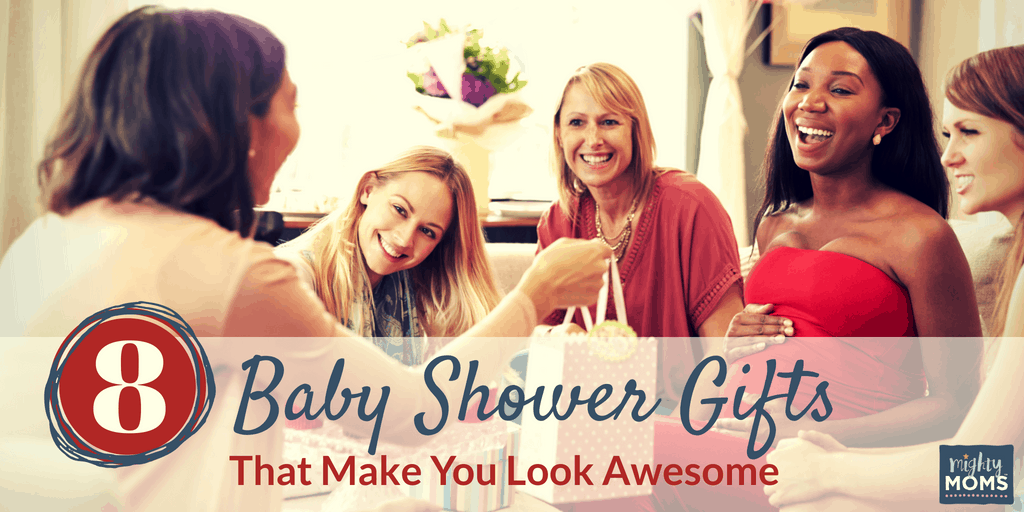 Everybody has a niche when it comes to baby shower gifts.
In my experience, there is usually at least one person at every single baby shower who will…
Hand-knit a beautiful baby blanket.
Fill a laundry basket with adorable, appropriately sized clothes.
Buy a big-ticket item: travel system, baby carrier, swing, etc.
Clear all the toys off the registry.
Buy a pack of diapers and fashion them into a cake.
Keep it simple and buy a gift card.
Fill a bag with a bunch of random items and then exclaim, "I couldn't resist. It was all so cute!"
And then there's me: the Rogue Mama.  The one who interrupts the chorus of "Oohs" and "Aahs" with a gift that that wasn't pulled from the registry.
*Gasp* I know, I said it.
I don't use the registry.
Now, don't get me wrong, baby registries are important. Mamas-to-be need the clothes and the car seats and the carriers which they have picked out.
It's just that they also need the things they don't know that they need.  The things they'll only truly value once they join the postpartum club.
So, if you're tired of bringing the 15th fuzzy blanket to the party, here are 8 baby shower gifts that will, I promise, make you look awesome.
Unique Baby Shower Gifts #1:
Post-Delivery Recovery Package
Most new moms are prepared for the pain of labor and delivery. Not as many are prepared for the pain of recovery.  You can help make sure they're ready by getting their "over-the-toilet" pharmacy all set up.

Baby Shower Gifts for Fast Healing
1. Witch Hazel Wipes | 2. Hemorrhoid Cream
3. Stool Softeners | 4. Pain Relief Spray
5. Ibuprofen | 6. Peri Spray Bottle
7. Gas-X | 8. Mesh underwear
Of course, if you really want to knock her compression socks off, send over one of these bad boys:
Unique Baby Shower Gifts #2:
A Cornucopia of Food and Drink
New moms are hungry. Ravenously hungry. They are also tired. Delusionally tired. Give them delicious things they can eat with one hand and you will win all the best friend awards.
Granola bars (preferably ones that are filled with protein)
Dried fruit
Trail Mix
Gift Cards (Eating out or having something delivered can be a real life saver during this time!)
Unique Baby Shower Gifts #3:
Baby Essentials Basket
This gift will potentially save your new mom friends from a 3 a.m. emergency trip to the store. What baby needs, baby gets, and luckily, you know what baby needs. (Or, if you don't, you can always cheat and find out here!)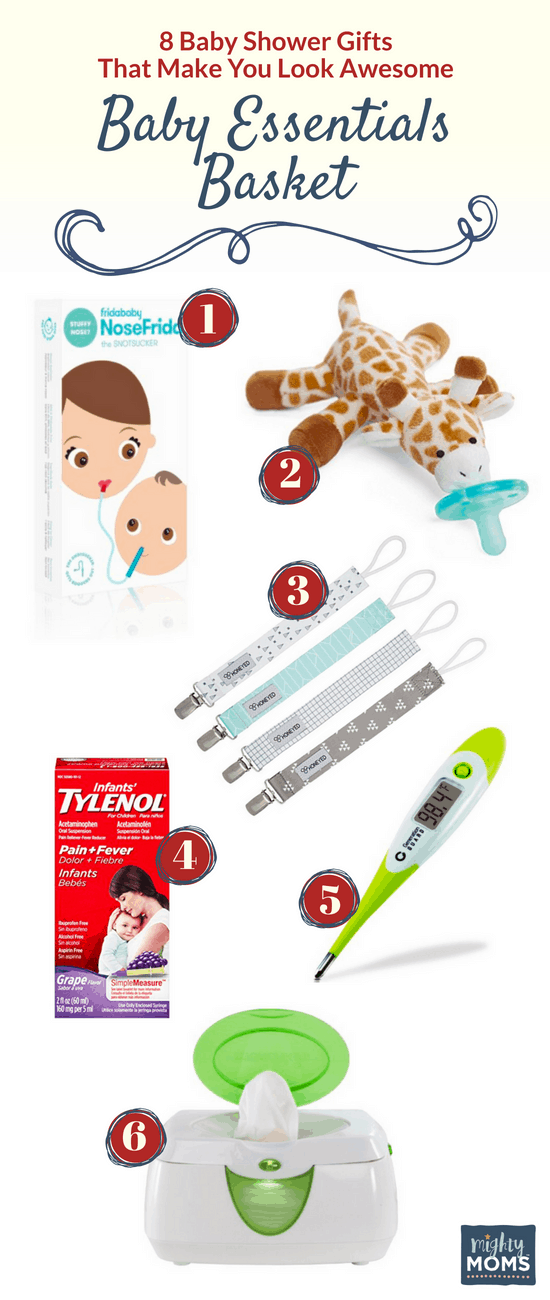 Baby Shower Gifts for Quick Soothing
1. NoseFrida: The Snotsucker | 2. WubbaNub
3. Pacifier Clips | 4. Infant Thermometer
5. Infant Tylenol | 6. Wipes Warmer (Nothing wakes a sleepy baby like a cold bum wipe)
Unique Baby Shower Gifts #4:
A Small Handbag
You, sage mama, know that the time will come when a new mom will leave her house alone again. When that day comes, ain't nobody got time to transfer things from the diaper bag to a purse.
Instead, it becomes incredibly handy to have a small handbag like this one that will fit everything you need: phone, keys, lipstick, etc. Something like this is small enough to fit in your diaper bag and easy enough to grab by itself for those times you don't need to bring diapers and six extra outfits along with you.  (Bonus points if you throw a surprise Starbucks gift card inside!)
Unique Baby Shower Gifts #5:
Breastfeeding Survival Kit
Breastfeeding is a wonderful and beautiful thing. It can also be really hard at first, so why not plan ahead and present her with a few thoughtful baby shower gifts that can make breastfeeding a LOT easier?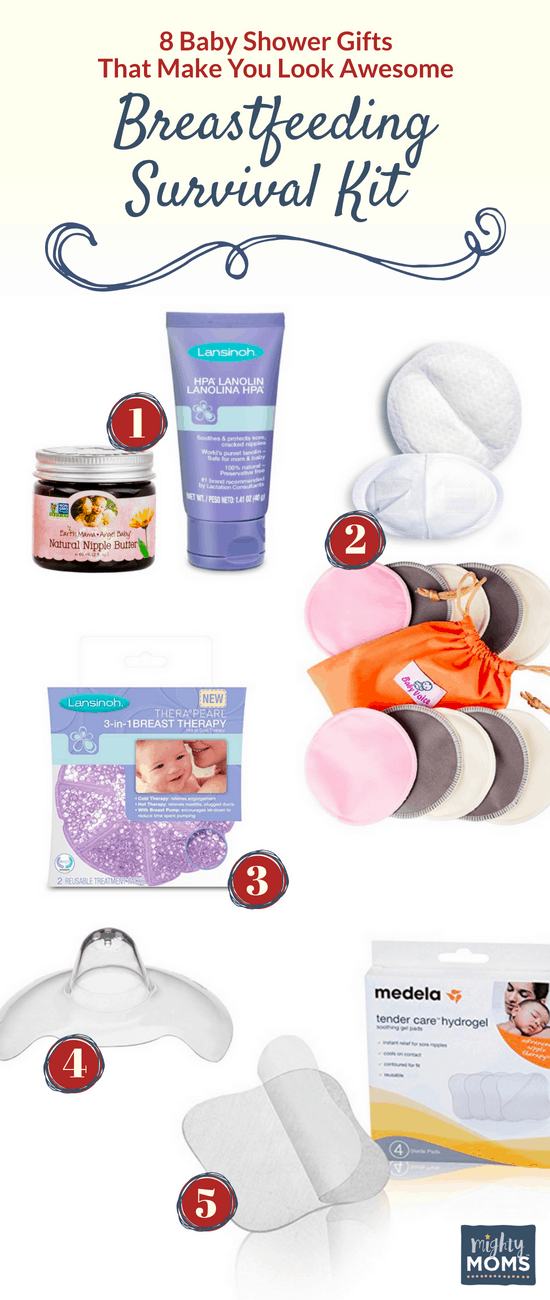 Baby Shower Gifts for Easy Breastfeeding
1. Nipple Butter or Lanolin | 2. Disposable or Reusable Nursing Pads
3. Breast Therapy Packs | 4. Nipple Shield
5. Soothie Hydrogel Pads
Unique Baby Shower Gifts #6:
Freezer Meals
Freezer meals are a beautiful thing postpartum because you can use them when you really need them. Meals often get delivered in the first two weeks home when new moms likely already have a few extra hands around the house.
These meals are always welcomed and appreciated, but by the time her husband has gone back to work and her mom has left town, she's suddenly on her own with a baby AND meal prep. Not your friend, though. You stocked her freezer with a few meals because you knew it would help ease this transition.
Need some simple freezing inspiration? Here are a few excellent prepare-and-freeze cookbooks Heather's used for years. (There are quite a few because ALL of Heather's cooking is make-ahead these days…)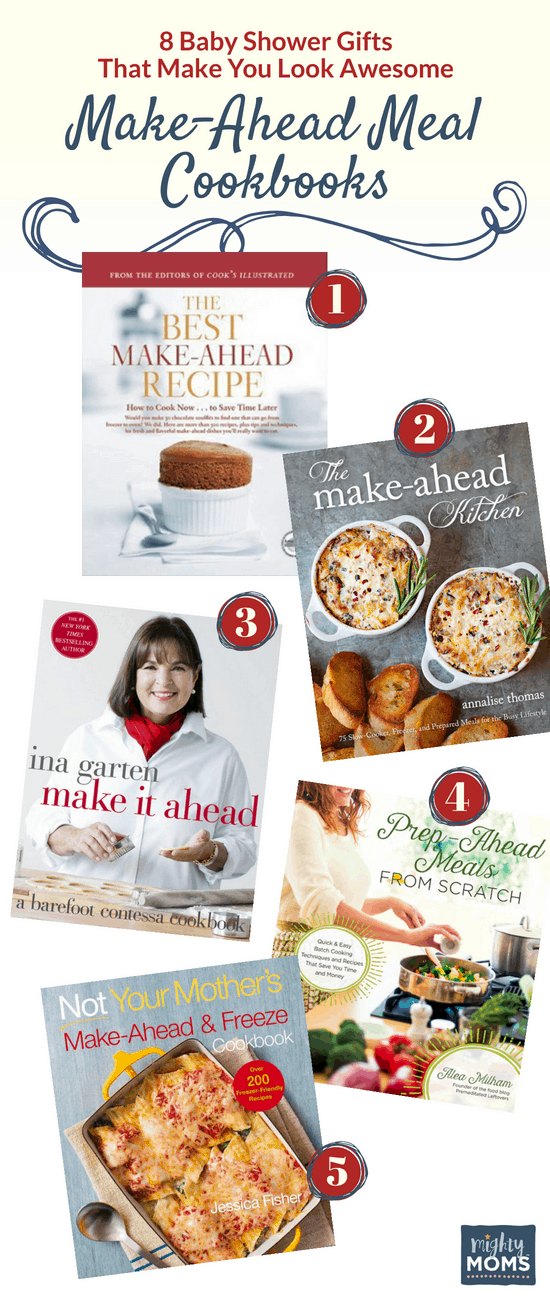 Baby Shower Gifts for Easier Meals
1. The Best Make-Ahead Recipe | 2. The Make-Ahead Kitchen
3. Make It-Ahead | 4. Prep-Ahead Meals from Scratch
5. Not Your Mother's Make-Ahead and Freeze Cookbook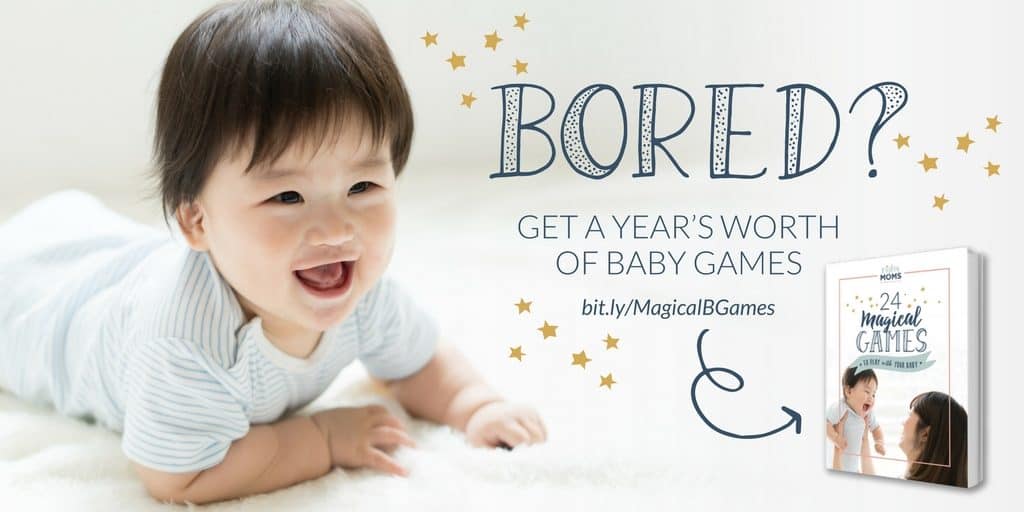 Unique Baby Shower Gifts #7:
Socks and Booties
Socks. Nobody ever thinks to buy baby socks, but you know that she can never have enough.  Angels will sing over this gift. You can have fun with this one, too, because there are countless options for you to choose from. Keep those little piggies covered!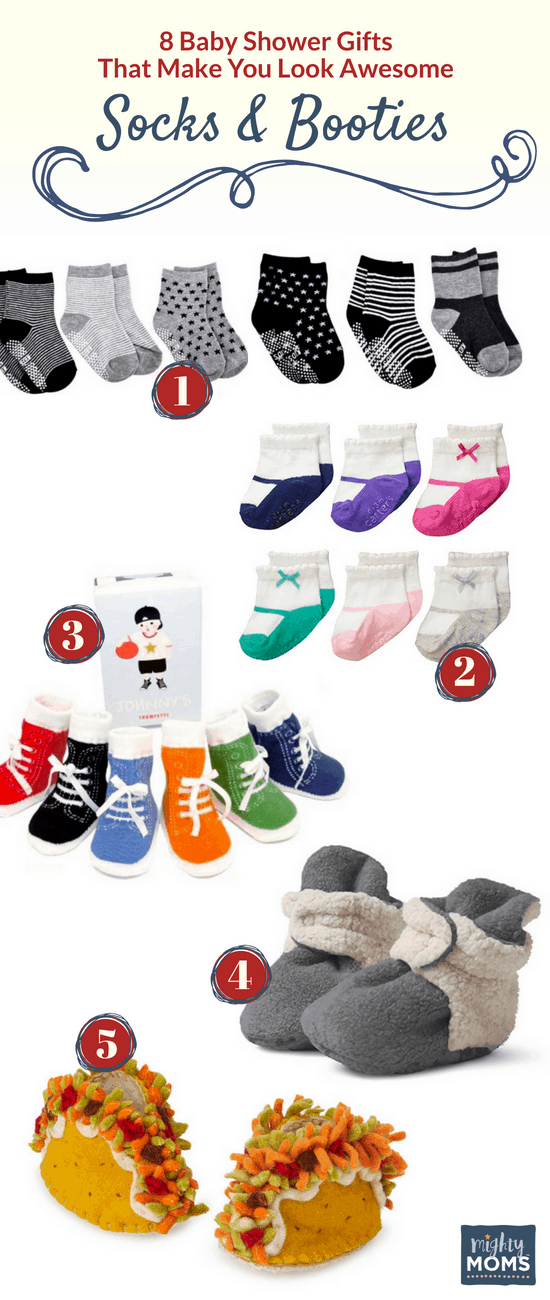 Baby Shower Gifts for Adorable Feeties
1. The Non-Skid Ankle Sock | 2. The Mary Jane
3. The Shoe Sock | 4. The Fleece Bootie
5. The Taco Bootie (or other crazy & unique bootie styles found here.)
Unique Baby Shower Gifts #8:
Babysitting Coupons and Date Night Gift Cards
The time will come, as you well know, when your new mom friend will desperately need to feel some semblance of normalcy. Dinner. A movie. A few laps around the mall.
You can provide these opportunities for your friend because you know what she loves, and you can help make it happen by promising to babysit when she feels ready to step out alone for a few hours.
The key here? Follow-up. A few months after her baby is born, remind her that you're on call whenever she needs a night out.
It's Okay to Go Rogue
Picture your next baby shower:  There you are, sipping your punch quietly as the gifts are being opened and fawned over. Baby BINGO cards are filling up with each new blanket, stuffed animal, and frilly, little outfit.
Then it's your turn.
The room quiets as the mama-to-be pulls out stool softeners, maxi pads, and other equally glamorous recovery items.  You see a mixture of panic and confusion flash across her face, but you know this is a gift she really needs even if she can't quite appreciate it now.
The appreciation will come fully a few weeks later when you receive a text message at 4:30 a.m. It will be typed in all caps, will include no fewer than 10 emojis, and will express what you knew all along…
Your gift was totally awesome.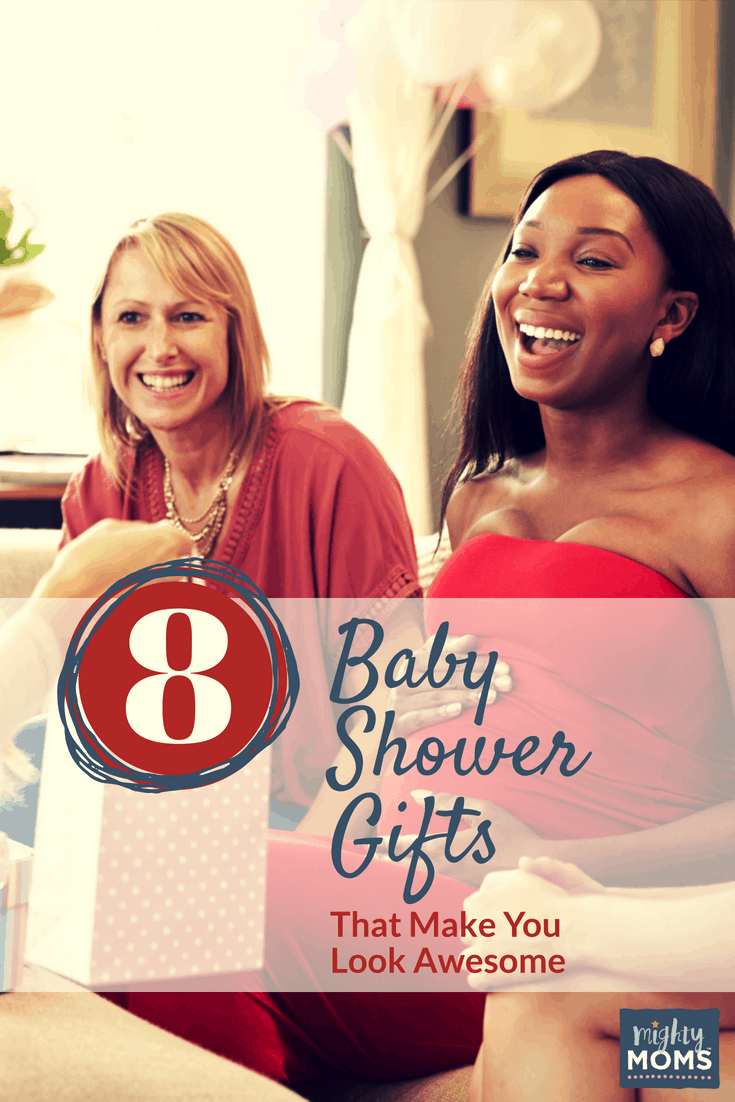 We ♥  honesty!  This post contains affiliate links that provide extra money for our mutual coffee habits addictions. Click here to learn more. As an Amazon Associate I earn from qualifying purchases.