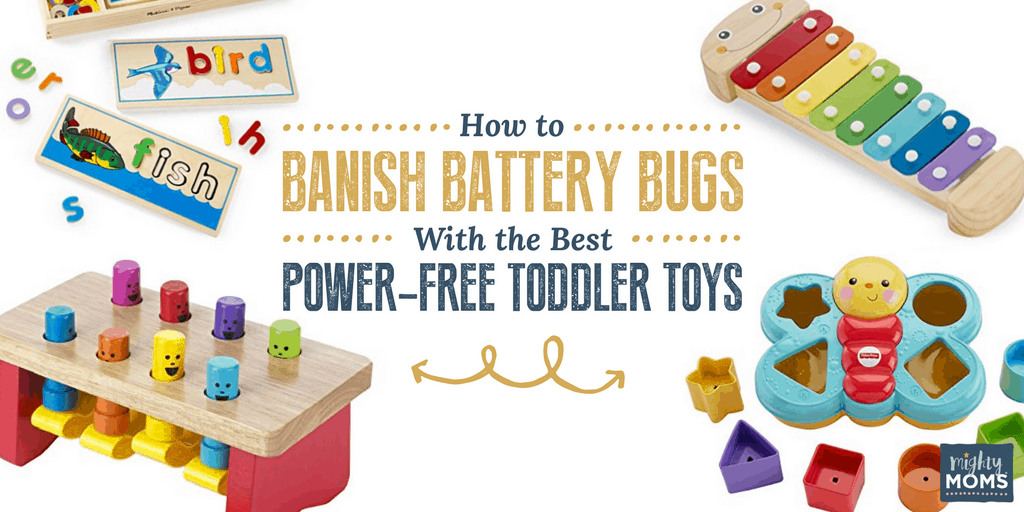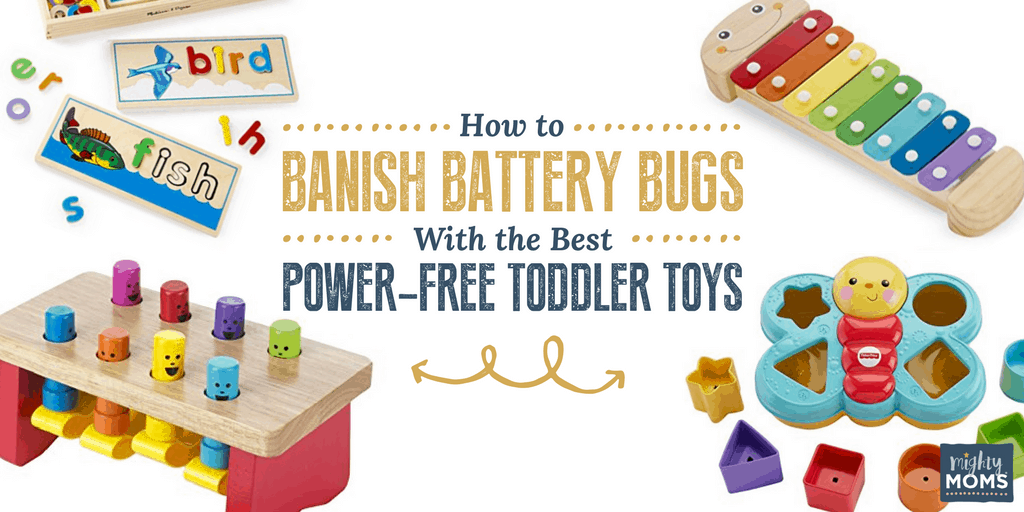 On a scale of puppies to mass group text messages, how much do you hate batteries?
They are crazy expensive.
They never last as long as you think they should.
They power some of the most annoying toys known to man.
Seriously, how many times a day can you hear the same rendition of "Twinkle, Twinkle, Little Star" before you snap?
But batteries are a necessary evil in this life. After all, they help operate a wide array of wonderful and brilliant technology.
Really, they're like bugs.
No, seriously! Think about it!
Some insects are extremely helpful and valuable little creatures, providing food and flowers via pollination. Similarly, some of those battery-operated toys are well-loved fixtures in your house.
But, on the other hand, some bugs are really noisy, potentially dangerous should the kids get a hold of them, and possibly costly. (Think termites! Yikes!)
Therefore, don't you want to try to minimize them? At least to some extent?
Well, look no further. I'm ready to help extinguish some unwanted battery pests from your home.
And since toddler toys seem to be the worst at requiring battery bugs, let's talk about some fantastic battery-free toddler toy-alternatives he will love!
Best Battery-Free Toddler Toys
for Construction Creativity
What toddler doesn't love building stuff and then knocking it down? Toys that stack, connect, and build are great entertainment that requires virtually no maintenance.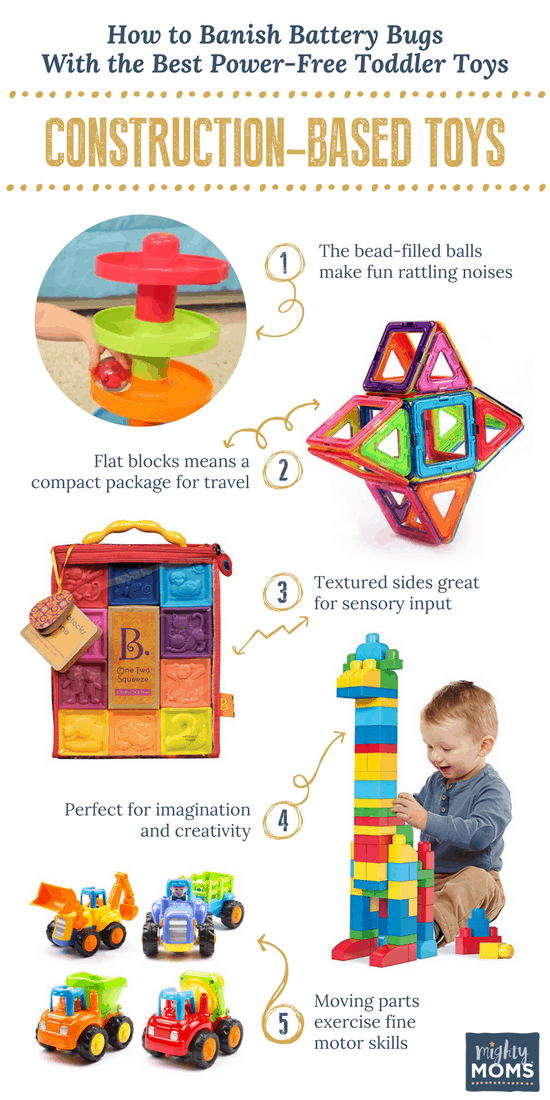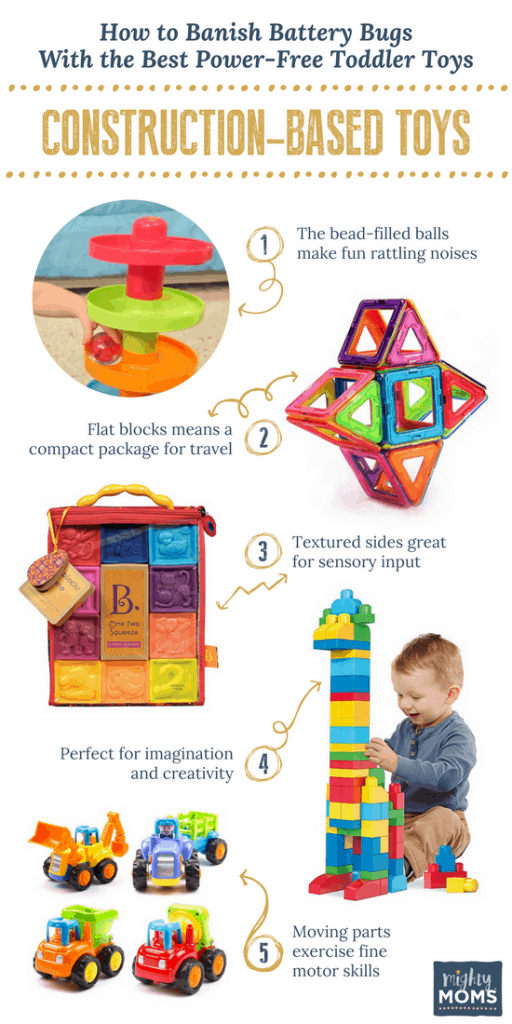 #1.) Roll 'n Swirl Ball Ramp
My oldest got the Roll 'n Swirl Ball Ramp for her first birthday, and we have gotten more mileage out of it than you would believe.  It's wildly entertaining and great for improving fine motor skills. It does, however, require some adult assistance to construct, but my toddler loves to pull them apart and try restacking the layers herself.
#2.) Magnetic Building Blocks
We've already shared how magnetic blocks help your toddler learn cause and effect, but how do you choose? There are so many options out there! These magnetic blocks are flat (easy to stack and store!), and they come in simple squares and triangles, which allow for your child's imagination to take charge.
#3.) Squeeze Blocks
These Squeeze Blocks are a fantastic alternative to traditional baby blocks. They are richly textured on the sides and are fun to squish! My girls love them, but with 874 5-star reviews on Amazon, it's clear they're not the only ones!
#4.) Mega Bloks
Before your child develops the fine motor skills to discover LEGO magic, Mega Bloks is the perfect place to start! They take less strength and coordination to manipulate and stack, making them ideal for toddlers to start to understand the basics of construction.
#5.) Friction-Powered Construction Vehicles
No construction site is complete without construction vehicles! These Friction-Powered Construction Vehicles are the perfect size for building a bug paradise, and I adore all the moving pieces. Those small joints are great for building fine motor skills and hand-eye coordination.
Just look at these great features:
The bulldozer arm moves up and down.
The trailer can be detached from the tractor, and the back door opens and closes.
The cement mixer really spins.
The dump truck can hold and dump out small objects.
Best Battery-Free Toddler Toys
For Sneaky Learning
Toys that encourage cognitive learning are always high up on any mom's wish list. Whether they're discovering musical concepts, shapes and colors, or letters and numbers, we love to watch our children learn!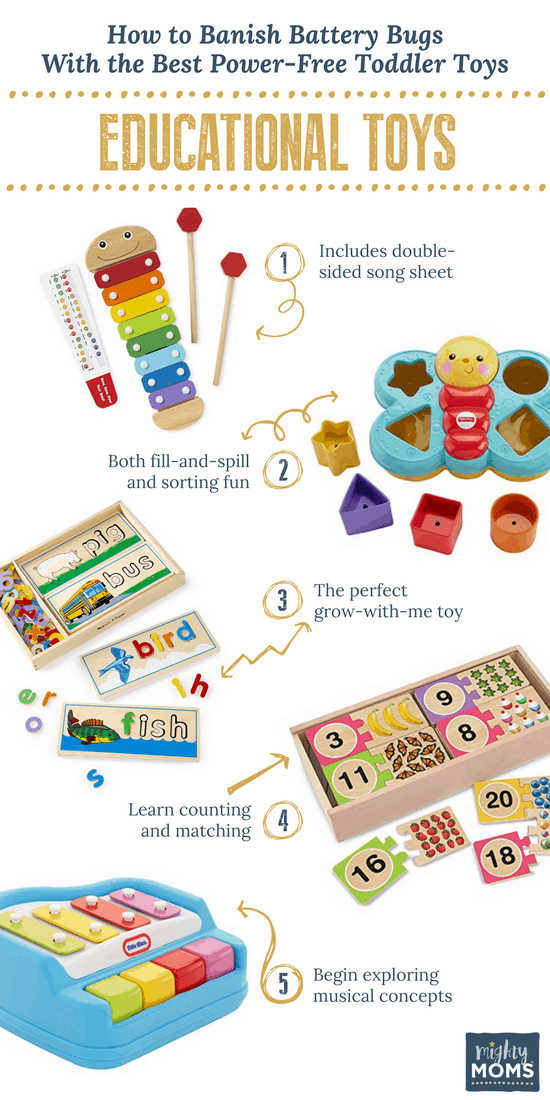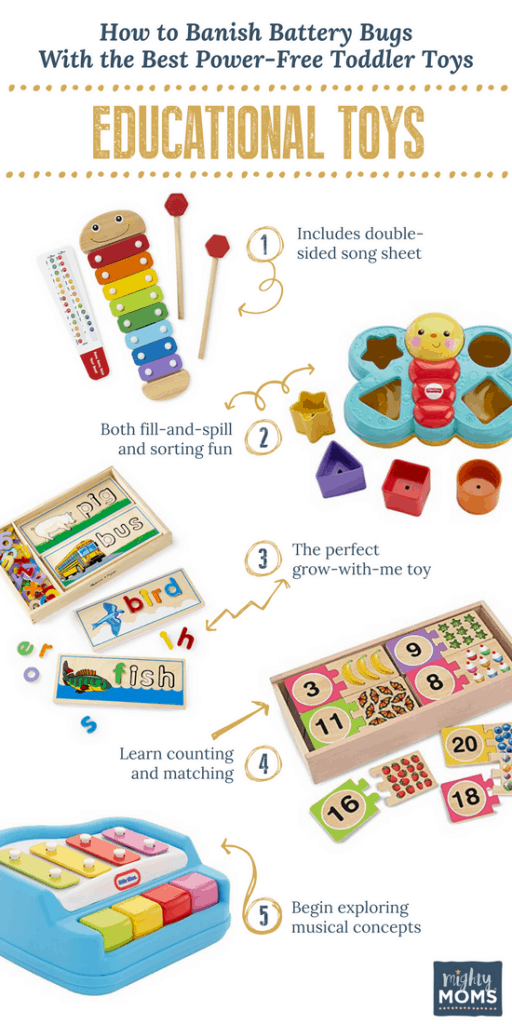 #1.) Caterpillar Xylophone
This is one bug you do want at your house! The Caterpillar Xylophone still makes noise, obviously, but it's a noise that allows your child to create his own melody. You probably won't get any of his songs stuck in your head. This is an awesome way for your toddler to learn the principal of cause and effect.
Don't worry about loosing the mallets, because they store inside the caterpillar as his antennae, making it easier for you to keep track of them. So cute!
#2.) Butterfly Shape Sorter
This Butterfly Shape Sorter was our very first shape-sorting toy, and it has continued to be a fan favorite! With the bright colors and the friendly face, it'll be the most inviting-looking bug in your home. It's just the right size too, so it's perfect for taking on road trips.
#3.) Spelling Boards
At first glance, these Spelling Boards may seem too advanced for a toddler, but I've found that they're a hit with playdates of all ages! Even better, they can really grow with your child:
Use the letters to help him grow familiar with the alphabet. (Look! The letter B! Buh, buh, B!)
Then add the boards in to build up puzzle-solving and matching skills. (See, the B goes here.)
And then eventually, they'll be perfect for your early reader! (B … U … G! Bug!)
#4.) Number Puzzles
If you're going to have letter puzzles, then it's only fair to have some number puzzles as well. What I love about these is the puzzle pieces only have one possible match.
Kids can start to learn easily which numbers go with each grouping of object simply by determining which boards fit together and which don't.
#5.) Tap-a-Tune Piano
While this battery-free toddler toy still makes plenty of noise, the Tap-a-Tune Piano allows for your child to play her own melody to build her imagination and creativity. The music nerd in me likes this one in particular because it outlines a major triad (think do-mi-so). This is good for two reasons:
Since the major triad is arguably the most important key component to understanding music from the dawn of the 13th century onward, it's the perfect way to prepare your child's ear for all varieties of music.
For your benefit, there are no clashing tones for her to create dissonant chords or intervals. Mom and Dad's eardrums can't be tortured!
Best Battery-Free Toddler Toys
For Hand-Eye Coordination
Hand-eye coordination is important for daily life skills such as eating, writing, and playing sports. Fortunately, we have some great playtime options to help develop this valuable skill. Check these out…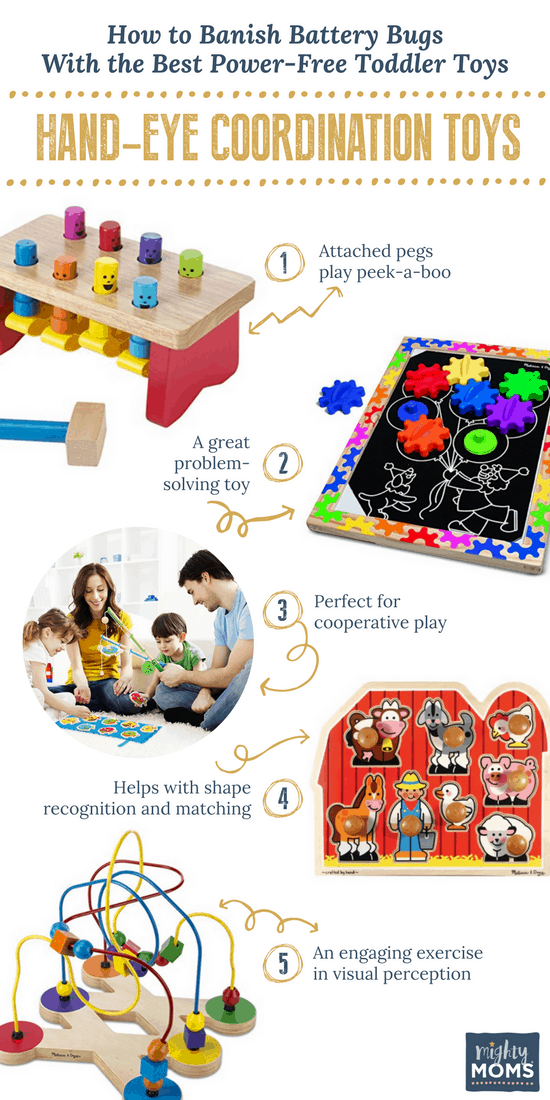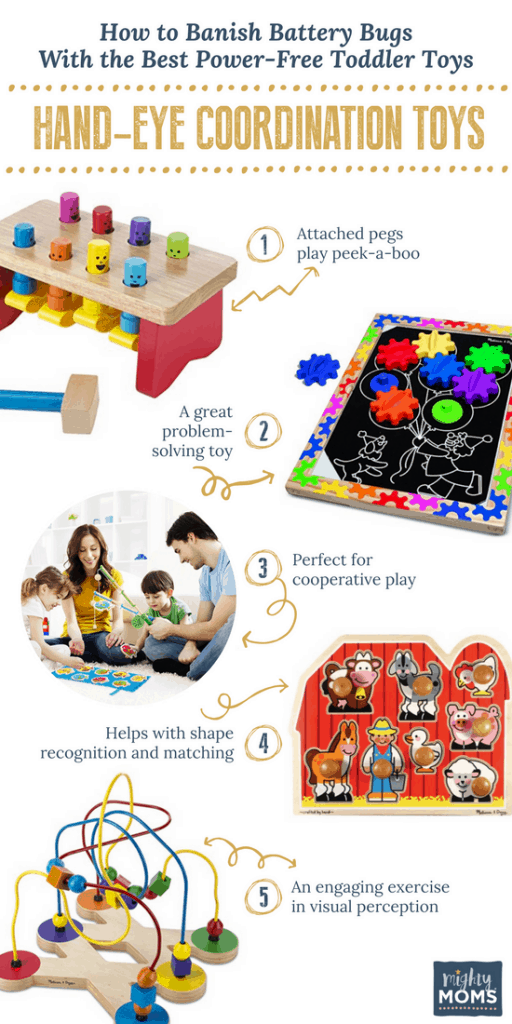 #1.) A Pounding Bench
Every kid loves to pound and bang on stuff! A pounding bench is a great way to let her hammer away to her heart's content.
What I love about this particular one is that the pounding pegs are attached, so you can't lose them. And they are connected to other pegs! When you child pounds one down, another pops up. What a great way for her to learn cause and effect!
#2.) Magnetic Gear Board
Can you tell we love Melissa & Doug? They have some of the best "bug-free" toys. This gear board is yet another great toy for learning cause and effect as well as dexterity.
There are five double-sided design templates which show you where to place each gear. When you have it all set up and ready to go, your child can turn just one gear and watch them all spin in different directions!
#3.) Catch & Count Wooden Fishing Game
The Catch & Count Wooden Fishing Game has years of use stored inside. While it entertains toddlers nicely, older children can have fun with it, too. I even have memories of playing similar games myself in my late teens. (#YoungAtHeart)
And no bugs (real or otherwise) are needed to lure these fish! Just magnets.
#4.) Wooden Knob Puzzles
Puzzles are a great problem-solving toy! They also help with fine motor skills and shape recognition.
If you've tried puzzles with your toddler and the concept hasn't seemed to click, I cannot recommend enough that you find some puzzles with large wooden knobs like this farming knob puzzle. If his hands aren't ready yet to manipulate regular puzzle pieces, these easy-to-grip knobs could open doors that other puzzles couldn't.
#5.) Bead Mazes
For decades, large tabletop bead mazes have been found in waiting rooms across the country. And if your kid is like mine, it seems impossible to tear her away from one when it's time to leave. Fortunately, smaller, portable versions like this one are easy to find and just as entertaining at home!
Bye Bye Battery Bugs
Batteries can cause stress and irritation in your home.
(Don't believe me? Wait until your child's favorite electronic toy stops working and you're out of AA's.)
But you can fight back with toys powered by the most long-lasting and renewable energy source known to man – your toddler.
Plus, you'll save money that can be used for future college funds, and you'll be bugged a whole lot less by obnoxiously loud, battery-devouring toys!
And on a scale of puppies to mass group text messages, that's puppies for sure.
How else do you "de-bug" your home? How do you unplug, go off the grid, and challenge your kids' imagination?
Have You Read These Yet?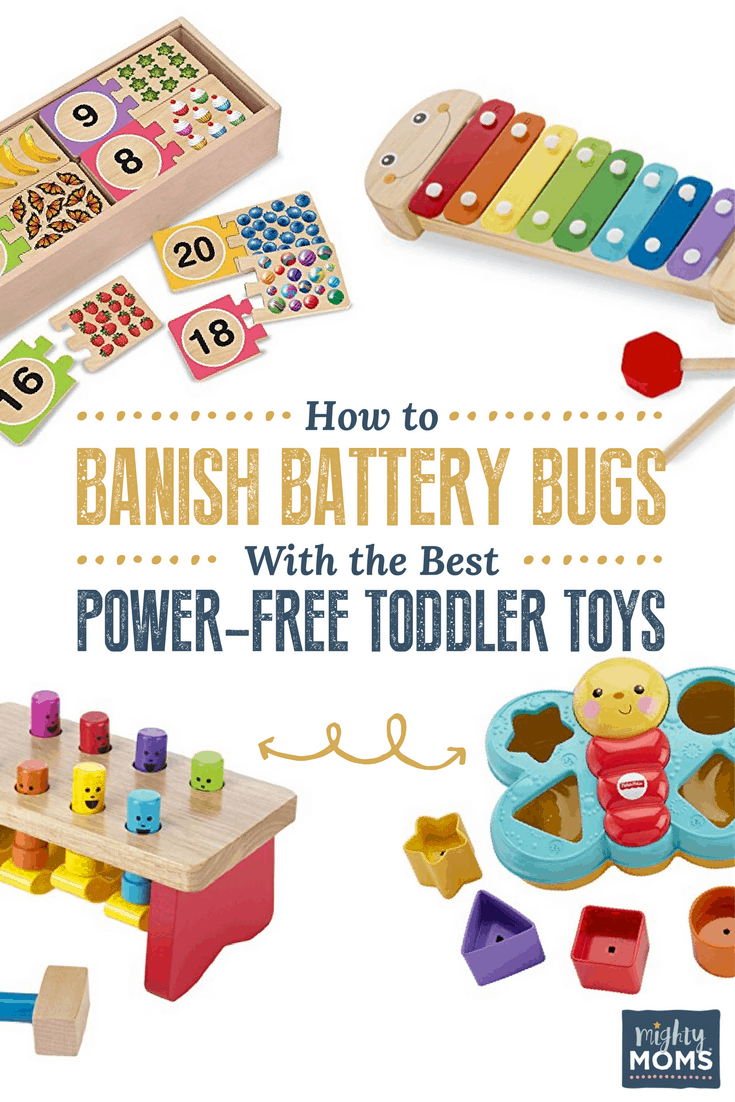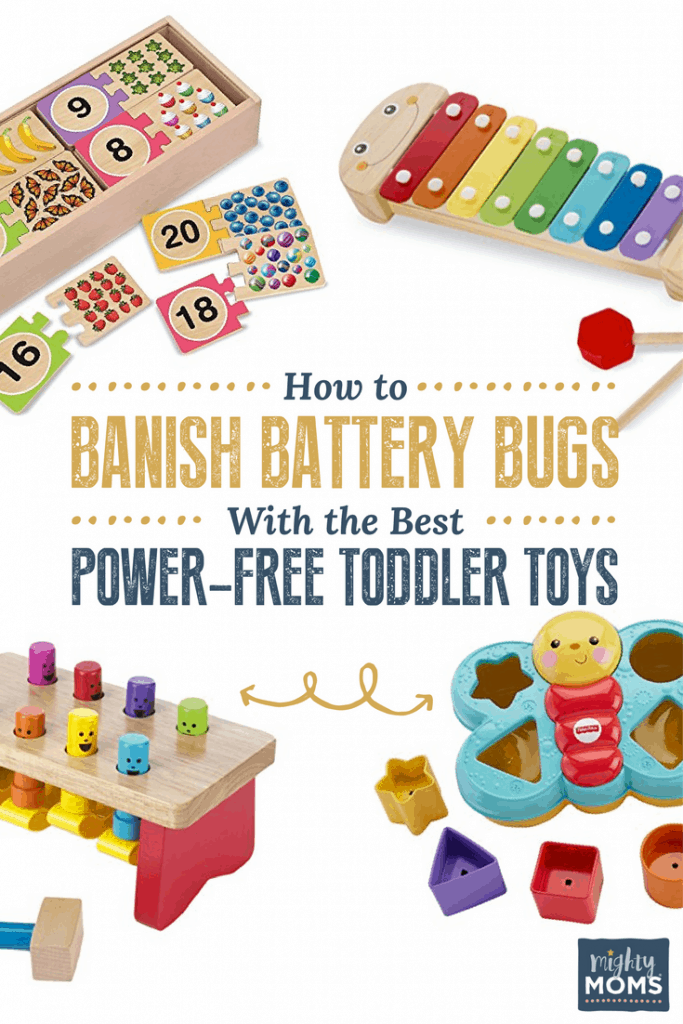 We ♥  honesty!  This post contains affiliate links that provide extra money for our mutual coffee habits addictions. Click here to learn more. As an Amazon Associate I earn from qualifying purchases.