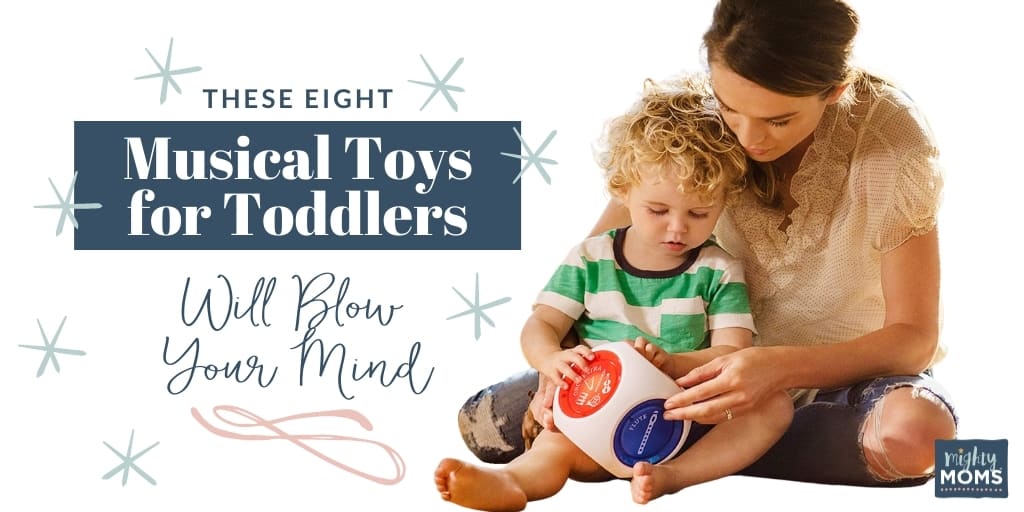 Want to push your child's IQ up a notch or two? Science recommends you introduce them to musical toys!
New research shows that musicians' brains are highly developed in a way that makes the musicians alert, interested in learning, disposed to see the whole picture, calm, and playful. The same traits have previously been found among world-class athletes, top-level managers, and individuals who practice transcendental meditation.

Science Daily
We've already beat the musical drum here at Mighty Moms in regards to the numerous benefits of music for young children.
Today I'm going to share the best of the best in the world of musical toys. The award-winners, the parent-loved, the dynamite durables.
These are not Grandma's tupperware containers! They are some of the best toys for toddlers, stimulating minds and practicing fine motor skills.
Musical Toys for Toddlers: New Innovations
We've come a long way from drums and horns, baby! Here are some of the latest innovations in the world of musical toys.
Otamatone Japanese Musical Toy
The Otamatone musical toy is a battery-powered invention that teaches young children the basics of stringed instruments. Slide your fingers up the stem, and you can make higher sounds. Slide your finger down and you make lower ones.
Kids can also open the otamatone's mouth, changing the volume and bass of the sounds, or shake the stem to create vibrato! A great musical toy for exploring pitch and volume! Comes in unicorn, black, and blue.
This is my new favorite thing. It annoys everyone around me, unless I let them play with it, then they love it too. Addictive. Even my 4yo can play with it and he is a terrible musician.

Amazon
This is sooo cute! My daughter loves it. I actually think it is fun to play too. It is smaller than I thought I'd be, but still works perfectly. It comes with one song that was easy to play and you can look up other songs to do.

Amazon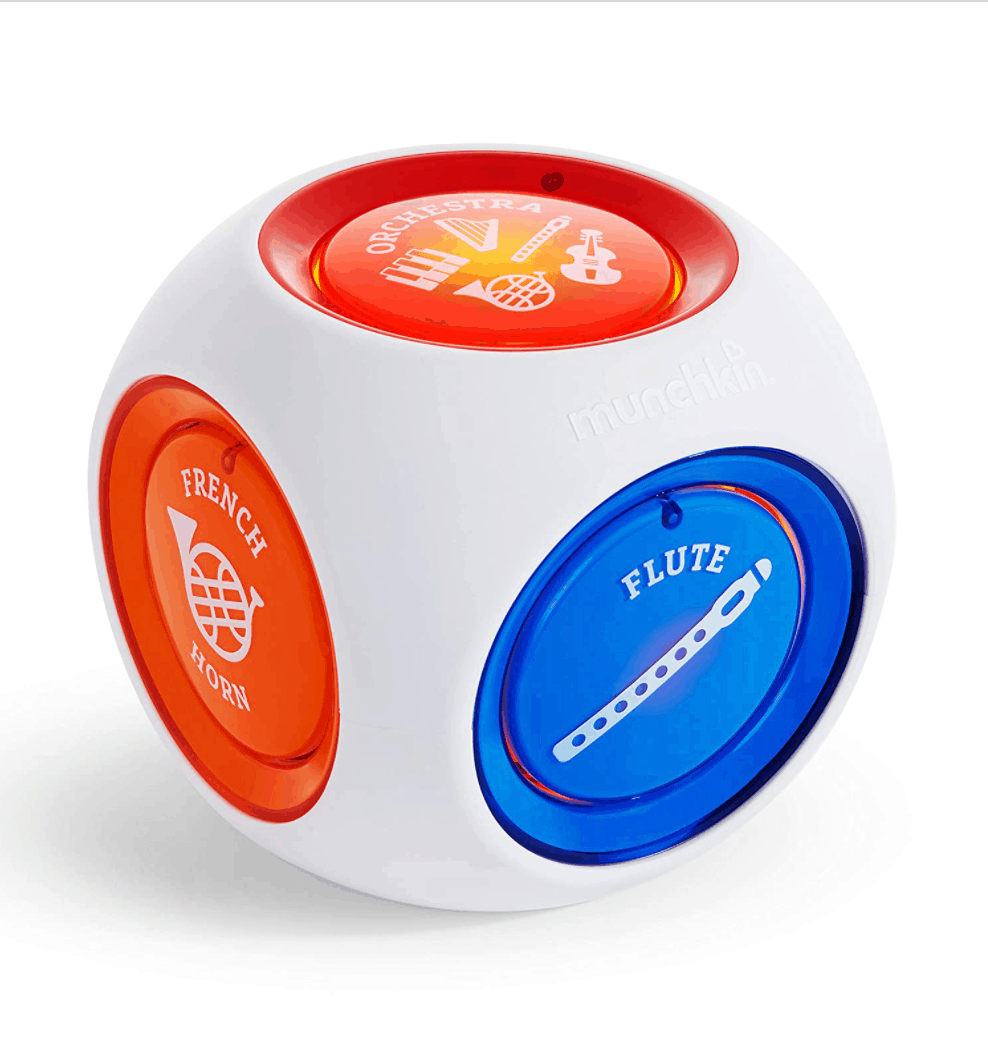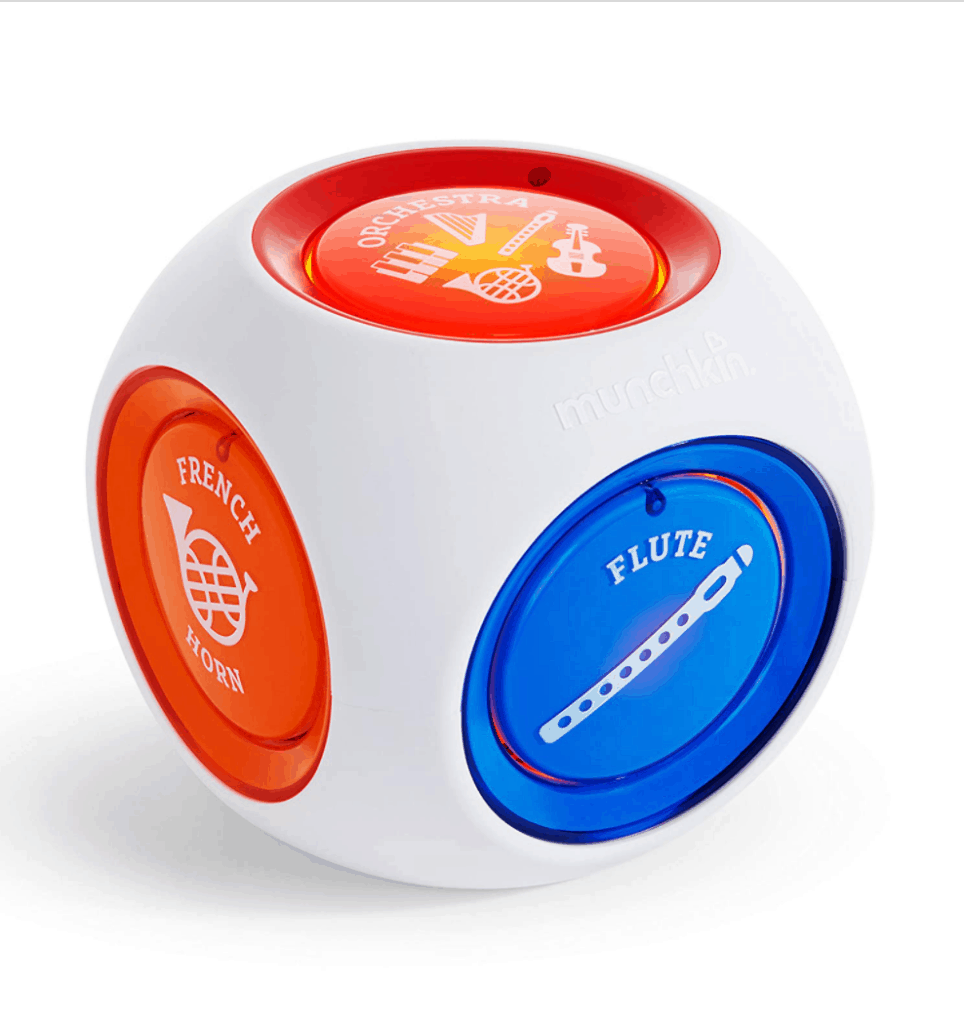 Mozart Magic Cube
Mozart Magic Cube is all about recognizing and creating classical music. Push the orchestra button, and hear one of eight Mozart masterpieces. Toddlers can add to the composure by pushing on the harp, flute, French horn, piano, and violin instrument sounds. A truly unique musical toy!
My daughter played with this cube from age 1 until she was nearly 4 years old. Also, there is a volume button! You now have the option of listening to it at a reasonable level or a quieter level.

Amazon
This hands down is our son's favorite toy. I hate noisy toys. Lights too as they just scream cheap. This cube, however, is amazing. He plays with it for up to 15 minutes many times a day. I never get sick of the songs.

Amazon
Musical Toys for 2 Yr Olds: Piano Teachers
Are you serious about getting your toddler started on the piano at an early age? Than you need more than some fascinating piano plunkers. You need musical toys that teach. Here are two of the best.
Plugo Tunes Piano Learning Kit
This unique piano teaching musical toy requires a smartphone or tablet to download a free app. Placing these one of the three figurines (aka "pops") allow you to add new sounds and background music to your creation. A truly original musical toy!
I'm shocked! My kids love this game. I have 8,6, & 3 year old boys. It keeps them interested and engaged all while learning. They have asked to play this since we got it. Can't wait to buy more games from this company. I highly recommend it.

Amazon
I love this little piano. It has clear instructions for my 5 year old to hear and she can play on her own. When she gets stuck on a challenging chord she'll call me over and we work on it together. I think it's great for teaching piano but also perseverance. She loves playing it! Keeps her entertained for a long time.

Amazon
My First Piano Book
My First Piano Book is a toddler-sized and award-winning piano tutorial. The illustrated book has a color-coded key chart that teaches 10 songs on 6 musical instruments.
Unlike most piano musical toys, the keyboard is polyphonic, which means toddlers and preschoolers can press multiple notes at the same time, creating chords. The 20 keys extend one and half octaves from C below middle C to G above.
Great gift for my 4 year old niece who seems to already have every toy imaginable. The record/play back feature is cool. 

Amazon
This is probably the best educational toy I have ever purchased for my grandchildren. It teaches you how to play the piano or just listen or adlib. And for the price it's a steal. I bought two because my grandkids insisted on taking the first one home.

Amazon
Musical Toys for Toddlers: Piano Plunkers
If your goal with musical toys is to let your toddler and preschooler explore the world of sounds, these piano plunker sets are going to be ideal.
Vtech Zoo Jamz Piano
This is a 4-in-1 instrument that allows your child to experiment with the piano, violin, xylophone, or saxophone. It has over 20 songs and melodies for your child to play. The toddler karaoke feature includes a microphone with an amplified voice and over 100 songs, melodies, and phrases to pick from.
It has 3 volume settings which i LOVE! I hate when a toy is blasting loud and there's no volume control. It's NOT one of those toys where you have to listen to the same song & sounds over and over. I'm so glad I purchased this for my girls… they love it! You will not be disappointed.

Amazon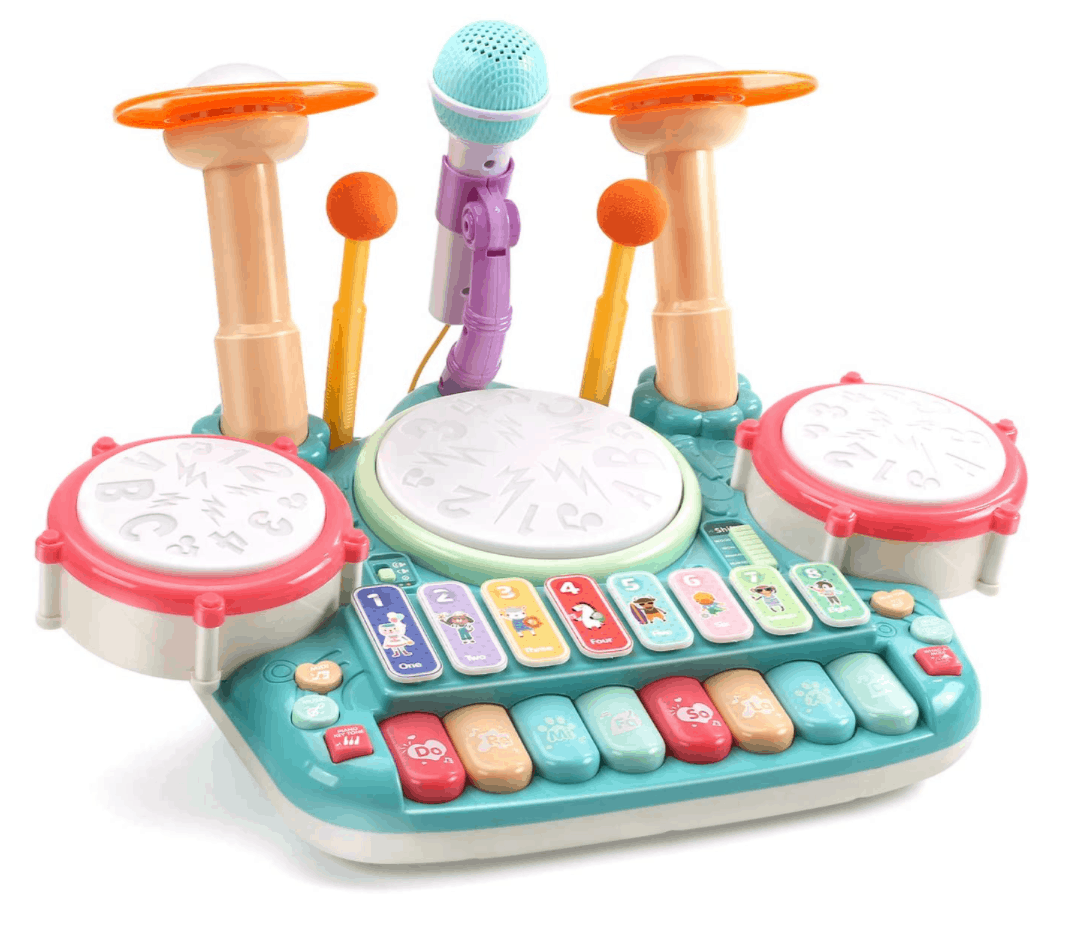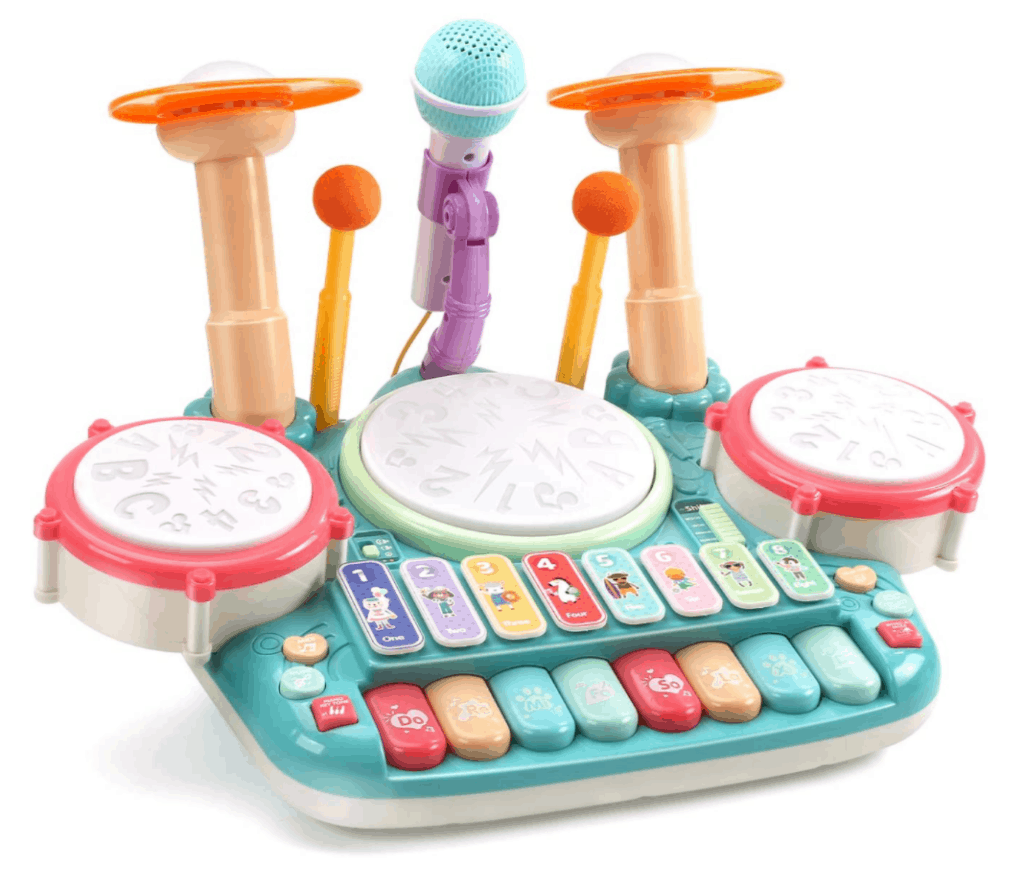 Cute Stone Musical Piano Toy
This is a five-in-1 musical toy featuring a drum pad, cymbals, drumsticks, microphone, keyboard, xylophone. There is also a whack-a-mole game built into the drum pads for added interest.
It's an excellent coordination tool for toddlers, teaching them how to hit the drum pad with one hand while hitting the cymbal with the other!
We love this toy! It has so many features and activities, and keeps my little one busy! Great value indeed. I'm so happy to find this musical toy.

Amazon
Musical Toys for Toddlers: Bang for Your Buck
Or maybe there isn't enough music for you in those musical toys. Maybe you're a hardcore musician. Maybe you're all about the value.
In that case, these mega-packs of musical toys for 2 yr olds (and up!) are exactly what you're looking for.

26-Piece Musical Toy Mega-Pack
This clear tote includes everything you need to start your own toddler band at a reasonable price. Everything is in here. (Except for the kitchen sink)
They are made mostly of wood with an easy-to-clean lacquer and rounded metal pieces.
These instruments are the best thing ever for my toddler. We play with them everyday. He loves playing everything but he really loves the harmonica and the xylophone. He's always asking me if he can play the music. I would recommend these for any young child and even older ones like me because I have fun playing them too.

Amazon
12-Piece Musical Toy Mega-Pack
This musical toy mega-set is a little smaller but it comes with a toddler-sized backpack which I love. This way your toddler can carry the toys to Grandma's house and not you. Score!
They are made from non-toxic materials, which means no lead paint or sharp points. They have also passed all the safety certifications for young children.
After receiving the pack of instruments in the mail, I pulled each one out to check them out and was impressed at the quality of said instruments. Nothing is cheaply put together and will last many years."

Amazon
This set is so worth it! The instruments are high quality, durable, and sound great.

Amazon
Musical Toys Now, Sweet Memories for Later
One of the easiest ways to help your child's brain develop faster is to introduce him to musical instruments and sounds.
Pick one of these musical toys and have it sitting out for a few days. I guarantee your toddler will start plunking away on the keyboard. They are irresistible!
We ♥  honesty!  This post contains affiliate links that provide extra money for our mutual coffee habits addictions. Click here to learn more. As an Amazon Associate I earn from qualifying purchases.
I Love Citations
How to Make Your Kids Smarter: 10 Tips Backed by Science. Time.com
Should Everyone be Required to Learn a Musical Instrument? Bakadesuyo.com
Musician's Brains Highly Developed. ScienceDaily.com
How Music Affects Your Child's Brain. Unicef.org
Children's Brains Develop Faster with Music Training. USC.edu