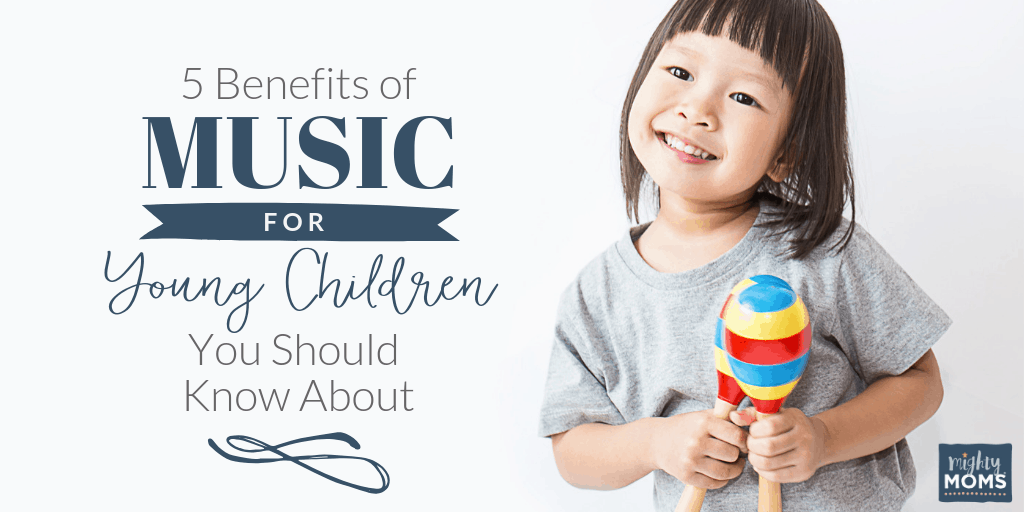 I'd like to speak directly to all the parents who have listened to Baby Shark approximately 7,924 times:
Firstly, you are doing your children a great service by playing music for them.
Second, you can give your young children the many benefits of music without having to subject your hearing to that song. There are other musical options. (I can hear your sigh of relief from here.)
I'll wait for you to pause the song. Doo doo doo doo doo doo.
The Awesome Benefits of Music for Young Children
Music helps brain development.
Music fosters secure relationships.
Music enhances learning and recall.
Music can reduce stress and anxiety.
Music causes joy and delight.
Who doesn't want emotionally mature children who do well in school, are happy and secure at home, and laugh frequently? So here's how to trickle in some music to your regular routine without adding another guilt-ridden "to-do".
BTW, if you're looking for citations for these claims, keep scrolling. They're at the end of the article!
Music for Young Children:
Easy  Ways to Make It Happen
We'll talk more specifically about those five reasons later, but first, let's look at a few of the things that are going to help you turn "Baby Shark" off repeat.
The Best Music for Young Children
I'm sure you have your share of kid-approved playlists or Spotify stations to play at a moment's notice, and there are so many well-known soundtracks to kick off your nightly dance parties (Trolls is our go-to over here).
What you'll find below are some of my favorite less well-known children's music. Hopefully this will give you something new to bring into your daily rotation of songs! All of these options are available on both audio cd and Amazon Music Unlimited.


Excellent Musical Selections for Kids
1. Young Folk | 2. Come Alive
3. Sing: Creation Songs | 4. I Dream of You
5. Storytime Singalong | 6. Little Seed: Songs for Little Children
7. Children's Songs: A Collection of Childhood Favorites
The Best Musical Toys to Encourage Rhythm
Musical toys can be tricky because you want to teach your children rhythm and sound but you don't want to break your ears in the process. Here are some great options to get your little singers started:
The Best Musical Toys for Kids
1. Egg Shakers | 2. Xylophone
3. Mozart Magic Cube | 4. Beginner Drum Set
5. Musical Instrument Set | 6. Toddler Instruments | 7. Mini Band
5 Reasons Why Music is Important
Now that you have your songs and instruments, here is the crux of the issue: Why exactly is music so important? Well there are so many incredible reasons, but these 5 stand out:
Benefits of Music #1: It Helps Brain Development
This Carnegie Hall article notes the incredible amount of growth the brain undergoes from birth to age five. Here's what they say about the impact music has on brain development:
Making music—especially if it includes tapping, clapping, bouncing, and dancing—can develop fine and large motor control. Even simple games, songs, and back-and-forth play build brain and body coordination. If older children play an instrument, these kinds of growth continue. All this builds important connections across the many regions of the brain needed to carry out the complex actions and interactions humans require in order to thrive.
Benefits of Music #2: It Fosters Secure Relationships
Music is often one of the first ways we communicate love to our children—on pitch or not. When you sing or hum lullabies to your children, you are using pitch, rhythm, and lyrics to soothe and comfort your children.
You are fostering a sense of security and building positive relationships.
Benefits of Music #3: It Enhances Learning and Recall
The American Academy of Pediatrics (AAP) notes that music enhances learning and recall in academics. Just think about how you taught your kids their ABCs. Music makes memorization fun which, in turn, helps that learning stick. And when that learning sticks, suddenly music has helped with your child's school readiness.
Furthermore, music can help you teach tasks or transitions between activities. (See: Exhibit A and Exhibit B)
Benefits of Music #4: It Can Reduce Stress and Anxiety
The AAP study also points to the fact that music can have a calming effect. Relaxing music can contribute to calmer moods, and, in many cases, music has been proven to decrease anxiety.
Of course you'll want to choose your musical intake carefully as well as consult your pediatrician if you're concerned about your child's stress or anxiety.
Benefits of Music #5: It Causes Joy and Delight
Last but not least, music is fun. It warms hearts and puts smiles on faces.
What child can listen to Beethoven's wiiiiiig, is very biiiiig… without a good giggle?
Endless Benefits of Music
(For All Ages)
There you have it.
Music is incredibly important for your kids to listen to and there are also some really great song options I'm sure Alexa would be happy to play for you because you know she's tired of listening to "Baby Shark" too.
And on that note, I think all that's really left to say is this:
It's the end, doo doo doo doo doo doo.
Have You Read These Yet?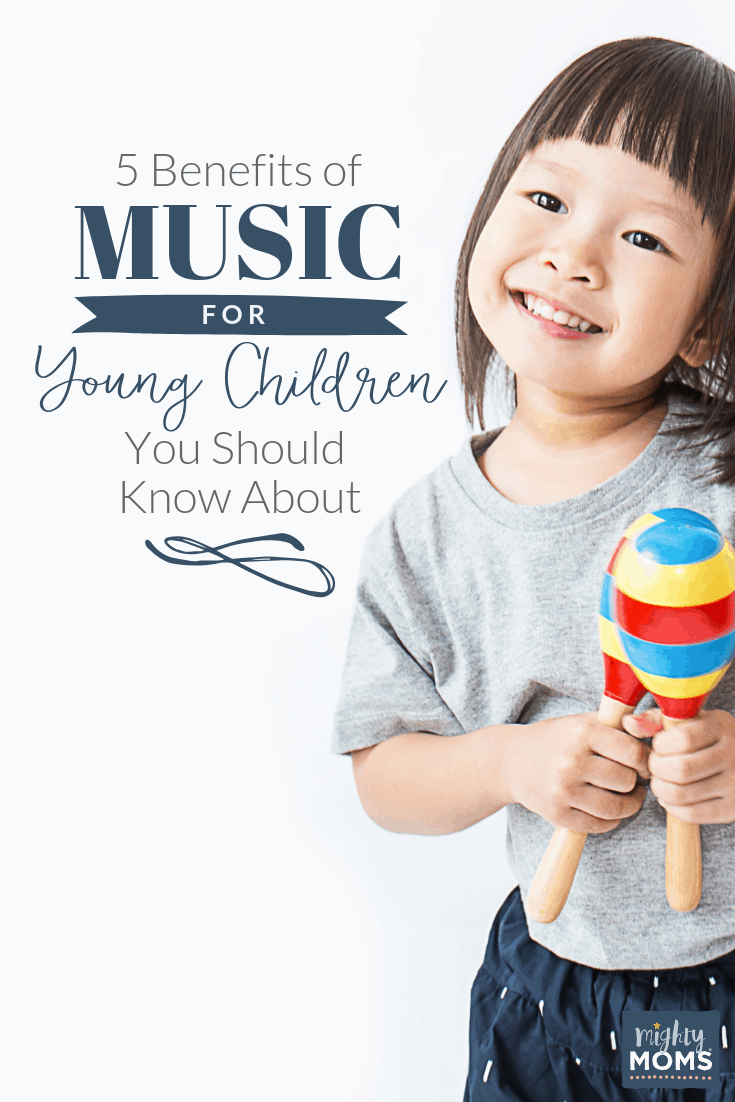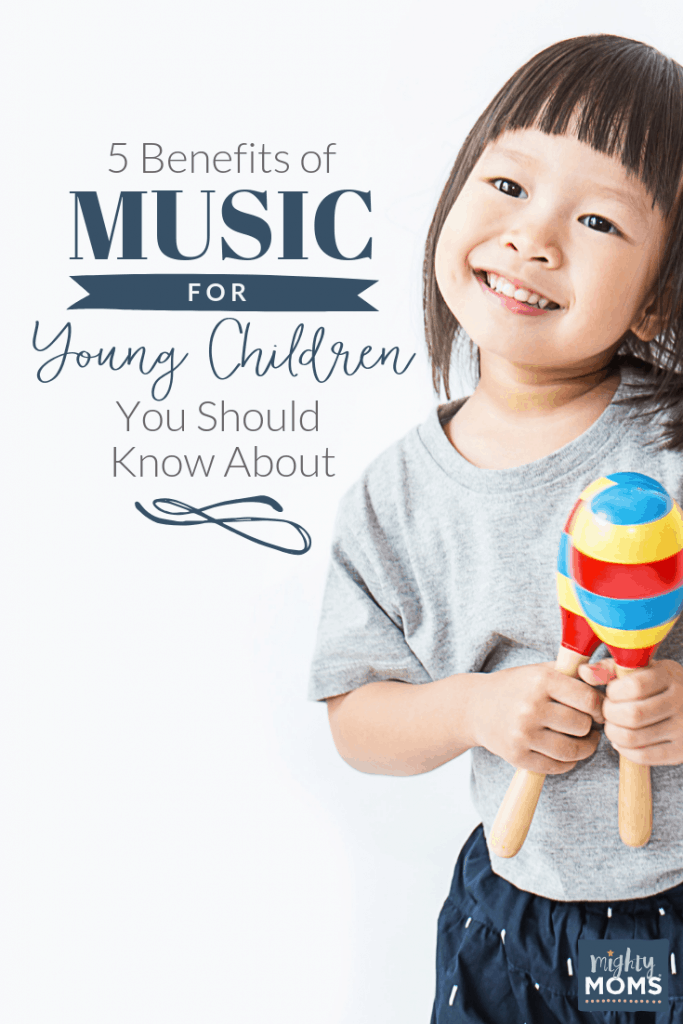 We ♥ Citations
Why Making Music Matters. CarnegieHall.org
Music and Mood. HealthyChildren.org
Children and Music: Benefits of Music in Child Development. BrightHorizons.com
We ♥  honesty!  This post contains affiliate links that provide extra money for our mutual coffee habits addictions. Click here to learn more. As an Amazon Associate I earn from qualifying purchases.