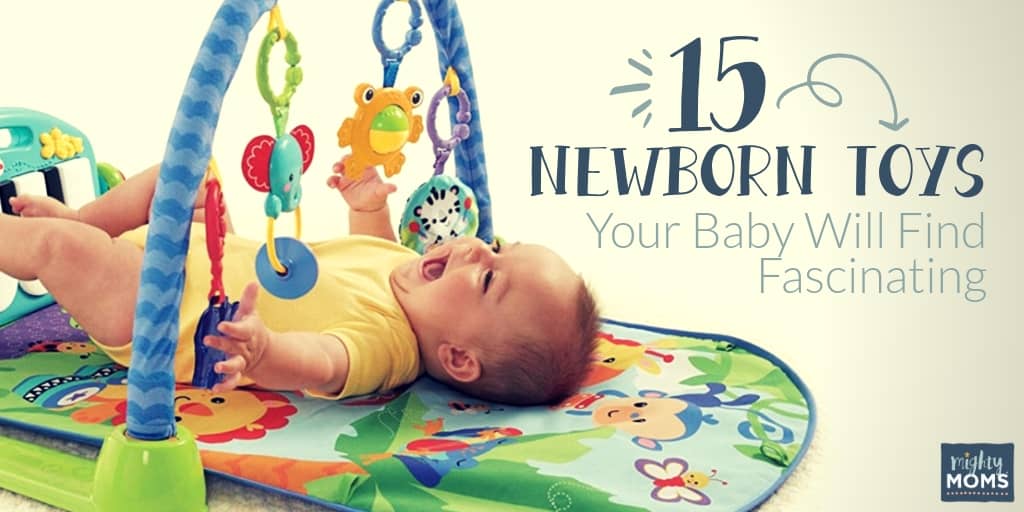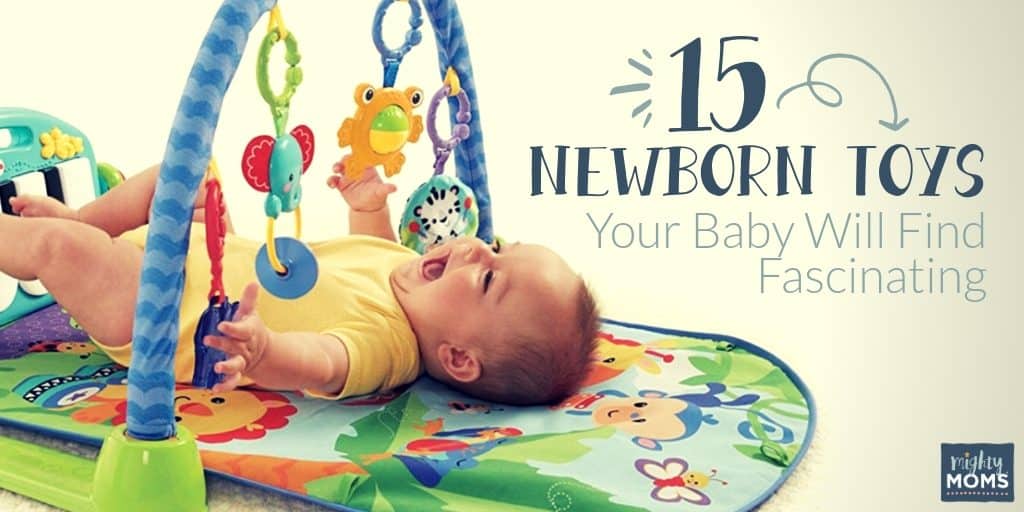 Playing with a baby is easy. Playing with a newborn…that's hard. You need newborn toys.
Not only are they only awake for a few hours during the day (and you don't really want to play at night, do you?), they lack the developmental skills to laugh, smile, and interact with all the goofiness you're exhibiting.
It's difficult to feel connected when your stand-up comedian act is falling flat. After all, you're working so HARD to earn some giggles and grins!
So what do you do with a newborn? Other than these usual activities…
Staring Contests
Name That Cry
The Anti-Sleeping Challenge
BOOOORRRRING.
You need some newborn toys, my friends.
Notice I didn't say baby toys. If your baby is younger than 4 months, the best thing you can do for parental-bonding-time is to pick up toys that he can love NOW, not in three more months when he's got his pincer grasp mastered.
The Best Newborn Toys
for Teaching Self-Soothing Skills
One of the first skills you want your child to learn is the art of self-soothing. This means that your child learns, with your help, how to soothe himself down and calmly fall to sleep.
After all, the quicker he learns this skill, the quicker you can stop getting up six times a night to calm him. Why not give him a few newborn toys to help speed that learning process along?
Feel a little inadequate with your OWN newborn soothing skills? Attend The Secret Art of Baby Soothing Webinar this week and use the provided worksheets to create a personalized effective Soothing Plan. After all, nothing is worse than not knowing how to get your baby to calm down. This webinar will give you tons of practical skills so you always know what to do next.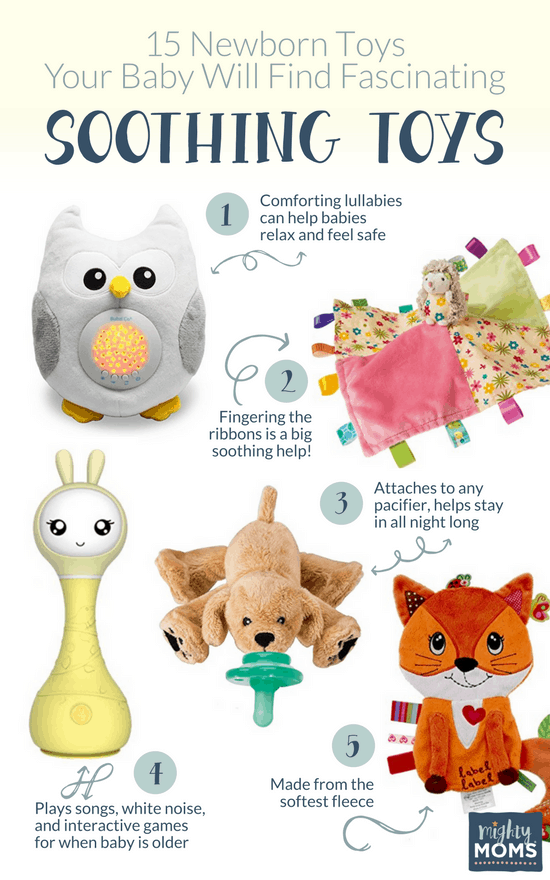 Newborn Toys That Are Also Soothers
1. Bubzi Owl Soother 
2. Petals Hedgehog Taggie Blanket 
3. Nookums Pacifier Holder
4. Alilo Smarty Bunny Rattle 
5. Fox Silky Comfort
One little reminder, friend: Those soothing blankets can be helpful, but until your child has full control of his neck muscles and can turn his head on his own, I would keep them out of the sleeping space. Use them in the car seat and during cuddle-time instead.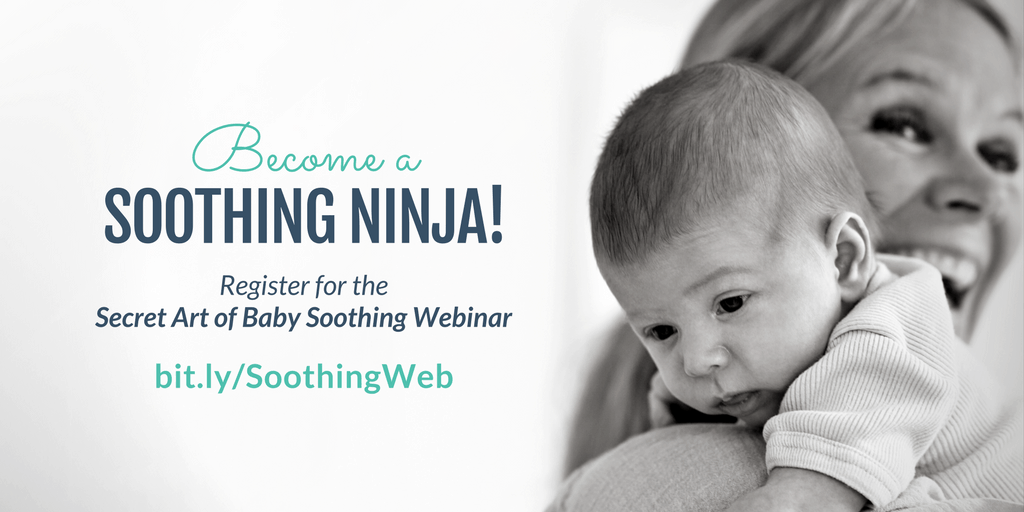 The Best Newborn Toys
for Providing a Distraction
There are going to be times in your newborn's life where any kind of soothing attempt just isn't going to work. It's at these stressful times that you're going to have to relay on every parent's secret weapon: Distraction.
Here are 5 newborn toys that will entice his curiosity just enough to stop mid-cry.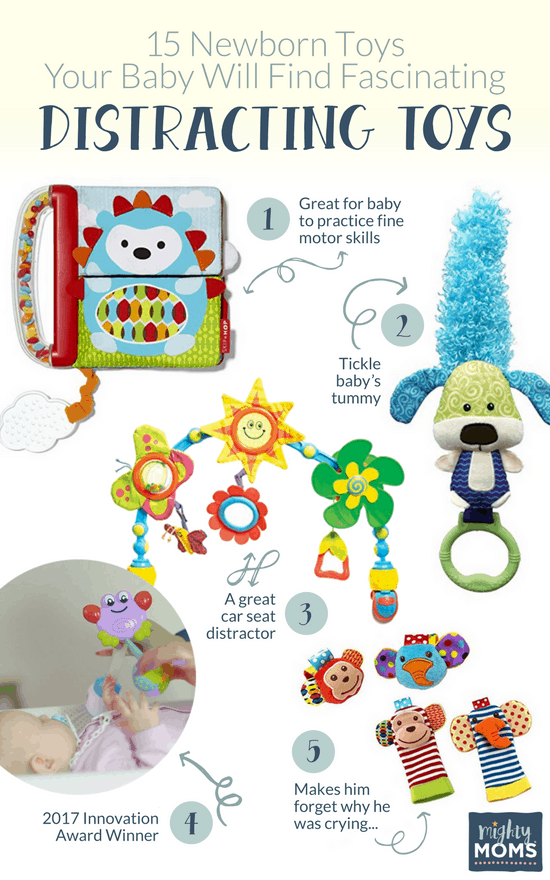 Newborn Toys That Are Great Distractors
1. Mix & Match Activity Book
2. Yoee Baby Puppy 
3.  Sunny Stroll Arch
4. Fun Flex
5. Wrist Rattle & Foot Finder
The Best Newborn Toys
for Exploration and Learning
Somewhere around 4 months you will start to notice the newborn beginning to fade and the baby begin to emerge. This is an excellent time to start introducing your baby to a few newborn toys that will speed that transition along.
Incidentally, it is also around this time when your previous Champion Sleeper will start waking up at night. If you're struggling with this phenomenon, this article (and the free printable inside) can really help!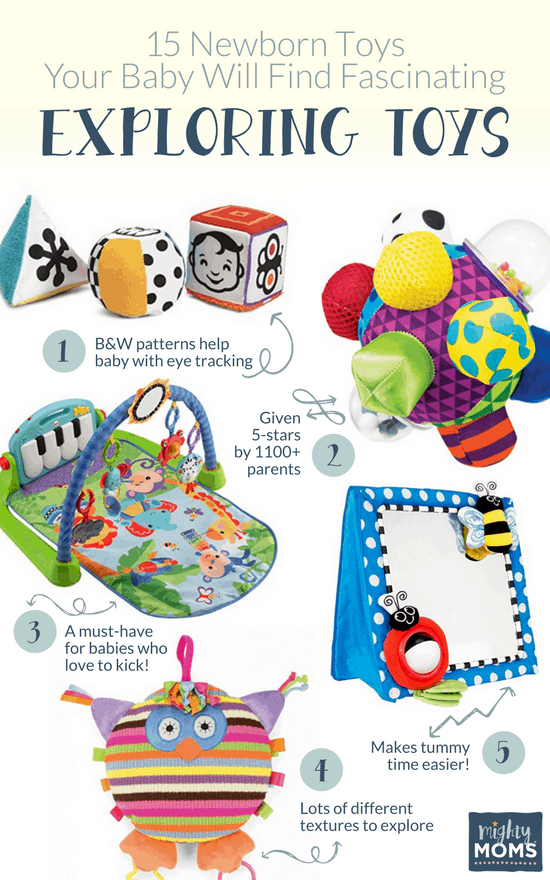 Newborn Toys That Are Stimulators
1. Multi-Sensory Soft Shape Set
2. Developmental Bump Ball
3.  Kick & Play Piano Gym
4.  Hootsie Owl Activity Toy
5. Floor Mirror
Your Newborn's Favorite
Toy is Going to Be…
…your face.
I guess that's part of the reason Staring Contests are so popular at this age. It's a developmental fact that newborns LOVE to look at faces.
I know this may surprise you, but eventually just staring at your newborn is going to get boring for both of you. So why not add one of these newborn toys into the mix?
Take, for instance, the Yoee newborn toy:
Lay your newborn on the floor with his cute little tummy exposed.
Give him a BIG smile. (He will love it.)
Tickle that tummy with the feathery part.
As he stares back into your eyes, you'll start to notice something creeping up on the sides of his mouth.
Wait.
Is that what I think it is?!!
Yes!! That's a smile!
And where there's a smile…a giggle is sure to follow. 🙂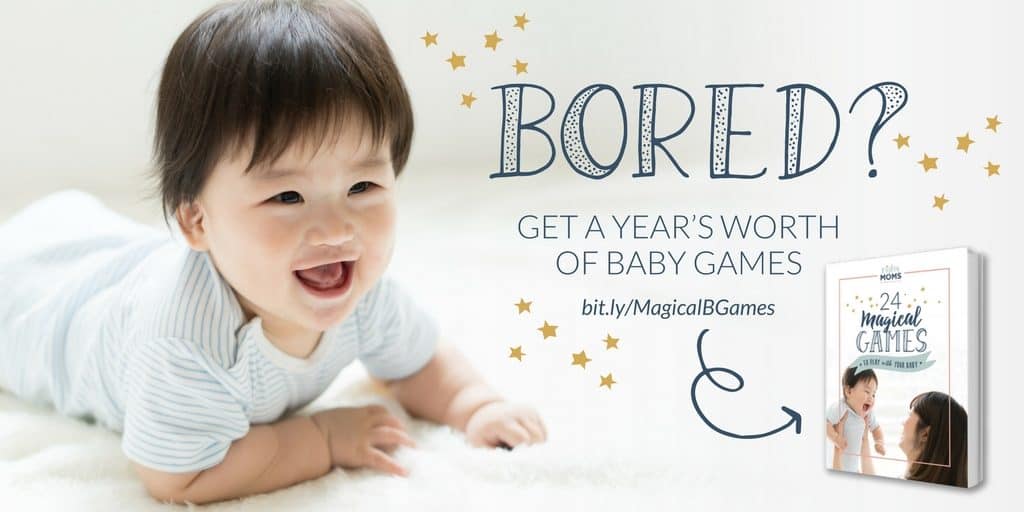 Have You Read These Yet?
We ♥  honesty!  This post contains affiliate links that provide extra money for our mutual coffee habits addictions. Click here to learn more.