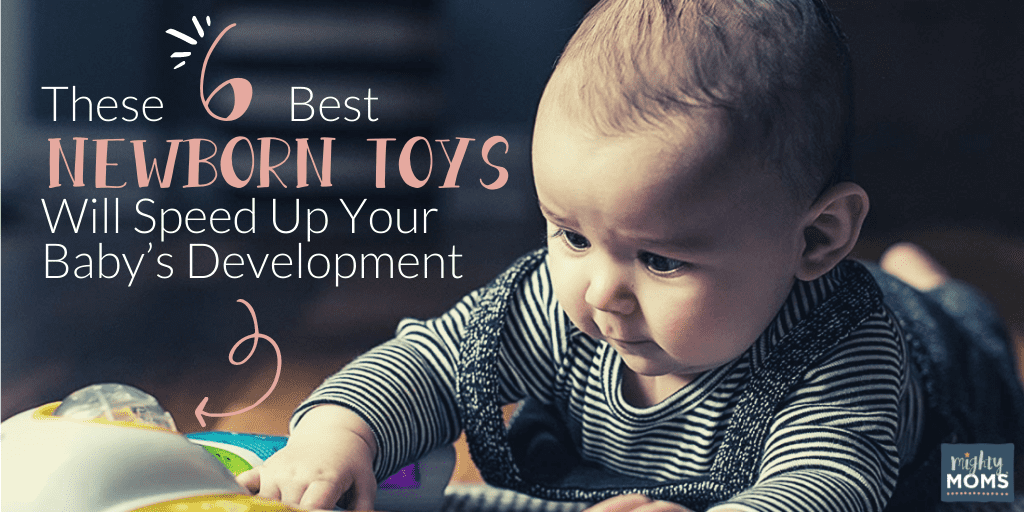 Playing with a baby is easy. Playing with a newborn…that's hard. You need newborn toys.
Not only are they only awake for a few hours during the day (and you don't really want to play at night, do you?), they lack the developmental skills to laugh, smile, and interact with all the goofiness you're exhibiting.
It's difficult to feel connected when your stand-up comedian act is falling flat. After all, you're working so HARD to earn some giggles and grins!
So what do you do with a newborn? Other than these usual activities…
Staring Contests
Name That Cry
The Anti-Sleeping Challenge
Let me be honest with you. Unless you choose specific newborn toys designed to match the developmental skills your baby is trying to master, that toy is going to sit in the corner unused for a few months (if not forever.)
Don't waste your money on bad newborn toys.
The Milestone Marker Workbooks: Yours Free
I have a series of Milestone Workbooks that I would love to give to you for free. The first one, The Memory Tracker, walks through all the milestones your baby is going to conquer in the first year, along with space for you to jot down the memory that goes with them. (Trust me, a quick jot is better than "I'll do it later". You'll forget!)
The second one, The Growth Tracker, teaches you how to monitor your baby's physical growth, charting them on the same document your doctor uses. I'll teach you how to spot a delay, the early signs of autism (the earlier caught, the better the prognosis!) and other helpful tips on how to talk to your doctor.
Just sign up below and I'll email both to you!
Do Newborns Really Need Toys?
Yes.
And also no.
They don't need a TON of toys. They just need the right toys.
Here are the skills you really want to zone-in on when browsing through newborn toys. Where did I get these? From the CDC of course!
Developmental Skills Developing from 0 to 3 Months
Begins to smile at people
Can briefly calm herself (may bring hands to mouth and suck on hand)
Tries to look at parent
Coos, makes gurgling sounds
Turns head toward sounds
Pays attention to faces
Begins to follow things with eyes and recognize people at a distance
Begins to act bored (cries, fussy) if activity doesn't change
Can hold head up and begins to push up when lying on tummy
Makes smoother movements with arms and legs
Heather's Smart Guidelines to Avoid Buying a Newborn Toy Dud
Not all newborn toys are created equal, of course. Here are my best tips to avoid wasting your money on a dud:
Sounds — Toys that make small noises (even if it's a vibration noise) are going to stimulate your baby's brain, encouraging her to turn her head (motor skills!) and look around. Just make sure there's an "off" switch so when you're done with listening to that lullaby for the fifth time, you can turn it off. 🙂
Colors — Newborns don't actually develop the ability to distinguish colors for a few more months. When browsing through newborn toys, focus on contrast rather than color (black/white, bold red/soft yellow, etc.) Those are the patterns will be most interesting.
Safety — This goes without saying, but you should never leave your baby unattended with toys, no matter how many safety ratings something has.
Lights — It's not a requirement, but it links to that contrast thing I mentioned earlier.
Let's see who made the cut as one of the best baby toys for newborns and who ended up in the diaper bin.
Best Overall Newborn Toy:
Glow & Discover
Glow & Discover was selected as the best of all the newborn toys for a variety of reasons. It will help your newborn practice the following developmental skills:
Turning head from side to side
Eye coordination
Strengthening baby's neck
Cause & effect practice with lights and sound
Language development
Grow-with-baby technology
Winning Features to Note
Glow & Discover has three modes: animals, colors, and xylophone. It also allows you to choose between English, Spanish, and French. It's easy to clean with a disinfectant wipe and folds for easy storage and travel.
This toy has been great! My little guy has been obsessed with the light show and has helped turn tummy time into fun time for him. Now he is three months and pushing the buttons himself! So fun to watch him figure it out. And the best part is it stays relevant through so many different developmental stages! It's nice to have a toy that he will enjoy for longer than a few weeks.

Parent Quote via Amazon
Runners-Ups for Best Overall Newborn Toy
These two other toys were chosen for their unique developmental prowess. Yes, these could easily be in one of the other categories, but I felt they were amazing enough on their own to get special acknowledgement.
Smily Mia Penguin Buddy — Want your newborn to learn how to bring the binky to his mouth as soon as possible? This is the newborn toy that makes that happen.
White Sunny Stroll Stroller Arch — There are variety of items here that will catch your baby's eye and stimulate his desire to reach out those hands and grab something (on purpose!)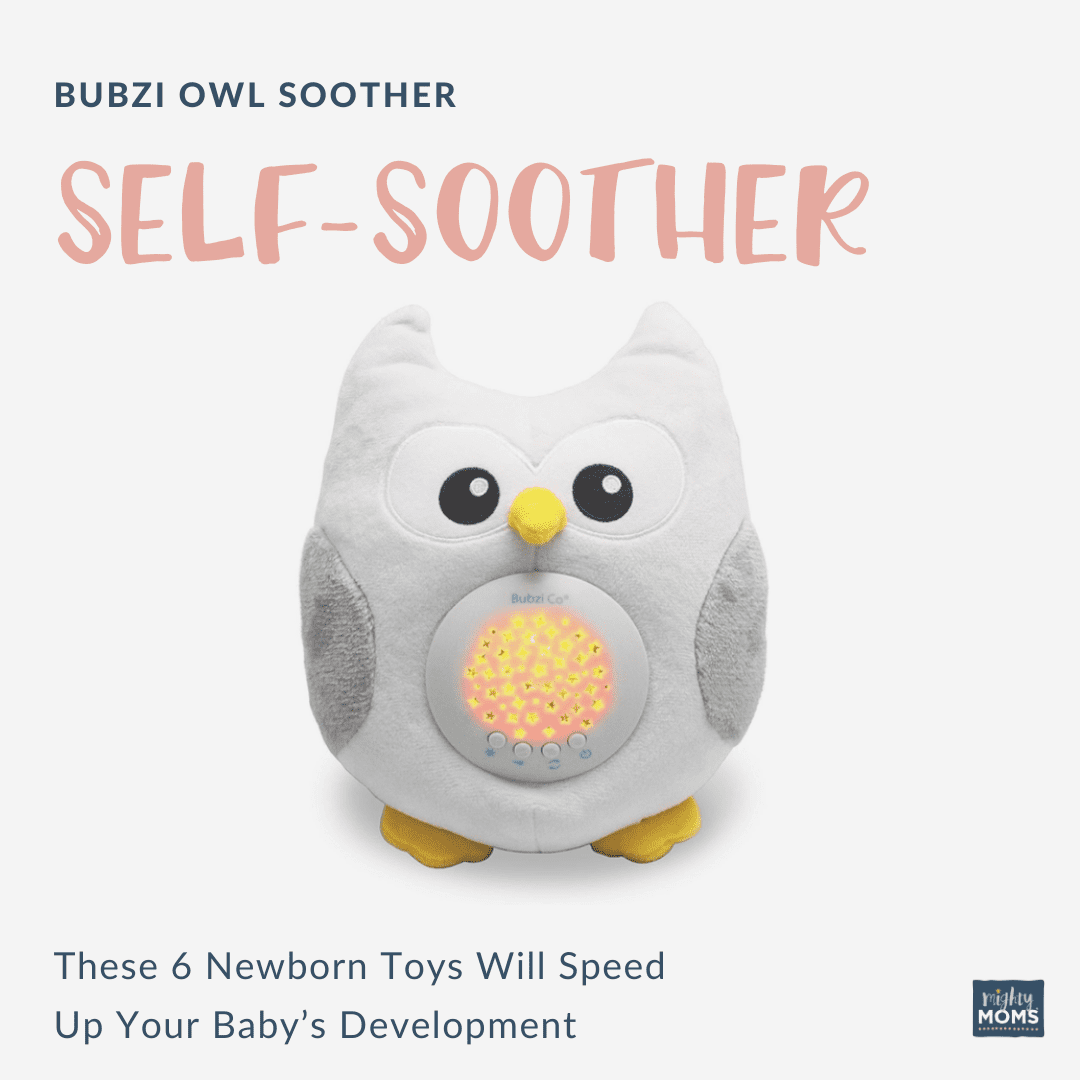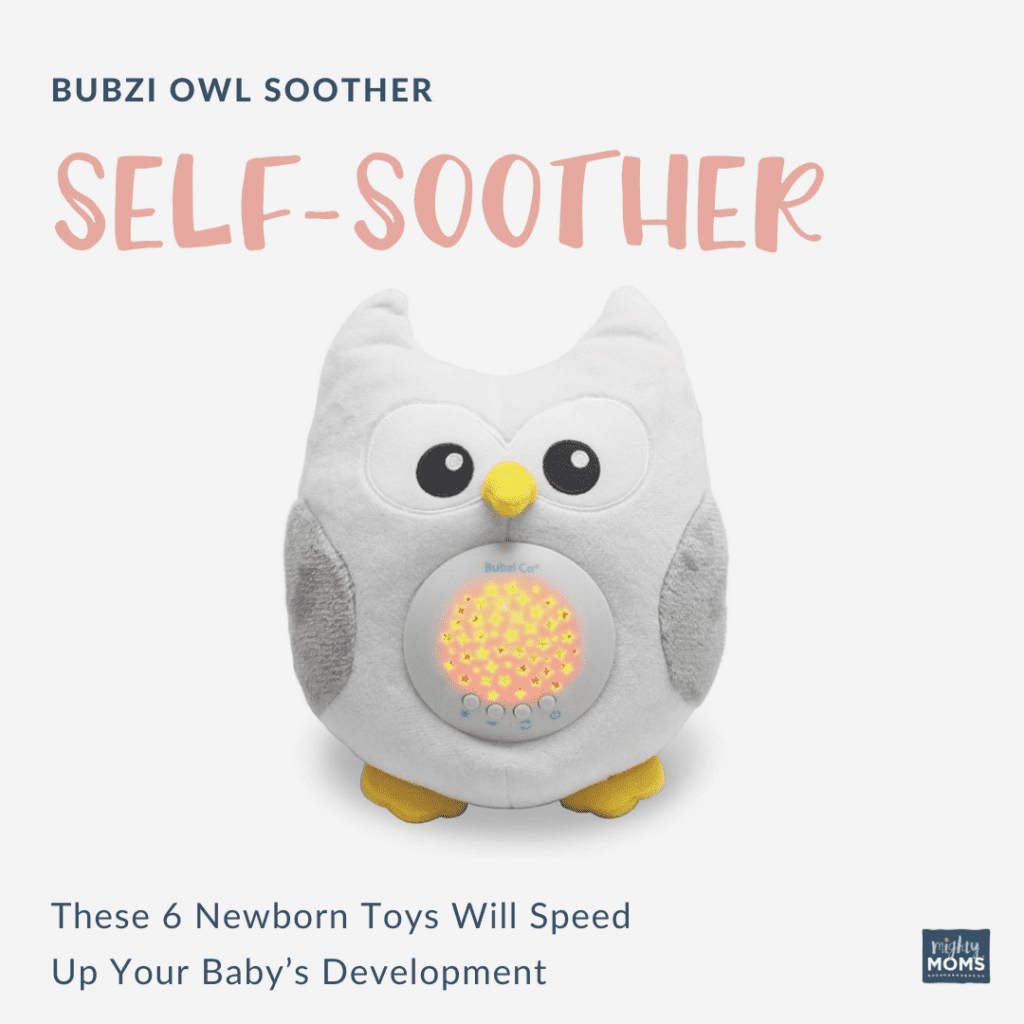 Best Self-Soothing Toy for Newborns:
Bubzi Owl
Bubzi Owl was selected as the best self-soothing toy not only because of its effectiveness in calming fussy babies, but also for several developmental features.
Encourages language development
Projected lights will prompt head control
Winning Features to Note
The owl plays 10 different songs, some from classical composers and some from traditional lullabies. It also has an option to choose bird songs or a heartbeat. The lights and sounds will turn off after 30 minutes to save the batteries. It has an adjustable strap so you can easily take it to Grandma's or on the stroller. A projector will paint stars on the ceiling as an effective cry distractor.
The neatest feature, though, is the automatic cry sensor. The moment your newborn begins to fuss, it will turn on to soothe your baby back to sleep. Definitely a unique feature in self-soothing newborn toys!
If you don't like the owl, take a peek at the Penguin or the Unicorn.
My little one is 3 months old and I've been putting her to sleep with the same song and stars every night. She absolutely loves it, I normally use it only at bedtime but today she was having a really hard time I turned it on and she instantly relaxed. She is my third and I wish I'd had it with my other two. Great product!!

Parent on Amazon
Runner-Ups for Best Self-Soothing Toy for Newborns
It was tough to ferret out the best self-soothing toy. Here are two more that were a very close second.
Alilo Smarty Bunny — This newborn toy does a little bit of everything: rattles, plays music, tells stories, is easily gripped, and is fun to chew on.
Nookums Paci-Plushie — Need to trick your baby into think you're holding her all night long? Use this. The gentle pressure on her chest is reassuring.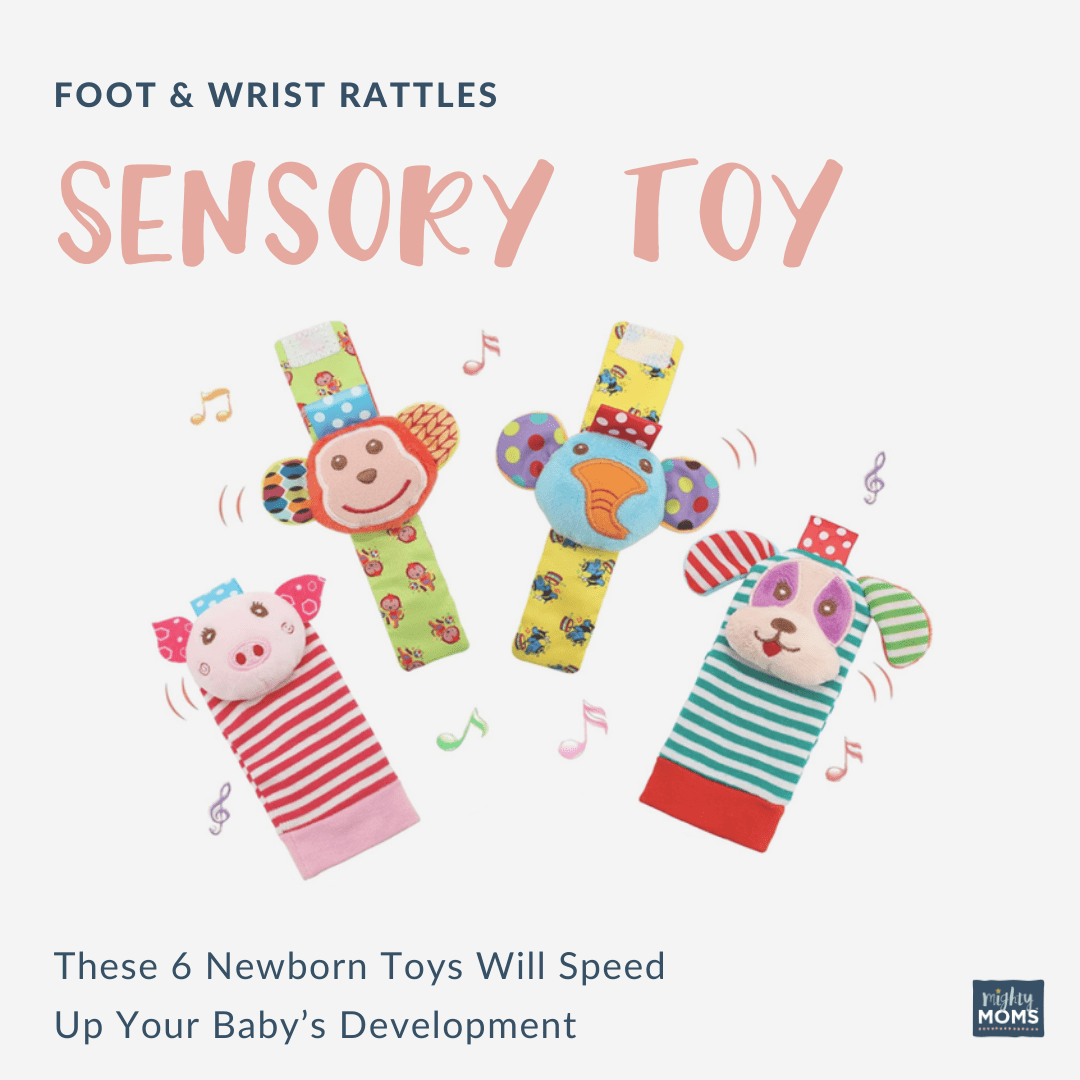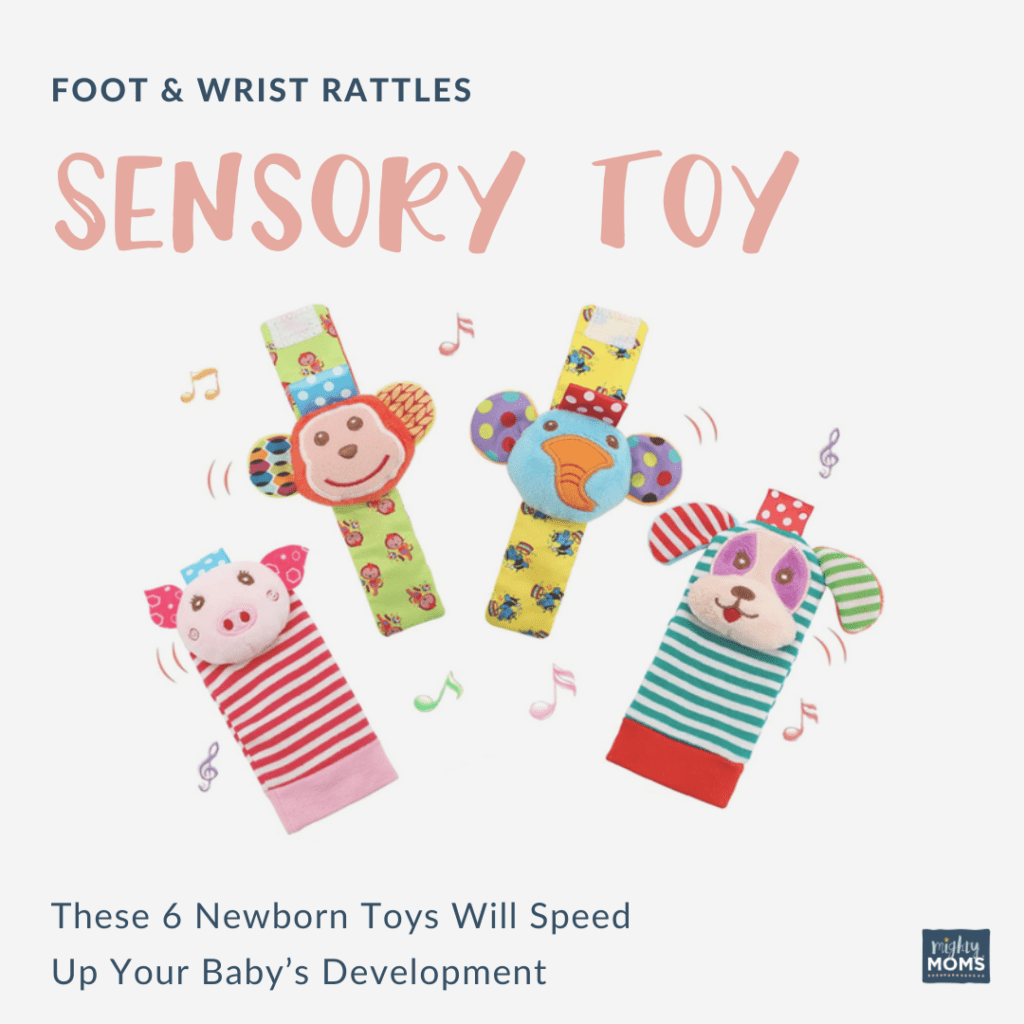 Best Newborn Sensory Toy:
Wrist & Foot Rattles
These foot and wrist rattles are a clever way to encourage your baby to practice his gross motor skills, kicking his legs and waving his arms around. The textures will keep him stretching, teaching his brain how to make smoother and smoother movements. They also a great way to introduce your newborn to cause and effect: Shake my hand…hear a sound!
Winning Features to Note
The rattles are made with eco-friendly cotton, which means they are non-toxic for lots of chew and drool! The velcro on the wrist rattles make finding a comfortable fit easy. The ears are made with sound paper, making them fascinating to crinkle.
My baby loves these. They are easy to put on her so she can learn where her feet are or enjoy a rattle before she has figured out how to grasp. She just loves to kick, kick, kick with these rattles on her feet!

Parent on Amazon
Runner-Ups for Best Sensory Newborn Toy
The best sensory newborn toys are going to have a variety of textures for your newborn to explore with his hands, ears, and mouth. Here are two more that are worth bringing to your attention
Gilobaby Rattle Box — There are ten different rattles in this collection, all easily transportable in a little box. Your newborn is guaranteed to find at least one of these rattles worth exploring.
Flip Fish Soft Toy — Babies love tags. Rubbing them together…flipping them back and forth… give your baby a taggie toy like this one and he'll be content until naptime.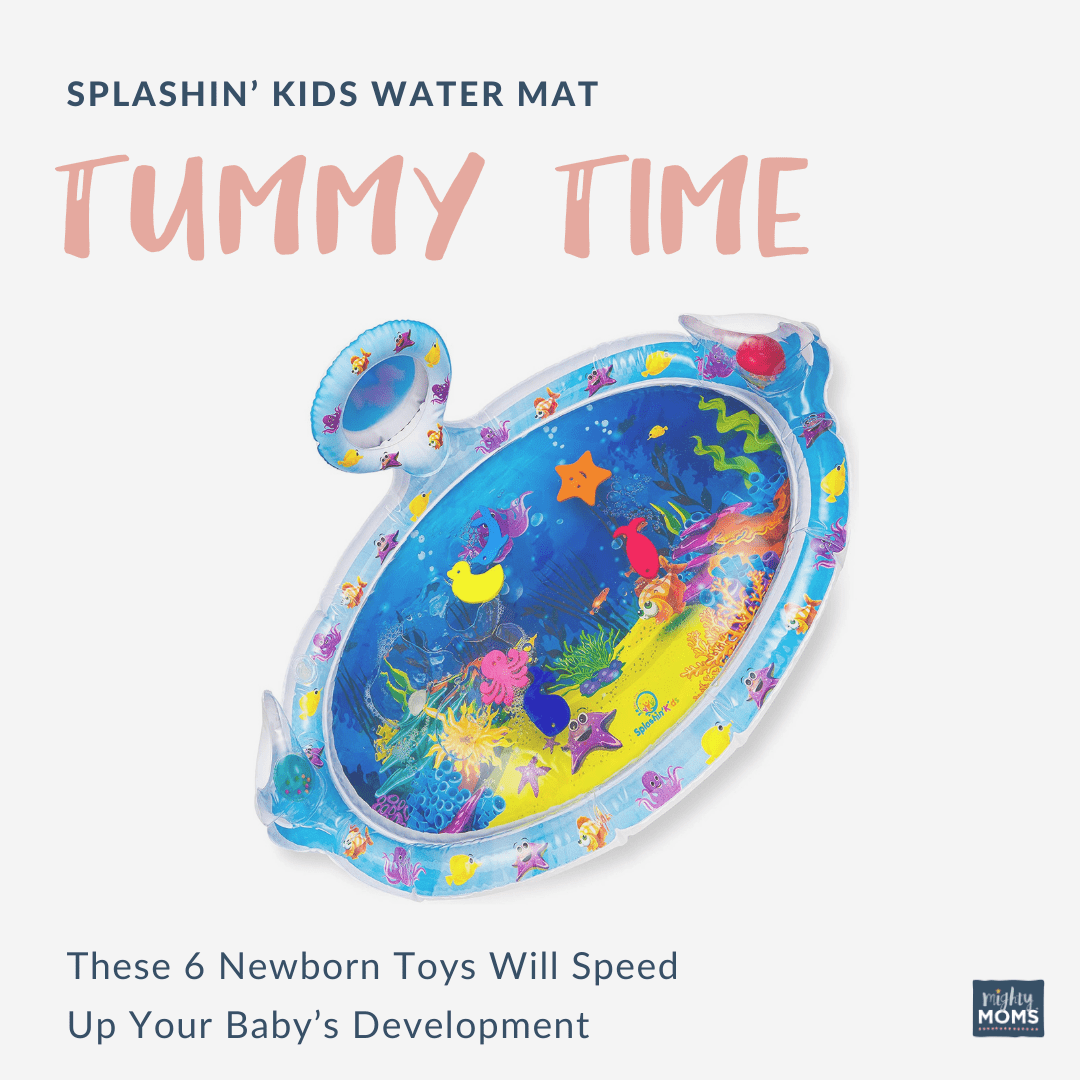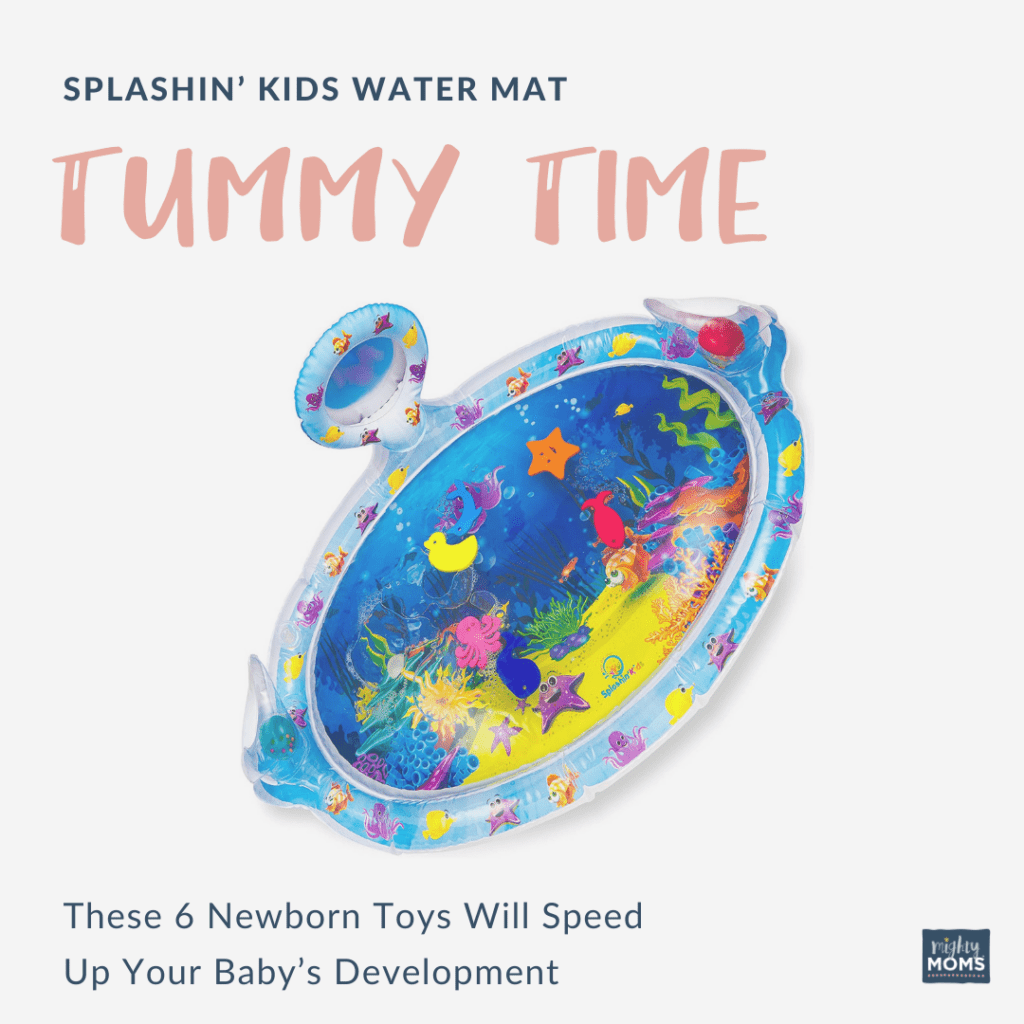 Best Tummy Time Toy for Newborns:
Splashin' Kids Water Mat
The Splashin' Kids newborn toy is the perfect way to convince your newborn that he doesn't actually hate tummy time.
Strengthens baby's neck muscles
Teaches cause and effect as he pushes the sea creatures around
Textile stimulation
Rattles to encourage head and eye coordination
Mirror for facial recognition
Winning Features to Note
Your baby will love trying to "catch" the fish that float around in the water. Plastic is durable and heavy-duty PVC to avoid leaking. There is a heavy plastic "smell," so you may want to leave it out for a few days before using. Fill the inner section with warm water to make tummy time more comfortable.
My daughter loves looking at the different fish and colorful sea animals in newborn toys like this one. There are two ball rattles on the sides that excite her every time she bangs or rolls into it. The water inside makes the sea animals move around as she pushes her hands on the mat. There's a cute round mirror that she loves to look into as well. Assembly was fast and easy! Overall I would say this is a great floor playmat to encourage tummy time!

Parent on Amazon
Runner-Ups for Best Tummy Time Newborn Toy
Here are the second-best tummy time newborn toys currently on the market.
Piano Wedge Tummy Time — Many of the components in this toy are washable, which is a godsend when dealing with drool and vomit!
Giraffe Discovery Pillow — vTech does it again with this highly-stimulating pillow with detachable components perfect for take-along play as your baby gets older.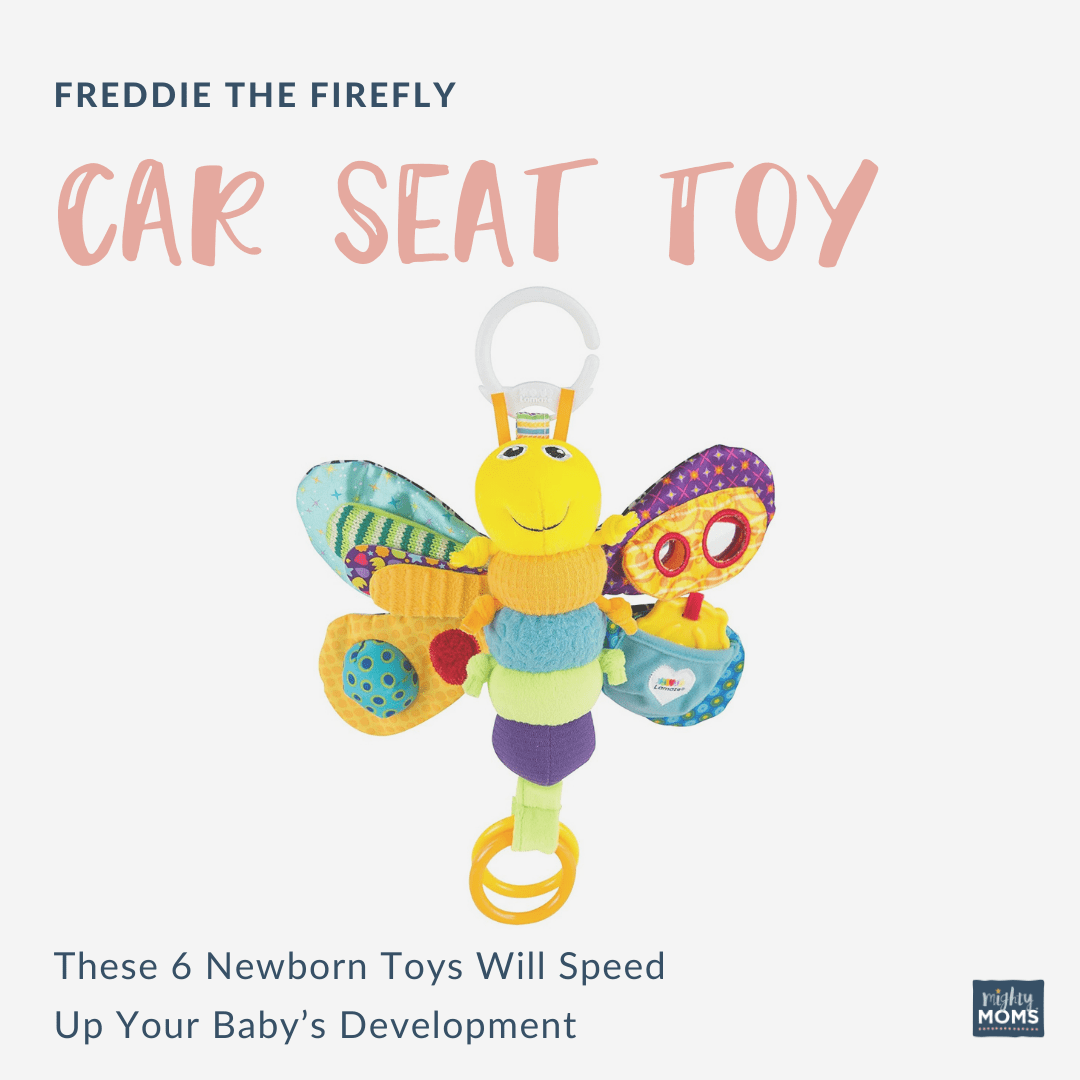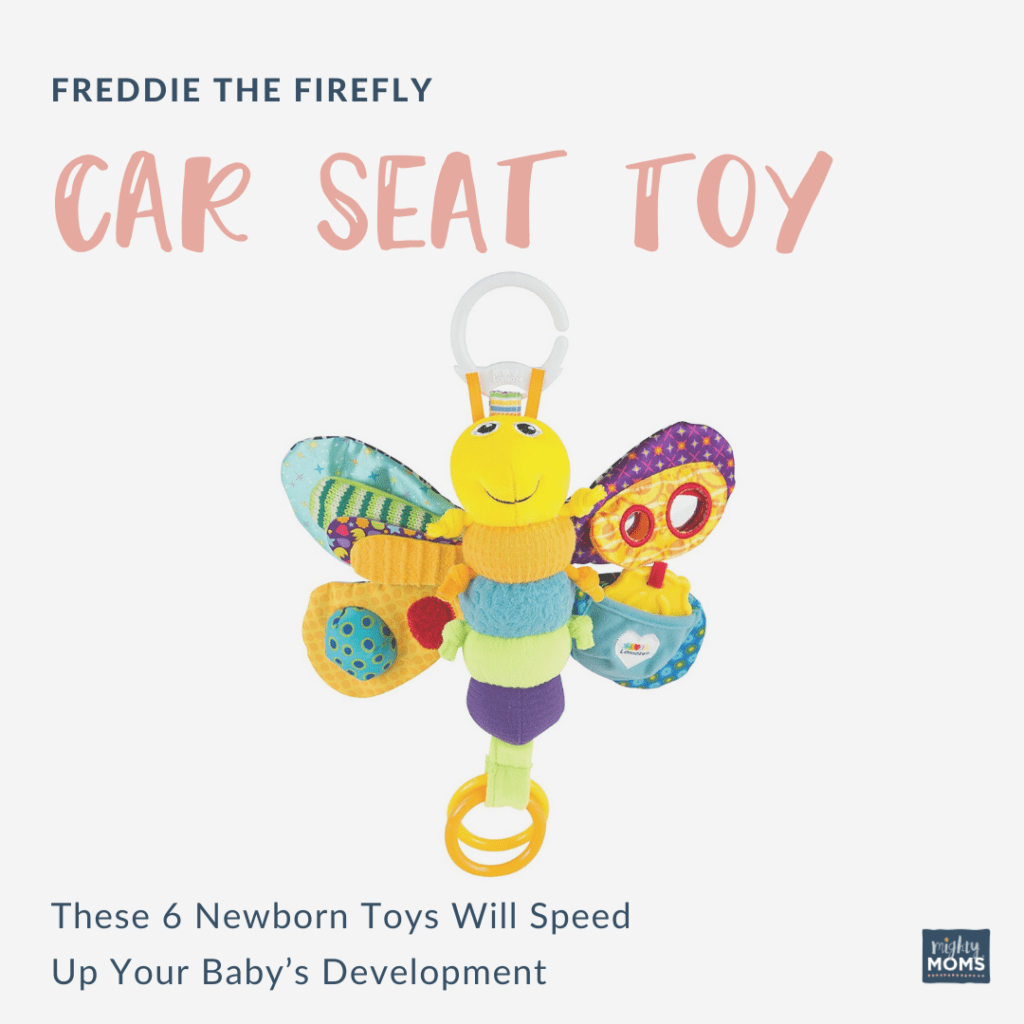 Best Car Seat Newborn Toy:
Freddie the Firefly
Thousands of babies have fallen in love with Freddie the Firefly. There are plenty of milestone-focused activities for your baby to unpack!
Sensory development of textures
Mirror for self-exploration
Perfect length for fine-motor skills practice
Eye-hand coordination practice
Winning Features to Note
There are almost more features on this toy for me to emphasize. Sounds, textures, a mirror…there's even a pouch! The antennas are knotted for gumming when your baby gets older. It really is the ideal grow-with-baby car seat & stroller toy.
If you want your child to have fun and you also want to enjoy a full cup of coffee before it goes cold for the first time since your child was born, BUY THIS NOW. I ended up clipping Fifi onto one of the hanging bobbles last night after we received her and my baby played happily and mostly independently for FORTY FIVE MINUTES.

Parent on Amazon
Runner-Ups for Best Car Seat Newborn Toys
There are zillions of car seat newborn toys out there. Here are two more that have stood the test of time.
Mortimer the Moose — The jangly feet on this car seat toy, with its crinkled texture and contrasting patterns are a great distractor for those babies who hate car rides.
Slow Much Fun Sloth — Don't let this relatively simple design fool you. Tug on the sloth's arm and it will slowly crawl up the branch, giving your baby a fascinating vibration sensation.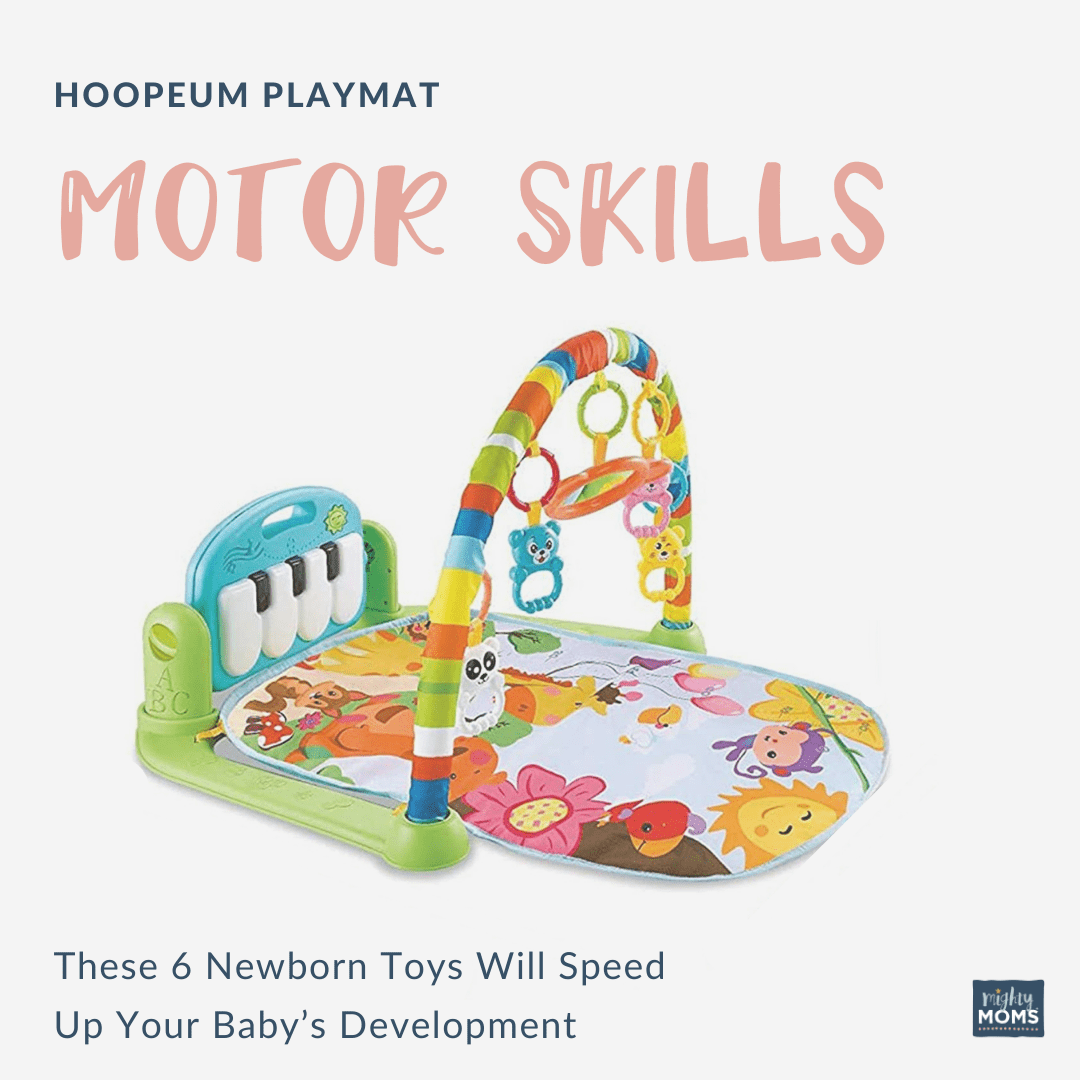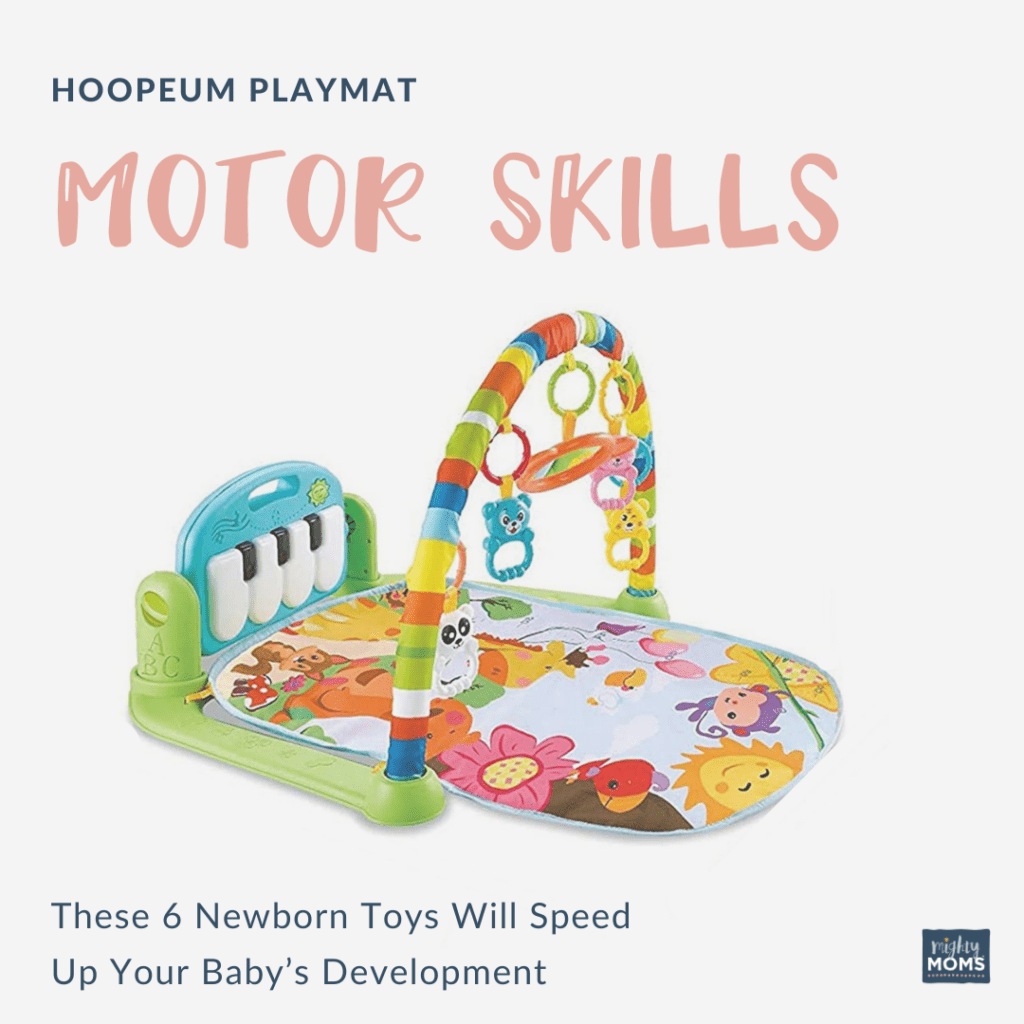 Best Newborn Toy for Motor Skills:
Hoopeum Piano Playmat
Finding newborn toys that can really push your baby to coordinate his arm and leg movements can be challenging. The Hoopeum Piano Playmat does both of those things really well.
Not only will your newborn have to reach up and pull down the toys dangling enticingly in front of his face, everytime he kicks his legs, he gets a new exciting sound to explore!
Winning Features to Note
The piano keys will activate three nursery rhymes, six melodies, and have (thank God) two volume levels. There is also a flashing light show that captures your child's attention. The piano can be removed when your baby is finished with newborn toys and is sitting up. There are also four removable rattles and one safe self-discovery mirror.
My 3 month old is obsessed with this! It's got everything he needs to learn and play. He loves kicking to make music, grabbing and shaking the hanging pieces, and looking into the mirror!

Parent on Amazon
Runner-Ups for Best Car Seat Newborn Toys
The stronger your baby can get those leg and stomach muscles, the faster he'll be ready to crawl and explore. (Wait…is that a good thing?) Here are the other newborn toys that help that happen.
Pinwheels Bouncer — This bouncer seat has vibration settings that many colicky babies find soothing. That, and the spinning toys on the bar, make this an excellent motor skills toy.
Sit-Me-Up Floor Seat — The special angle on this chair helps your slouching newborn to sit up, encouraging him to kick his legs and explore what's happening in the room (and not just the ceiling.)
The Best of all the Ultimate Newborn Toys Is…
…your face.
I guess that's why Staring Contests are so popular at this age. It's a developmental fact that newborns LOVE to look at faces.
This may come as a surprise, but eventually staring at your newborn is going to get boring for both of you.
Present your baby with one of these developmental newborn toys, download the free Milestone Marker (with activities included) and watch the magic happen.
Wait.
What is that? The corners of his mouth are creeping up!
Is that what I think it is?!!
Yes!! It's a smile!
You know what they say..where there's a smile… a giggle is sure to follow!
We ♥  honesty!  This post contains affiliate links that provide extra money for our mutual coffee habits addictions. Click here to learn more. As an Amazon Associate I earn from qualifying purchases.
Explore My Sources
Important Milestones: Your Baby by Two Months.CDC.gov
Predictors of Motor Developmental Milestones During the First Year of Life.Springer.com
Developmental Milestones.AAPPublications.org