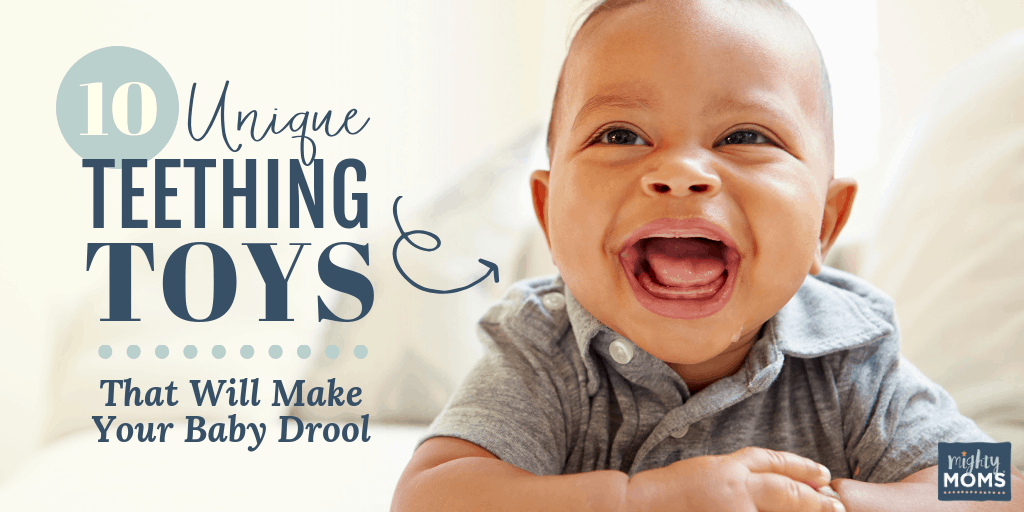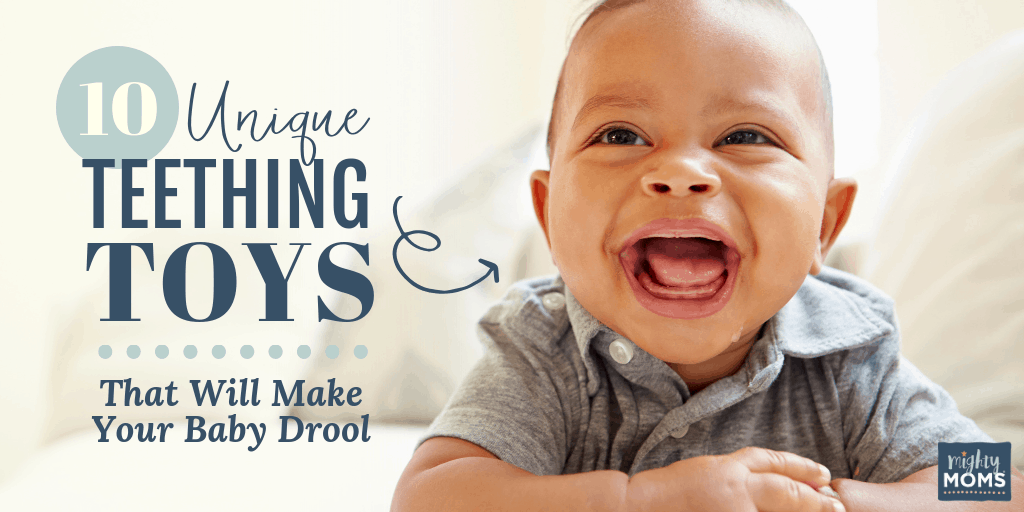 Ask new parents which milestone they are dreading the most, and you'll get a nearly unanimous answer: Teething. Fortunately, we live in an age of progress! The age of teething toys!
No more rags-soaked-in-bourbon or silver spoons. Technology has developed a whole new generation of teething toys for infants to soothe on. Here are the top ten best teething toys for babies.
Heather's Top Ten Best Teething Toys for Babies
Of course, a list is just a list. You want visuals, right? I mean, what the heck is a toofeze? I get it. So for those of you with a slightly longer attention span (or a lengthy breastfeeding session to get through), here they are in all their glorious graphics.
Just click on the links below the graphic to see more details on each one.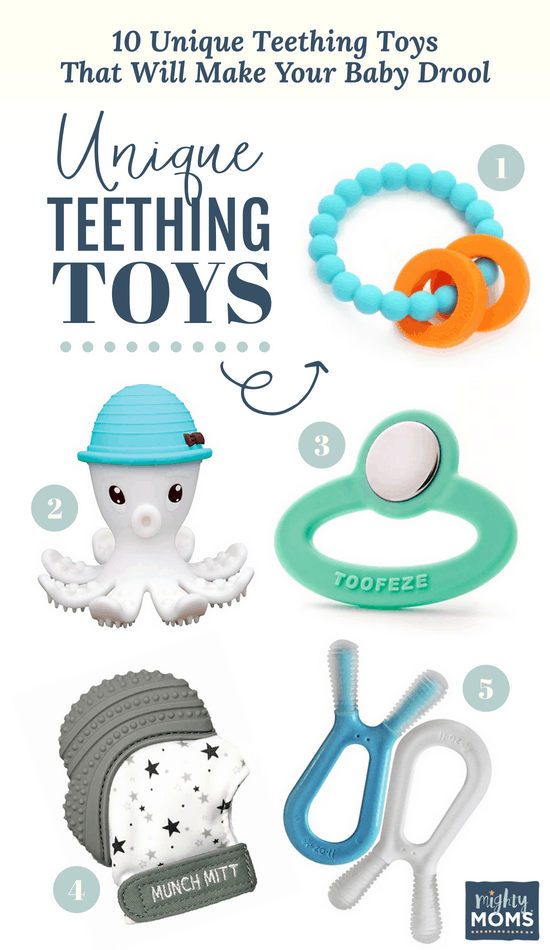 Unique Teething Toys #1-5
1. Chewbeads | 2. Ollie the Octopus
3. Toofeze | 4. Munch Mitt
5. Zoli Bunny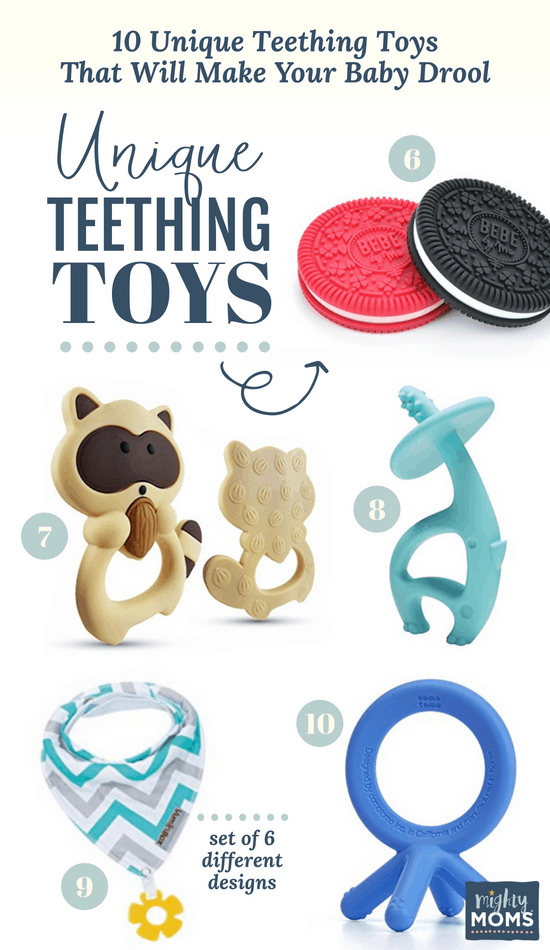 Unique Teething Toys #6-10
6. Cookies | 7. Raccoon
8. Ellie Elephant | 9. Baby Bandana Drool Bibs
10. Comotomo
Keeping Your Teething Toys Disease-Free
Although the easiest way to clean your teething toys may be to throw them into the top rack of your dishwasher, that's not ideal. Dishwashers don't always disinfect as much as we want them to, and when you consider where these teething toys have been…best not to take chances.
Here are the tried-and-true methods that work the best.
Cleaning Baby Teethers with Vinegar
Mix equal parts water and white vinegar together.
Dip a clean cloth into the solution and wipe the toy down or let the baby teethers soak in the mixture directly.
Dry completely on the counter.
Yes, your teething toys are going to smell like vinegar. If this is just too much, try…
Cleaning Baby Teethers with Baking Soda
Create a slurry of water and baking soda. (Think: gravy-consistency)
Wipe down the toy or let it soak in the mixture.
Rinse well.
Dry on the counter.
Short on baking soda at home? Here's the traditional method, that actually still works!
Cleaning Baby Teethers with Boiled Water
Fill a pot with water and bring to a boil. (Yep! Just plain 'ole water. No bleach!)
Place the teething toys inside the boiling water for five minutes.
Strain out the water.
Dry completely on the counter.
Obviously, you'll want to read the product label or do a quick online search to make sure that your teething toys won't melt in the boiling water. This method works well with hard plastic or wooden teethers.
Moving Beyond Sophie…
So why haven't I listed the infamous Queen of Teethington: Sophie the Giraffe?
I'll be honest.
I think she's completely overpriced.
It reminds me of a squeaky dog-toy.
You can't clean it completely, and have the risk of mold settling down inside. #nasty
If you're a happy Queen Sophie acolyte, I mind to slap your face with a proverbial glove. Stick with Sophie! For the purpose of this article, though, I didn't think she was quite unique enough to be listed as, well, unique.
Besides, sometimes a shake up in the royalty isn't a bad thing, right? Perhaps one of these teething toys will surprise us all and inherit the throne!
And to think it all started here…
Have You Read These Yet?
We ♥  honesty!  This post contains affiliate links that provide extra money for our mutual coffee habits addictions. Click here to learn more. As an Amazon Associate I earn from qualifying purchases.