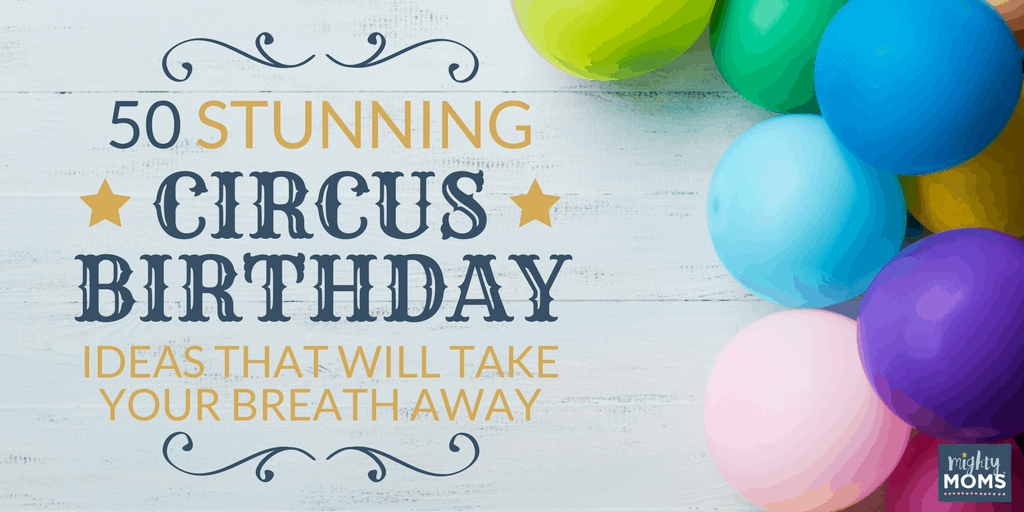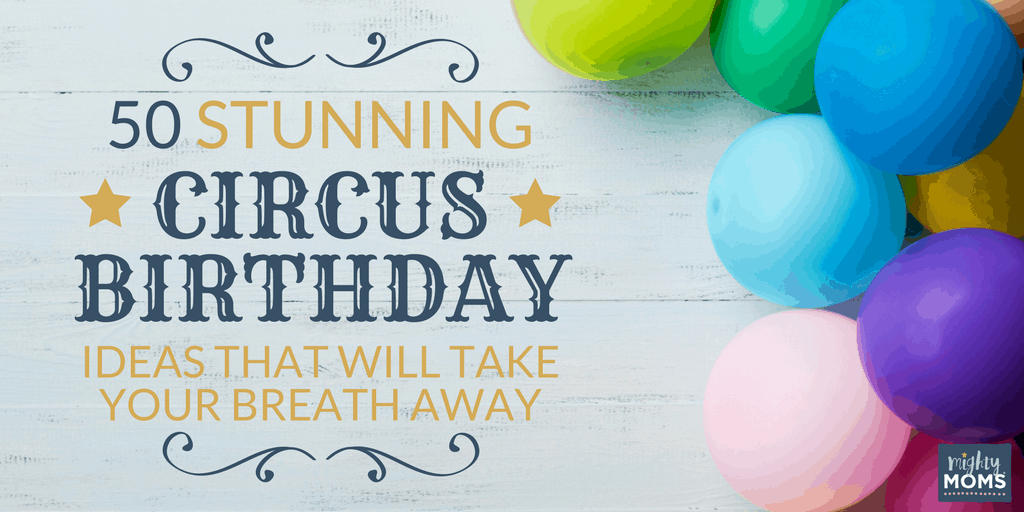 Let me give you two reasons why you should seriously consider a circus theme for your child's next birthday:
These two productions have re-invented something that (just being honest) Stephen King ruined for my entire childhood. 
Come one! Come all! Come celebrate a birthday!
It has a nice ring to it, don't you think? What a simple way to bring back some of the whimsy and fun of carnival games and food-on-a-stick in your own back yard.
When I first started researching this article, I had about 32 really good ideas I was excited to share. But then they just kept coming!  Honestly, the only reason there is only 50 circus birthday ideas here is because I turned off my computer. 
In the exhausting world of motherhood, the easiest way to get something done is to ask someone else to do it. 🙂  I am very pleased to do all that research for you. (Such sacrifice!)
Ladies and Gentlemen! May I present…the Greatest Circus Birthday Post on Earth!
Circus Birthday Ideas:
8 Invitations to Spin Some Excitement
I forget sometimes, as an adult, just how exciting it is to get something in the mail. Especially when that's a birthday party invitation.
My girls will hang their invitations on the fridge, looking at it every day, getting more and more excited about the fun that's just around the corner.  Here are eight invitations that celebrate the carnival in slightly different ways. Several even have tear-off tickets to hand in! How fun is that!

1. Step Right Up | 2. Stripes (in many colors) | 3. VIP Ticket
4. Ticket Stubs | 5. Simple & Clean | 6. Photo Circus Invite
7. Big Tent Invite | 8. Admit One
Circus Birthday Ideas:
8 Savory Snacks to Fill Up On
One of the gifts I like to give the parents at birthday parties is providing lunch. It's a good feeling to know that you're "off lunch duty" for that day. Here are eight circus birthday ideas for simple recipes that fit the theme perfectly.

What fits more with the circus than pretzels! Life Made Simple shows you how to make these two different delicious ways. Of course, if you'd rather head to the sewers with Pennywise the Clown than bake one more thing, J & J has got you covered.
I've completely fallen in love with this alternative version of nachos. You can even fool your conscious into thinking it's healthy because you're using apple slices instead of chips! (Debbie Downer: It's not healthy.)
The more foods we can stick on a stick, the faster your party clean-up will be. Check out this recipe for 15-minute corn on a cob stick.
Try your hand at homemade corn dogs, or cheat with these…no one will ever know!
Pizzazzerie had this great idea to slip some personalized party flags into your child's favorite Izzy Drinks.
Veteran parents know that one of the best way to get your child to eat vegetables is to present them in a fun way. This carrot-shaped pizza is perfect!
I thought this idea from Everyday Annie was insanely clever: poke holes in a gift box and all the fruit-kabobs stand up nice and purty.
The Organic Kitchen recommends baking your favorite Mac & Cheese recipe in a cupcake pan using personalized circus wrappers.
Circus Birthday Ideas:
11 Delicious Mouth-Watering Desserts
What kind of a birthday party would it be without sweets?!
*sad clown face*
Exactly! The only reason those kids have suffered through the health(ier) options on the table is because they know that the GOOD STUFF can only come after that course is finished. We shouldn't let them down…here are 11 birthday circus ideas for mouth-watering desserts.

Circus Birthday Ideas:
11 Tent-Worthy Decorating Touches
You can send out festive invitations and make tasty food, but unless you've got the right decorations, your party is going to be less than sensational. You need POP! You need PIZZAZZ! Let your guests feel like they're stepping into the Big Top with a few clever table touches.
Here are eleven circus birthday decorating ideas to thrill your audience from the moment they step inside.

Circus Birthday Ideas:
8 Giggle-Getting Games
You've sent the invitations, created all the food, and decorated the house. What next?
Party games!
A party is no place to stand around and feel awkward! Here are some exciting ways to bring down the house. (Hopefully not literally.)

Circus Birthday Ideas:
4 Unique Thank-You Favors
The food has all been consumed, the gifts have been opened, the games have been conquered, and somehow the decorations are still standing. It's time to send your guests home with a little reminder of all the fun they've had today to celebrate the momentous occasion of your child's birth!
Here are a few circus birthday ideas for take-home favors to consider!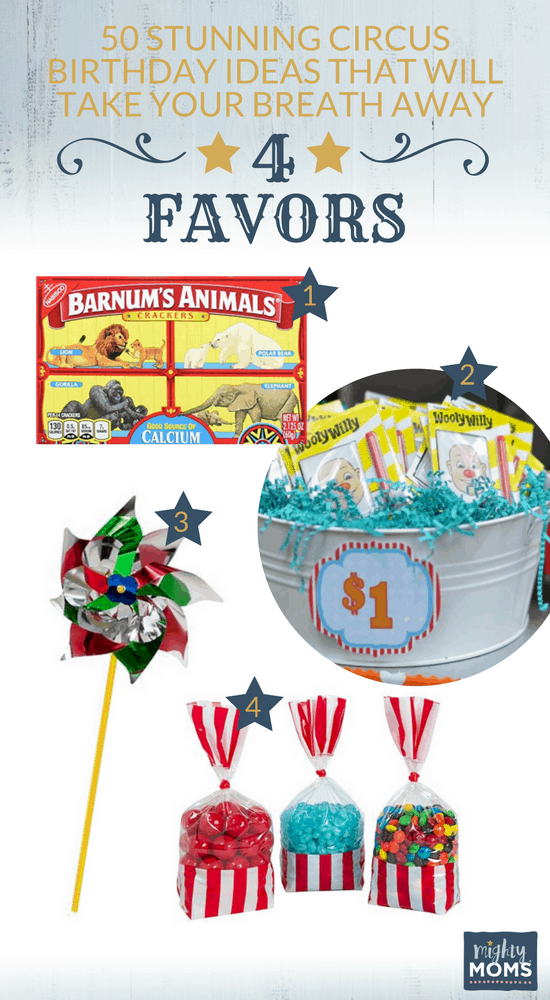 A Million Dreams:
The Ringmaster's Finale
There's something really exciting about re-creating the wonder of the Big Tent in your  living room. It's transforming.
Everyone knows some seriously awesome memories are about to be made.
Yes, it's going to be a lot of work. But it's rewarding work!
I'll confess, I don't throw these types of parties every year, but I do try to sprinkle them in every two years. I can remember going to a few epic birthday parties when I was little. The effect was so magical, I never forgot them.
What better theme to capture the circus of the life you're living right now than embracing it as a birthday theme? (A subtle poetic touch of dark-humor you and your hubster can privately enjoy as you are corralling kids to open presents?) 🙂
Honestly, with a party like this, why in the WORLD would your child want to run off and join the circus?
Your house is so much better.
Plus, there's cake. 
Have You Read These Yet?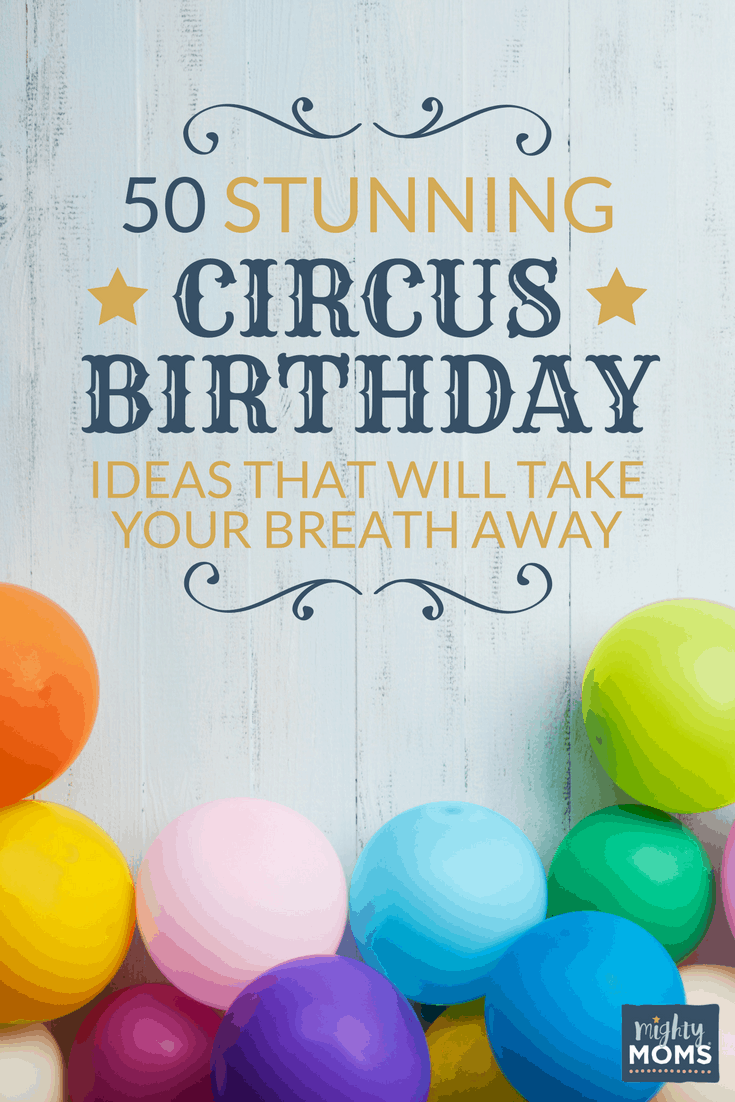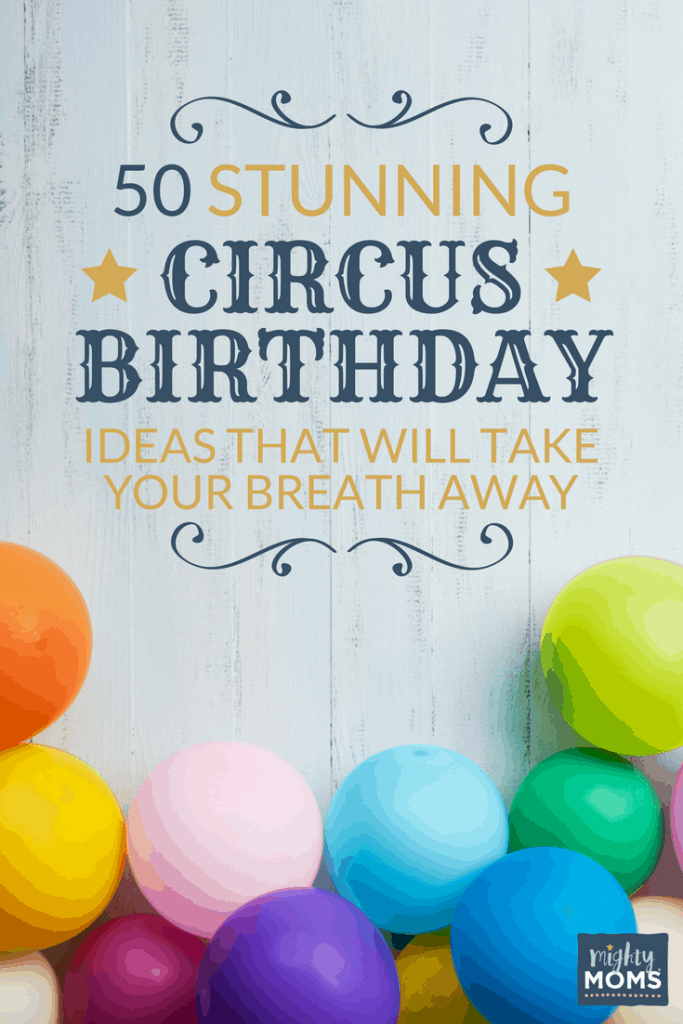 We ♥  honesty!  This post contains affiliate links that provide extra money for our mutual coffee habits addictions. Click here to learn more. As an Amazon Associate I earn from qualifying purchases.