Do the words "toddler chores," remind you of a Three Ring Circus?
Are visions of natural disasters flashing before your eyes?
Or, perhaps you feel like having your toddler help you clean the house is something akin to brushing your teeth while eating Oreos.
Having your toddler help you with chores doesn't have to be a nightmare In fact, it can even keep your house cleaner.
One Less Stress-Boulder in Your Mama Backpack
There are many tasks you can delegate to your toddler that are perfectly age appropriate. That's good news to overwhelmed mothers everywhere!
Sure, it may take a little upfront supervision time, but has a seriously awesome long term benefit. You're giving your toddler a chance to learn a new skill and practice new habits.
Picture these long term parenting benefits…all of which start with tiny toddler chores:
Your child gets up in the morning, makes his bed, gets dressed, cleans his room…all without a word of prompting from you.
He cleans up the kitchen after dinner, while you sit down to pay some bills.
Your child washes, folds, and puts away her own laundry.
This may feel like a fantasy right now…but the older Mama's here at Mighty Moms have been enjoying the fruits of these well-placed responsibility seeds, so press on!
Teaching responsibility is a serious undertaking as parents. Yes, it's going to be hard…but it's also going to create some pretty hilarious memories.
Allow me to paint a picture of what a toddler doing chores can look like…and then add a dose of reality to that lovely picture to keep our housekeeping fantasies planted on the ground.
Morning Toddler Chores:
Rise and Shine!
The birds are singing and (if you're lucky) the sun is already shining when your toddler wakes up. They're always so bright-eyed and bushy-tailed, no matter the hour, aren't they?
It may seem too early to even be awake, but believe it or not, it's not too early to do a chore! Use these "Morning Chores" as part of your daily routine. This way it will be an old habit once Preschool comes around!
The Task: Make the Bed
The Dream: Your two-year-old quietly climbs out of bed. Knowing it's not quite time to play yet, she…
Straightens her covers.
Fluffs her pillow.
Lines her stuffed animals up in a row.
Picks out a book to look at until you tell her it's time for breakfast.
The Reality: Your two-year-old calls for you and it sounds something like this: "MOOOOMMMY. Mommy. MOMMY. Mom. Mommy! MOOOOOM!" You enter the room, and…
She's sitting there, diaper free, grinning
You hurry to address the precarious diaperless situation.
You make her bed (or don't) and head down to breakfast.
The Compromise: Instead of simply making your toddler's bed for her, could you begin showing her what making the bed looks like?
Use a special clock like this one to show her when it's okay to get out of bed. (In case you have a really early riser!)
Take a few mornings to make her bed yourself and talk through the steps while she watches.
Complete this chore first thing after waking up (unless, of course, you need to replace that diaper she ditched!)
After a couple of mornings doing the same thing consistently, ask your toddler for her help. Eventually pass the chore completely to her, and be sure to remind her what a great job she did!
You may never be able to bounce a quarter off your toddler's bed or boast about those hospital corners, but together you might find those two extra minutes spent making her bed become easier each day, until it's fully part of your toddler's routine.
There you go! Making the bed is one less chore for you to do, and one more skill you've helped your toddler develop!
The Task: Unload the Dishwasher
The Dream: Your three-year-old joins you in the kitchen and waits patiently as his oatmeal heats up. While waiting for breakfast he…
Carefully carries one dish at a time from the dishwasher to the appropriate cupboard.
Wipes up any water that splashes on the floor (darn that top rack!) with a towel.
Places his spoons, forks, and cups in the correct drawer, sorted according to color.
The Reality: Your non-early-bird three-year-old…
Stomps his feet in any water that splashes on the floor.
Alternates between gleeful shouts of "a puddle Momma, a puddle!" and desperate sobs because, "socks wet, Momma, socks wet!"
Meets any requests to help put dishes away with protests and more stomps
Casually points out that the oatmeal is starting to bubble over.
The Compromise: Sometimes it's tough for toddlers to understand the big picture of a chore. Perhaps saying, "please put your dishes away," it too broad. What if you adjusted the way you did dishes so it could truly be a toddler chore?
Designate a drawer or low cupboard with kid dishes only. (And by "kid dishes" I mean these unbreakable ones.)
Arrange the dishes in the dishwasher so your toddler can safely choose his own items from the dishwashing rack without risking any dropped breakable items.
Use small organizers like this for forks and spoons. Not only will it keep his drawer under control, sorting like items is a great developmental skill to practice! (Short on drawer space? Heather uses a stylish silverware holder like this one for the counter).
You can be choosey about how he helps, but the more confident he becomes in unloading his own dishes, the less direction you'll need to give him. What a great little helper you'll have!
WARNING: This chore can't be delegated entirely to a toddler as some dishes are not kid-friendly. To keep your toddler safe, be sure to remove any sharp or pointed objects from the dishwasher yourself before enlisting his help!
Evening Toddler Chores:
Good Night, Sleep Tight!
You've had a full day of chasing your toddler around the house, building with magnetic blocks, using playdough, and drawing with markers. It's time to wind down and get ready for bed, but the toys are everywhere.
The Task: Putting the Toys Away
The Dream: Upon hearing that it's almost time to get ready for bed, your three-year-old…
Puts what he is playing with away, which takes no time at all, as he's been cleaning up after himself all day. Each puzzle and block has been correctly stored before moving onto the next project.
Clears the carpet so well you're able to run the vacuum quickly before tucking your little angel into bed.
Waits patiently on the bottom step with his hands in his lap while you put the vacuum away.
The Reality: Your three-year-old is "not done playing yet, Mommy!" Instead of having only one or two items to put away, it's every single toy he owns.
Hearing that it's almost time to get ready for bed and that he needs to pick up looks more like…
"No thank you, Momma!"
Gathering one or two of the smallest items, putting them away, and saying, "I listened!" (A classic toddler move!)
Requesting to sleep with all his toys in his big boy bed.
The Compromise: At the end of the day, everyone is tired. Despite knowing as adults that bedtime is golden and cannot come soon enough, toddlers don't really feel the same way.
It's hard to shift gears from playtime to the getting ready for bed routine. Could you incorporate a small amount of tidying up as the beginning of the bedtime routine? When it's time to start heading that direction, try…
Implementing a great organization system so cleaning up isn't chaotic.
Sitting down with your toddler to tell him it's time to pick up.
Help him by offering the correct bins and baskets for his toys.
A quick round up with your toddler can alleviate some of the feelings of being swarmed by Tonka trucks when you head back downstairs after the kids are in bed!
Encourage him to put each toy to "nigh nigh", giving them kisses and putting them into the basket to "sleep".
At bedtime, your toddler is likely worn out enough that his attention span has gone from toddler-length to nearly zilch. You probably won't get a spotless clean out of this routine, but that's ok.
The goal is to help your toddler learn that part of taking care of his things is returning them to their place every evening. Even if he only happens to get a few books placed perfectly back on the shelf, you're headed down the right track.
The Task: Handling Dirty Laundry
The Dream: As your two-and-a-half-year old aspiring fashionista goes through her numerous wardrobe changes during the day, she…
Folds any still-clean clothes up and places them back in her drawer.
Never leaves any discarded clothes on the floor.
Immediately places anything dirty in her hamper.
The Reality: Your two-and-a-half-year-old had eight voluntary wardrobe changes and two non-optional changes. Instead of placing her clothes in her dresser or hamper, she…
Left her pants in the bathroom, a casualty of potty training.
Stripped off her ketchup and ranch painted shirt and set it on the lunch table.
Took off her own PJs in her bed and stuffed them under the covers
The Compromise: Before your final bedtime steps, would adding a laundry round up to your routine be helpful? Picking up laundry is a very small-picture item, and the instructions needed are simple and direct. To help keep the cleanish laundry and dirty laundry from mixing, try…
Quickly gathering any still-clean laundry from the floor before asking for your toddler's help.
Place any dirty items not already on the floor or in the hamper on the floor so they're easy for your toddler to find.
Ask your toddler to pick up any laundry that's on the floor and move it to the hamper.
Move the hamper to the middle of the room to eliminate distractions.
As your toddler gets older, a little less prone to distraction (if anyone knows when that is, please tell me!), and has better dexterity, it may become appropriate to have them help you sort anything that is clean and dirty and even fold things.
For now, though, practice in getting dirty clothes in the hamper, and not toys, the cat, empty juice boxes, or other various treasures, is a great place to start!
Weekend Toddler Chores:
The Extras
Toddlers love to help, but also love the phrase, "by myself". Why not harness that independence, hand them a squirt bottle, and set them free?
The Task: Mop the Floor
The Dream: You hand your three-year-old a mop and spray bottle with water or kid-friendly disinfectant inside…
Point to the floor.
He goes to town, spritzing and mopping.
Easy as pie, you could eat off that floor when he's finished.
The Reality: You get out the mop and your toddler claims it as his own.
He turns the spray bottle to stream and starts a puddle on your wood floors.
He takes the full sized mop and runs around with it, putting your beloved crystal vase in jeopardy. (I'm just kidding about the crystal vase. I don't know too many toddler moms who keep crystal out, do you?)
You're left following him with towels and hand mop your floor, which is less than ideal.
The Compromise: If your little man is dying to help you out, but insists on doing it all himself, why not try a few tricks of the trade to make the chore more toddler-sized?
Shorten a Swiffer. Swiffer mops have to be assembled when you purchase them. You can actually choose the height of the mop by leaving a few lengths of the handle off. Perfect for anyone under four feet tall!
Use reusable microfiber cloths for your mop. They're kind to your floors and kind to the earth. They also won't feel like you're wasting money when your toddler wants a clean one every three seconds.
Find a few toddler-friendly cleaning products that function like real ones. This Melissa and Doug set is a favorite of ours. The spray bottle has a gentle spray and is easy for little hands to squeeze, but not so easy to unscrew and dump out.
A Free Toddler Chores Checklist
Wouldn't it be helpful to have a single sheet that lists the age-appropriate chores your 2 to 7 year old can responsibly do to help out?
Yes. Very helpful.
Which is why we created this!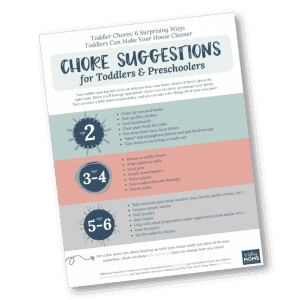 Why is that a direct link and not behind a give-me-your-email wall? Because I don't want to bully you into a friendship.
If you like the free download, why not subscribe to my weekly email and get a free copy of 101 Ways to Be an Awesome Mom?
Or, if you're grateful, but not interested in subscribing, can you share this article with your social media pals? That works too!
From one working mother to another, thanks!
Toddler Chores:
The Bottom Line
Teaching your toddler about responsibility and how to do the tasks that keep our homes happy and healthy probably still won't top your list of "fun things to do with my two-year-old."
With these ideas, hopefully the word "chores" will sound less like that Three Ring Circus and more like a game of duck-duck-goose: easy enough to teach, kind of fun to try, and not the worst way to spend part of your day.
Don't forget, toddlers are new little humans learning a lot about the world, and require a lot of patience, no matter what you're trying to teach them.
That said, the rewards of a child who learns how to be a good steward of the items and property he has been given is worth all the patience in the world. Now is the time to use these toddler chores to instill little habits that will lead to:
A kindergartener who clears the table without being asked.
A third grader who doesn't leave her backpack, shoes, coat, and lunchbox in a trail through your house.
A middle schooler who doesn't hesitate to scrub a toilet now and again.
A high schooler who is on top of her own laundry.
A college student who doesn't annoy her roommate with the state of her "side" of the room.
And it all starts here! I'm confident your toddler can help you keep your house cleaner as you show them new things they can do!
Have You Read These Yet?
We ♥  honesty!  This post contains affiliate links that provide extra money for our mutual coffee habits addictions. Click here to learn more. As an Amazon Associate I earn from qualifying purchases.