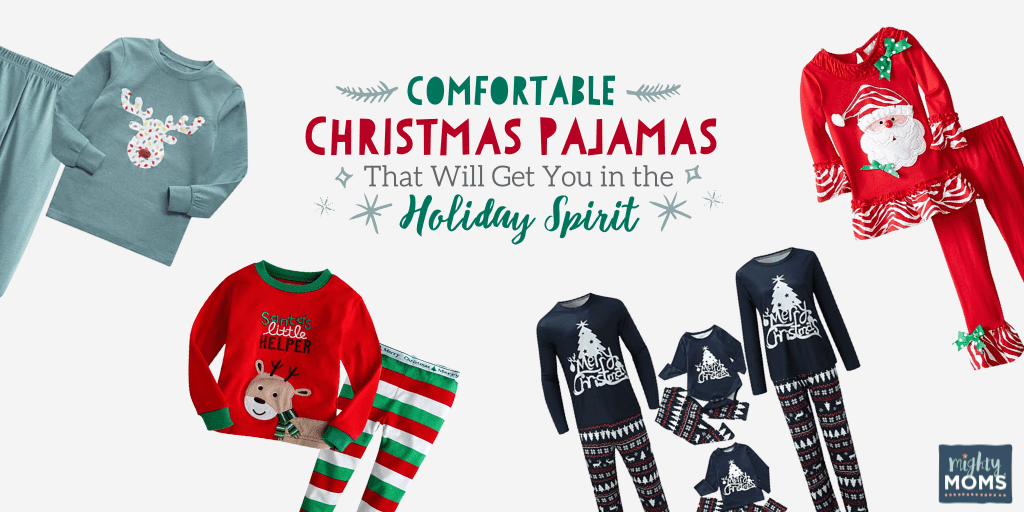 There's nothing that will get you into the holiday spirit quite like sitting down with your Christmas gnome mugs of hot chocolate and browsing for Christmas pajamas at your favorite online stores.
What?! You haven't experienced that warm fuzzy holiday feeling to kick off the season? Well, let me indulge you.
Here's to your newest family tradition!
*raising mug*
Family Christmas Pajamas Perfect for Cuddling
It's been a trying few years, my friend. Time for some
There are some incredibly clever 2021 Christmas pajamas out there that do a great job of poking fun at the scary monster in the corner.
After all, if you can't laugh… you may cry. And there's no crying in Christmas.
Here are my favorites for a weekend "Silly Pajama Day" with the kids.

Christmas Pajamas
for the Festive Enthusiast
Can't get enough Christmas?
If you're the type who shamelessly starts setting up your Christmas tree on November 1st, then I imagine Christmas pajamas are pretty high on your holiday season priority list.
Here are a few adorable pajama sets that will take your child's festive rating up a notch or two… or five… or maybe even to Elf level.

Christmas Pajamas
with a Subtle Flair
Looking for festive pajamas that don't scream CHRISTMAS? You want to participate in all the fun of cute Christmas pajamas, but you also want your kiddo to be able to get more than a few weeks of wear out of them.
Take a look at these five pajama sets with a more wintery theme. You'll get all the fun of holiday pajamas, but you'll be able to dress your little one in them for the rest of winter without batting an eye.

Don We Now Our Christmas Jammies
With all the beautiful decorations and extra time with loved ones, there is surely no shortage of reasons to enjoy the holiday season.
Christmastime often evokes feelings of coziness and comfort, and comfortable Christmas pajamas can add to those feelings all season long.
Dress your little one (and maybe even yourself!) in any of these festive pajama sets, and you'll be singing Christmas carols underneath your toddler-proof tree before you can say Feliz Navidad!
We ♥  honesty!  This post contains affiliate links that provide extra money for our mutual coffee habits addictions. Click here to learn more. As an Amazon Associate I earn from qualifying purchases.