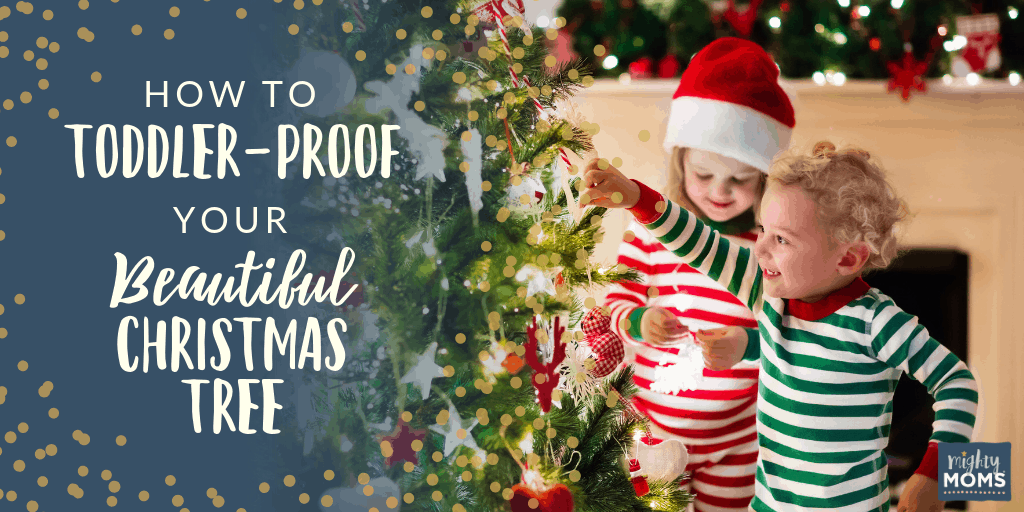 Do you have a contingency plan for that beautiful Christmas tree in your living room? Do you have a toddler Christmas tree tucked away somewhere?
You should.
Because there is no way he's going to stay away from that massive, exciting, colorful new playground. With just a bit of pre-planning and a dash of creativity, putting together your Christmas tree plan will be a piece of cake! (Or pie…mmm, pie!)
Toddler Friendly Christmas Tree Tip #1: Teach Boundaries
The first thing you'll need to do (surprise, surprise) is to teach your toddler boundaries. The most loving thing you can do for your pint-size three-nager is to teach him that Mom and Dad are in charge. (Not him.)
This isn't egotistical parenting. This isn't about feeling powerful or dominating. This is about safety.
Let me ask you this: if your child was running towards the highway and you shouted for her to stop, would she? Would she immediately stop in her tracks? Or continue to run away and into danger?
Gentle Corrective Parenting
At this critical age, it is important your children learn that your word MEANS something. Your "No" means NO. Whether you use the time-out chair or a gentle tap on the bum with an eye-to-eye talk and a hug, your child needs to learn that…
He is safe in your presence.
He is greatly loved and cherished.
He is under your authority and needs to do as you say.
This will change in time, of course. We don't make demands on our teenagers, although we still have boundaries. We talk over things with them, and they, because of the safe nest we've created, have learned to trust our parental judgements, knowing that sometimes they will actually "win".
Since my teens know they are 1) safe and 2) greatly loved and cherished and 3) we are flexible and will give sway when shown it is reasonable to do so, we have eliminated a LOT of the tension that typically comes with this age group.
But for now, during those toddler years, it's important for young children to learn the value of the words "No touch". Yes, tantrums will come, but we've got a few other articles like this one to help with that. *wink*
Toddler Friendly Christmas Tree Tip #2: Provide a Just-for-You Tree
The best way to distract your excited toddler from touching the Christmas tree is to start a new Christmas tree tradition by gifting your toddler with her very own tree.
If you are feeling crafty and want to make your own tree, we've got you covered! There are plenty of fun, festive options when it comes to Christmas trees for kids. Here are a few to get you started.
Toddler Friendly Christmas Tree Tip #3: Stock Up On Distractions
Want your toddler to completely overlook your beautiful Christmas tree?
The best part about these distractions is that you're going to put them away and pull them out again next year, when they will feel brand new!
Easy! Just provide a few well-placed holiday distractions! That tree is going to look pretty boring in the corner when there are these to play with!
For another twist on the classic Advent calendar, check out Kim's homemade version full of sweet surprises!

Beautiful Christmas Tree + Toddler = Holiday Fun
Decorating the Christmas tree is one of the best parts of the Christmas season!
And now, the whole family can enjoy decorating the tree together because you have the perfect Christmas tree plan.
No need to stress about your toddler playing with your beautiful Christmas tree all season long because now you know how to:
Teach your toddler boundaries (or get a gate!)
Provide a safe toddler-size tree alternative just for him
Offer plenty of holiday distractions
So, say goodbye to those broken Christmas ornaments and, instead, enjoy watching your toddler experience the fun and magic of Christmas! (Perhaps for her very first time!)
We ♥  honesty!  This post contains affiliate links that provide extra money for our mutual coffee habits addictions. Click here to learn more. As an Amazon Associate I earn from qualifying purchases.