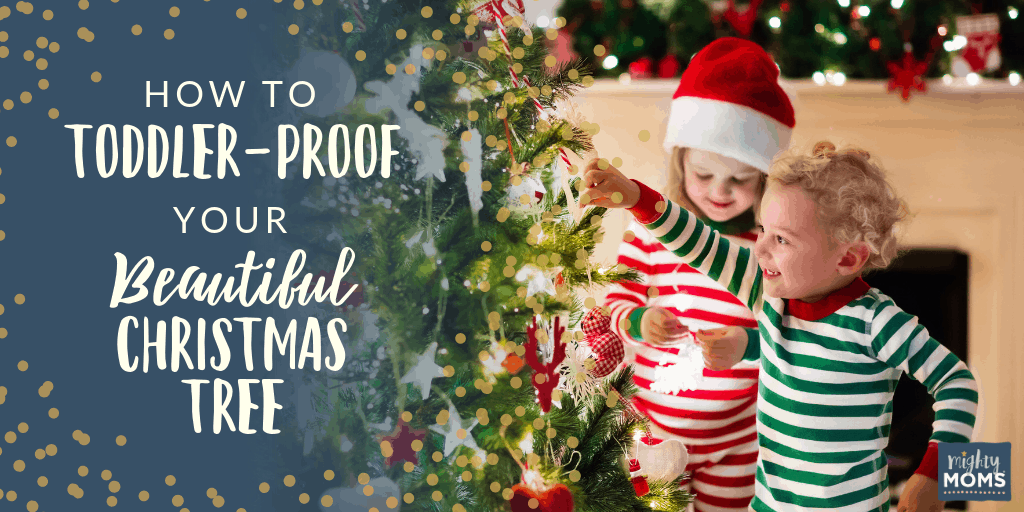 Do you have a contingency plan for that beautiful Christmas tree in your living room? Do you have a toddler Christmas tree tucked away somewhere?
You should.
Because there is no way he's going to stay away from that massive, exciting, colorful new playground.
First Things First:
You Need a Beautiful Christmas Tree Plan
Having a toddler in the house is an adventure on most days even without a beautifully decorated Christmas tree grabbing her attention!
The first step to putting together your perfect Christmas tree plan, is to start asking yourself these simple questions:
Is there a better place to put the Christmas tree this year that is out of reach? Be creative.
Will a real or fake tree be better for my toddler this year? Decide what the best option would be for your family.
How would my toddler respond to having a decorated Christmas tree in the house? Observe your toddler's current behavior.
Once you know these answers, you can start to explore all your Christmas tree options. With just a bit of pre-planning and a dash of creativity, putting together your Christmas tree plan will be a piece of cake! (Or pie…mmm, pie!)
Toddler Friendly Christmas Tree Tip #1:
Decorate With Strategy
Decorating the Christmas tree can be a fun activity for the whole family, except when you have little toddler hands reaching for great-grandma's glass ornaments!
Plan to decorate with strategy.
Decorate the middle to top half of the tree with your most valuable ornaments, and secure the lower, less fragile ornaments with this easy tool to prevent them from being pulled off the tree. If you're still not sure that would work, just leave the bottom half of the tree without ornaments altogether.
If you have a toddler who likes to climb or knock things over in his path, fasten the Christmas tree to the wall! Simply twist a few of these wall hooks into the wall behind your Christmas tree and tie some invisible fishing line around the top trunk of your tree to the wall hook so there's no need to worry that it could tip over.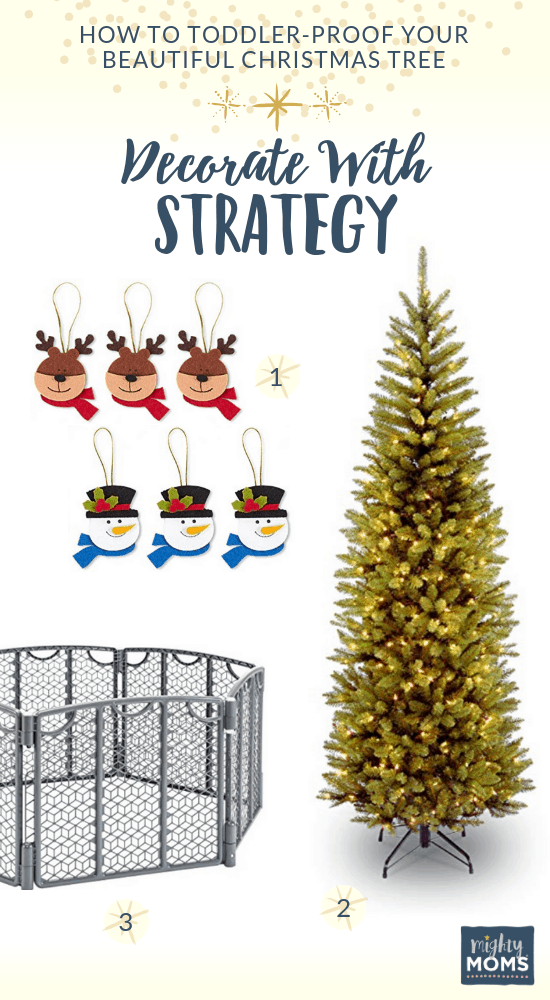 Then, try these creative ways to decorate the Christmas tree with your toddler:
Create Your Beautiful Christmas Tree Strategy
Toddler-Approved Ornaments: Give your little one their very own section of the tree to decorate with these unbreakable ornaments.
Beautiful Pre-Lit Tree: Decorate this tree to keep tiny hands from pulling down strings of lights.
Best Baby Gate: Create a "no touching zone" around the Christmas tree to keep your toddler at a safe distance.
Now you and your toddler can have fun decorating the Christmas tree together with the whole family, guilt-free and on purpose.
Toddler Friendly Christmas Tree Tip #2:
Mix and Match Christmas Trees
Just like toddlers, Christmas trees are not one size fits all. Why not embrace the season by using a variety of beautiful Christmas tree styles and shapes in your home? This way there's a beautiful Christmas tree for everyone. (One for the table, one for homemade ornaments, one for Better Homes and Gardens, etc.)
Remember, what may be hideous for you will be magical to your toddler! Change up the normal Christmas tree tradition and try some of these fun new tree ideas: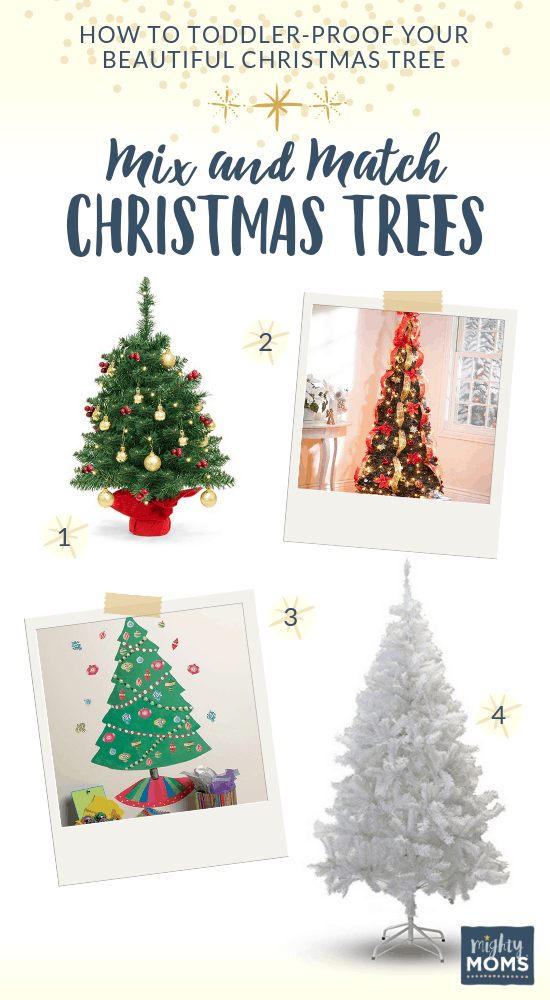 Add More Than One Christmas Tree to Your Home
Creating your own magical winter wonderland by combining different kinds of Christmas trees will only make Christmas that much more exciting!
Toddler Friendly Christmas Tree Tip #3:
Toddler Tree Fun
The best way to distract your excited toddler from touching the Christmas tree is to start a new Christmas tree tradition by gifting your toddler with her very own tree.
If you are feeling crafty and want to make your own tree, we've got you covered! There are plenty of fun, festive options when it comes to Christmas trees for kids. Here are a few to get you started: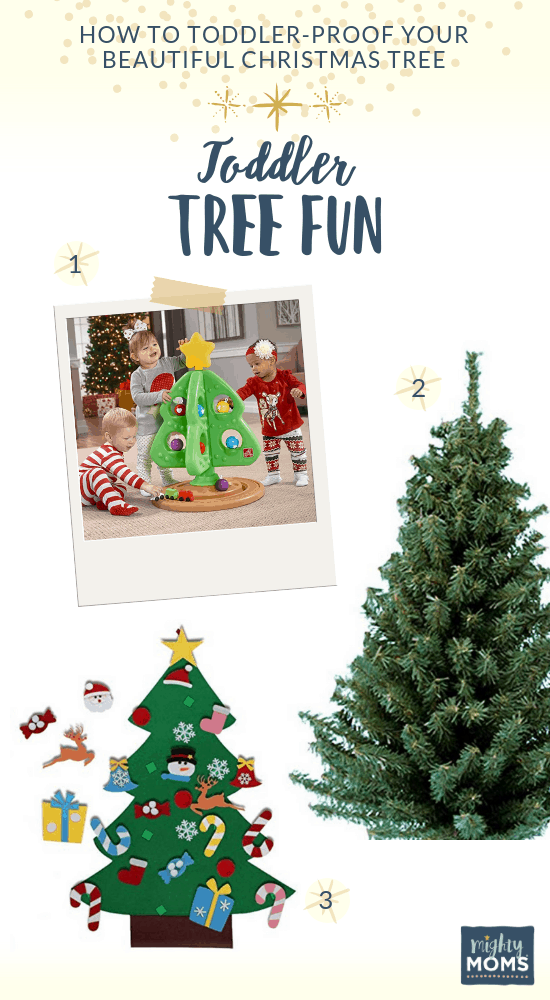 The Perfect Toddler Christmas Tree Is…
Perfect Toy Tree: This Christmas tree will provide hours of holiday fun distraction.
Fuzzy Felt Tree: Set this cute tree up next to the real Christmas tree so she can feel like she has her own big tree too!
Fun-Sized Tree: Just like a real tree, but she can keep it in her own room, decorated any way she wants
She will love having her own tree and can decorate and re-decorate as many times a day as she wants. If you enjoy crafting, check out Katie's post Rockin' Around the Felt Christmas Tree: A DIY Baby-Friendly Tree.
Toddler Friendly Christmas Tree Tip #4:
Garlands, Wreaths and Candles, Oh My!
So maybe having that Christmas tree glistening in the living room is just too darn tempting for your sweet toddler, no matter what you do.
But don't worry! Having a Christmas tree with a toddler doesn't have to be all or nothing.
While you may need to postpone the 6-foot Christmas tree this year (for fear your toddler might like to eat the pine needles or lick the sap…because, well, never underestimate a toddler!), the best part of any Christmas tree is the sights and smells that it brings into the house.
So, just bring all those things you love about a Christmas tree to life in other ways!
You can have lots of fun using all kinds of fantastic holiday decorations throughout your home in places your toddler cannot reach: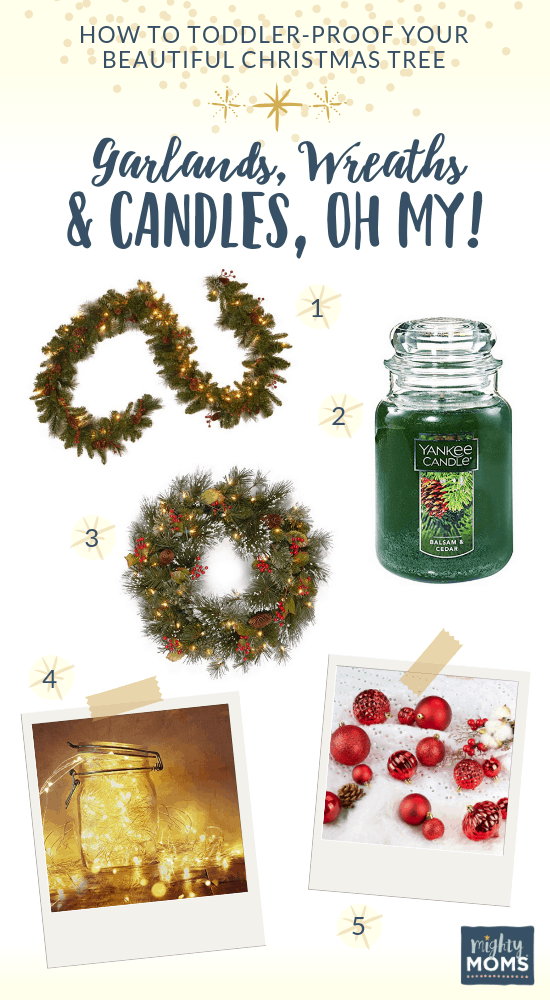 Moving Beyond the Beautiful Christmas Tree
Pine Garlands: Use these anywhere you want! Entryways, mantles, doorways, etc. for that magical Christmas tree feel!
Pine Wreaths: Using wreaths inside the house is just as enjoyable as on the front door. They add a beautiful Christmas accent to any room!
Christmas Candles: Keep that sweet and snowy pine aroma in your home all season long with these perfect candles.
Twinkle Lights: Christmas tree lights are the most magical decoration so use them throughout your home instead of just on the tree.
Decorative Ornaments: Christmas ornaments can look beautiful and classy just about anywhere! Just place some in vases on your mantel or in a large bowl on the dining room table.
Using these Christmas decorations will bring so much holiday magic into your home, you may not even miss having the Christmas tree!
Beautiful Christmas Tree + Toddler = Holiday Fun
Decorating the Christmas tree is one of the best parts of the Christmas season!
And now, the whole family can enjoy decorating the tree together because you have the perfect Christmas tree plan.
No need to stress about your toddler playing with your beautiful Christmas tree all season long because now you know how to:
Decorate with strategy
Mix and match Christmas trees
Give your toddler his own tree
Decorate with accessories in order to keep the Christmas tree magic alive (even if the Christmas tree is packed in the basement)
So, say goodbye to those broken Christmas ornaments and, instead, enjoy watching your toddler experience the fun and magic of Christmas! (Perhaps for her very first time!)
Have You Read These Yet?
We ♥  honesty!  This post contains affiliate links that provide extra money for our mutual coffee habits addictions. Click here to learn more.