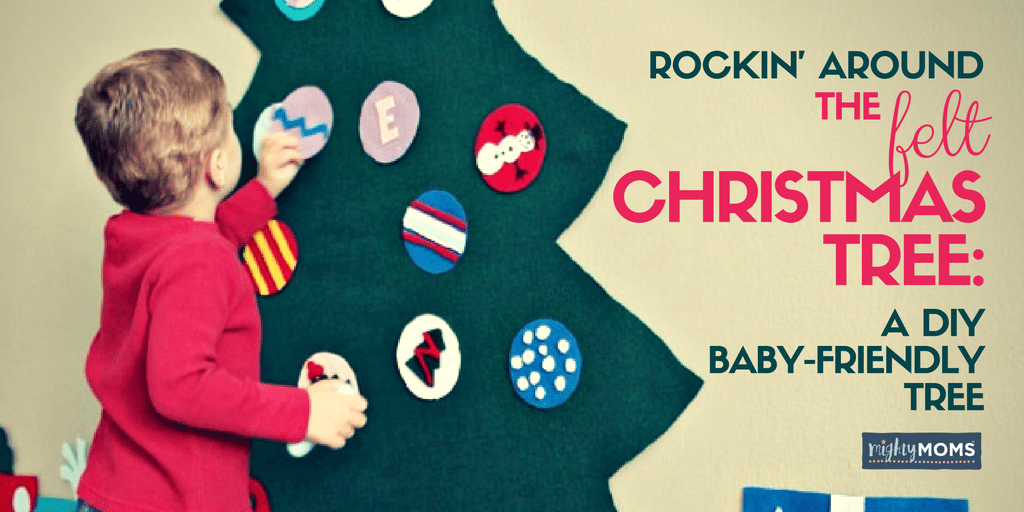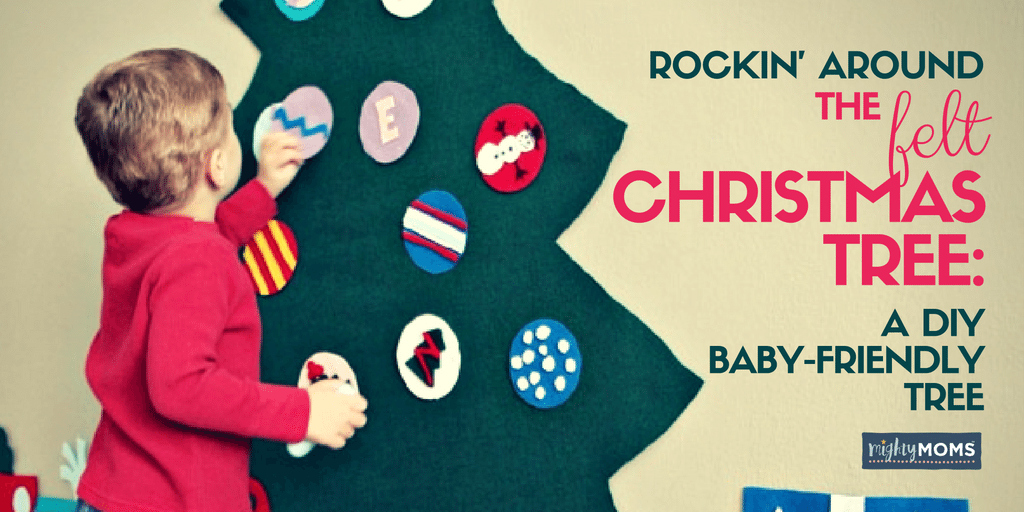 It's that time of year again!  There's a TON of things to do.
Hang up your stockings…wrap all those presents…gulp gallons of hot chocolate…decorate your Christmas tree…
…and then keep your baby from destroying your Christmas tree.
#amiright
Yes, we all love to make the home warm and cozy and colorful at Christmas time. The atmosphere seems magical with twinkling lights everywhere. But we also want to keep our sanity and keep our babies from pulling all the ornaments off the tree and breaking them – because that's no fun for anyone.
But HOW exactly do we keep little ones away from the tree of wonder?
In an effort to do just that for my almost-3 year old boy, Jeremiah, and 1 year old girl, Emma, I decided to create a special little tree just for them.
A tree they could decorate themselves and then tear apart over and over again throughout the holiday season – a FELT Christmas Tree!
This worked so well that I just had to share the step-by-step process with you today! With only a few materials and an hour or two of time, you'll have the tree set up and ready for play. And believe me, you'll be ever thankful that you made the effort!
Speaking of materials, here's what's needed:
Scissors
Sharpie
Glue Gun with plenty of glue sticks
A cup or anything you want to use to trace out ornaments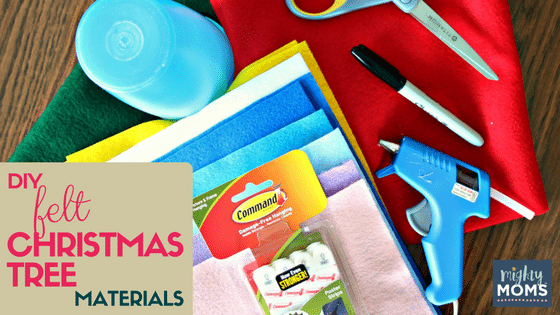 DIY Felt Christmas Tree Step 1:
Shop 'Til You Drop!
Of all the materials needed, the only items I didn't have on hand were the command poster strips and the felt.
The poster strips can be bought at almost any store, including WalMart, Target, and home improvement stores. You can also find them online here.
For the felt, I went to JoAnn fabric store. They had a large variety of colors, and they happened to be running a 50% off sale on their felt when I went. Stores like this run sales frequently! Check their website for weekly deals and coupons too.
I bought 1 yard of green felt off a bolt to use for the Christmas tree, and then bought individual pre-cut squares they had on shelves in the craft section in a variety of colors to use for the ornaments.
If you're a busy online shopping mama, you can find different colors of felt for the ornaments here.  Don't forget to include a yard of green felt for your tree!  A few clicks and the UPS man will deliver everything you need.  You're welcome.
Pick whatever colors float your boat. If you want a pink tree, then go for it! It's for the kids after all. 🙂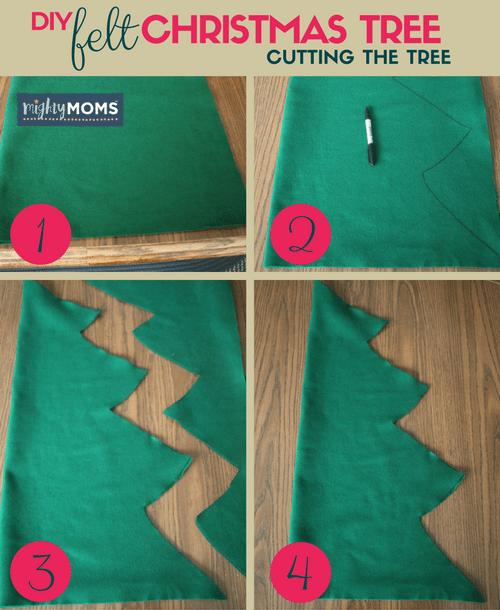 DIY Felt Christmas Tree Step 2:
Cut It Out!
Prior to cutting, I did some tracing, starting with the tree.
First, fold the green fabric in half and trace a half-tree. I did this all free-hand using up as much of the fabric as possible.
I wasn't concerned about the tree branches looking perfect, but I did want the two sides of the tree to be symmetrical. This why folding it in half works well.
Tip: The folded side of the fabric is the center of your tree and be sure you trace out from there. I accidentally traced from the outside edge of the fabric the first time around and had to flip the fabric over and start again. Don't be like me. 😉
Once I had my tree traced out, I cut it out and opened it up. It turned out great!
I also added a little square stump at the bottom of the tree by gluing the top edge of the stump under the bottom edge of the tree. This is optional, but it does add a nice realistic touch!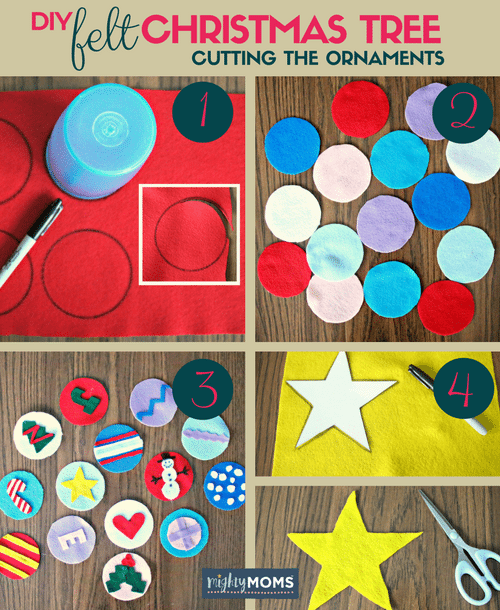 Next, it's on to the ornaments! Using the plastic cup (#1), trace circles onto a bunch of the different colored fabric squares. Do as many as you like.
I ended up with 14 circles and it turned out to be a great number for this size tree.
When cutting out the circles (#2), try to cut inside the sharpie line you drew so that you don't have a black outline around the circles.  I recommend using super sharp scissors since it's a lot easier and you'll have smoother edges. 

Then, I drew and cut out a variety of "decorations" (#3) to glue on top of the ornaments. Things like a snowman, candy cane, stripes, stars, dots etc… How much design and detail goes into the ornaments is totally up to you! I wanted to decorate each ornament, which was a bit more time consuming, but I think it's totally worth it!
I also created a little star to go on top of the tree (#4). I tried to trace out a star on my own, but it looked pathetic. So, I googled a star image and printed that out so I could trace it. Much better.
Finally, I took the remnants of felt to trace, cut out, and decorate three presents for "under" the tree. Again, totally optional, but a fun addition!
DIY Felt Christmas Tree Step 3:
Glue It Together!
This is where a good glue gun comes in very handy!
I used it go glue all the decorations on the ornaments and presents – making sure to get glue on the very outside of the decoration so that it doesn't peel away later.
Use as much glue as possible. After all, your baby will be handling these.
Tip: Keep from burning your poor fingers tips with hot glue by using these finger guards.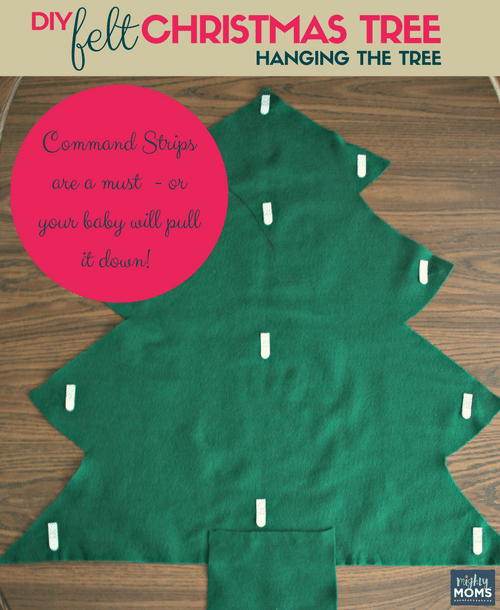 DIY Felt Christmas Tree Step 4:
Hang it Up!
Using command poster strips will make hanging the tree easy and keep your baby from ripping the tree right off the wall.
Before using the poster strips, I tried using some painters tape to hang the tree up, and it was ripped down pretty easily by my 1 year old. So, stick with the heavy-duty stuff!
I put a poster strip at the tip of each branch and then a few down the center. It's very secure and the branches don't flop and fold back.
Choose the wall you use and make sure the tree is at the right height from the floor or baseboard, and then press down on all the strips to make sure they're stuck tightly against the wall.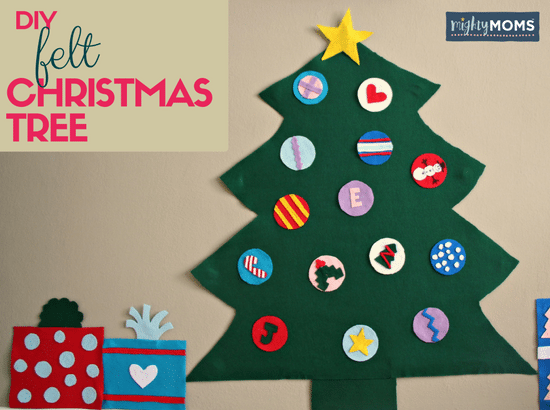 I had to try the tree out for myself just to be sure the felt ornaments actually stuck on the tree and they did! Whew! So cute and festive, right?!
I tested taking the tree down off the wall, and with some delicate pulling, the felt will pull off the command strips and then you can remove the command strips from the wall according to the instructions provided. Keep any unused command strips with your tree to use again next year.
DIY Felt Christmas Tree Step 5:
Playtime!
This is the fun part! As soon as my two year old saw the Felt Christmas Tree on the wall, he instantly squealed "my tree"!
I showed him the different ornaments and presents I had made and how to gently place them on the tree.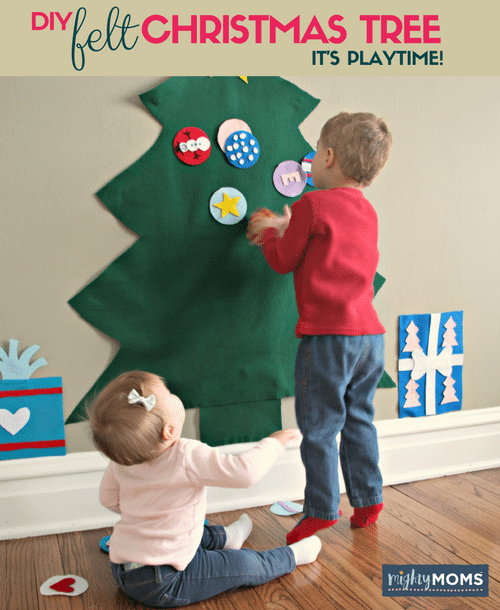 He quickly realized that if you merely throw the ornament up there, it will just fall back to the floor, but if you place the ornament flat with your hand and "pat, pat, pat" it, there shouldn't be any problem with the felt ornament staying put.
It only took a couple of practice ornaments before he had it down pat!
Learning Time Bonus!
For all mamas with toddlers who are constantly working on learning new words, this little tree helps practice words associated with each ornament made. (I got lucky with this. I did not think about it in advance!)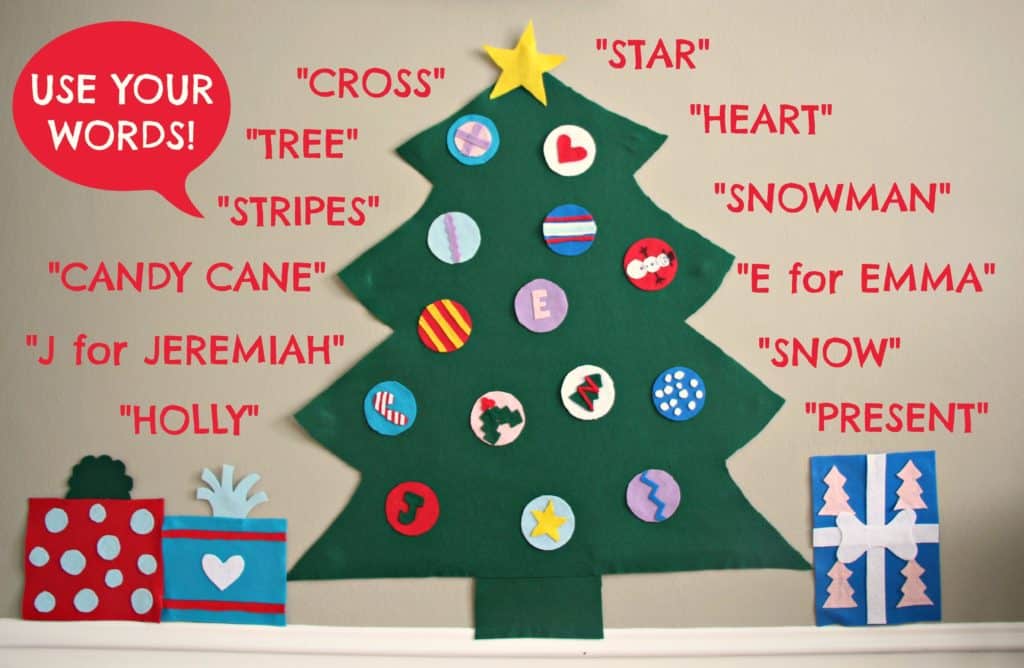 Jeremiah loves saying the word of whatever is pictured on the ornament as he hangs them up. I help him with the "J" and "E" initials I made since he doesn't understand letters yet.
You also could help your little one learn colors and shapes depending on what types of ornaments you make. This makes learning so much more fun!
The Ultimate Tree Distractor
You may be thinking…Does this tree actually work? Will my kid play with it? Will my baby keep her hands off my real tree?
Spoiler alert: Let me tell you, this thing works!
I've now had it up for about two weeks and the little ones play with it and my pretty real tree full of breakable ornaments is still standing!
This little tree never gets boring because it can be decorated differently every day. Jeremiah loves putting the ornaments on the tree and Emma loves ripping them off the tree. 😉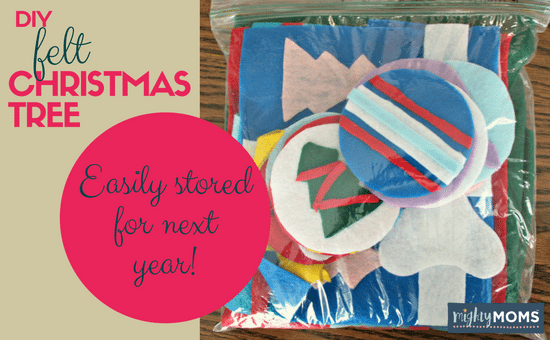 Another great feature is that when the tree comes down at the end of the season, it can be folded up and placed in a gallon-sized ziplock bag to be stored away for next year! So worth the 1-2 hours of DIY time (aka kids' nap time)!
I've already had multiple requests from family members to make one for their kids too.
What a fun Christmas gift this would be!
Now that the creative juices are flowing, it's your turn! I would love to see you make your own felt tree for your child to decorate. What would you do the same? What would you do differently?
Once the tree is hanging on your wall, snap a picture and post it in the comments section below for all to see!
Other Related Articles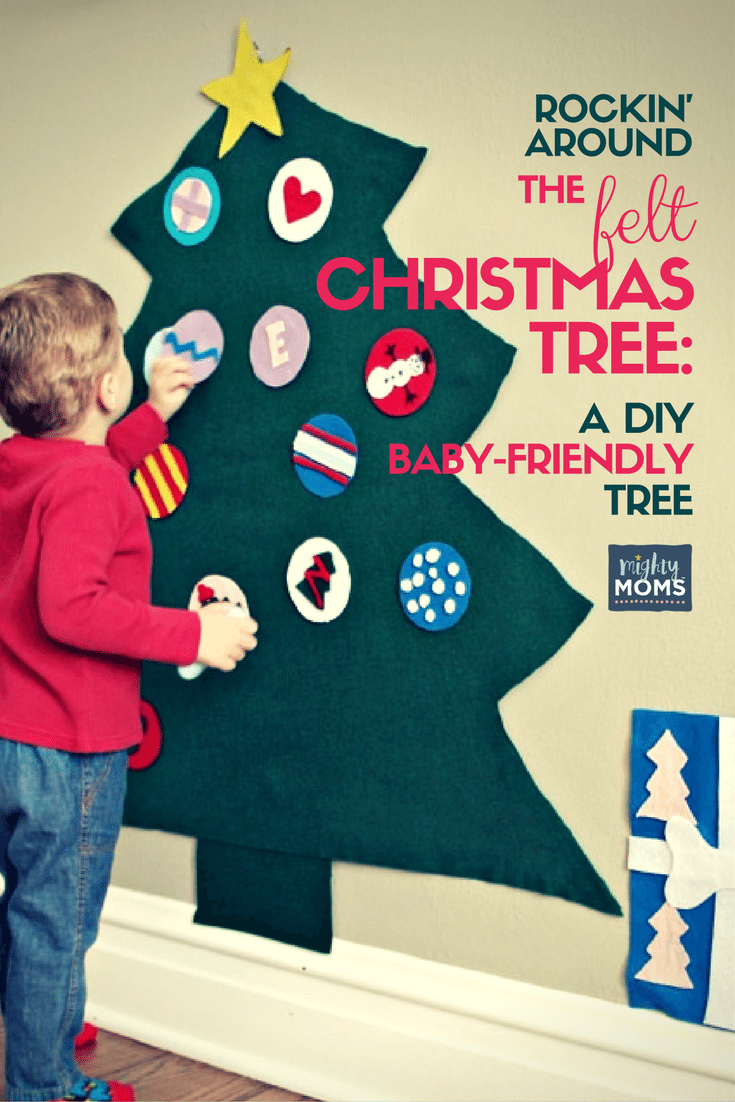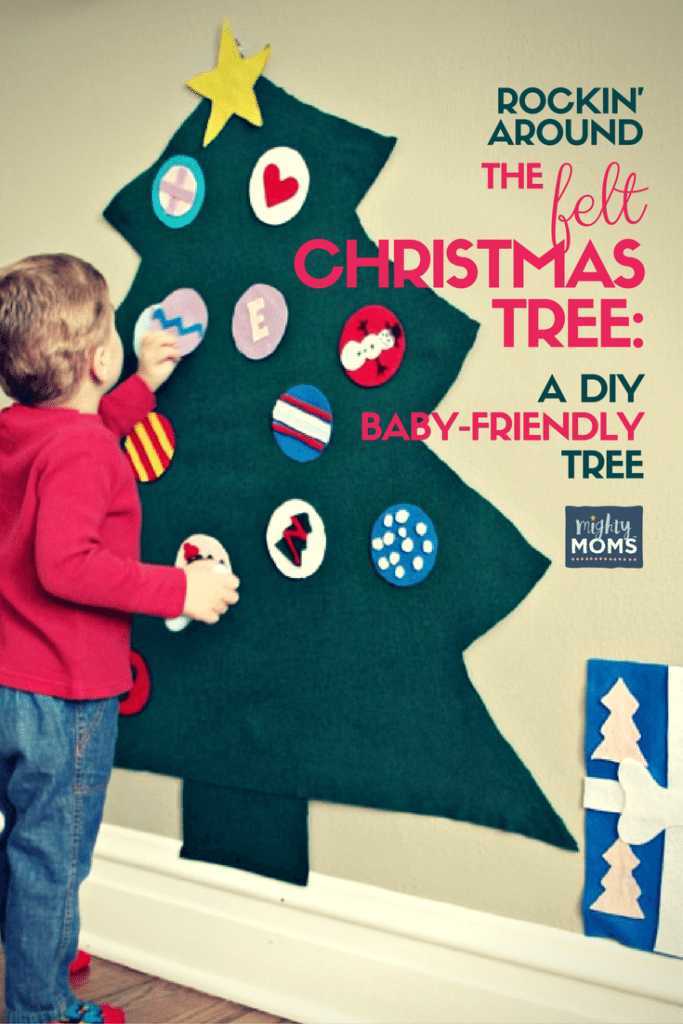 We ♥  honesty!  This post contains affiliate links that provide extra money for our mutual coffee habits addictions. Click here to learn more. As an Amazon Associate I earn from qualifying purchases.