This post was sponsored by iHerb who provided me and my team the products below as testers for the research portion of this article, and paid for my time to write it out.  Give them a try, 🙂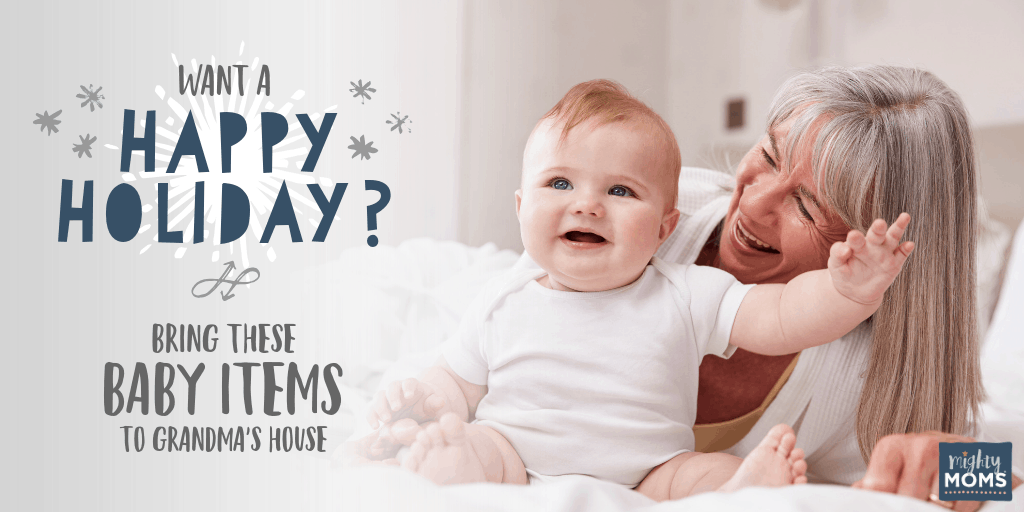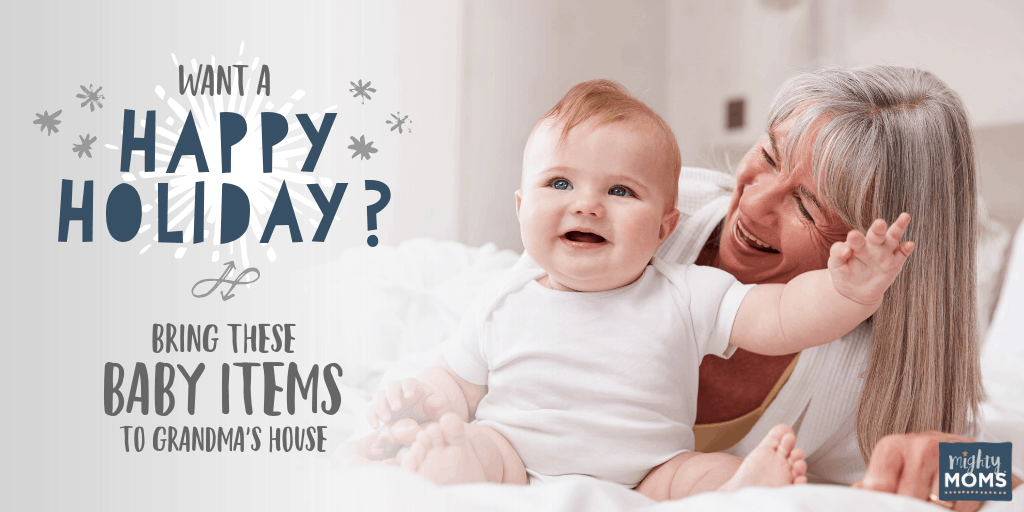 If you've been a parent for more than 30 minutes, you  know that when it comes to your baby, oftentimes things are hit-and-miss. Sometimes happy…sometimes sad…sometimes furious…It's hard to predict what version you're going to have.
This is fine and dandy when you're at home, but when you're traveling, all the sudden Dr. Jekyll is a lot more stressful. Honestly, though, you can really help yourself out ahead of time by thinking through the possible pitfalls and packing enough vine-rope to climb out early-on.
The trouble is, as a new parent, you may not know where the pitfalls are. Fortunately, you have me. 🙂 Since NONE of our grandparents live close by, Cameron and I have had to learn (the extremely hard way) how to masterfully dance around the danger zones in Grandparentland.
First though, let me be clear who I'm talking to. If your little jaunt to Grandparentland can be done in a few hours (or minutes), this article isn't for you.
This article is dedicated to those parents who will be spending the night there because it's too far to travel back home. If that is you, PAY ATTENTION What I'm about to share is super-duper-pooper important. (The "pooper" adds a whole new level of emphasis. Now you know I'm serious.)
6 Just-In-Case
Holiday Baby Items
One of the fastest ways to send your Jolly Holiday down to Crapville is to not be prepared for the unpredictable colds, coughs, and teething that can come out of now where and slug you in the face like a sack full of coal. 
The very first thing you need to pack for your overnight visit is your Just-in-Case Bag. These are the items you hope you don't need, but will be SO FREAKIN' GLAD you have if you do.
Trust me, nothing is worse than having to trudge to a Walgreens at 2am in a strange area, while trying to keep a fussy baby from waking up the entire house and then having to deal with those family dynamics… #BeenThere #LivedThatNightmare.
Pack These Baby Items (Or Suffer the Horrible Consequences)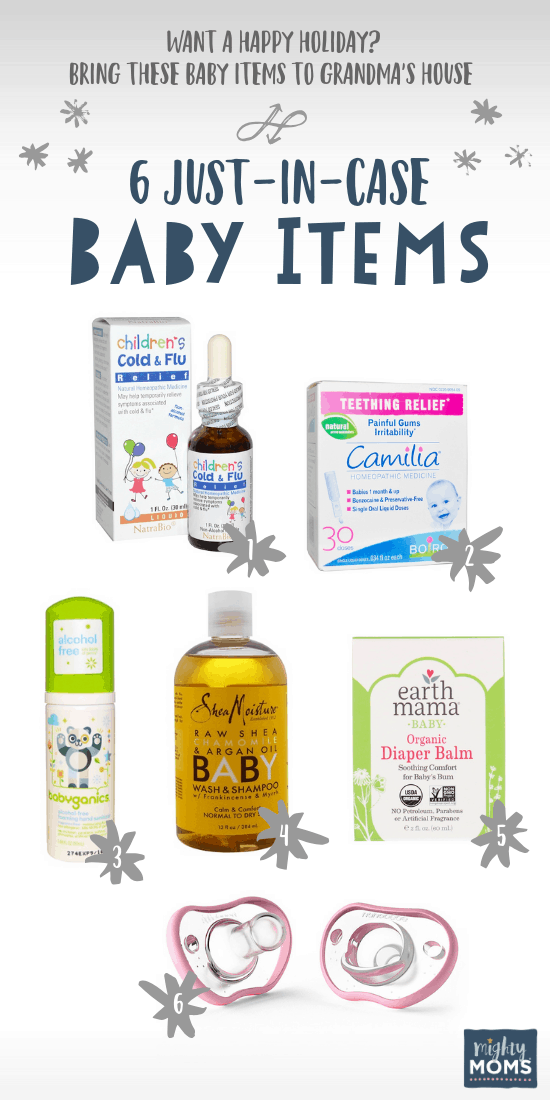 1. Natra Bio Cold & Flu | 2. Teething Drops
3. BabyGanics Sanitizer | 4. Baby Wash & Shampoo
5. Organic Diaper Balm | 6. Nanobebe Pacis
6 Car Seat Sanity-Savers
Those hours to Grandma's can quickly turn into centuries. It's like you're doomed to be Dr. Strange, trying to bargain with an infant who has a lot more yelling power than you do.
And did I mention you can't jump out and run for the hills?
YOU ARE ALL STUCK.
TOGETHER.
FOR HOURS.
IN A TINY CAPSULE.
Make sure you've got these sanity-savers on hand before you start the voyage!
Baby Items That Make a Long Car Trip Feel Shorter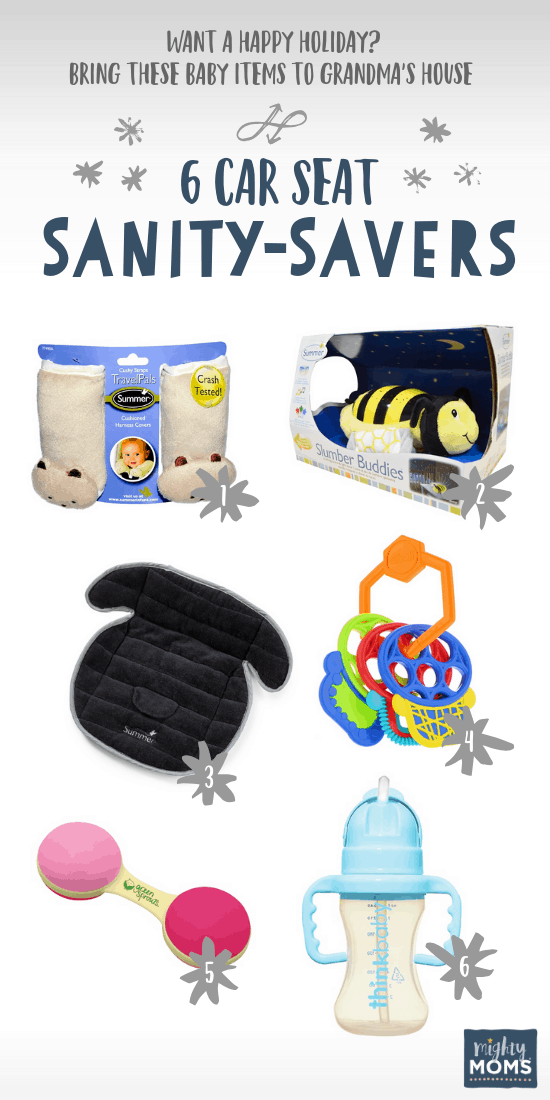 1. Travel Pals | 2. Slumber Buddies
3. Piddle Pad | 4. Teething Keys
5. Cornstarch Rattle | 6. Easy-to-Grab Bottle
6 Tired Tummy Travel Snacks
The last group of items I'd strongly encourage you to have on hand are some yummy travel snacks. Again, it's possible Grandma will have a few puffs laying around the house (leftover ones from your July 4th visit?), but once you finally arrive you'll be tired to have to go back out and hit a grocery store for snacks.
Not to mention the traveling itself. What do the veteran parents always say…? Ah yes. "When all is lost, keep tossing snacks into the back seat." 
Wise counsel.
Baby Snacks for Your Emergency Stash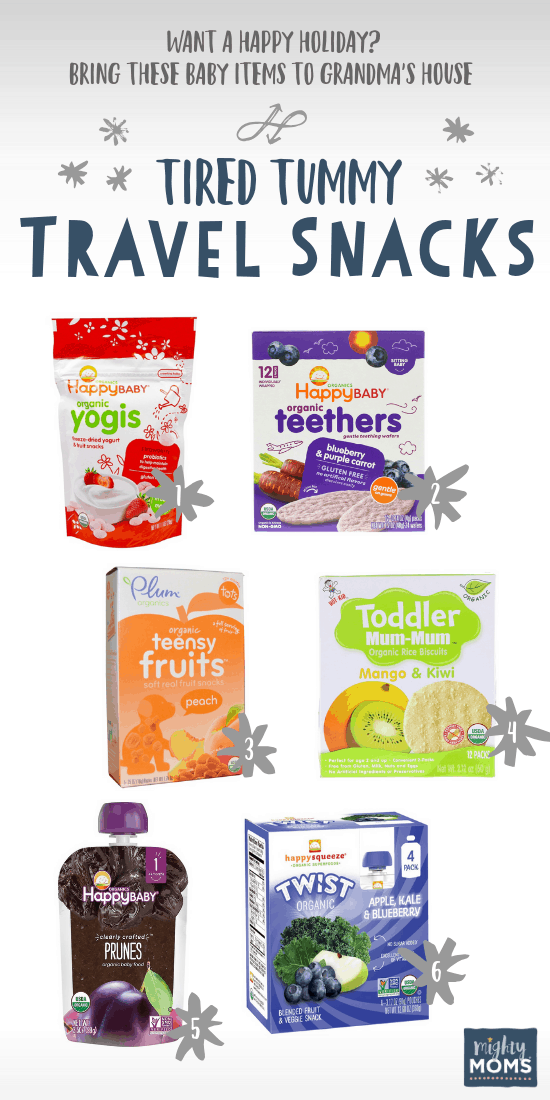 1. Strawberry Yogurt Snacks | 2. Blueberry Teething Wafers
3. Teensy Peach Fruits | 4. Mango & Kiwi Biscuits
5. Prune Pouch | 6. Apple, Kale Blueberry Pouches
The Easiest Way to
Get Stocked Up (Guaranteed)
All these items can be found at iHerb, the global leader in providing all natural products at wallet-happy prices. iHerb is large enough to provide the best prices on organic, homeopathic, and all-natural products. They also offer a Triple Guarantee to make sure their customers are 100% satisfied. (I love knowing I'm about to be pampered, don't you?)
Value Guarantee: They guarantee you'll receive the best overall value in the world for over 30,000 brand name natural products.
Quality Guarantee: iHerb guarantees that all their products are authentic brands sold in the U.S. market, and all their products ship directly from climate controlled warehouses, which is important when you're dealing with preservative-free products!
Delivery Guarantee: They emphatically guarantee that what you order will actually show up on your doorstep and can offer free or discounted shipping to over 150 countries worldwide. (If you're not in the US, learn more about their International Shipping here.)
New to iHerb? Here's $5.00
iHerb is serious about winning you over. In fact, they are currently offering all new customers a $5.00 discount on any order over $40. Just click here and start stocking up for your big holiday trip to Grandma and Grandpa's!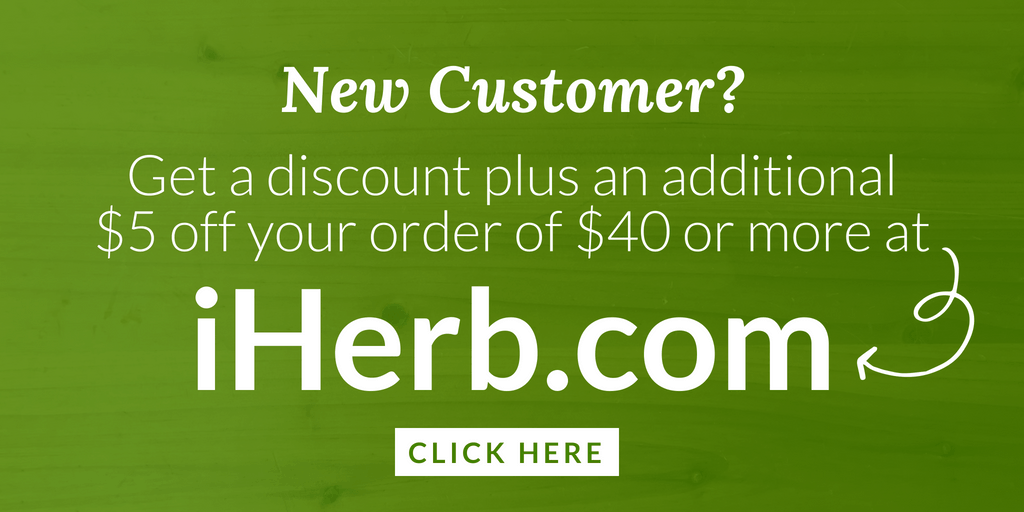 To Grandmother's
House We Go!
If you've never experienced the JOY (#sarcasm) of smelling something funky in the car, realizing it wasn't, as you first thought, your husband's digestional response to lunch at Chipotle, but instead discovering a diarrhea-load of "fun" soaked into the baby's car seat like a chocolate sundae gone horribly, terribly, wrong, I'm not sure you can really say you've road tripped. 
Learn from my nightmare.
It's amazing how much "happier" the holidays can feel when you know you've got medicine in case of sickness, a piddle pad to ward off diaper disasters, and snacks to keep tossing at her.
Pick out the items above you think fit your family best, then go here and place your order. Then take that extra $5 you just saved and buy yourself a traveling latte for the long LONG (LONG) road to Grandparentland.
You'll be so thankful for the thoughtfulness you showed in preparing for this event ahead of time.
Well done! We make a pretty darn good team…
Have You Read These Yet?