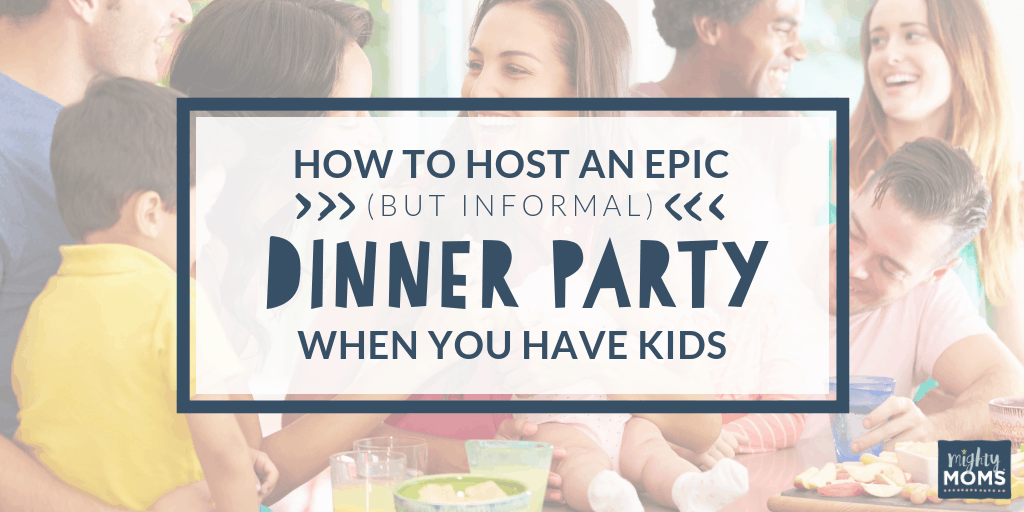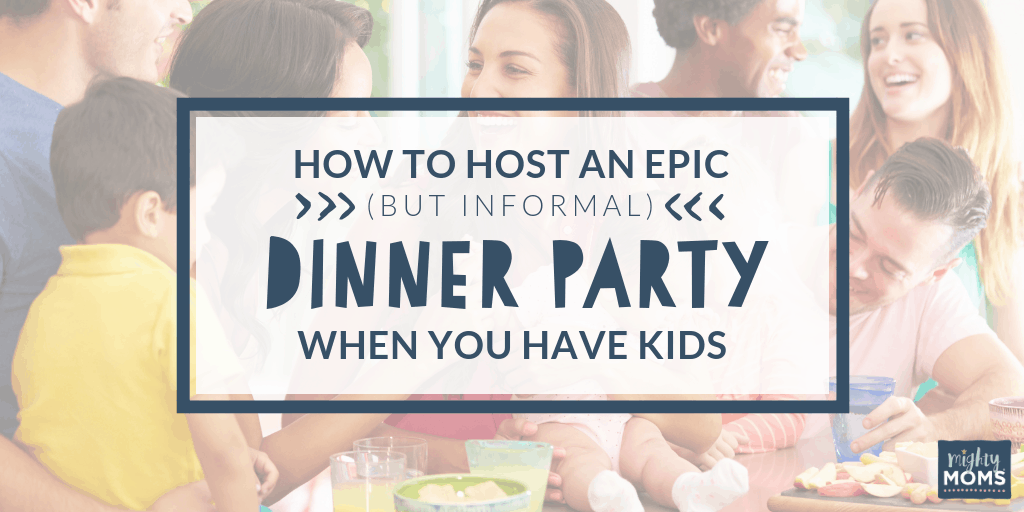 Remember when inviting people into your home (before you had kids) was wonderfully exhilarating?
Every room in the house was perfectly clean and ready for your guests. The excitement of planning a menu fit for a king (all homemade of course!) and putting a beautiful table-setting together with perfectly creased, cloth napkins and fresh flowers in the center that wouldn't get disturbed until guests arrived.
All finishing with your favorite part… fascinating adult conversations that lingered into the long evening hours….
Then came Motherhood.
Now, the thought of inviting people into your home is terrifying!
Hosting a Dinner Party in the Real World (With Kids)
There's Goldfish crackers everywhere, the laundry is still in the washing machine from two days ago (yep. *sniff* you're going to have to re-wash), you still don't know what you're serving for dinner and you're pretty sure a new ecosystem is flourishing in the upstairs shower. Deep breaths. Don't panic. I've got AWESOME news.
You can have an epic dinner party WITHOUT all those extra steps you took before Motherhood took over. (Cue shock and awe from the audience) These easy and stress free hosting secrets will help you be the hostess of the most-ess no matter how many peanut-butter handprints are on the living room walls!
The Truth About Inviting People Into Your
Home When You Have Kids
Have you ever found yourself wishing you could just invite people over at a moment's notice? Or plan a fun get-together at your house?
Then you remember just how chaotic and messy your house feels, the toddler is in her terrible twos, and you realize it will take weeks until you feel confident opening the front door to welcome anyone inside.
It's overwhelming and stressful.
Life has changed, and that's ok. Instead of worrying about how things look or how the children are behaving, focus on the real reasons behind hospitality and why you want to invite people into your home:
Create new friendships
Meet neighbors
Provide a place for family and friends to connect and relax
Encourage another young mother
Give of your time to help others
Remember, people are coming to see you not your home. When you channel your time and energy into relationships, rather than chores, you will love hosting and having guests over more often.
Dinner Party Tip #1:
Keep Clean Up Simple
Put the mop down and back away s l o w l y. I know it's hard to think about not cleaning your entire house when you know someone is coming over (including base boards…because, of course!).
Try to resist cleaning these areas of your home. (What?!?!) I know you probably think I'm crazy, but they are not always necessary to do before having company over:
Keep Dishes In The Sink: Your guests know you eat food so don't hide it! If it's still too hard to stare at a sink full of dishes, try to arrange your dishes into an even pile
Leave The Kids Rooms: Because there's no sense cleaning a room that will get messed up in less than 5 minutes after you leave. Simply shut their door and don't look back!
Let The Laundry Stay: It's so hard not to leave the laundry out but your guests know you wear clothes, so load up those laundry baskets and call it a day! It may actually comfort that young mother that you have laundry piles too!
Instead of doing a complete top-to-bottom-merry-maid cleaning of the house, you can tackle these quick and simple tasks in 15 minutes or less:
Wipe Down All The Counters: A clean counter always makes everything else look better! Wipe down kitchen and bathroom counters.
Vacuum Less: Why not just vacuum the main areas that your guests will be visiting? No need to vacuum every room!
Get Rid Of The Paper: Take a few minutes to distribute the papers or mail that is sitting on your counter. Everything has a place! Less paper piles equals less stress.
Organize The Kid-Chaos
Sounds like an oxymoron, doesn't it?! Stick with me: The best way to keep your house looking nice on the daily, while still keeping toys off the floor, is finding home decor that is kid-friendly and matches your living space.
Take a look in each room of your house and easily organize the chaos:
Have a living room that has random toys and blankets strewn about? Use this easy solution to quickly hide the mess and add extra seating for your guests! Win-win!
Try this trendy, kid-friendly storage basket for a luxurious but functional look! Not only will it give you a great esthetic and chic look to the room but it's a hassle-free way to keep the clutter hidden.
Extra towels or clothes lying around on the floor? No problem! Grab yourself an armful of these super easy hooks and toss a few on the wall or behind the door in each room of your house to get the mess off the floor! (Why does the mess always look better if it's hung up??)
Your home is where you make lasting memories with your family and friends. If you embrace the space you live in, others will too!
Dinner Party Tip #2:
Keep The Guests Outside
That's right! Who said your guests had to even come inside the house? If you're having one of those weeks (er…months or even years!) when just doing simple house chores is too much, make it an epic morning, afternoon or evening outside hosting your friends or neighbors!
You can host your guests outside all year long without opening your front door. Try these fun and hassle-free informal party ideas:
Spring/Summer: Set up tables and chairs for a lemonade stand in the front yard! The kids can help make the lemonade in this perfect cold drink pitcher as well as these fun and tasty kid-friendly treats to sell. Invite the neighbors to join you and hang out! Or make it a neighborhood backyard movie night with this mini home movie projector, a large sheet to hang on the garage door for viewing and, of course, popcorn!
Fall: Kick the Fall season off with an outdoor pumpkin carving contest (perfect for the kiddos!), followed by easy, on-the-go pumpkin spice lattes with yummy hot dog and marshmallow goodness roasting over a warm, cozy campfire.
Winter: Ring in the Christmas season with a gathering of friends and neighbors in your front or backyard with a cup of ready-to-go delicious hot cocoa and Christmas cookies before setting out to sing carols through the neighborhood together.
The possibilities are endless! Think outside your home and get creative no matter the season. Your guests will love trying something new and different!
Dinner Party Tip #3:
Keep It Kid-Friendly
Get the kids excited about inviting people over! Let them be involved in the whole process from getting the house ready to letting them help pick out snacks for their family and friends.
Keeping the gathering easy for kids to hang out is key. These are some great kid-friendly, party hacks:
Tablecloth Art: Make your table work double-duty by using this perfect crafting paper as a tablecloth for a fun activity as well as eating! (Easy cleanup too!) Throw a pile of colorful markers in the center and let the kids enjoy! It can also be used as a fun icebreaker for adults by writing questions on the tablecloth paper so people can write down their answer or discuss over dinner.
Picnic Dinner: Upgrade the kid's table by using this perfect picnic blanket inside or outside for the kids to sit and play or eat. They'll love having their own space!
Dance Party: Kids love music! Have a few good cds or a kid Pandora station playing. It helps kids get the wiggles out and have fun!
Dinner Party Tip #4:
Keep Food Simple
The best part of any gathering with friends and family is the food. But don't stress about pulling out the delicate China! (Pro Tip: Stick to paper plates and napkins! Easy cleanup, less dishes!) You can have an epic dinner party…or an any-kind-of-food party anytime of the day!
Go off the meal grid and think of fun ways to hang out with your friends and family that may not involve a traditional meal at all! Try these super fun ideas:
Make It A Potluck: Breakfast, lunch or dinner, your guests can pitch in and bring something to add to the meal! For a fun food twist, try a variety of finger foods and appetizers with these no-fuss, trendy food platters or provide just the main course and have everyone bring the sides!
Dessert and Coffee: Why not invite a few friends over after the kids are in bed?? No need for a babysitter (woohoo!!), but you still get to have those adult conversations without leaving the comfort of your own home. The menu, of course, is super simple with your favorite coffee brew on tap and these easy, no-bake treats to serve!
Just Order Pizza: Because it's easy, delicious and stress-free!.
It really doesn't matter what you feed your guests as long as you are sitting around the table or standing in the kitchen enjoying warm conversation and good company. Food and friends go together!
Try these delicious crowd-pleasing (and kid-approved) go-to NO BAKE dessert recipes if you're in a pinch!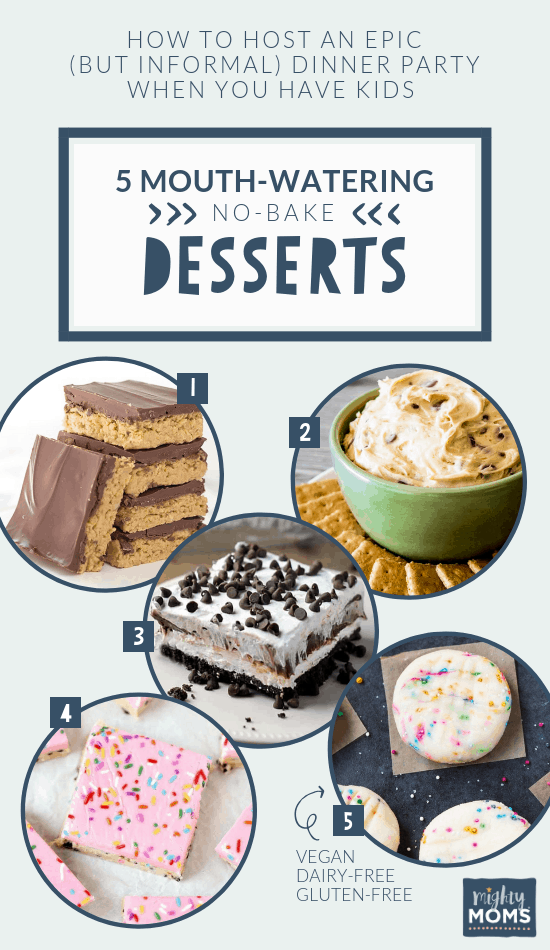 The No-Bake Dessert You're Looking For
1. PB & Potato Chip Bars | 2. Cookie Dough Dip
3. Chocolate Lasagna
4. Cookie Dough Bars | 5. Unicorn Cookies
Your Kid-Friendly Dinner Party
Is Going to be Perfect! (Promise.)
Inviting people over when you have kids doesn't have to feel terrifying. It can be really fun!
Guess what makes the perfect dinner party when you've got young kids at home? These four simple steps:
Keeping the cleanup simple
Making it kid-friendly
Entertaining outside your home
Keeping the food easy and stress-free!
Life is messy (especially with kids!), the best part is finding people to do life with you. Hosting is about relationships and meeting people where they are, inviting them over and laughing together until your sides hurt.
Hosting a kid-friendly dinner party will also accomplish your biggest goal: Helping people feel welcome, right where they are.
When they know you aren't perfect either, they will start to relax and the good times will start to roll!
Have You Read These Yet?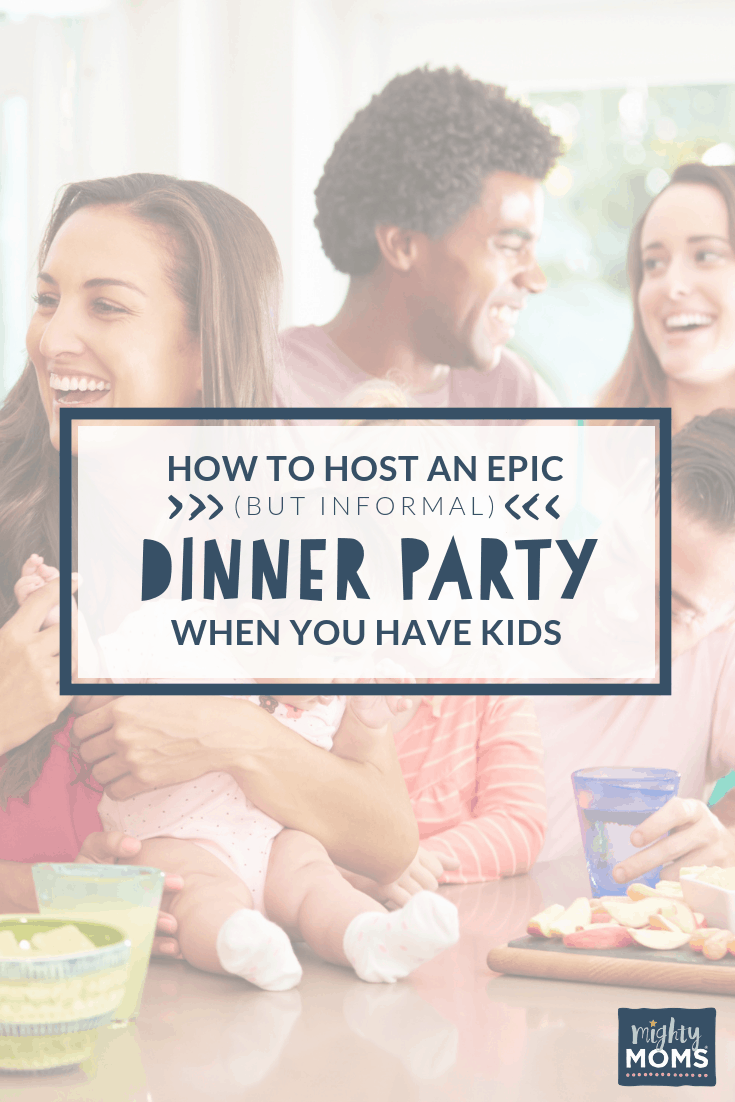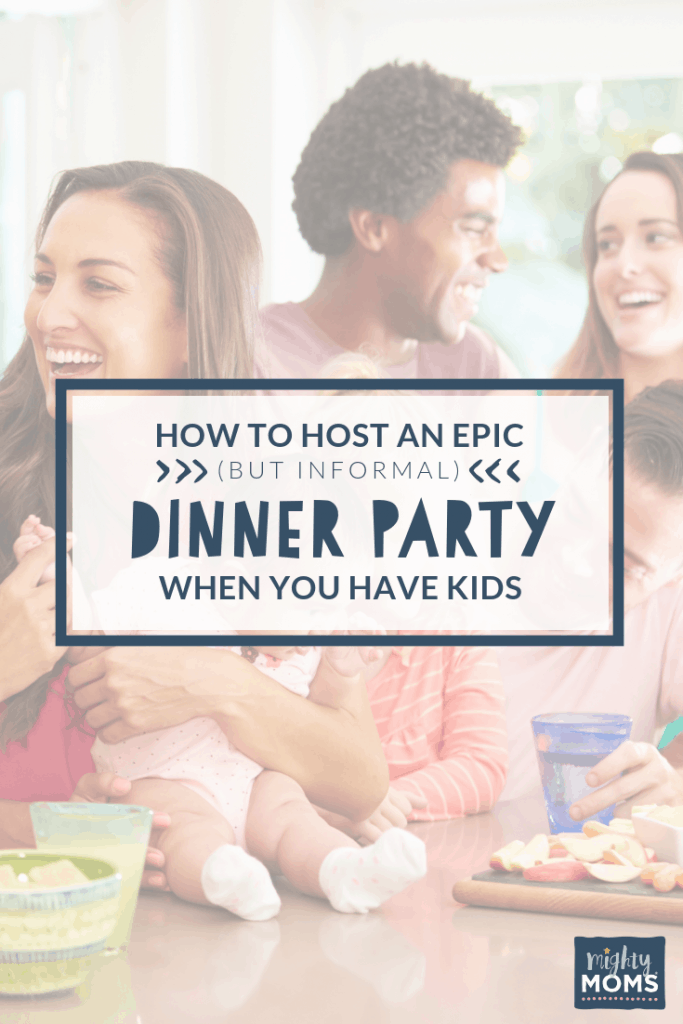 We ♥  honesty!  This post contains affiliate links that provide extra money for our mutual coffee habits addictions. Click here to learn more. As an Amazon Associate I earn from qualifying purchases.