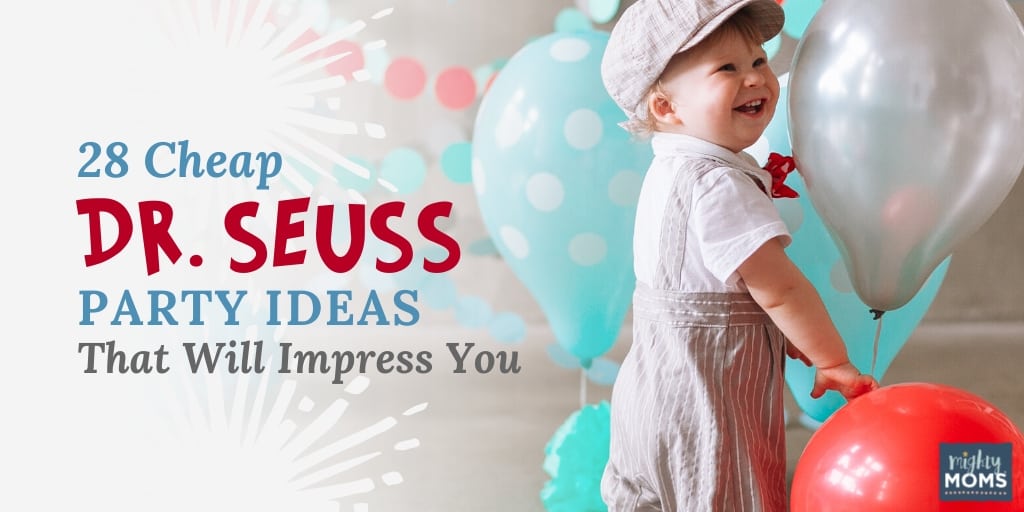 Why should you look through these Dr. Seuss party ideas?
One word: whimsical.
I'm pretty sure if you look that up in the dictionary, you'll find a picture of the good doctor. He's a pinnacle of childhood wonder.
Gather up your Zizzer Zazzer Zuzz, Wocket, a few Whos, and even a reluctant Grinch. It's party time!
The Ultimate Dr. Seuss Party Ideas
Choose the menu. Sweets? Snacks? I've got some clever ideas on both!
Plan your decorations. I've got suggestions for "quick and easy" as well as "DIY Mastercrafter".
Decide on your activities. Bored party kids are the worst. These ideas will keep the chaos at least somewhat contained.
Last month the kids and I discovered an entirely new giggle-worthy Dr. Seuss book called Bartholomew and the Oobleck.  (We were surprise, surprise making an oobleck.) If you haven't yet discovered this seussical gem, I highly recommend it!
8 Dr. Seuss Party Ideas for Sweet Treats
What's a party without a cake and other sweet treats?
You may not want to try all ten (for the sake of the parents of your guests, please no…) but hopefully a few of these sweet ideas will hit the mark!

8 Dr. Seuss Birthday Party Ideas for Super Snacks
If your party is going to land near the lunch hour, or if you're going to have adults there as well, offering some satisfying snacks is the way to go.
Don't panic though! It doesn't have to be catered. 🙂 These clever suggestions cover all the bases.

8 Dr. Seuss Birthday Ideas for Decorating Whoville
If you're going to invite your guests into your own personal Whoville, you'll need a few clever decorations to entice their imaginations.
These 8 Dr. Seuss party ideas will transform your living room and are perfect from everyone, from the working mom who only has time to click a few things on Amazon, to the DIY Mastercrafter who wants to create the ultimate tablescape.

4 Dr. Seuss Birthday Ideas
for Stupendous Fun
Everyone knows the stereotypical nightmare of children's parties—complete chaos. Kids running around screaming… Do your future self a favor and keep those little minions busy. (And make sure you have an extra bottle of Merlot as a nighttime reward…)
Since it appears that Johnny Karate has retired, you'll need something else to keep those little Hortons, Things, Cindy-Lous, and Loraxes busy.

Dr. Seuss Makes Everything More Memorable
I've got this hypothesis about life: everything is more memorable with a little dose of Dr. Seuss mixed in.
Whether that's an afternoon science class on the weirdness of Ooblecks, or simple games to prepare your little ones for Kindergarten…or an afternoon birthday party.
Ready to send out those Dr. Seuss birthday invitations? Let's get this party rolling!
"Today is your day! Your mountain is waiting, so get on your way!"

Theodor Seuss Geisel
Have You Read These Yet?
We ♥  honesty!  This post contains affiliate links that provide extra money for our mutual coffee habits addictions. Click here to learn more. As an Amazon Associate I earn from qualifying purchases.