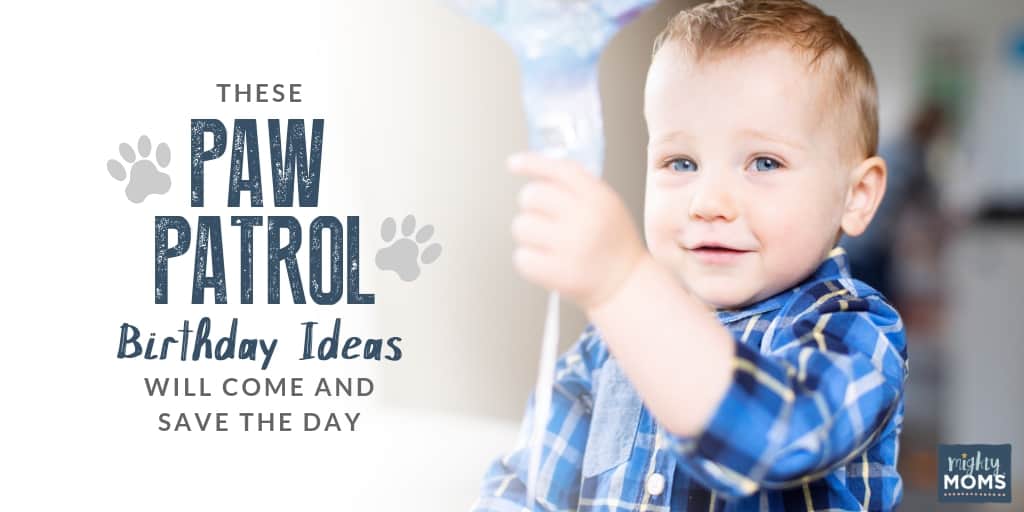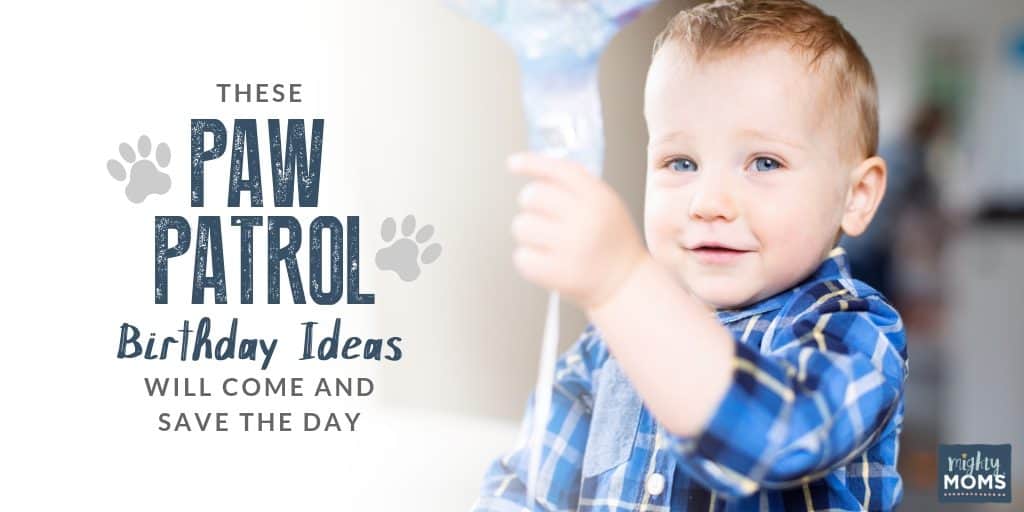 Calling all pups! Calling all pups! Is a Paw Patrol birthday party in your future?
If any of these are true for you, then read on! I'm on the case with all the party essentials you need!
Yelp for Help: Paw Patrol Birthday Ideas
Look no further! I've broken down all your party needs into 7 pup-tastic categories!
Invitations
Party Decorations
Snacks
Sweet Treats
Games and Activities
Party Favors
Birthday Gifts
Ready? Let's take to the sky and plan the best Paw Patrol birthday ever!

Awesome Paw Patrol Party:
5 Pup-Approved Invitations
First things first: Invitations. Your son will be thrilled to invite his friends to the party with these fun invitations. And by friends, I don't mean Chase, Marshall, and Rubble. Of course, they're already coming.

Exciting Paw Patrol Party Invitations
1. Blue Party | 2. Invite and Thank You Combo
3. Pink Party |4. Postcard Invites
5. Invitation with Wearable Button
Awesome Paw Patrol Birthday Party:
Pup-tastic Decorations
Your daughter will obviously be decked out in her best outfit, but she's probably going to want your house to transform into Adventure Bay. Here are some great options to get you started!

Festive Paw Patrol Decoration Ideas
1. Hanging Swirls | 2. Ultimate Party Pack
3. Cupcake Stand | 4. Party Masks
5. Patrol Garland | 6. Scene Setter with Props
Awesome Paw Patrol Party:
Puppy Snacks
Come party day, your puppies are going to be rolling in hungry. You can be prepared with some dog bowls filled with tasty snacks.

Paw Patrol Party Snack Ideas
1. Dog Chow | 2. Bonewiches
3. Farmer Yumi's Crop | 4. Pupcorn
5. Dog Bone Meat and Cheese Tray
Awesome Paw Patrol Birthday Party:
Puppy Sweet Treats
Now, for dessert! Those party pups are going to have a sweet tooth after all their various rescue missions, and here are some tasty options. Let them channel Zuma and dive right in! (Just make sure you have some napkins ready!)

Paw Patrol Party Sweet Treats
1. Dog Bone Cookies | 2. Puppy Chow
3. Paw Print Cupcakes | 4. Zuma's Water Bowls
5. Paw Print Cake Pops | 6. DIY Bone Cake
Awesome Paw Patrol Birthday Party:
Games & Activities
As the official Mom-Patrol of the party, it's time to call all those pups together for fun and games. Go ahead and grab your whistle and remember: No job is to big, no pup is too small!

Paw Patrol Party Games and Activities
1. DIY Fire Hydrant | 2. Find the Badge
3. Origami Pups | 4. Puppy Adoption
5. Zuma Saves the Fish | 6. Paw Patrol Bingo
Awesome Paw Patrol Party:
Puppy Party Favors
Now that you've filled their bellies and successfully worn them all out, it's time to send those pups home with some favors to thank them for spending the day with you. Here are some fun options to fill your party bags:

Paw Patrol Favor Ideas
1. Ultimate Party Favor Pack | 2. Coloring Play Packs
3. Bounce Balls | 4. Pez Dispensers
5. Mini Figures | 6. Stickers and Tattoos
Awesome Paw Patrol Birthday Party:
Birthday Gifts
Last but not least, don't forget about the birthday pup of honor! In case he doesn't already have enough Paw Patrol gear on his hands, here are some great present options for him (or her!): 

Paw Patrol Birthday Gift Ideas
1. Electronic Reader | 2. 3-Pack Vehicle Set
3. Ultimate Rescue Firetruck | 4. Lookout Tower
5. Adventure T-Shirt | 6. Pup Pad
Ready for Action!
There you have it! Plenty of party ideas Mayor Goodway would definitely approve. Now that you have what you need, it's time to put it all to action!
Now, go, go, go! Get that birthday party planned!
Have You Read These Yet?