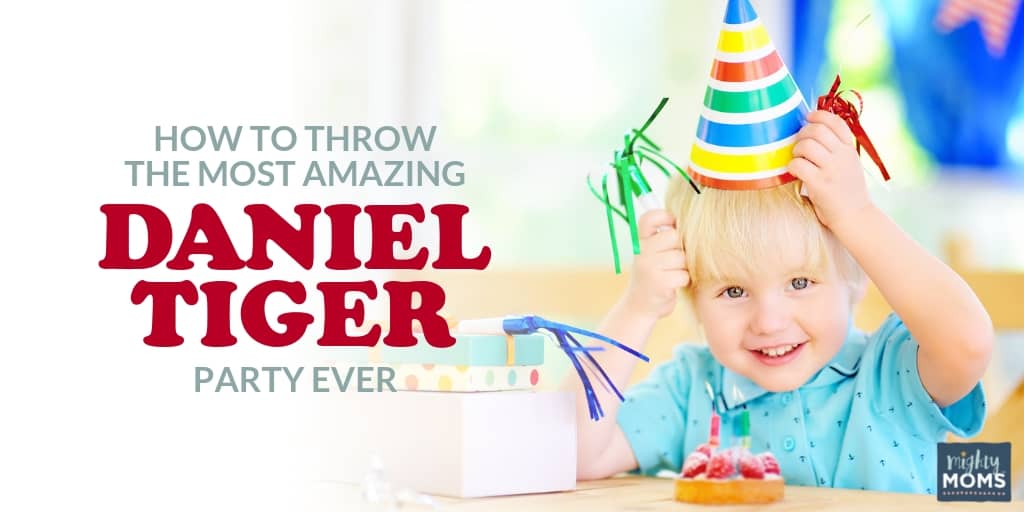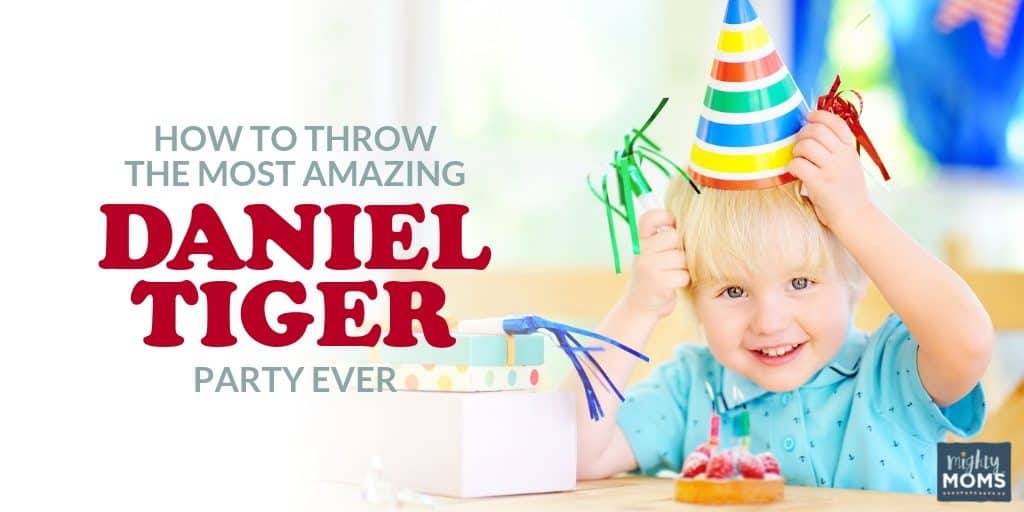 Is a Daniel Tiger party in your future? Let me put on my mind-reading turban and find out.
Is singing Daniel Tiger songs like these one of your main parenting techniques? (No judgment here. It works.)
Does your kiddo choose Daniel every time there's a choice?
Did you mourn a little the day Daniel Tiger's Neighborhood left Netflix? But then san the Hallelujah chorus when it showed up on Prime?
If this is you, read on! I've gathered the best the internet has to offer for your little one's next birthday: a Daniel Tiger party. It's perfect!
Your first step? Invite some friends! Grab this cute personalized invitation or a simple fill-in-the-blank Daniel invitation like this one and send it out to your family and friends.
Then, get moving on making the most grrr-rific Daniel Tiger party your kid could ask for.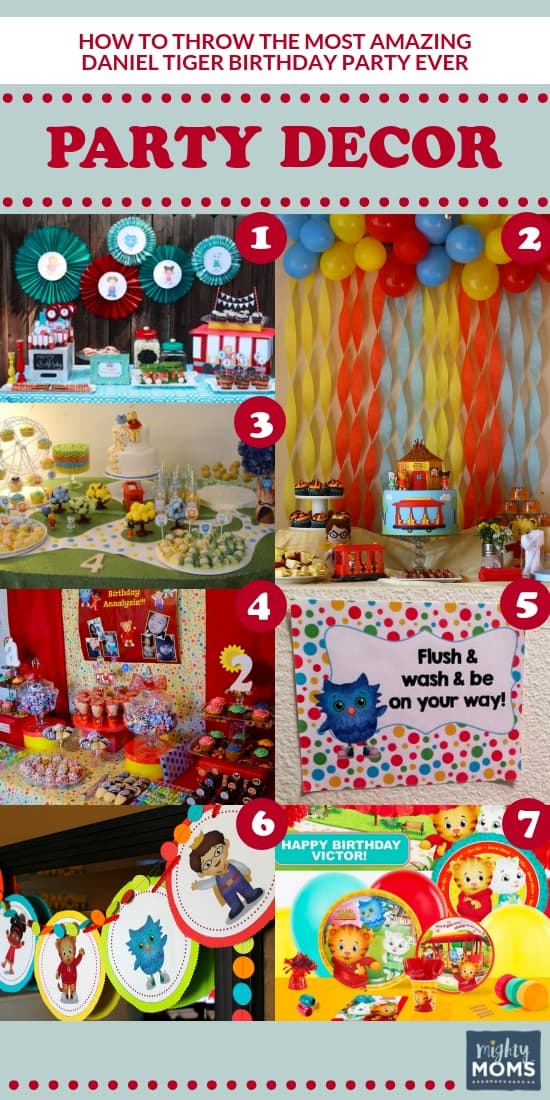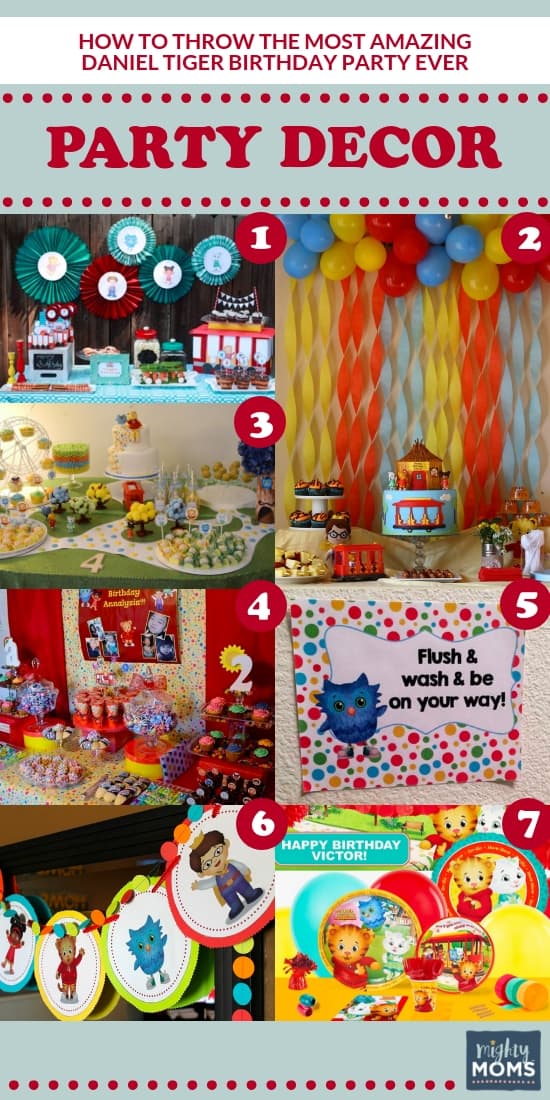 Ultimate Daniel Tiger Birthday Party:
7 Inspiring Decoration Ideas
Decorations #1: Pinwheel Backdrop
Get this look by picking up some paper pinwheel fans and adding this free printable of Daniel Tiger friends from PBS Kids.
Decorations #2: Festive Tablescape
This tablescape from Patty Cakes Bakery is festive, yet still easy! All you need are inexpensive crepe streamers, colorful balloons, and a table full of food. (Don't worry…those food ideas are coming next!)
Decorations #3: Neighborhood Dessert Table
This dessert table from Mozinha is the epitome of cute. Guys, it's a mini-neighborhood! Pick up some white poster board to cut out the road and Necco Wafers for (edible) stepping stones.
Add a few tissue paper flowers for O the Owl's treehouse, this trolley, and an adorable cupcake ferris wheel to really top it all off. AMAZING. Obrigada, Mozinha! (That's "thank you" in Portuguese!)
Bonus Buy: Use that same cupcake wheel in next year's circus birthday theme!
Decorations #4: Wrapping Paper Hack
While that neighborhood dessert table is fabulous, not all of us have the time, talent, or cash to make it happen (after all, there is the rest of the party to prepare for).
This tablescape makes an impact, but is super simple to put together! Duplicate this look using the pinwheels I talked about above (under #1) with a red tablecloth and a roll of polka-dot wrapping paper. Done.
Decorations #5: Free Printables
These free quote printables from Candyland Studio will add a nice touch around your home (or other party venue) to really make it "Daniel-Tiger-esque."
Decorations #6: Welcome Banner
Create a Daniel Tiger & friends garland banner like this one from Child at Heart. You can get the look by making or picking up a circle paper garland and cutting out these free character printables.
Decorations #7: Daniel Tiger Party Kit
"Making something is one way to say 'I love you'," but it definitely isn't the only way. This complete Daniel Tiger party kit includes everything you need. You can't get Daniel Tiger items in your local party store, so online is the place to do it.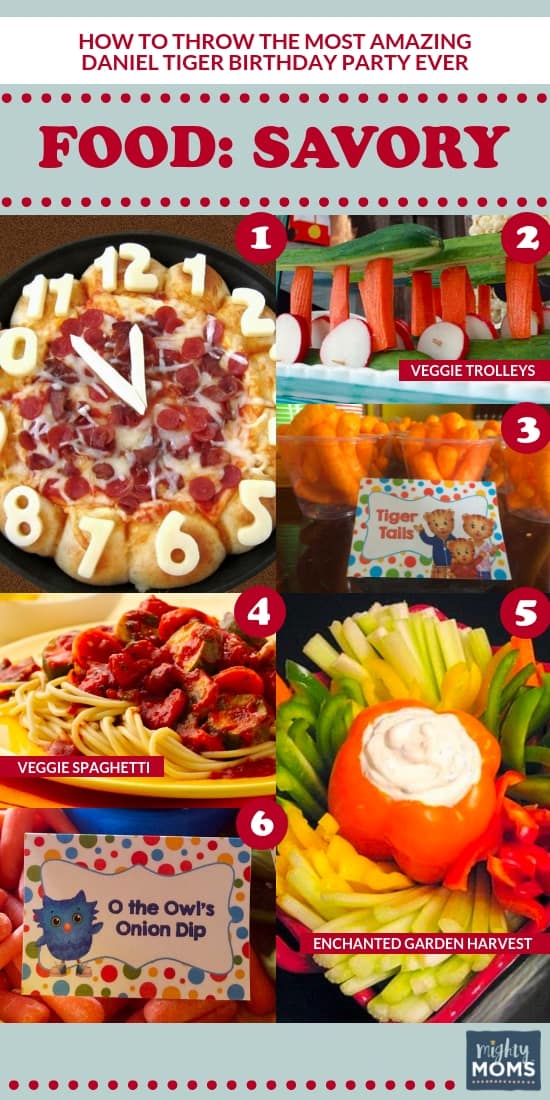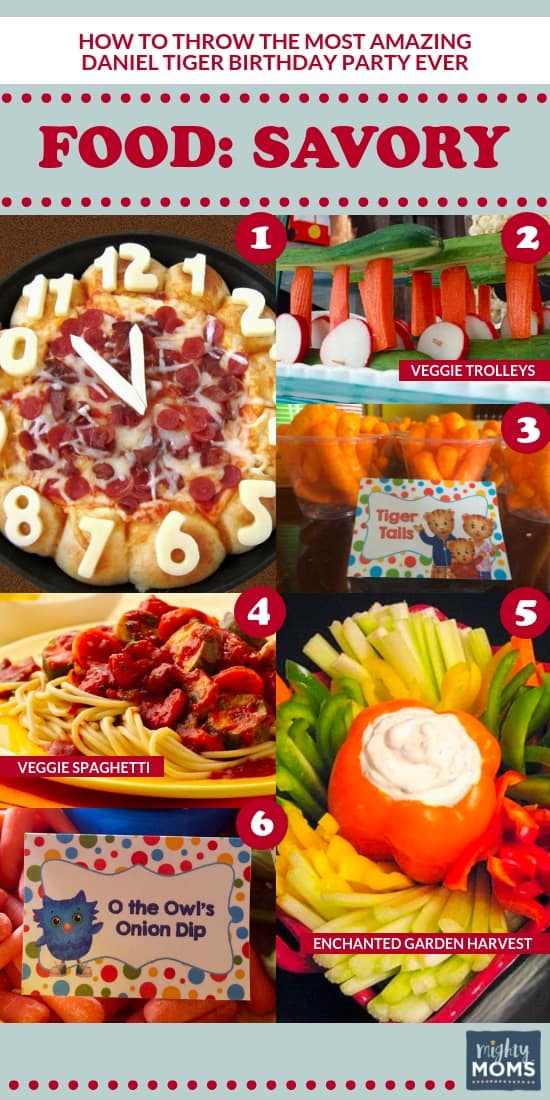 The Ultimate Daniel Tiger Birthday Party:
6 Savory Food Ideas
Savory Food #1: Pizza Dip Clock
Count down to chime time with this creative pizza dip clock from Hungry Happenings. These cookie cutters will make cutting out those cheese numbers a snap.
Savory Food #2: Veggie Trolleys
These veggie trolleys are a simple way to Daniel-ize your party snacks. Make sure you have toothpicks to hold them together.
Savory Food #3: Cheesy Tiger Tails
Throw some Cheetos in a bowl and call them tiger tails like they did at Candyland Studios. If you're wondering what makes them tiger tails: they're orange. Hey, if your toddler says it qualifies, go for it! See how easy this Daniel Tiger party planning stuff is?
Savory Food #4: Veggie Spaghetti
This rendition of veggie spaghetti from Betty Crocker is so good that even Miss Elaina will be asking for seconds, Toots.
Savory Food #5: Enchanted Garden Harvest
This is not a veggie tray! This is an Enchanted Garden Harvest, of course. We are in the Magical Neighborhood of Make-Believe, where everything is enchanted. Thanks, Peppermint Plum!
Savory Food #6: O the Owl's Onion Dip
What would a veggie tray an Enchanted Garden Harvest be without O the Owl's Onion Dip? Bonus: Candyland Studio also has free printable food label tents—they're such good online neighbors.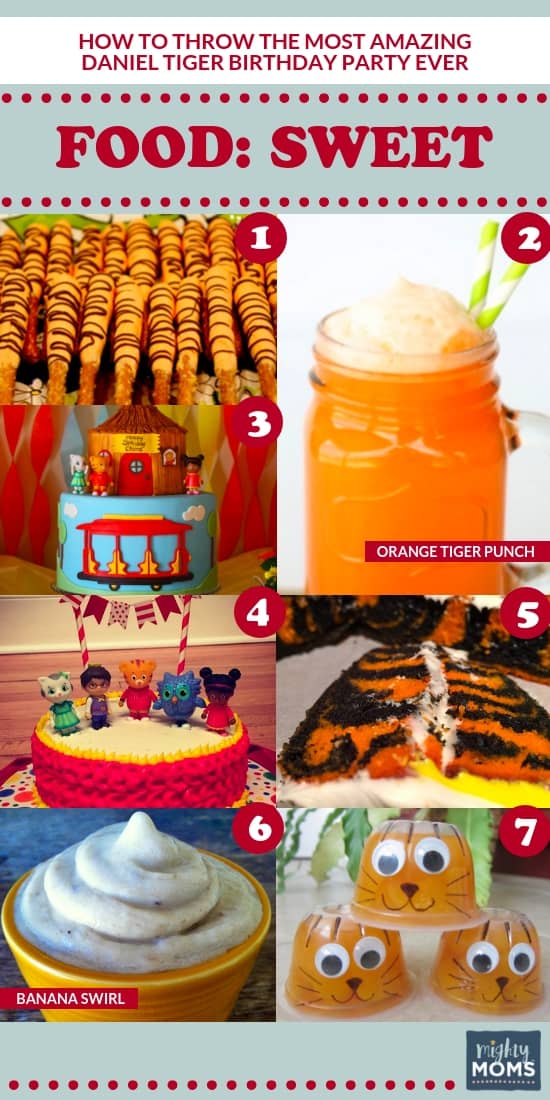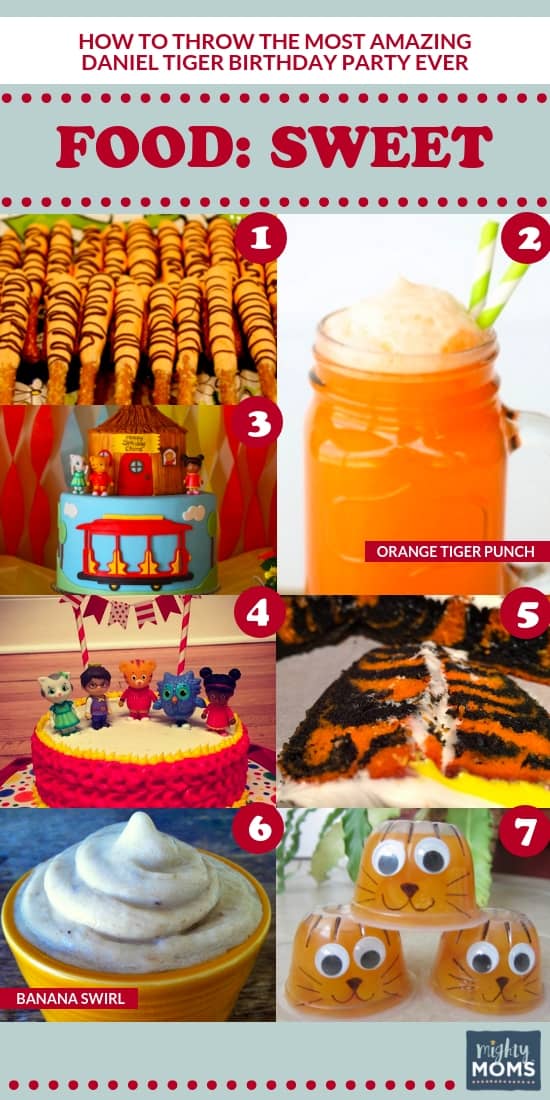 The Ultimate Daniel Tiger Party:
7 Sweet Desserts
Delish Dessert #1: Sweet Tiger Tails
We had these tiger tails from Normal Cooking at my daughter's party, and they were gone faster than you can say "Hi, neighbor!" You'll need candy melts, chocolate chips, and pretzel rods to make them.
Delish Dessert #2: Tiger Punch
This easy tiger punch from The Frugal Girls was a hit at our party, too. Again, it's orange. This automatically makes it tigertastic. Grab these fun drinking jars to complete the look.
Delish Dessert #3: Daniel Tiger Party Cake
This cake of the Tiger family's house from Patty Cakes Bakery is simply beautiful! Read this post to see how this mom did it.
Delish Dessert #4: Figurine Cake
A Daniel & Friends cake like this one may be more doable for moms like me, who excel in areas other than cake decorating. Don't forget the figurines and cake topper banner! Thanks, Maya Talks!
Delish Dessert #5: Striped Cake
Take another tip from Maya and make your simple cake a party on the inside by making it a striped cake! Add a trolley cake topper, and—voila!—a festive Daniel Tiger party cake.
Delish Dessert #6: Frozen Banana Swirl
Serve your cake with banana swirl instead of ice cream! Kitchen Concoctions has the sweet recipe. Sing it with me: "We gotta try new food 'cause it might taste good!"
Delish Dessert #7: Tiger Fruit Cups
Grab some googly eyes to turn regular old mandarin orange cups into tiger fruit cups. They're simple enough for even the most unartistic among us, and for that, we thank the Practical Perfeccionista.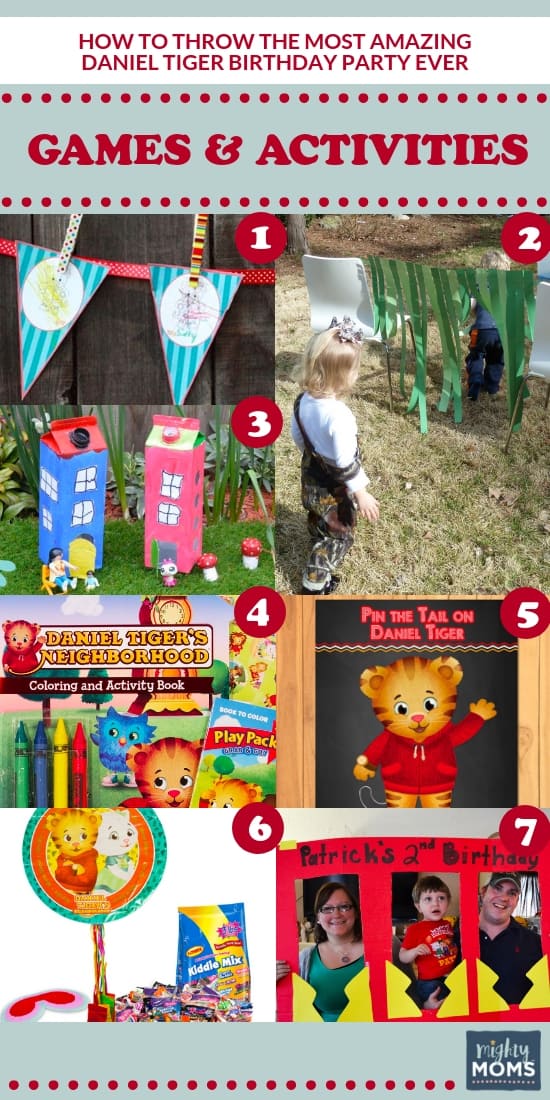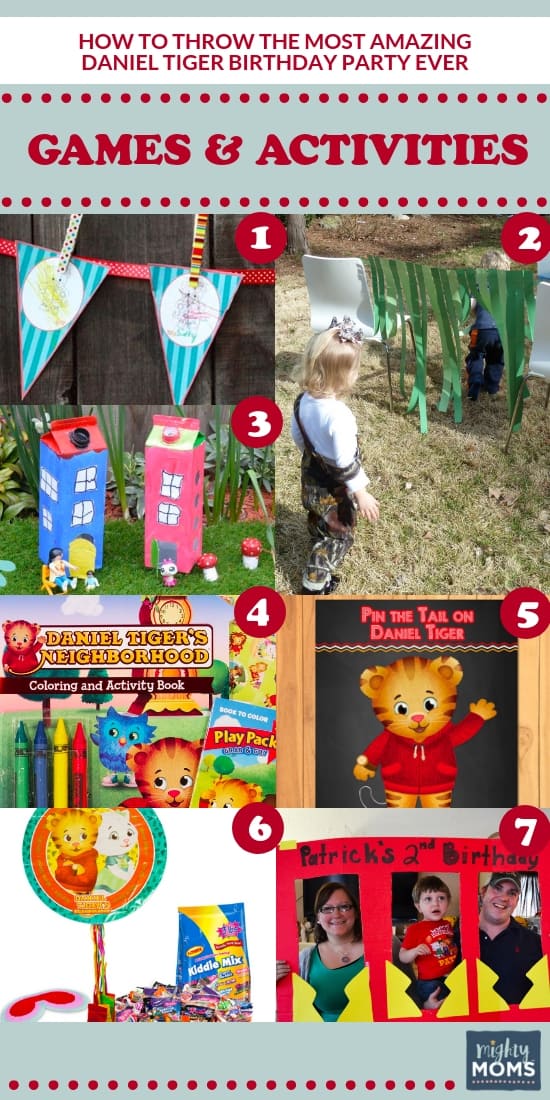 The Ultimate Daniel Tiger Birthday Party:
7 Game & Activity Ideas
Game Idea #1: Banner Craft
Get crafty with this fun banner craft (which doubles as a party decoration)! You'll just need washi tape, crayons for all the guests, clothespins, and ribbon.
The PBS Parents site also has fun masks, a paper link chain you can make, and a TON of other resources. Check it out here!
Game Idea #2: Search for Snowball
Get messy on a hunt for Snowball! If you don't remember this episode (#215, if you were dying to know), it's the one in which Snowball, the class bunny, is lost, and *spoiler alert!* they find him in the Enchanted Garden.
Take some tips from this mom's bear hunt at My Little Happies, make a few tweaks (like taking a cue from Coolest Family on the Block and using bunny paw prints as a clue), and turn it into a bunny hunt.
Hint: If you need to extend activity time a bit more, why not watch the Looking for Snowball episode before you start?
Game Idea #3: Make a Neighborhood
Make a neighborhood. Save your old milk and juice cartons, grab some paint and brushes and let the kids have a blast making a mess neighborhood. Thanks, Red Ted Art!
Game Idea #4: Coloring Time
Pick up a Daniel Tiger coloring book, give each child a page with some stickers and crayons, and let them enjoy some simple coloring time.
Game Idea #5: Pin the Tail on Daniel
Play a nifty-galifty game of pin the tail on Daniel Tiger's cat and put on Daniel's watch with this cute game that includes a blindfold and winner's ribbons.
Game Idea #6: Piñata Time
"What do you do with the mad you feel?" Hit a Daniel Tiger piñata, of course.
Game Idea #7: Trolley Photo Booth
Make an awesome trolley photo booth like this one from Ready Set Parenthood, and let party guests get their pictures taken making silly faces while "riding" in the trolley!
To create it, all you'll need is a red presentation board, some yellow and black poster board, and a large permanent marker.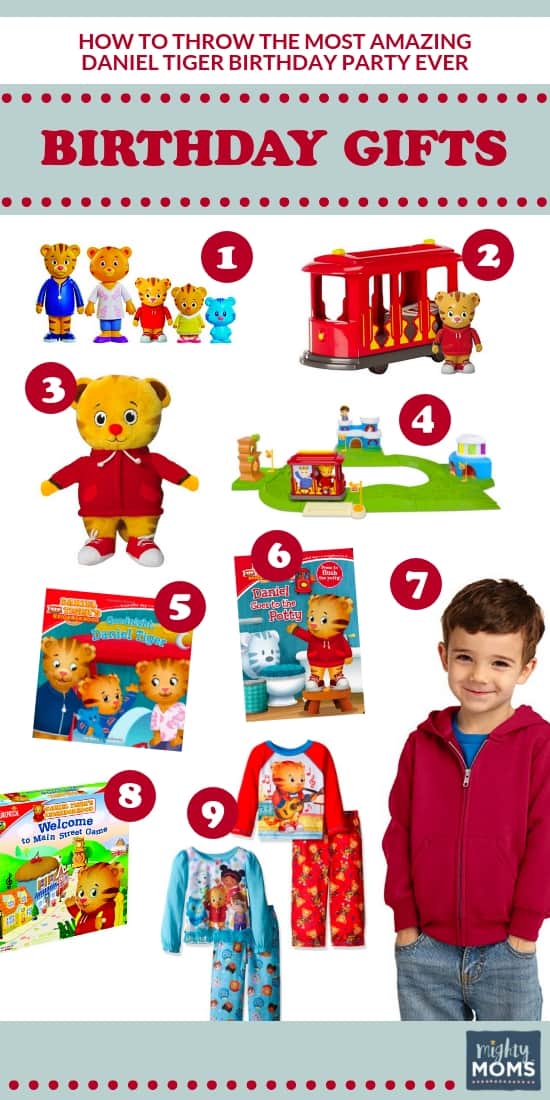 The Ultimate Daniel Tiger Birthday Party: 9 Birthday Gift Ideas
Gift Idea #1: Family Figurines
These Tiger family figurines are great for imaginative play.
Gift Idea #2: The Trolley
Naturally, your figurines also need a trolley to get around.
Gift Idea #3: Plush Animals
Your child is bound to love this talking plush Daniel as much as Daniel loves Tigey.
Gift Idea #4: The Playset
For a more interactive and complete setup, try this Daniel neighborhood playset.
Gift Idea #5: Bedtime Books
Send your tiny tiger to sleep with sweet neighborhood dreams by reading him Goodnight, Daniel Tiger before bed!
Need more bedtime book ideas? Discover a few new favorites.
Gift Idea #6: Potty Training Inspiration
If your own little tiger is potty training, this Daniel potty book may be just the thing to earn him more stickers for the potty chart! The book has a button that makes flushing noises, to "flush, and wash, and be on your way!"
Gift Idea #7: The Iconic Red Hoodie
In this red hoodie, your kiddo can look just like Daniel (um, except that he's not a tiger – just don't tell him that).
Gift Idea #8: Daniel Tiger Board Game
Playing boardgames is an excellent way to build fine motor skills and mental development. Not to mention, it's a great 10-minute bonding activity with Dad before bed! Check out this educational Daniel Tiger game.
Gift Idea #9: Comfy PJ's
What little one doesn't love fun pajamas? There are some great Daniel PJ's out there for boys and girls.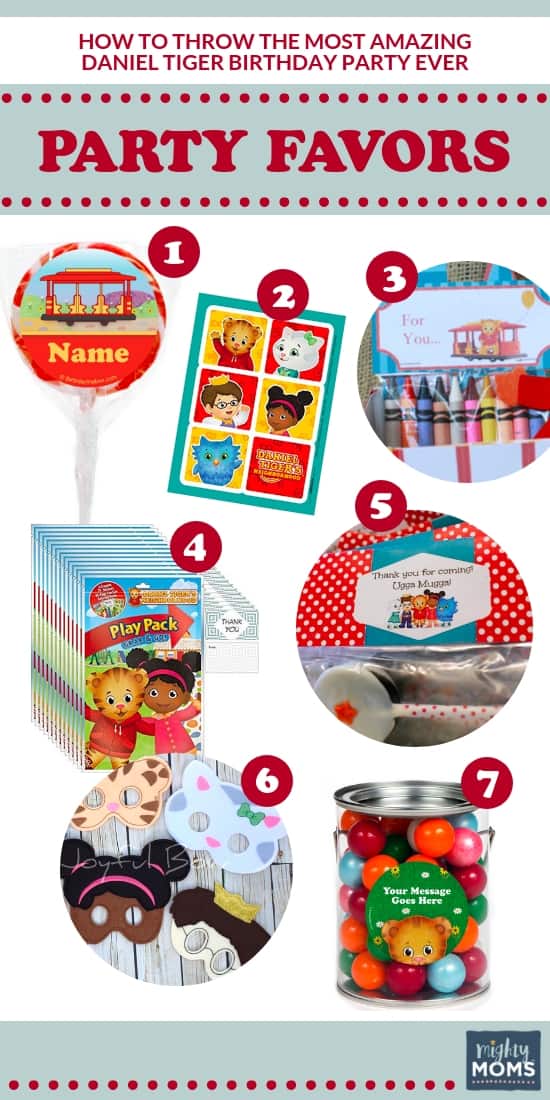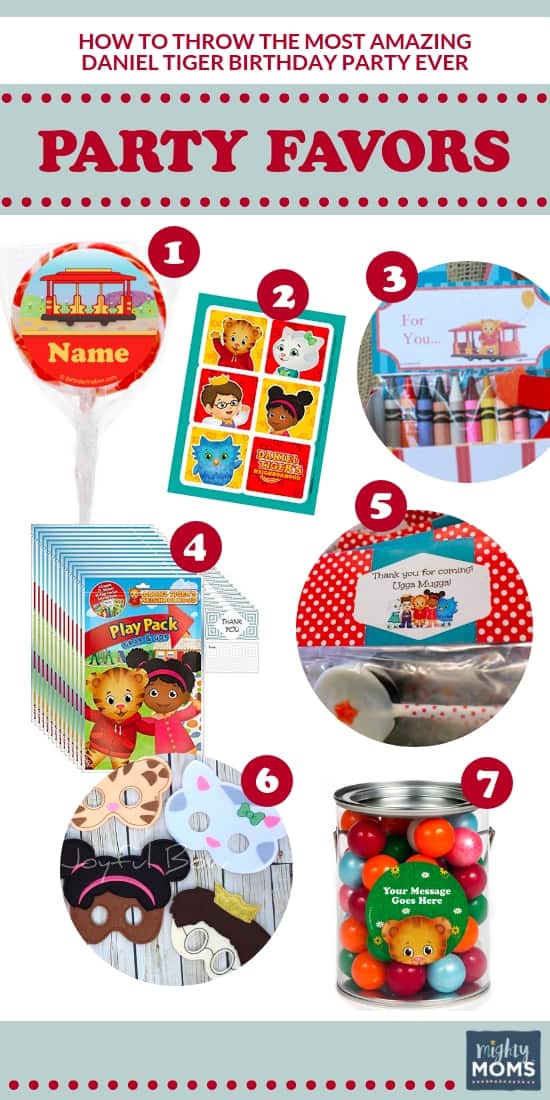 The Ultimate Daniel Tiger Party:
7 Party Favor Ideas
Party Favor #1: Trolley Cake Pops
Make some cake pops to complete your mission to fill all the children with sugar and then send them home to their own parents! Muahaha!
Party Favor #2: Stickers!
What kid doesn't love getting stickers! Use these Daniel stickers as the favors themselves, or use them to decorate your favor bags… or both!
Party Favor #3: Crayon Favor Bags
How cute are these little crayon favor bags? Get the free printable here at PBS Parents and just add crayons. A great option if you're on a budget!
Party Favor #4: Play Packs
Pick up this 12-pack of Daniel Tiger play packs. Favors = done.
Party Favor #5: Snack Bags
Fill regular sandwich bags with these Oreo Pops from Marvelous Mommy (or whatever other treats and trinkets you'd like). Then top them off with these fabulous free printable bag toppers!
Party Favor #6: Masks
Let the kids play dress-up like Daniel and his friends with these cute masks. Afterwards, send each kid home with one!
Party Favor #7:
Personalized mini paint cans are perfect for filling with the candy or other favors of your choice.
A Grr-rific Daniel Tiger Party Awaits You!
Well, friend. There you have it. Forty-three creative ideas to throw the most grrr-rific birthday party your Little Tiger's neighborhood has ever seen. Now you're inspired, it's time to put your plans into action!
Ugga-mugga!
Have You Read These Yet?
We ♥  honesty!  This post contains affiliate links that provide extra money for our mutual coffee habits addictions. Click here to learn more.
1 Comment
Heather Taylor
Heather Taylor, Chief Encouragement Officer
4:29pm File…
Joseph Farruggio Joseph
Add a comment or upload a file…
Subscribers
1 person will be notified when someone comments on this document.
Heather Taylor Add/remove people…
You're subscribed
You'll get a notification when someone comments on this document.
Unsubscribe me
Back to top