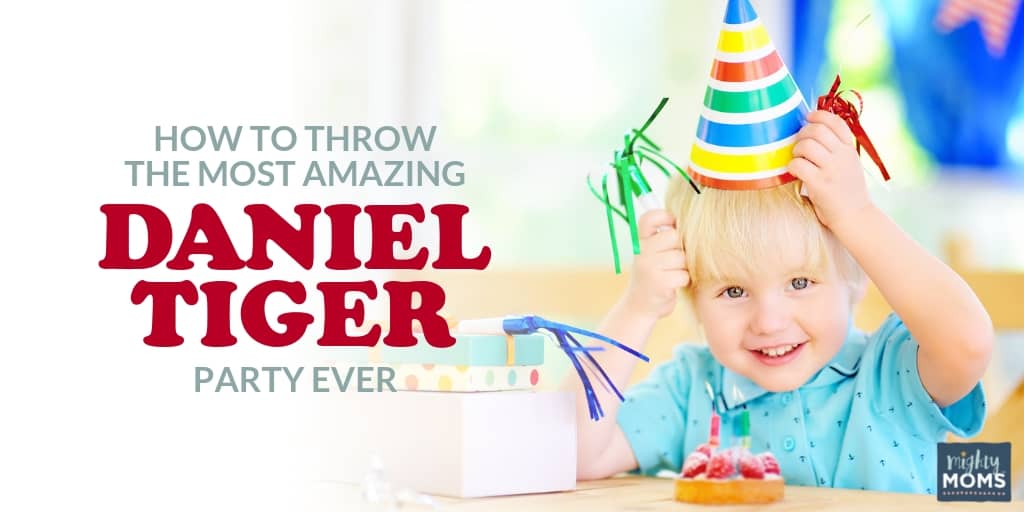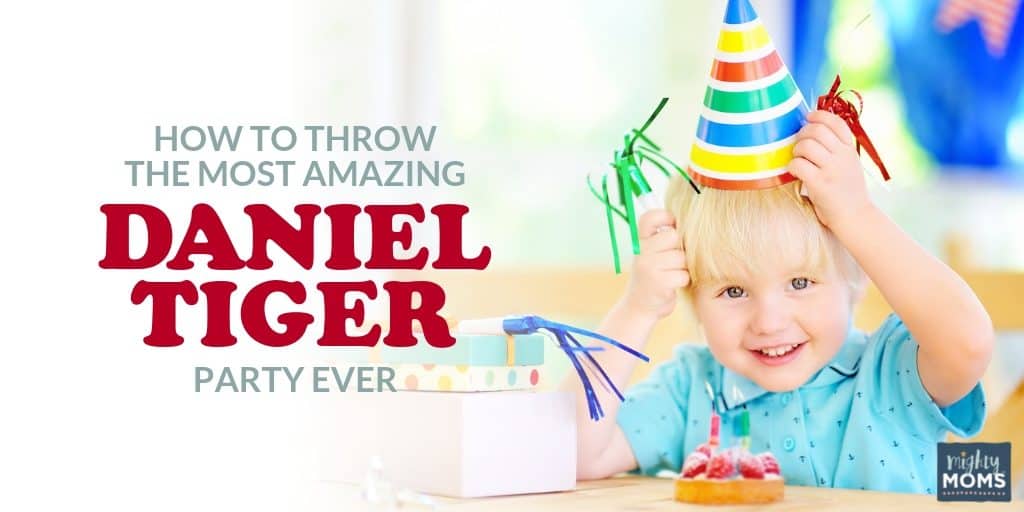 Is a Daniel Tiger party in your future? Let me put on my mind-reading turban and find out.
Is singing Daniel Tiger songs one of your main parenting techniques? (No judgment here. It works.)
Does your kiddo choose Daniel every time there's a choice?
Did you mourn a little the day Daniel Tiger's Neighborhood left Netflix? But then san the Hallelujah chorus when it showed up on Prime?
If this is you, read on! I've gathered the best the internet has to offer for your little one's next birthday: a Daniel Tiger party. It's perfect!
Even if your party is just for family, in this post-covid world, you can still make it memorable for your special little kid!
Daniel Tiger Party Decorations Made Simple
We can't all be Martha Stewart.
But we can be her lesser-known sister, Mabel. Mabel outsources. Mabel puts her hard-earned dollars to work and design a beautiful party that takes less time to pull together than it did baking the cake.
For example, Mabel would pick up a red plastic tablecloth and a roll of polka-dot wrapping paper for the gift/food table. DONE!
Mabel would also invest in some paper goods and balloons that find the perfect balance between cheap and festive. Here are some affordable options for you to consider.
Daniel Tiger Party Foods the Kids Will Actually Eat
Do your friends a favor and avoid sending the party guests home skipping on a sugar high.
Sure, there will be sweets. (This is a party, after all…) But with some creative presentations, you may be surprised at how many tiny fists grab the carrots!
Besides the ones below, I would also take a peek at this Pizza Dip Clock or this Veggie Spaghetti. Both would be perfect for a special birthday dinner!

Daniel Tiger Party Sweets They Will Never Forget
Now the healthy stuff is out of the way, bring on the tongue-tingling sweets! You don't have to be a professional baker to create a beautiful cake.
Try the tiger-striped cake below, or go even simpler and pick up this cake topper (which becomes a toy after the party is over!)

Daniel Tiger Party Games to Keep Them Busy
There are presents, and cake, and…what?
How are you going to keep those kids moving and occupied for two hours? (Trust me, if you don't keep them busy, they will make themselves busy…)
Get messy on a hunt for Snowball! If you don't remember this episode (#215, if you were dying to know), it's the one in which Snowball, the class bunny, is lost, and *spoiler alert!* they find him in the Enchanted Garden. Hide a stuffed animals around house and let the kids play hot/cold until they find them all!
Here are a few more activities to fill your time together.

Daniel Tiger Party Gifts He Will Thrilled to Receive
Extend the fun past the party time with some Daniel Tiger themed gifts. Imaginative play is an important part of your child's healthy development and these toys definitely will immerse him in the Neighborhood!
If your own little tiger is potty training, this Daniel potty book may be just the thing to earn him more stickers for the potty chart! The book has a button that makes flushing noises, to "flush, and wash, and be on your way!"
And when you're done with the day, why not send your tiny tiger to sleep with sweet neighborhood dreams by reading him Goodnight, Daniel Tiger before bed!
In this red hoodie, your kiddo can look just like Daniel (um, except that he's not a tiger – just don't tell him that).

Daniel Tiger Party Favors to Say Thank You
The party is over. Gifts have been open. Cake consumed. Tired tigers are heading home. Now it's your turn to say thank you. Thanks for coming. Thanks for the gifts. Thanks for being a part of your child's life.
Here are some "thank you" favors to send home, letting guests enjoy the party for days yet to come!

A Grr-rific Daniel Tiger Party Awaits!
Well, friend. There you have it. Forty-three creative ideas to throw the most grrr-rific birthday party your Little Tiger's neighborhood has ever seen. Now you're inspired, it's time to put your plans into action!
Ugga-mugga!
Have You Read These Yet?
We ♥  honesty!  This post contains affiliate links that provide extra money for our mutual coffee habits addictions. Click here to learn more. As an Amazon Associate I earn from qualifying purchases.