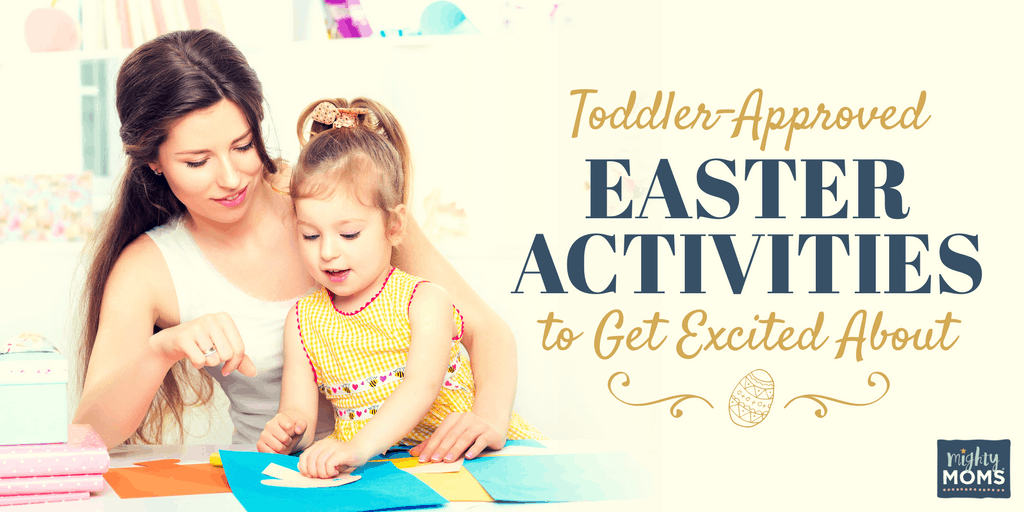 Need something to help your little one burn off all that extra candy before bedtime? Try one of these toddler Easter activities!
I know he will love them, because it includes all the things he already cherishes! Things like…
Creating an enormous mess in a short amount of time.
Assuming everything they find on the floor is edible.
Running, jumping, leaping, crawling…
Anything new and/or shiny.
The trick-that's-not-really-a-trick for a festive Easter holiday is to take those things and transform them into memories, and you do that by following these suggestions!
Toddler Easter Activities
Tip #1: Get Messy
If toddlers are known for anything, it's their deep love for saying the word "no."
Unfortunately, I can't find a way to work that into this post. (I just feel, as the suffering parent of a toddler, that sometimes it's comforting to complain. #mamaraderie)
But the second thing they're known for is their inherent ability to create a mess. Whether it's emptying every toy basket in under four minutes or being quite liberal with the paint during a craft, toddlers just have a knack for mess-making.
If you can't beat 'em, join 'em.
Keep your toddler engaged in your easter celebrating by choosing activities that let her get her hands dirty. Here are three to try!
Q-tip Painted Easter Eggs: This creative activity works on fine motor skills and involves a lot of materials you probably already have lying around your house.
Egg Splatter Painting: Your toddler will love having permission to splatter paint! (Be sure to use washable finger paint for easier cleanup… and maybe consider doing the activity in the backyard!)
Resurrection Garden: Your toddler can get her hands dirty with literal dirt while she learns more about the Easter story as you build this together.
Toddler Easter Activities
Tip #2: Get Baking
Let's face it: your toddler is going to try to put everything in his mouth anyway–the stale cracker from behind the couch, the decorative soap at Grandma's house, or even the power cord to your laptop–so surprise him by creating something together that he actually can eat!
Baking with your toddler is an excellent hands-on learning activity and bonding experience. Plus they'll get to eat something sweet at the end!
An extra bonus to baking together is that your toddler may be more willing to try a new food if he has taken part in the actual preparation of the dish. Here are three recipes to test out that theory:
Easter Story Cookies: Help your toddler learn the story of Jesus' death and resurrection in a hands-on way.
Cinnabunnies: Serve these for an easy breakfast win.
Rice Krispies Easter Egg Treats: Grab this egg mold to make this recipe even simpler!
Toddler Easter Activities
Tip #3: Get Moving
A toddler's energy is virtually uncontainable.
Which is a major shame, because if someone could bottle that stuff, they'd be a millionaire.
What better way to get them moving this Easter than an egg hunt? You may already have one planned! Help them get out the most energy by spreading the eggs out over a larger area. If the weather's nice, use the whole backyard. If you're cooped up inside, take advantage of multiple rooms to keep them moving.
If you're looking for an easter egg hunt with a bit more focus on Jesus, consider picking up these resurrection eggs and hiding those along with the other candy-filled eggs.
Then, once all the eggs are found, you can cuddle up on the couch, open up the eggs, and walk through the story of Easter together. You can even grab this helpful book to read along with these toddler Easter activities.
Toddler Easter Activities
Tip #4: Get Something New
I'm not saying you should buy your toddler piles of presents for every holiday or season.
What I am saying is that it's no secret that kids love new stuff.
You may be hesitant to bring more toys or knick knacks into your already overflowing playroom, but consider picking up a few new Easter books this year. They're a great way to spend quality time learning about Easter with your toddler while using a language that makes sense to her.
And when it comes to minimizing clutter, I always think books are the exception to that rule. 😉
The Garden, the Curtain, and the Cross: This beautifully-illustrated book tells the story of Easter and how it connects to the whole Bible.
God Gave Us Easter: Check out this adorable book to read the story of Easter told through a polar bear family.
Children's Bible: If you don't already have one, a good children's story Bible (this one is our family's favorite!) will get plenty of use throughout the rest of the year, too!
Time to Make Some
Toddler Easter Memories!
Easter.
It is one of the best seasons of the year—in my humble opinion—for at least four reasons:
It's the unofficial beginning of Spring. Can I get an amen?
Two words: Easter outfits.
For Christians, it's when we celebrate one of the most significant days in history–the resurrection of Jesus Christ.
We can create some serious instagram-worthy family memories!
Pull out those craft supplies—and put yourself in your toddler's shoes (if you can find them) and really think about what he loves to do. Then use the toddler Easter activities above to highlight that interest in a fun and creative way.
Better hurry though—before he gets to that bottle of glitter without you!
Have You Read These Yet?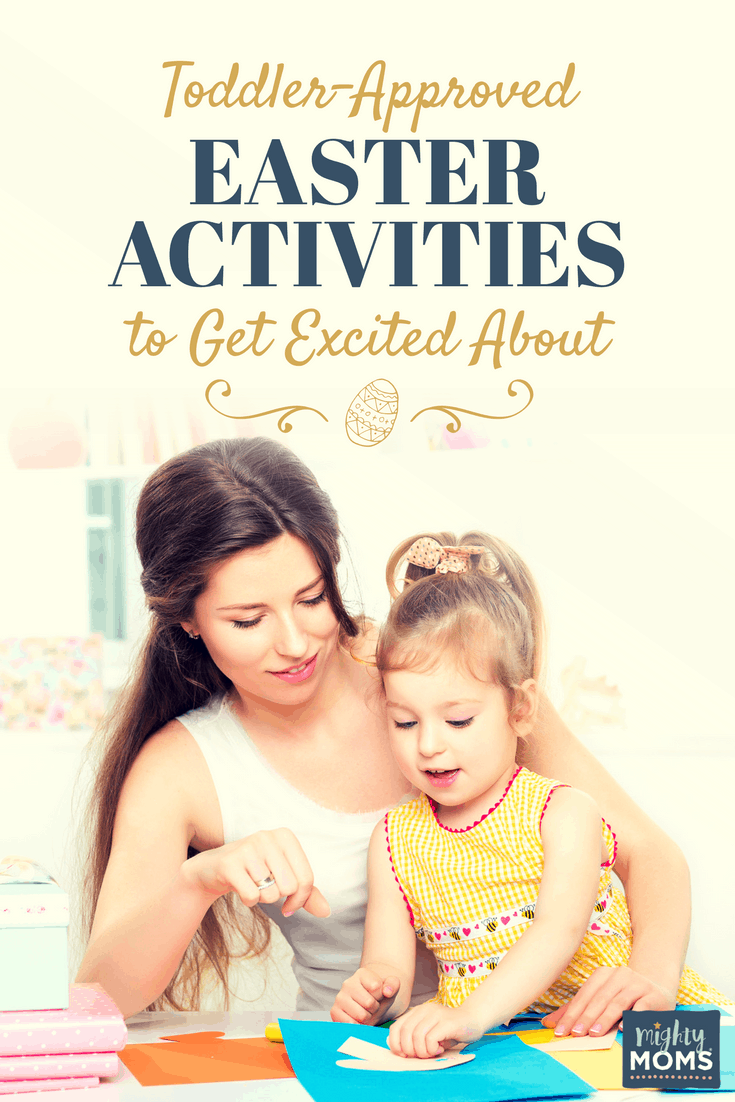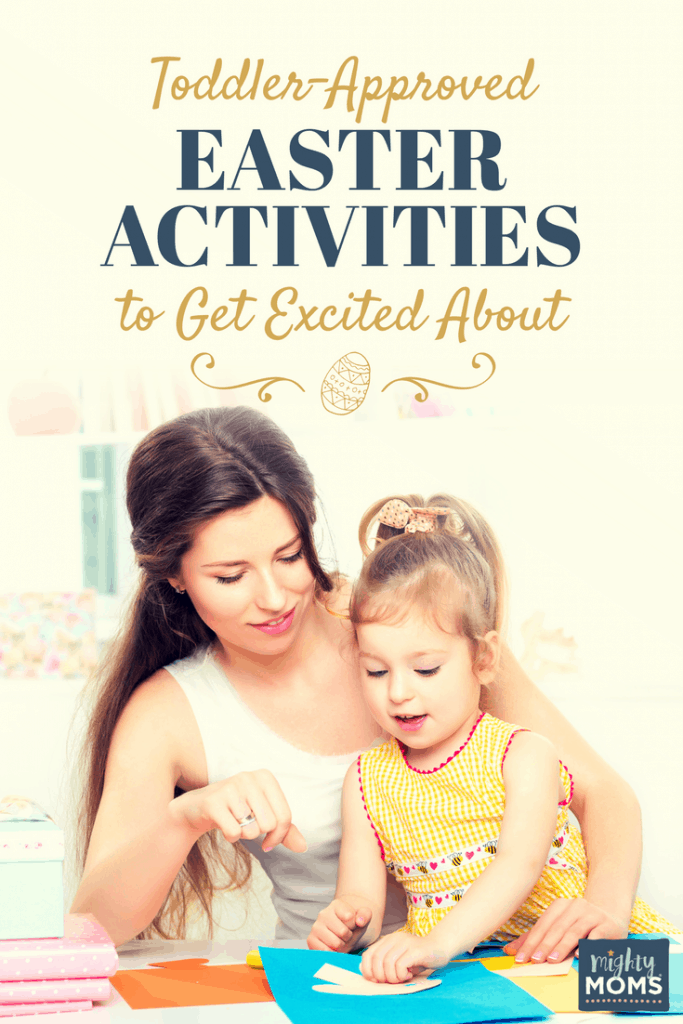 We ♥  honesty!  This post contains affiliate links that provide extra money for our mutual coffee habits addictions. Click here to learn more. As an Amazon Associate I earn from qualifying purchases.