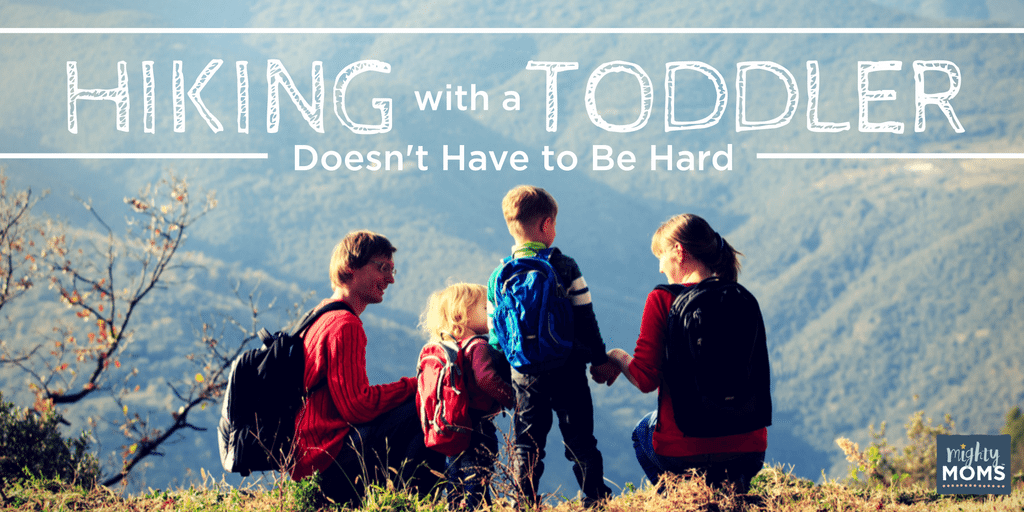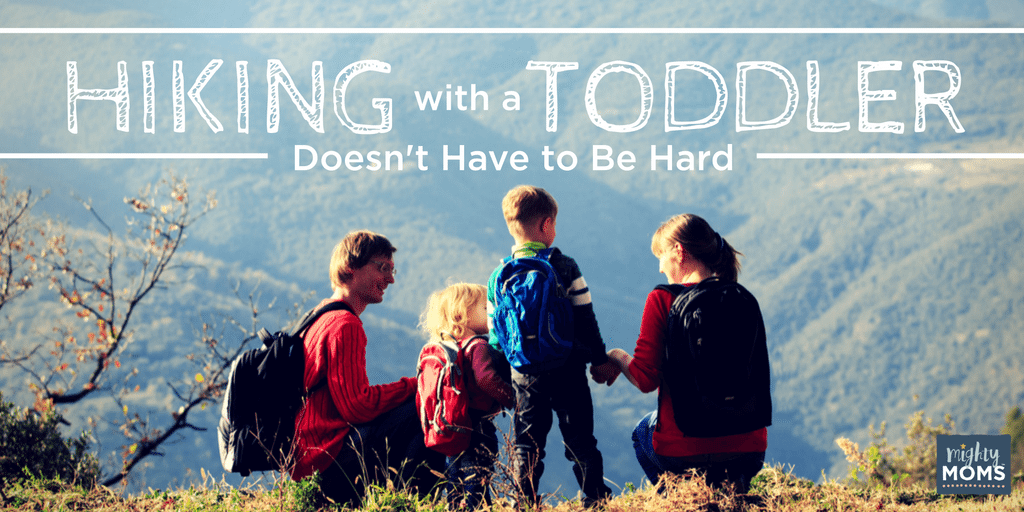 Does the thought of hiking with your toddler send you up a mountain of panic?
Are you shaking in your hiking boots as you envision hitting the trails?
Even in the most predictable environment, toddlers are a handful. They have zero sense of danger, their balance is questionable, and they will not hesitate to run into traffic when given the chance. Put them in the Great Outdoors and who knows what could happen!
Hiking with a toddler doesn't have to be hard, though. It just requires a teensy bit of preparation and the spirit of a Brave Adventurer.
Here's the good news: if you're the momma of a toddler, you're already a Brave Adventurer. All you need is the preparation, and that's exactly where I come in.
From one Brave Adventurer to another, here are four tips for creating your own exciting (and safe) expedition out on the trails.
Hiking with a Toddler Tip #1
Be Patient.
Whoever thought up the phrase "take time to stop and smell the roses" surely had a toddler at home.  Let's face it. Your toddler is going to make you stop and smell the roses, even if you don't want to.
She will plod along, getting acquainted with nature in a way only toddlers know how. Every new experience is thrilling, so she will take her time learning about the world around her.
Every single stick, rock, and bug will bring her joy and excitement. Let her enthusiasm infect you. It's easy to want to keep a brisk pace on a hike, but those little legs can't keep up. Why not slow down and let your toddler take the lead?  
Allow the slower pace to be an opportunity to see the world through your toddler's eyes. What might you discover along with her?
Hiking with a Toddler Tip #2
Be Present
It's easy for the day-to-day responsibilities of adulthood (and parenthood) to distract you from feeling fully engaged with your family. The great appeal of the Great Outdoors is that it offers a great excuse to reboot and reconnect.
Here are a few suggestions to help you soak up the moment:
Encourage your child to touch and hold and smell the new things he finds along the way…provided, of course, that those new things are not poison ivy, bird's eggs, or skunks.
Let your only goal be to witness the wonder unfold as your toddler experiences the world around him.
Act as though you have all the time in the universe to explore. Don't have an agenda!
Find the teachable moments by working on animal names and sounds as you walk on. For example, if you see a bee, offer your best buzzzzz.
Hiking with your toddler won't be the same as when you trained with your hubby to hike the Appalachian Trail, but your toddler will think your bird calls are the bee's knees!
Hiking with a Toddler Tip #3
Be Safe
You know what your child can handle! As long as you are not testing your own limits and are using your best judgement, hiking with a toddler can be done safely. Just as with anything we do, though, there are some risks to consider and minimize.
Do You Know Where You're Going?
Sometimes being a trailblazer is a good thing, but when you're hiking with a little one you might want to stay on the straight and narrow. Choose well marked trails and stick to them. You'll be able to get you where you want to go and back again!
Take a map of the trail with you. 4G wireless is no match for a forest full of 100 foot pine trees.
Try Trail Finder or American Trails to scope out family friendly trails.
What Will You Do if Someone Gets Hurt?
A basic first aid kit is your first defense when you're away from home. Other items you might include to beef up your aid kit just in case of a serious (but unlikely) emergency:
A mylar emergency blanket for swift drops in temperature. They're about the size of a deck of cards and won't weigh you down.
A loud whistle, which may help someone find you on the teeny tiny chance you take a wrong turn.
A flashlight in case you lose track of time and daylight.
Gauze
Athletic wrap or tape (for accidental sprains)
What if the Weather Changes Unexpectedly?
Dressing in layers is a MUST for any hike. The air may be chilly when you start out. Once Mr. Sun makes his appearance you'll want to ditch the long sleeves, only to find when the sun isn't right overhead, you're cold again. The higher up you hike, the cooler the air gets. Don't let the trails give you the cold shoulder!
Bring waterproof jackets to keep those kiddos dry if there's a surprise shower. Even when there's no rain in the forecast, the weather can change in a snap depending on the area or season. Little ones who get soaked also get cold, fast – especially if you're surrounded by shade trees or at higher elevations.
Dress in bright colors. This will allow other hikers to see you more easily and help you keep a close eye on your whole party.
What Kind of Wildlife Might You Encounter?
Check the trail or park website for detailed information about what animals may be in the area and what to do if you cross their path.
If no website is available, call the park's visitor center or county park district. Information may also be posted at trailheads on a large bulletin board.
Remember, most wild animals are more afraid of you than you are of them! Even still, the National Park Service was particularly helpful as we hiked in bear territory this summer. While we managed to not see any bears, it soothed this momma's worry knowing what to do ahead of time.
Does Someone Know Where You Are and When You'll Be Back?
It's wise to let a friend or family member know where you'll be and when you expect to return as a super-extra-safety measure.
Hiking with a Toddler Tip #4
Be Prepared
Hiking appeals to the minimalist-wannabe in me, but just like movies are better with popcorn, and a cup of coffee is better with a perfect splash of cream, the right kind of gear can help your hiking adventure reach new heights.
Choosing your gear is a breeze once you choose your hiking style.  And just what are those hiking styles?
Short 2-hour adventures
Long all-day excursions
Which one you choose will have a lot to do with your family culture and personality.  Here's how I would evaluate each style to see which might be a good fit.
Hiking with a Toddler:
2-Hour Adventure
Short 2-hour adventures are perfect for parents who:
Are new to hiking.
Don't have a full day to devote to the Great Outdoors.
Aren't sure if hiking is going to be your family's "thing" yet.
If you have access to local trails, you can spend a morning together, have a snack, and learn a little more about the outdoors. Best of all, your toddler will take in so many new things during the morning that she'll sleep like a log during nap time. Win-win!
What Do You DO on a Short-Adventure?
If you're wondering what a two-hour adventure might look like, here's an example of what we did on our most recent mini-outing:
8:30 am: Rounded up the family and loaded them into the car, laces tied and water bottles filled.
8:45 am: Arrived at the hiking trails in the next county over.
8:50 am: Little one remembered where I stashed the trail mix and decided to be "hungry."
8:55 am: Hit the trails less than a half an hour after we started out. Might be record time!
9:05 am: Little one was crazy excited about all the rocks, which was really adorable.
9:15 am: Still excited about all the rocks.
9:20 am: Sat on the rocks.
9:21 am: Ate more trail mix…while we sat on the rocks.
9:35 am: Made our way down to the stream and tossed rocks into it.
10:00 am: Watched in wonder at every squirrel and chipmunk.
10:05 am: Began our return to the car.
10:10 am: Little one informed me I did not pack the right kind of trail mix after eating most of it (NO! Raisins! NO! MOM!).
10:30 am: Everyone accounted for and buckled in. We smell like the outside.
Was this the most challenging, technical, or exciting hiking trip of the season? Nope. But I was delighted at how well my toddler handled the trail, and we hadn't laughed so hard in quite a while.
Inexpensive Gear for a Short Hiking Adventure
If you're going to take a shorter hike, a few good tools will make hiking with your toddler a cakewalk. Here's what I would recommend: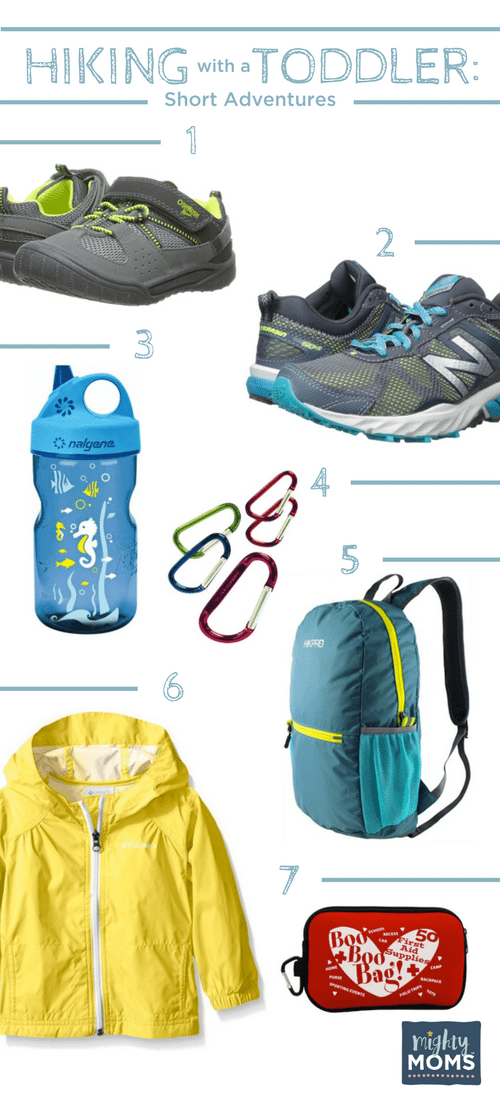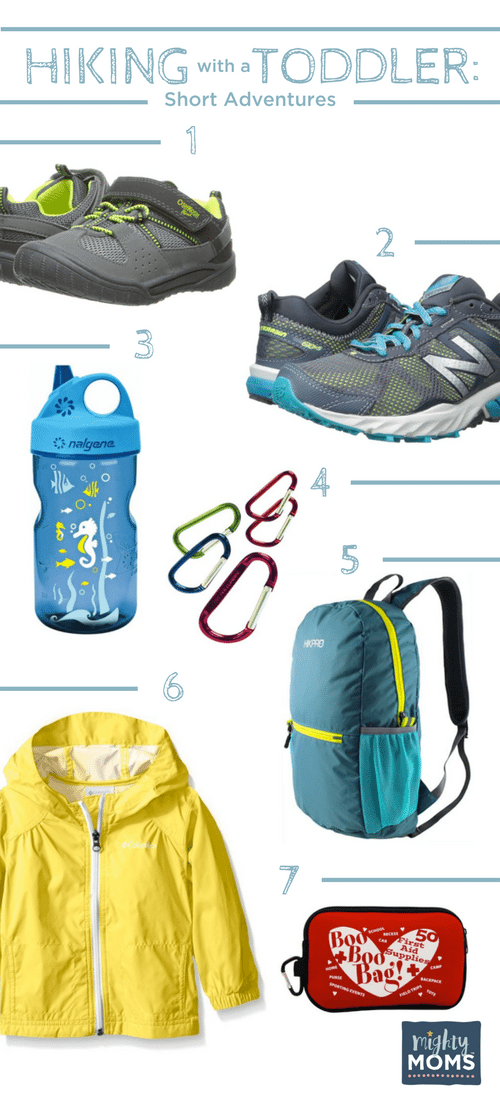 When you're out for a short adventure, choose shoes for your toddler with both grip and flexibility, like these (#1) OshKosh sneakers. For yourself, pick an athletic shoe like (#2) New Balance, specifically designed for trails.
Since you're not hiking all day, carrying your water in a bottle probably won't seem cumbersome. Try (#3) Nalgene bottles for the whole family, with a pack of always-useful (#4) carabiners to clip them onto your backpack or belt loop.
(#5) This lightweight pack will fit your snacks, diapers, trash bags, first aid supplies, wallet, car keys, chewing gum, trail map, butterfly net…need I go on? It's also water resistant, has zipper compartments to keep you organized, and can be folded up into its own small pouch and stashed away when not in use.
To keep your kiddos dry in case of rain, (#6) this waterproof jacket is lightweight to carry or pack and roomy enough to fit all those layers the family wore for the hike.
(#7) This Boo Boo Bag should cover just about any scraped knee that comes your way. It's full of bandages, ointments, an instant cold pack, and stickers for good measure.
Hiking with a Toddler:
All-Day Excursion
Perhaps you're an old pro and can't wait to hit the ground running to teach your future Eagle Scout how to spread his wings.
Why not explore a trail farther from home, or choose a destination like a scenic tourist stop or a national forest?
What an All-Day Excursion Might Look Like
Here's an example of how an all-day excursion went with our toddler a few weeks ago. It certainly wasn't perfect and didn't go totally according to plan (what does?), but it was definitely memorable!
7:00 am: Everyone loaded and buckled, set to arrive at trailhead by 7:45. Hiking boots ON!
8:00 am: Needed a bathroom stop already. (For me, because: coffee). Arrived at trailhead.
9:00 am: Been slowly making our way to the look out, stopped for snacks.
10:00 am: Little one was tired, stopped for a rest!
10:30 am: Back on the trail, little one was mesmerized by the butterflies and beetles
11:00 am: Made it to the lookout! Played a lovely game called "How close to the edge can we get before Mommy has a heart attack?" Husband assured me little one was a good fifteen feet away from even the remote possibility of danger. I remained unconvinced.
12:00 pm: Finished lunch, packed up our trash, began return hike.
12:30 pm: Little one said her legs were tired and she needed cuddles.
1:00 pm: The upside to naptime on the trail: picked up the pace a little! Toddler wearing is not for the faint of heart (but might be for the out of breath).
2:00 pm: Toddler woke up and said "meow" while pointing to the trees. Coincidentally, she meows when she sees pictures of wild cats and mountain lions in books.
2:02 pm: After a frantic scan of the trails, we're sure there are no mountain lions. Possible heart attacks all around.
2:30 pm: Little one: "Walk. Please. Walk!"
3:00pm: Returned to the car. We smell like outside.
4:00 pm: Showers for everyone.
We were worn out, but went to bed feeling feeling like we'd earned a good night's sleep and had a truly memorable family adventure.
Better Equipment = Better Long Hikes
If you're going to plan on longer excursions becoming a part of your family's culture, invest in some quality equipment.
It will keep you in high adventurous spirits all day long. Here are a few of my favorite "must-haves" for hiking all day with your toddler: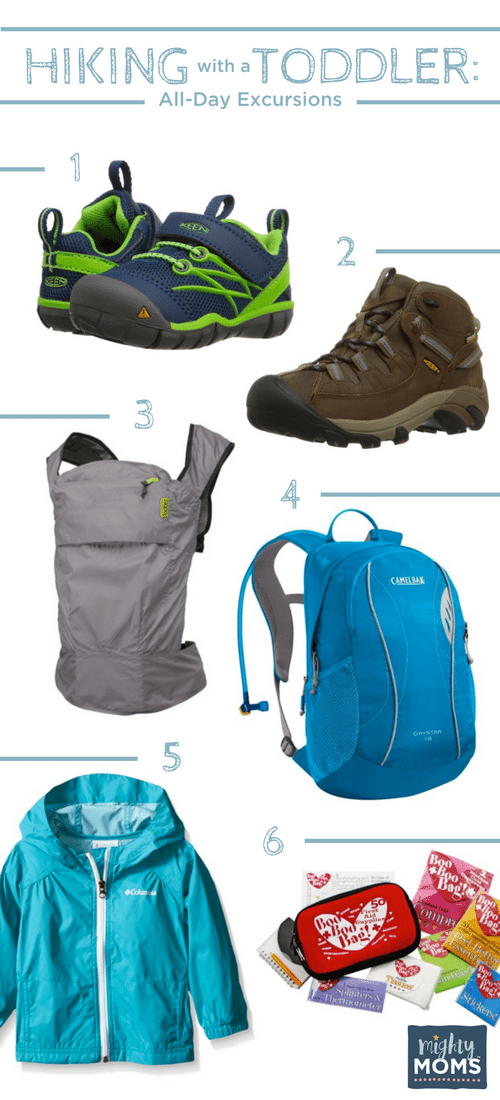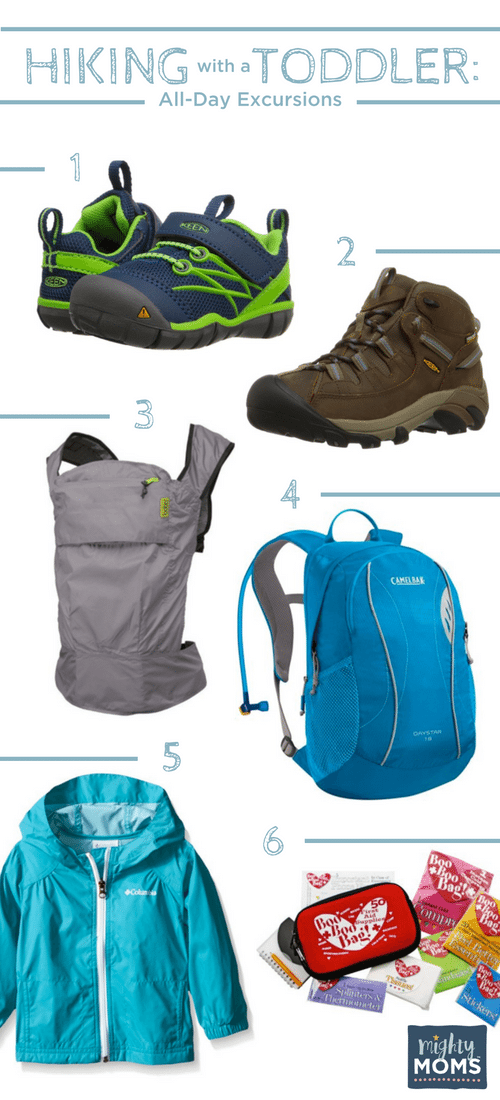 When it comes to shoes, the Keen brand is a personal favorite. They are flexible enough to allow tiny (and big) feet to easily maneuver around rocks and roots, but offer plenty of protection to your tootsies.
Supportive and sturdy, this (#1) Keen toddler shoe fits the bill (or foot!). For grown-ups, (#2) this high-top style boot will keep your ankles happy and your feet from getting tired.
(#3) The Boba Air has your back when your toddler tuckers out and you're miles from the parking lot. Lightweight and compact enough to forget you're carrying it (at least, before you're carrying your toddler), this little carrier is up to the task of letting your little one snooze while you continue your trek.
To help maintain your daily recommended servings of water while you're on the trail, (#4) this CamelBak pack has a water reservoir. It also is spacious enough to carry all your snacks, diapers, wipes, trash bag, and anything else you may bring along with you and carry out when you leave.
Don't want to share?  They make bite valves in different colors. Order a pack and each family member can have their own!
When it comes to staying dry, I would point you towards the same awesome (#5) waterproof jacket I recommended for the short day-trippers. Not only is it lightweight, but it's loose enough to fit over any warm layers you pile on.
(#6) This Boo Boo Bag:  Sound familiar? It has all my go-to emergency supplies for any ouchies, bumps or bruises on your hike. Complete with bandages, ointments, and an instant cold pack, it even has fun stickers for your little patient. (I've found that a sticker is like magic. It can miraculously heal boo-boos in a few seconds!)
Time to Hike with Your Tyke!
My kindred Brave Adventurer, a hike with your tyke is as easy as one, two, three…four simple tips: a smidgeon of patience, a little time to be present, a few safe reminders, and good preparation will go a long way in making this a fun family memory for everyone.
Go ahead.  Tell those visions of "toddler + outdoor = chaos" to take a hike.
You have more important things to do like enjoy fresh air, sunshine, and the echo of your 20-month-old's laughter as she methodically climbs over every rock and branch in her path.
You see? Hiking with a toddler doesn't have to be hard, and it will always be an adventure!
But enough reading. Where are you going for your Outdoor Experience? Lace up those hiking boots and watch your toddler explore a whole new world.  (Just don't forget the camera!)
Have You Read These Yet?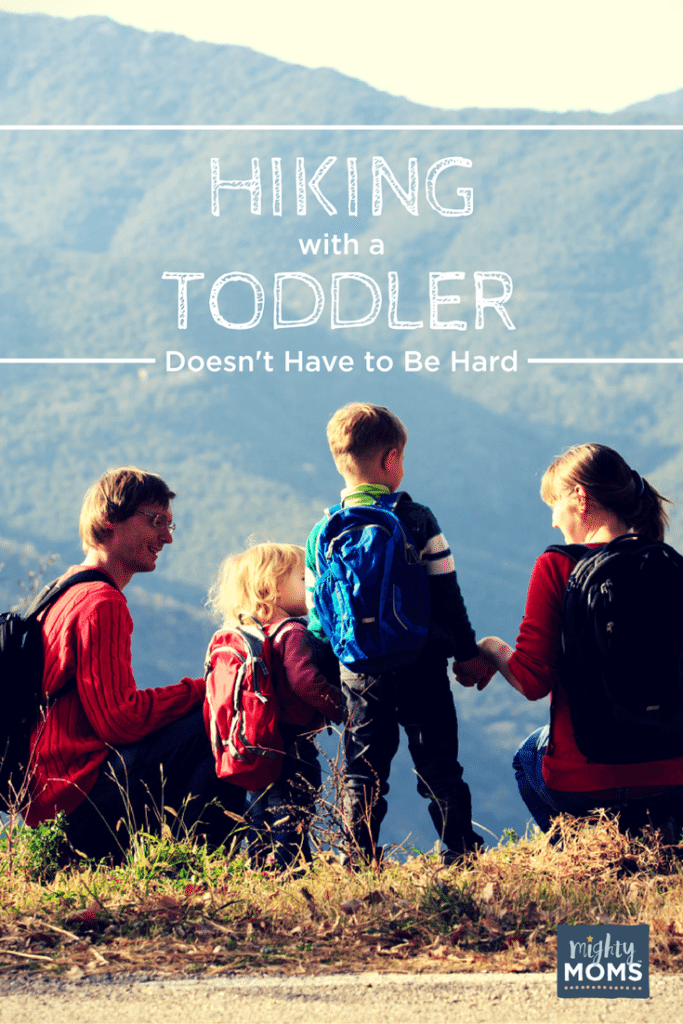 We ♥  honesty!  This post contains affiliate links that provide extra money for our mutual coffee habits addictions. Click here to learn more.