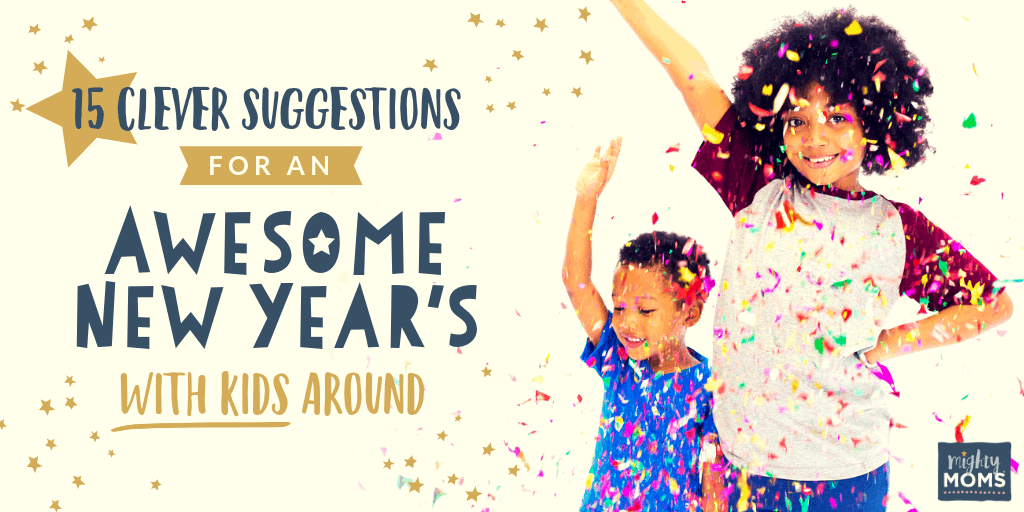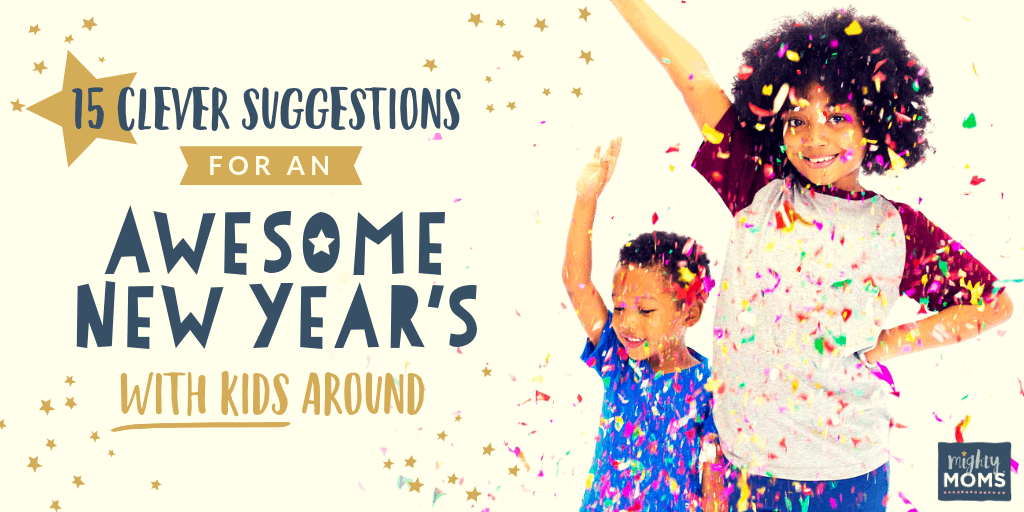 When our kids were babies, we could look forward to putting them down early and enjoying a New Year's Eve cuddle/movie night with the Hubster in my phat pants (yes, that's what I call them).
Now that my kids are a little older, though, they've picked up on something TERRIBLE.
They have discovered (thanks, Nana) that New Year's is a holiday where exciting stuff happens and which they, evidently, need to be part of.
Those lounging phat-pant movie traditions (or cocktail traditions, whatever your poison) may be over, but that doesn't mean that our New Year's Eve has to be LAME-O.
I've talked before about the vital importance (I'm actually serious there) about playing with your kids. New Year's Eve provides us, as parents, with a wonderfully unique opportunity to make some rockin' awesome family memories.
Brace yourself. Fun times are coming.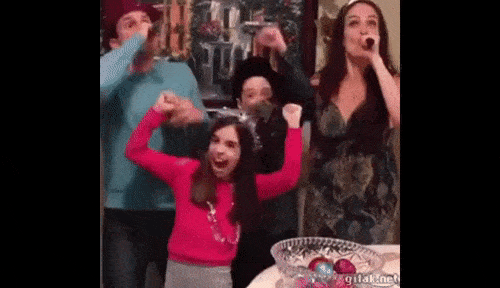 The Funny Thing About Midnight…
…is that it's relative.
I mean, it's midnight somewhere, right? So why not capitalize on the fact that your small kids can't tell time and move things up a bit?
Truth is, you don't want to drag your kid across the ball-dropping midnight line. She will be waaaay overtired, which mean it's likely she won't sleep well, and may even end up waking up earlier in the morning.
So go ahead and move the clocks forward.
Watch a previous year's ball drop on Youtube.
Get all the excitement done with before 8pm, and then get those kiddos to bed. You'll thank me tomorrow!
Overtired kids will struggle to sleep through the night and commonly wake before 6am. If your baby/child struggles with sleeping issues, we'd love to help you start the New Year with better habits! See how a Certified Gentle Sleep Coach can help.
Ringing in the New Year with Kids
Ready to dive in? Here are 15 ways to celebrate your New Year with kids around. Pick a few this year, then Pin this article and do the rest next year!
Eat dinner in the candlelight! Choose a recipe that's special but still kid-friendly enough to get cleaned plates. What about New Year's Gnocchi?
Play Stuffed Animal Safari: Hide several of their favorite stuffed animals around the living room, turn off the lights, and invite them back into the room with flashlights to "find" their animals in the dark. (While Dad makes jungle noises.)
Fill this Pinata with small toys and a few candies (too much and they won't go to bed!)
Have a dance party in the (semi) dark with glow sticks and glow-glasses (these you can re-use every year).
Make Confetti Slime together.
Break out the dress-up bin and spend the evening in costumes. The sillier you and Dad look the better! This set of photo props adds a touch of whimsy and can be put away for the next year. Bonus: Those props won't leave glitter bombs in the living room for the next 6 months.
Invite a few other families over for an informal dinner party, where you can celebrate together without the pressure to be perfect.
Have the kids help you make some sparkling jello push pops as a snack
Make a Wishing Wall full of the things each family member is hoping for in the new year.
Make a giant nest on the floor with all the kid's favorite pillows, blankets, stuffed animals, etc. and watch a wintry movie like Small Foot or an old favorite like Willy Wonka. (Just fast-forward the freaky tunnel scene…)
Hide one of these conversation cards around the dining room (under plates, behind cups, etc.). Have them each find one card (perhaps after they ate their green beans?) and talk about them throughout the meal.
Play a simple family game that will get everyone giggling. Our favorites are Pie-in-the-face, Watch Yo Mouth, and Picture Charades (for kids 4+).
Start a New Year's Box! Every year write (or have the little kids draw, and then you write in the explanations) their favorite moments of the previous year, listing the things they are most grateful for. As the years go by, it will be hilarious to look back on all the things they've said.
Pour out some sparkling white grape juice (to avoid stains) for the kids. They will feel so fancy sipping from these unbreakable champagne glasses.
Do something drastically different for dessert: Chocolate fondue!
It's All About the Memory
What's the point in doing any of these things over New Years with kids? Why hassle?
Because you are doing more than making slime together. You are building something.
A memory.
Memories are the chunks of stones that you will use, a few years from now, to build a bridge to the heart of your future teenager.
Soon (and I mean sooon—my teen is sitting in the chair next to me as I type this…how did THAT happen?) your little one will be flapping her wings and testing out the air currents.The memories you make with fun family traditions like these will buoy her heart as she ventures out into the Great World Beyond.
No matter how strong the wind blows and the storms…well…storm, the faint echo of laughter that your family has enjoyed will guide her through the tempest like a strong lighthouse on the cliff, welcoming her to the safety of a parent's love and a family's joy.
Start your new year of parenting off with a fresh family tradition. For my family, Cameron and I've decided it's time to gather the Fam around the fondue pot and asking silly scenario questions.
Giggletown, here we come.
Have You Read These Yet?
We ♥  honesty!  This post contains affiliate links that provide extra money for our mutual coffee habits addictions. Click here to learn more. As an Amazon Associate I earn from qualifying purchases.