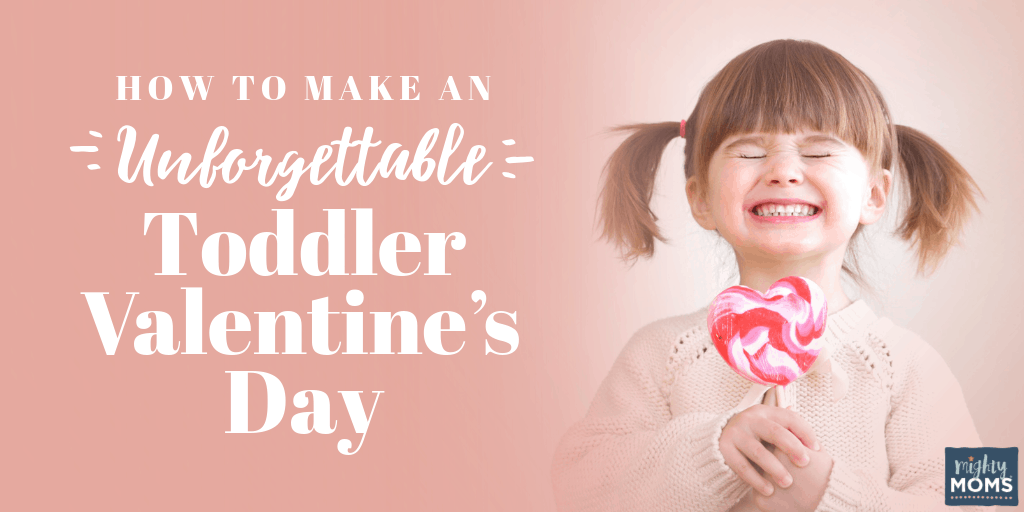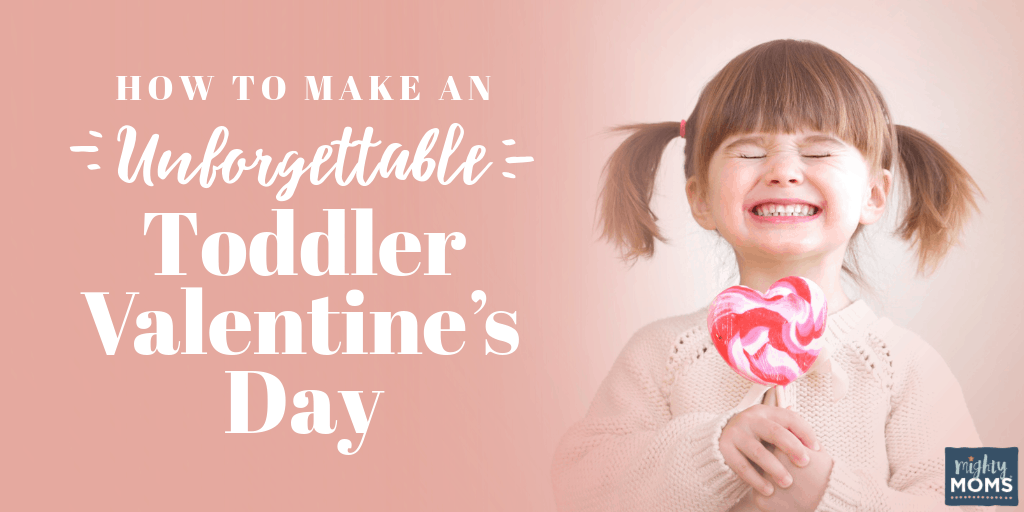 Yes, Forrest, toddlers are like a box of chocolates.
One day you experience the shock of unwrapping a dark-chocolate morsel with a spicy hint of cayenne as he melts down in the middle of Target.
Another day, his little shell collapses into a gooey oozy center of sweet caramel with you on the couch as you cuddle and read Little Blue Truck Leads the Way.
When it comes to parenting these little tykes, the only thing that is certain is uncertainty. One minute he covers you with kisses, the next you are the ENEMY that must be screamed into submission.
Which is why it's so important to stop on occasion and actually appreciate the wonder that comes with that little personality bounding around the house. He is going to be 15 sooner than you can imagine. (Trust me.) So NOW is the time to capture that tiny heart and watch it blossom with a good watering of love. What better time to do that, then at Valentine's Day?
Here are four simple ways to make an unforgettable toddler Valentine's Day. Start these traditions now, and watch those fields of blossoms bloom for years to come.
An Epic Toddler Valentine's Day:
Showing Off Cupid's Colors
Have you realized how important clothes are to toddlers? They want Paw Patrol on red not blue! She wants the sparkly elephant, not the plain one!
Picking out clothes to wear in the morning is often one of the first signs that you actually have a toddler. So it makes sense that one of the easiest little "traditions" you can pull out for Valentine's Day is to have everyone wear a spot of red or pink.
Those who don't wear a spot of red or pink has to get a kiss! (I do recommend chasing around the house and playing one of my favorite kissing tickle games!) Here are some adorable Valentine's Day options to inspire you.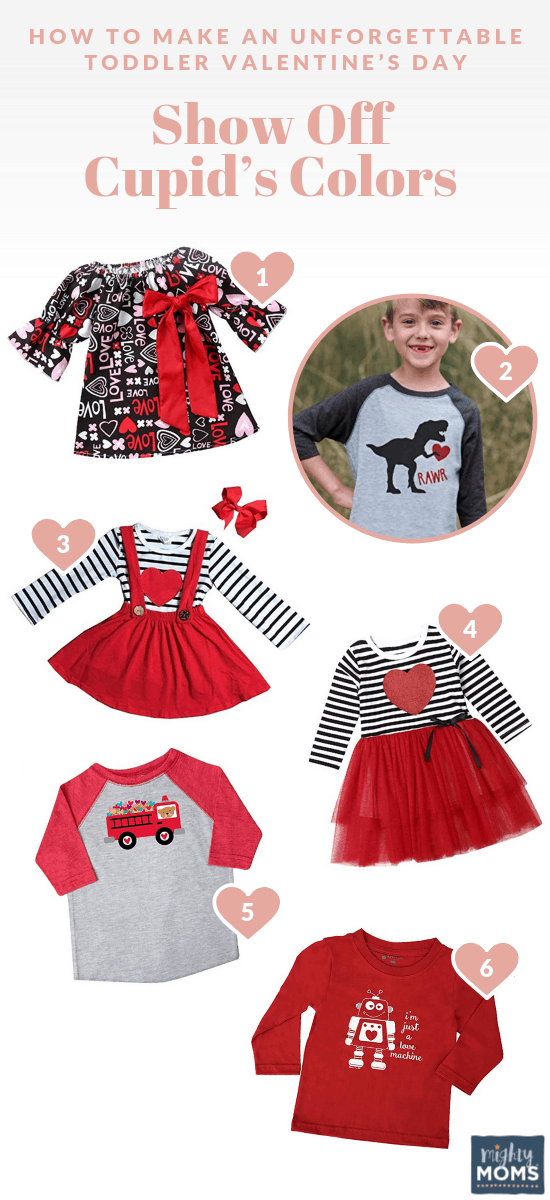 A Special Toddler's Valentine's Day
Cupid's Favorite Colors
1. Boho Toddler Valentine's Dress | 2. Love & Rawr
3. I ♥ Suspenders Dress | 4. Bling & Tutu V-Day Dress
5. Trucks of Love T-Shirt | 6. Just a Love Machine
An Epic Toddler Valentine's Day:
Snuggle with a Book
After all the crazy chasing around the house, the butterfly kisses, the tummy kisses, the ghost kisses (all here, if you missed them), it's time to settle down the heart rate, grab a super comfy blanket, and cuddle on the couch with a book.
One of the things I like to do is have a special basket full of holiday books that I rotate though out the year. These books could sit on the shelf untouched for months, but since I bring them out only once a year, the kids get super excited to read through them again, for the first time.
Here are a few favorites to get your little Valentine's Day library started. Start with one or two this year, and then add a few each year to come.
Have a grumpy toddler? A Crankenstein Valentine is a hilarious book about love that only a true Grouchypants can appreciate!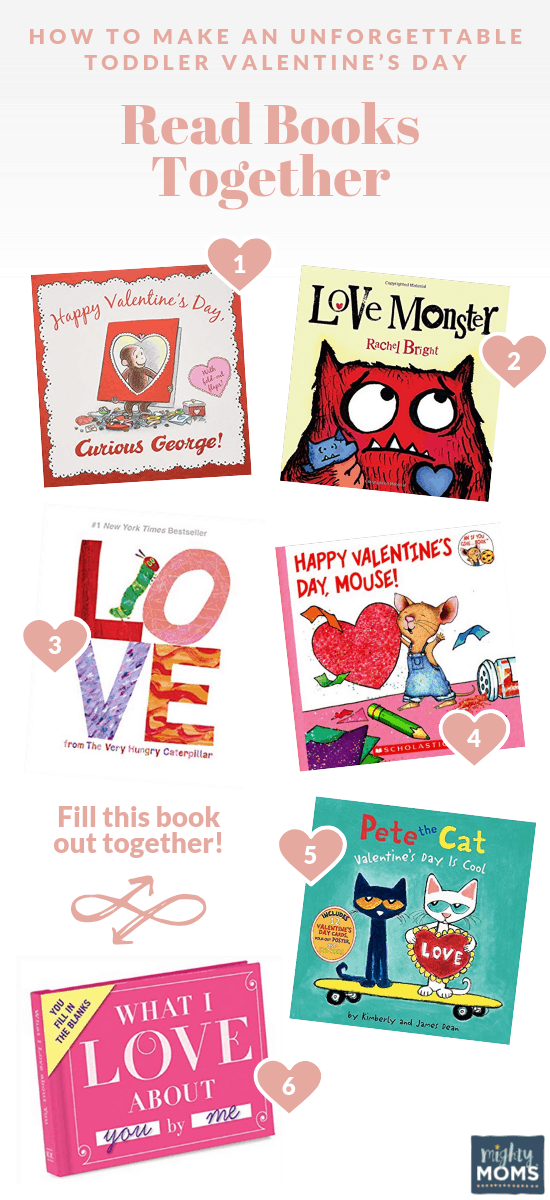 A Special Toddler's Valentine's Day:
Hugs, Snuggles, and Books
1. Curious George Open-Flap Book | 2. Love Monster
3. Hungry Caterpillar LOVE Book | 4. Happy Valentine's Day, Mouse!
5. Pete the Cat's Valentine Book | 6. Love Diary (fill it out for Daddy!)
An Epic Toddler Valentine's Day:
Lovely Snacks to Share
The nap has happened (or if it didn't this can help,) and your toddler, rubbing his cute eyes with those pudgy little hands, is hungry. It's time for a very special toddler Valentine's Day snack! After all, this is a special day that we celebrate those we love, and you love him to pieces!
Here are some simple and delicious recipes to either make on your own and surprise him, or trot out as an activity to do together. Just don't forget to stock up on some heart-shaped bowls and cookie cutters.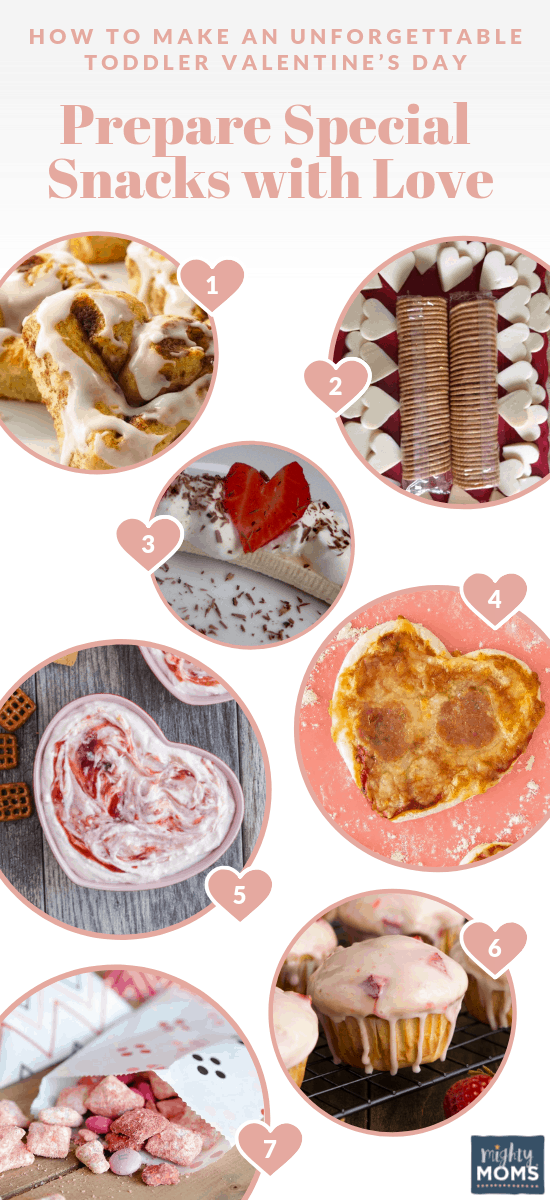 A Special Toddler's Valentine's Day:
Kitchen Kisses!
1. Sweetheart Cinnamon Rolls | 2. Cheese & Crackers
3. Healthy Banana Split | 4. Pizza Hearts
5. Strawberry Cheesecake Dip | 6. Strawberry Glazed Muffins
7. Valentine Puppy Chow
An Epic Toddler Valentine's Day:
Memories to Cherish
A truly epic toddler Valentine's Day, one that his tiny brain will remember for years to come, has to have a very special ingredient: family time. 
Mom, Dad, siblings, the dogs, one cat (the others refuse to come and play), and even the hamster should be a part of these memories you're hoping will stick around through teen years as a reminder that he WAS loved, and perhaps his family isn't the trash heap that the world is telling him it is. 
Here are memory-making ideas to put in your back pocket!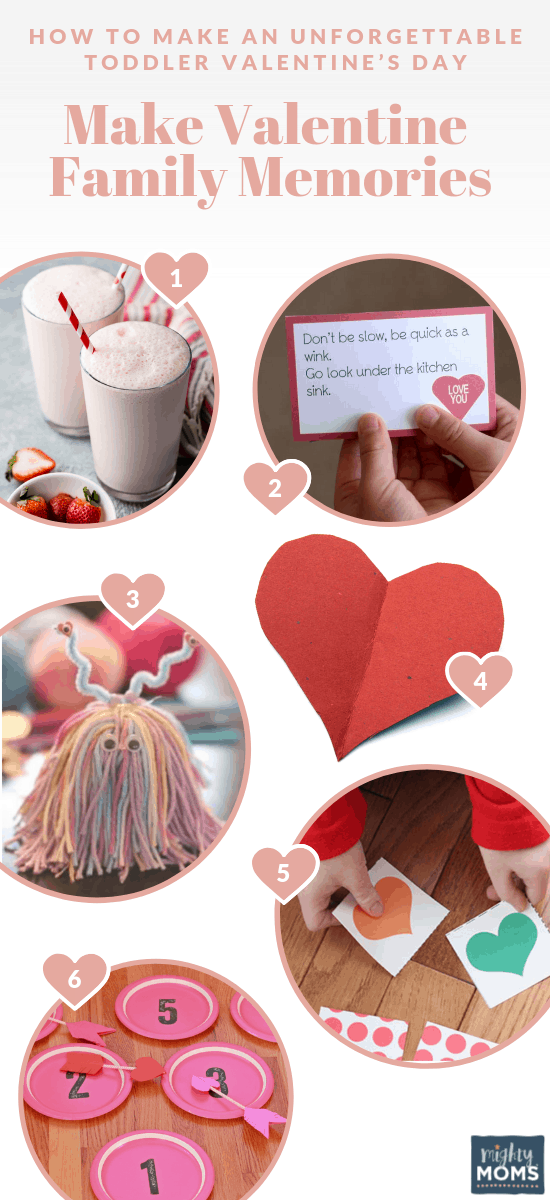 #1 – Turn the Milk Pink
Yes, I have used this trick before, for St. Patrick's Day. That's because it works. Coming down in the morning for a bowl of cereal and discovering that NAUGHTY Cupid turned all our dairy products pink is a crazy unexpected treat for little minds constantly searching for the magic in everyday life.
Trust me, they will love this, and all you have to do is a few drops of red food coloring. Or, if you don't want to mess with the food coloring, try this recipe for strawberry milk.
#2 – Scavenger Heart Hunt
Cut out hearts and write "clues" on the insides to guide your kids around the house to a special basket of lovely treats! This version uses typed clues, but you could draw things or cut out internet photos for pre-readers. For example, a picture of a bathroom sink for the next clue, a picture of the shoe rack (place the clue in his shoe, he'll think that's hilarious), or a clue hidden in the dog's bed, etc.
All to lead him to a special heart-shaped sand bucket filled with special candies (like Cupid's Boogers) or soft chocolates. Personally, the hard candies always made me nervous at this age. Perfect choking size. 🙁  Or, if you want to avoid the sugar, why not have a picture of a family outing like ice skating, or a movie night, or a game afternoon?
#3 – Make Love Bugs
These adorable little love bugs are easy to make and will satisfy your little one's craft crave. When you're done, I recommend moving them around in the evening (Elf on the Shelf Style) and having your little one "find them" the next morning. She will be so excited to play hide and seek with her little monster friend!
#4 – "Why I Love You" Hearts
Cut out hearts (or use these post-its) and hide them under the dinner plates. After dinner, lift up the plate and have each person draw 2-3 things they love about the person written at the top.
Be sure to "interpret" your toddler's drawing by writing the description on the back, and then file it away in a Valentine's Box to bring out every year. As the years go by, you'll love reading all those memories together!
#5 – Heart Memory Match Game
Work on your toddler's color-matching skills with this free printable to cut out and play together.
#6 – Cupid's Arrow Toss
Another fun family game that lets your toddler show off her fine motor skills (throwing) and practice her number recognition! Find the directions and instruction materials for this game here.
Exhausted, But Blissfully Happy
At the end of your toddler Valentine's Day adventure, I predict two things will happen:
You, and your toddler, will be very tired and fall asleep pretty quickly.
Everyone will have a tummy of warm fuzzies and a head full of sweet memories.
It's a good thing these holidays are spread out! Yes, there may be a little extra work, to make this day special, but the look of excitement and wonder in your child's face will be worth it.
Now. Who's ready to start building a Leprechaun trap? 🙂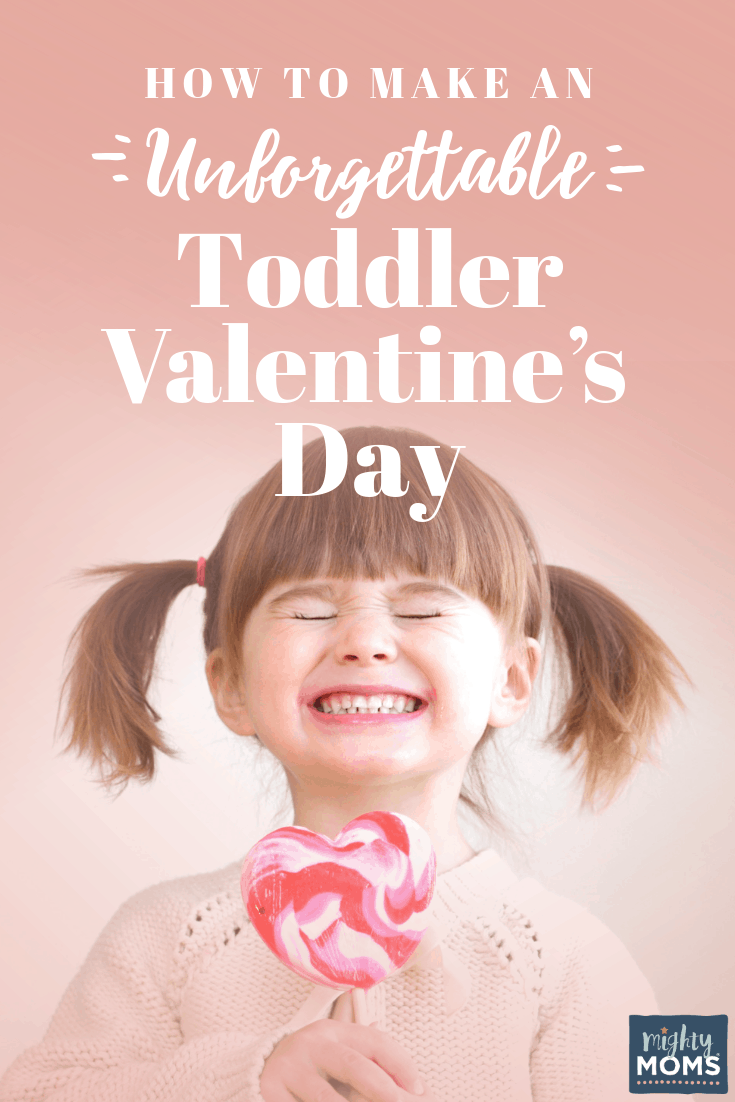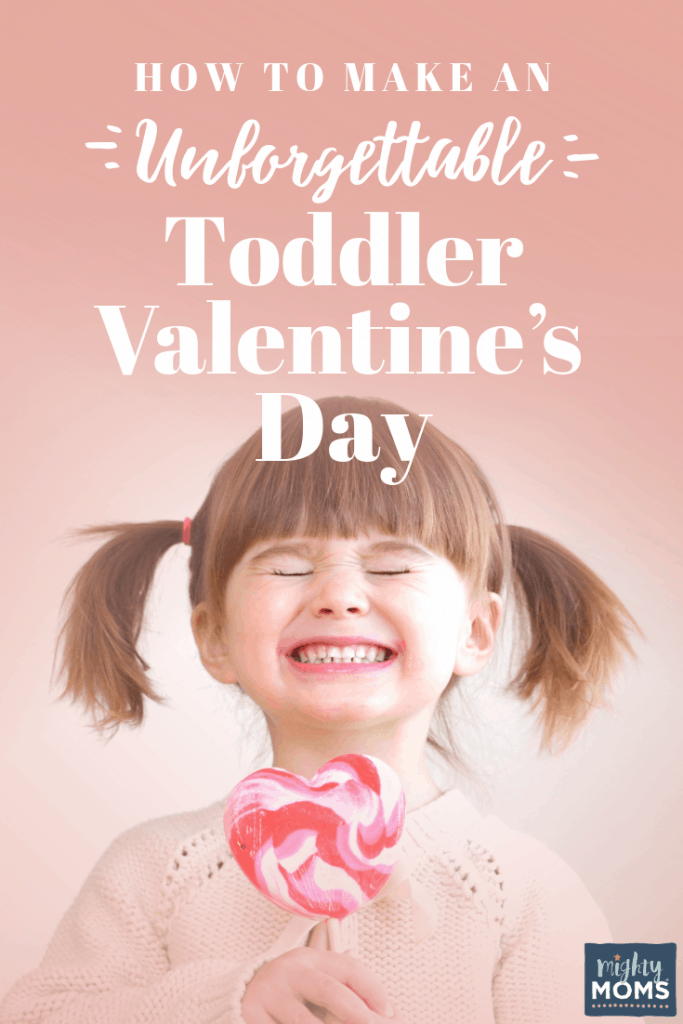 We ♥  honesty!  This post contains affiliate links that provide extra money for our mutual coffee habits addictions. Click here to learn more. As an Amazon Associate I earn from qualifying purchases.