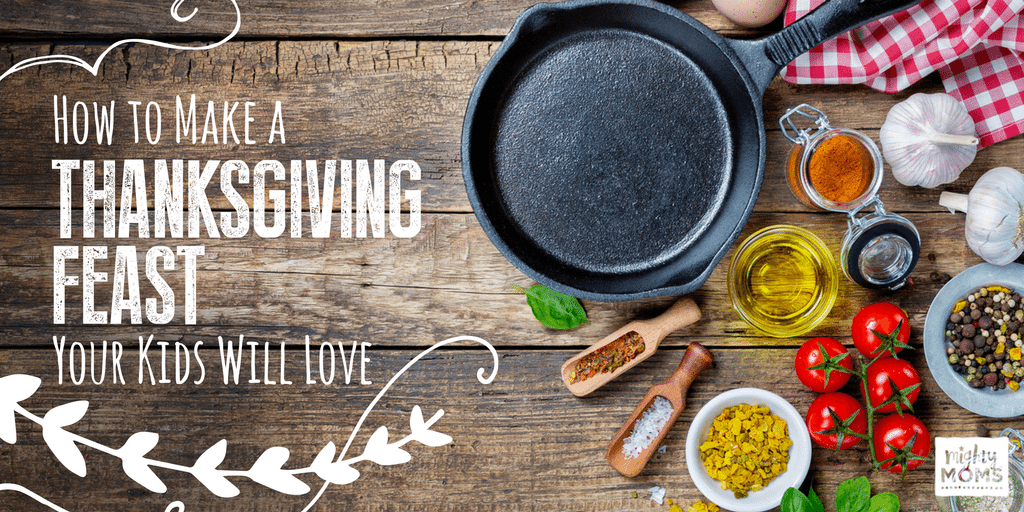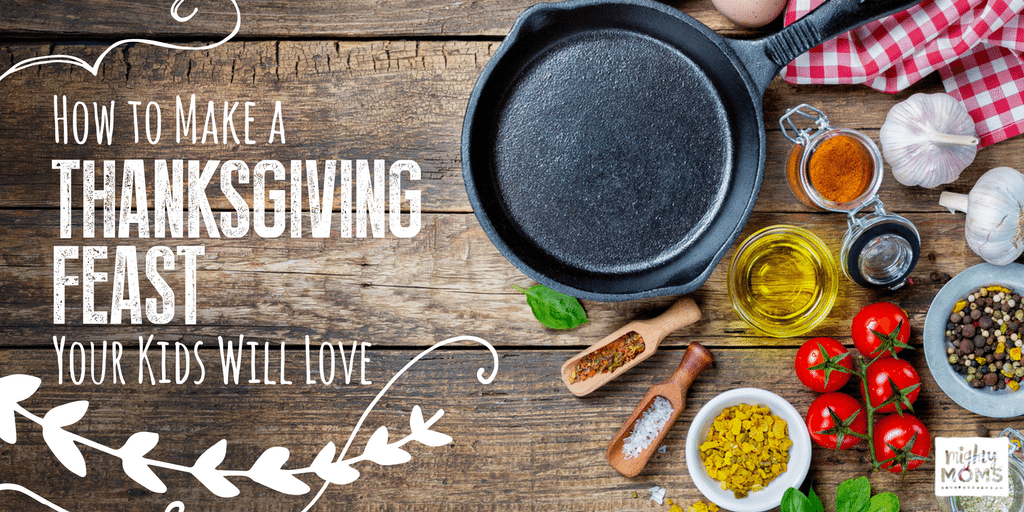 Have you gotten your "recipe assignment" yet for Thanksgiving? You know, the dreaded dish you're supposed to bring to pass around the table?
The one that you work so hard on every year…but is never quite what everyone wants to eat?
"ANOTHER pie? We already have five!"
"Are you SURE you're using Great Aunt Greta's recipe? Because whatever you brought last year wasn't as good as hers."
"Landon doesn't eat anything that isn't fried finger food, and he's allergic to soy, dairy, and it has to be gluten free. Try to be accommodating to his needs, okay?"
It's easy to feel overwhelmed with Thanksgiving food and family when you've got a little one keeping you so busy already (not to mention exhausted).
Well, today I'm going to be your substitute teacher. Your Ms. Nelson. Your Mr. Garvey.
This is Thanksgiving 101 folks; and the grades given out this year are Pass/Fail. Get ready, because you are about to be voted Most Likely to Succeed.
I am going to teach you, my lovely student, five simple tricks to make delectable, homemade magic this Thanksgiving. All you have to do it sit back, take a few good notes and do your homework. This is one classroom you won't fall asleep in.
It's time to stop pinning recipes you'll never actually cook. It's time to roll up your Pilgrim sleeves and impress the Natives around the dinner table.
No more "short-order cooking". No more packs of puffs and pouches to get you through this holiday dinner. You're bringing a dish that is going to be the star of the show—at the kid's table and at the adults.
Cooking class is in session! Let's get started with our first lesson.
Lesson #1:
Download Our Free Recipe Booklet
In order to give you space to practice, I've compiled this free recipe booklet with my family's favorite recipes. Your kids will LOVE these. Just click the button below to download and print!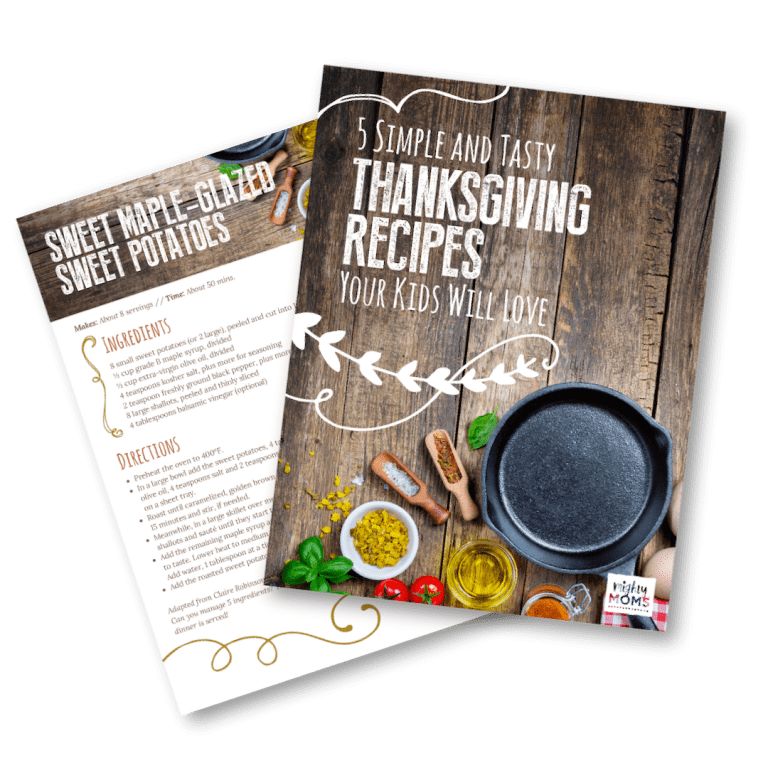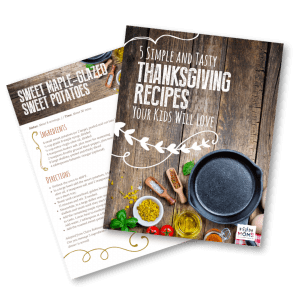 Why is that a direct link and not behind a give-me-your-email wall? Because I don't want to bully you into a friendship.
If you like the free download, why not subscribe to my weekly email and get a free copy of 101 Ways to Be an Awesome Mom?
Or, if you're grateful, but not interested in subscribing, can you share this article with your social media pals? That works too! From one working mother to another, thanks!
Lesson #2:
Invest in Cast Iron
First Period: Metalworking Class
In cooking, the cookware matters. Wouldn't it be awesome if you could upgrade to Bobby Flay status just by changing your pan?
Enter cast iron, with it's evenly-conducted heat.
It sears
It crisps
It can go from stove to oven seamlessly—the list goes on!
The scariest thing you'll face is seasoning the pan to make it non-stick. Don't let that daunt you, though! All you need is a hearty amount of oil and a bit of time in the oven. Super simple. (Prefer to see it demonstrated? Watch Martha do it here.)
Cast iron is crucial for a lot of things, but it's essential for a delectable cornbread.
Extra Credit: Not a part of the cast iron club yet? No problem. This is the cast iron pan I've fallen in love with. It's affordable (only $9!) and versatile! I LOVE it and use mine daily.
Homework Assignment: Cinnamon Skillet Cornbread
In holidays past, I have had some not great cornbread. I've had cornbread that's grainy, has zero flavor, or is literally just a crumbly mess that I am left trying to eat somewhat gracefully with a fork (which, let's be honest, is just not possible).
This recipe is none of those things. Nix the brown and serve rolls and skip to the head of the class when you bring this guy. For the really little tykes, simply crumble it up and pour some milk on top!
It's crunchy, crowd-pleasing and dusted with cinnamon goodness. I guarantee this cornbread will quickly become a family favorite!
Use the free download link below to give Cinnamon Skillet Cornbread a try!
Lesson #3:
Spices Are Your Kid's Best Friend
Second Period: Cultural Studies
Fall means pumpkin pie everything, right? Like Cherpumple (a dessert combo of cherry, apple, and pumpkin) or Pumpkin Spice Chobani. (Seriously? Pumpkin yogurt? Who eats that?)
Perhaps we won't go as far as choosing a Cherpumple, but adding a few autumn spices to your food can really upgrade the simplest of recipes. I love to use traditional "baking" spices in interesting ways.
Nerd Alert: Just as big of a pumpkin pie spice freak as I am? You'll adore this book. More savory recipes that utilize this fall favorite flavor, without falling into the "Ewww" side. Yogurt???
A lot of moms feel nervous about introducing spices to their littles, but I promise you— kids love experimenting with different flavors! It's a great primer for all the tasty food you'll be serving them as they get older. Don't sweat a strong flavor like cinnamon—it's warm and homey; in other words: a great starting point into spice land!
Homework Assignment: Sweet Maple-Glazed Sweet Potatoes
Start with every baby's BFF food: sweet potatoes. Mix in a bit of pumpkin pie spice, and a touch of maple syrup and…. ta da! Everyone's taste buds rejoice!
Skip the marshmallow sweet potato casserole this year; this side dish is the real A+ without all the empty calories! Add just a touch of balsamic vinegar to the adult portions and you have a sweet and savory dish that will satisfy the foodies in your family.
Learn how to make Sweet Maple-Glazed Sweet Potatoes by downloading the free recipe booklet below.
Lesson #4:
Mini Muffin Pans Will Change You
Third Period: Home Economics
If you aren't already hip to the mini muffin pan party, let me make this super easy: this is the muffin pan to end all muffin pans. Don't feel an ounce of guilt for buying this for yourself close to Christmas, either. It's a total game changer!
Here's just a few of the ways it's going to revolutionize your cooking:
Mini muffin pans are so handy for serving real food on the go to little hands.
You can make muffins (of course), mac and cheese bites, or cupcakes that aren't the size of your child's head for once.
No messing around with cupcake liners – they pop out perfectly every time!
The easiest muffin clean up in the history of baking. Honestly.
Mini muffin pans are also the key to these little Thanksgiving beauties: Apple Sage Sausage Stuffing Bites.
Homework Assignment: Apple Sage Sausage Stuffing Bites
Adults will love the flavor profiles and the kid-sized portions make the kids go nuts. They won't even notice that you're plying them with a fair amount of veggies too. Score!
Stuffing is the Thanksgiving Valedictorian, hands down. Traditional with a twist, this stuffing is leagues above Stove Top!
Learn how to make Apple Sage Sausage Stuffing Bites by using the free recipe booklet below.
Lesson #5:
Don't Neglect Your Kitchen Helpers
Fourth Period: Gym Class
If I've learned one thing from cooking with a toddler day in and day out it's this: let them help you. I really can't stress this enough. It's a surefire way to keep busy and curious kids out of trouble and learning invaluable life skills.
It really doesn't matter the age—there are age appropriate tasks for all sizes of hands and attention spans—it matters more what attitude you bring to the court!
Adults Only→ Washing the potatoes can fall to the kids, but the slicing is definitely the adults only portion of this recipe. A mandoline or a food processor works well for this. I recommend this middle-of-the-road food processor. It does quick work of pretty much everything and anything you throw at it. I use mine all time—even to make bread dough!
For your littlest kitchen helpers, a sturdy step stool can double duty in the kitchen and in the bathroom. Score!
Get in the team spirit and rally your kids budding sous chefs for kitchen duty!
Homework Assignment: Cheesy Potatoes Au Gratin
Cheese and more cheese! Even the mashed potato needs a holiday off sometimes. Crunchy on top and with layer upon layer of cheesy goodness, I make these year round. (Trust me, you will want to too.)
Learn how to make Cheesy Potatoes au Gratin using the free recipe booklet below.
Lesson #6:
When in Doubt, Go Classic!
Fifth Period: American History
Few things scream All-American like apple pie. But even to the seasoned cook, sometimes… you just can't muster up the pie energy. Totally been there.
Always approachable and dead-easy Apple Crisp to the rescue!
Extra Credit: An apple corer and cutting tool makes this step a breeze. If you don't have one, this is the apple corer I use.
Homework Assignment: Apple Oatmeal Crisp
This dish has the elements of an apple crumb pie, minus the shell. No one will miss it, I promise you.
The little ones are already on the oatmeal train, and this is a dessert that you can feel semi-good about serving them too. You're working with a little less butter than your traditional pie, but not scrimping on flavor.
It's a lot easier to make than regular apple pie (no crust!), and even more appealing. Spiced apples with a hint of citrus, wrapped in a cover of sweet and crumbly oat topping. Just don't forget the whipped cream!
Learn how to make Apple Oatmeal Crisp using the free recipe booklet below.
Learning What's Safe for Baby to Eat
Still unsure about what to give your baby the other 364 days out of the year? There are a ton of rules—I totally get it! It's overwhelming stuff!
Beyond learning how to master home cooking, it's equally as important to know:
Which foods will leave your baby gassy and uncomfortable?
Which foods aren't so easy on the digestive system?
Which foods can actually harm your baby if ingested too early? (Sometimes seriously.)
Where can you find all this valuable, life-changing advice? As always, our good friend Heather Taylor to the rescue! What to Feed your Baby: When to Introduce Healthy Foods is packed, (seriously, 32 pages worth!) of need-to-know facts on all things baby and food.
It walks you through at which ages your baby can consume certain fruits and vegetables, when those foods are at their ripest, and even extra tips on storing, choosing, and preparing.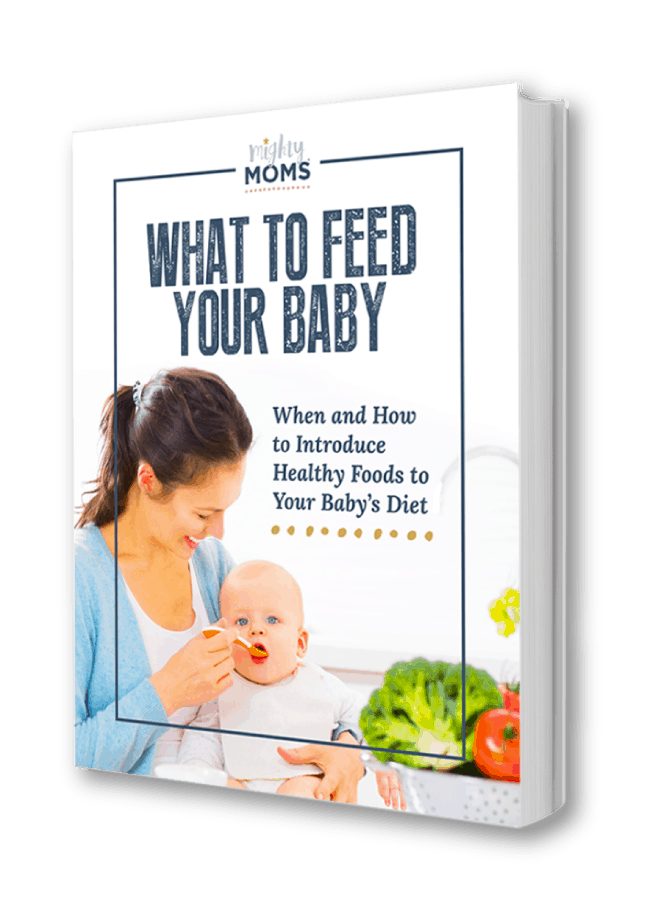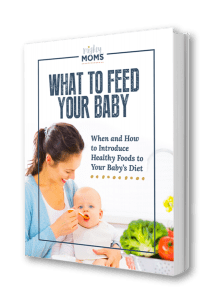 Remember friends, this year, you don't have to sweat the holidays! It can be super stressful to wrangle a baby, family relations and the dreaded dish to pass.
These recipes will ease more than just a few burdens! A dish that will win you raves, a happy and full baby and the night before the big day free of crazed Pinterest searching to find something edible, easy and impressive.
Did you hear that?
Looks like the bell has rung and it's time to head into that kitchen and show everyone what you've learned. Get ready for the compliments, empty casserole dishes, and recipe requests. *wink*
Class dismissed!
Have You Read These Yet?
We ♥  honesty!  This post contains affiliate links that provide extra money for our mutual coffee habits addictions. Click here to learn more. As an Amazon Associate I earn from qualifying purchases.