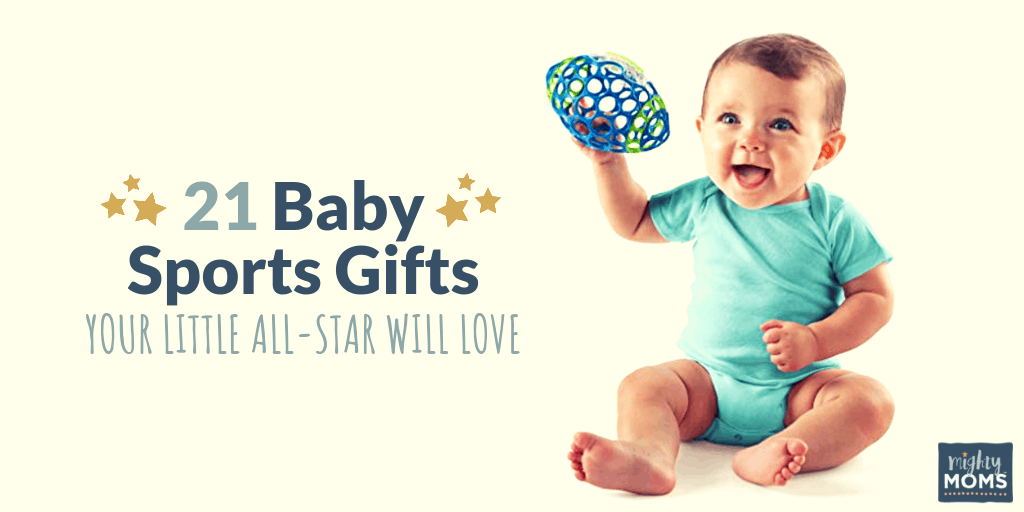 Do you get a little weepy during those "Thank You, Mom" Olympic commercials by Procter & Gamble? Or maybe a little teary during this scene from "The Blind Side?"
 Were you writhing in your seats with Aly Raisman's parents during the women's gymnastics finals?
 Whether you're the mom of an Olympic champion, a professional athlete, or a baby who just took her first steps, we all have one thing in common: we are all mamas just trying to coach, cheer on, and love our kids the best we can.
One of the best ways to do that? Give your baby a gift that keeps giving: the gift of a healthy lifestyle.
It's never too early to encourage physical activity. The AAP recommends at least 60 minutes of daily active play starting at age 2.
How do I fill that much time, you ask?  Easy. Stock your home with any of these 21 baby sports gifts. They provide your home with a line-up of active options to get your Little All-Star moving.
Not to mention the huge benefits these types of toys give your baby, brain-wise.  They will help her develop important skills like balance, dexterity, hand-eye coordination, muscle strength and sportsmanship.
So let's dive right in. Ready, set…hike!
Baby Sports Gifts for
Under 1 Year Old
During the first year of life, your baby grows faster than Usain Bolt runs a 100-meter sprint. These seven baby sports gifts will give your infant's growing body and brain a boost. Time to give those gross and fine motor skills a stretch!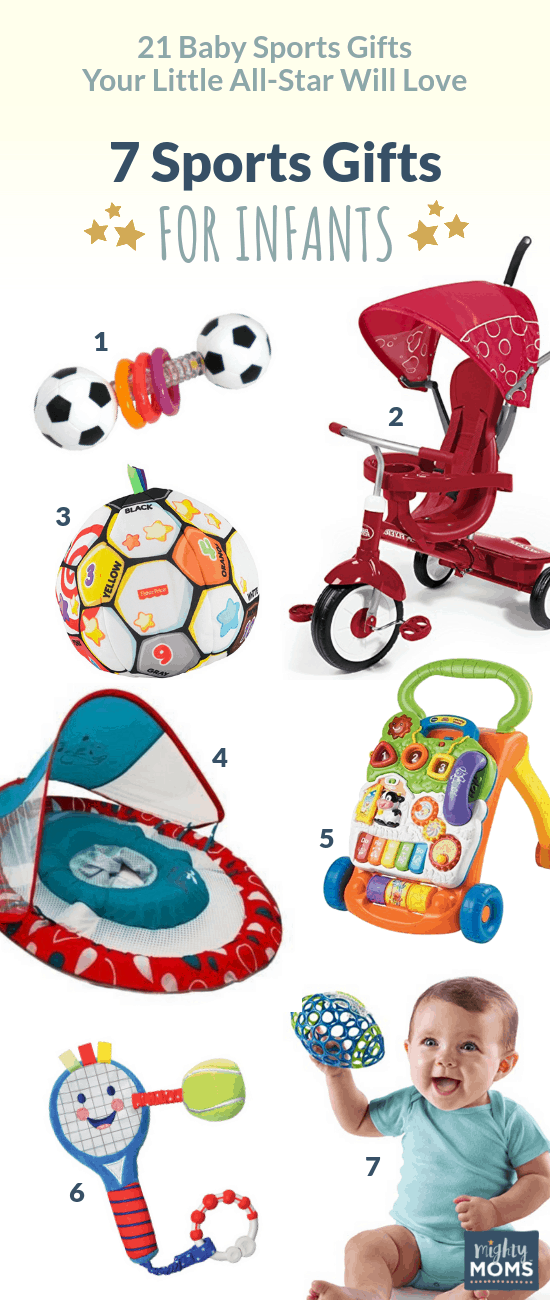 7 Ballin' Baby Sports Gifts
1. Babies start showing interest in black and white patterns between 0-3 months. The Mini Sports Rattle will help your little one keep her eye on the ball!
2. The 4-in-1 Trike will give you a big bang for your buck. You can start pushing your baby around at 9 months, and he'll be able to keep cruisin' up until five years old. Plus, there's a cup holder for the all-important sippy.
3. Not only is the Laugh and Learn Singin' Soccer Ball fun and educational…moms love that it's machine washable and can be turned off for quieter play. Score!
4. The Baby Spring Float Canopy will help your baby feel comfortable and confident in the water.  If you know any expecting mamas, it also makes a fabulous shower gift.
5. Even Jesse Owens had to learn to walk before he could run. The Sit-to-Stand Learning Walker will get your baby moving with the help of fun animals and lively music.
6. The Developmental Tennis Racket helps baby with tactile, visual and auditory development. Serena and Venus would be proud.
7. Touchdown, baby! At 3-6 months, babies start to transfer objects between hands. The Oball Football is perfect for tiny hands and one of our household favorites.
Baby Sports Gifts for
One Year Olds
One-year olds are all about using their new found superpower: mobility!  These six sports gifts will get your one-year old movin' and groovin'!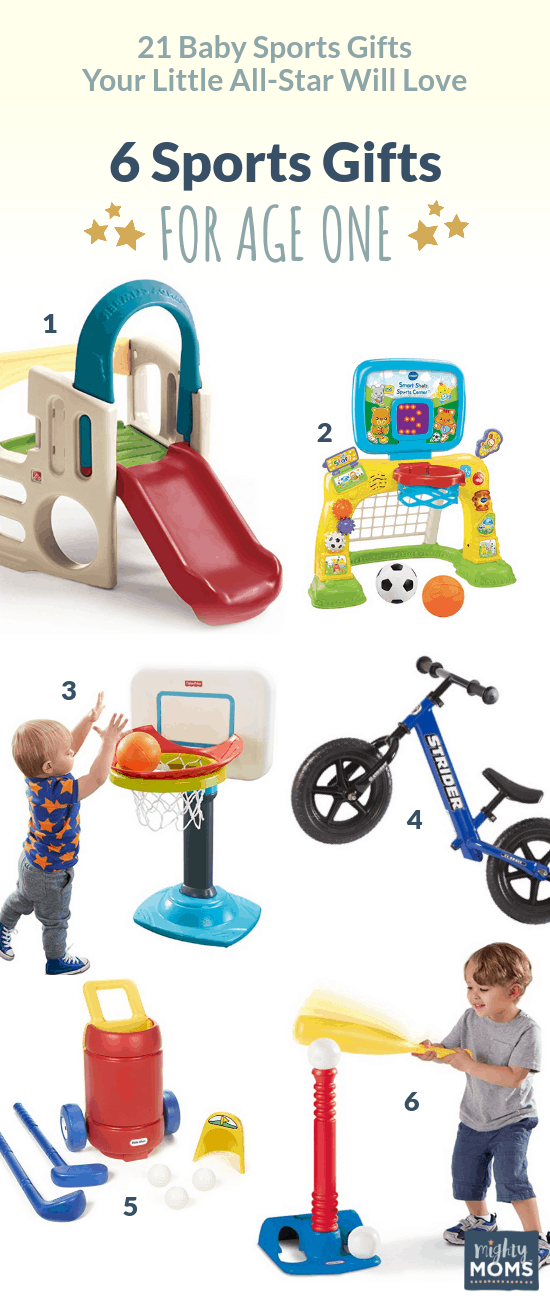 6 Baby Sports Gifts to Get Him Moving
1. Research shows that children who engage in "risky" play (like climbing and sliding) build instinctive reflexes that help protect themselves during falls. Encourage your child to safely build these reflexes by using the Panda Climber or the Clubhouse Climber. And the best part? It's a great outdoor, but can also be moved indoors to curb cabin fever when it's too cold to venture out.
2. The Smart Shots Sports Center is double the fun! Besides putting the ball in the basket, your growing toddler can push buttons, listen to music, and count scores. An excellent beginning toy for an upcoming athlete.
3. He shoots…he scores! Shooting hoops will help your tot develop muscle strength and endurance. The Grow-to-Pro Basketball Set is an absolute slam dunk.
4. Nice wheels!  Balance Bikes help develop balance, coordination, and confidence–and they grow with your child from 18 months to five years old. It's a great way to get a jump start on learning to ride a bike.  Don't forget to keep that precious noggin safe with a good toddler helmet!
5. Hit the backyard driving range with your little "Tiger."  The Totsports Easy Golf Set will help your one-year old develop hand-eye coordination, concentration, and a love for a lifetime sport with lots of physical and social benefits.
6. Did you know the AAP recommends that children under 12 months get 400 IU of daily Vitamin D and older children get 600 IU to help build strong and healthy bones? Spend some time outside in the sun with your little slugger and the TotSports T-Ball Set for some natural Vitamin D.
Baby Sports Gifts for the
Almost-Toddler
At two years old, toddlers gain more independence, begin playing better with their peers, and start playing simple games.  They also learn to run, kick, and throw a ball.  These eight sports gifts will help your two-year old reach these important milestones.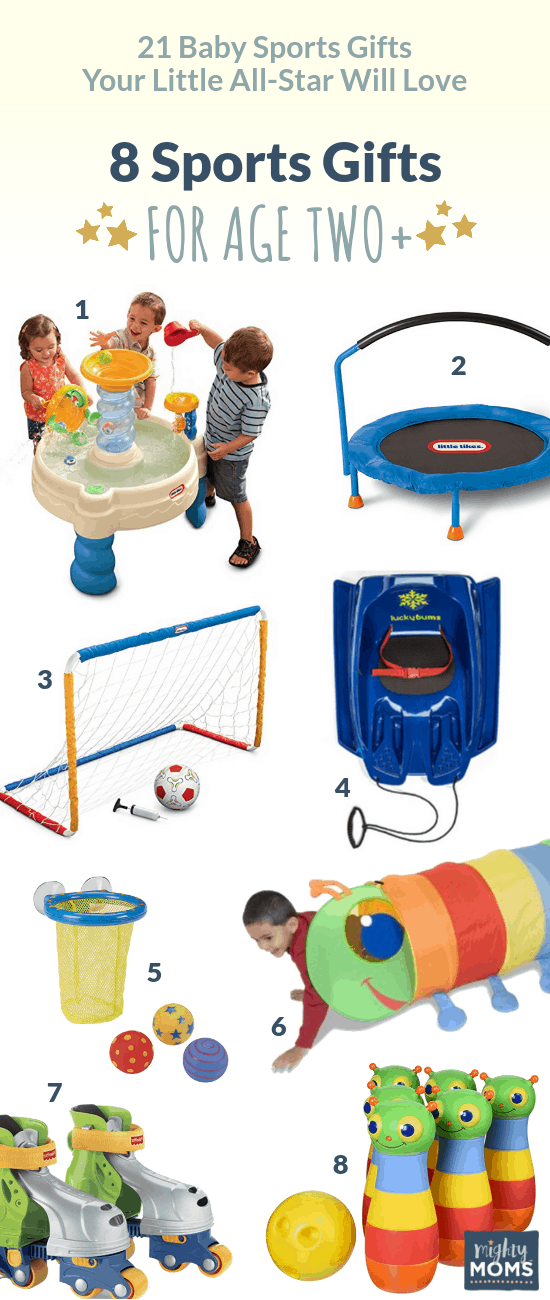 8 Trophy-Worthy Baby Sports Gifts
1. Have you been properly introduced to Boomer Phelps? He's ah-dorable, and he'll definitely ask Daddy Michael Phelps for this Spiralin' Water Table for Christmas.
2. I'm pretty sure Simone Biles got her start on one of these Toddler Trampolines. What a great way to burn off some energy on a rainy day!
3. Soccer will teach your aspiring athlete to be a team player. It's an excellent way to help your toddler work on her eye-foot coordination.  Plus, who doesn't like kicking balls?  Get her started on this sport with the Easy Score Soccer Set.
4. "Feel the rhythm, feel the ride, get on up, it's Lucky Bums Baby Sled time!" (If you didn't catch that reference, do yourself a favor and go watch Cool Runnings.)
5. Rub-a-dub-dub…Hoops for the Tub!  This bath time game will help your munchkin with hand-eye coordination while making water fun.
6. The Happy Giddy Tunnel is great for indoor and outdoor play. Perfect for the American Ninja Warrior in training.
7. These Grow-With-Me Inline Skates actually help your toddler practice his balance by adding a third wheel in the back for stability. It's an excellent way to cut back on the bumps and bruises while exploring the excitement of inline skating.
8. The Sunny Patch Bowling Set will help your little one develop flexibility and range of motion. Since he's in the "knock-everything-over" stage anyway, why not introduce this sport now?
One Final Pep Talk
Huddle up, mamas.  Every great athlete has to start somewhere.
Imagine Michael Jordan slam dunking his dirty socks into a laundry basket.
Or Katie Ledecky splashing around in the kiddie pool.
Or Peyton Manning throwing a toy at little brother Eli's head.
Who knows? Maybe your future athlete's story will begin with one of these 21 baby sports gifts.
One thing's for sure: everyone wins with an active lifestyle.  So kick a ball with your baby, take a hike with your tot, or get your little all-star one of these baby sports gifts…just get active.  And in a few years we may be seeing you in the 2032 Olympic stands!
Have You Read These Yet?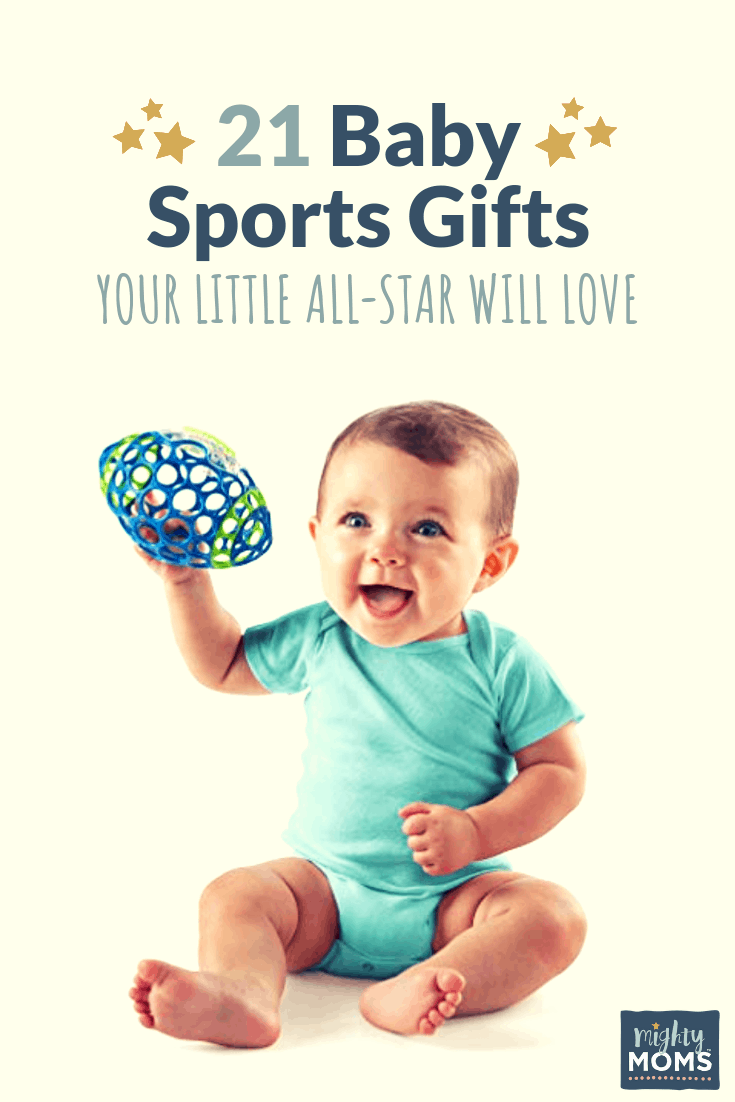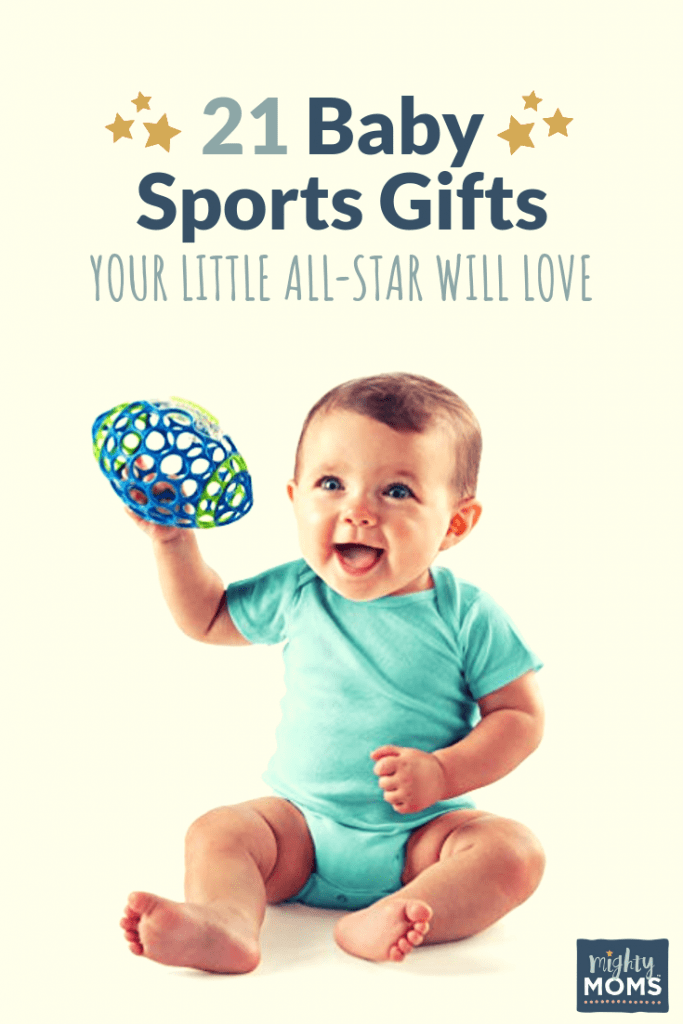 We ♥  honesty!  This post contains affiliate links that provide extra money for our mutual coffee habits addictions. Click here to learn more. As an Amazon Associate I earn from qualifying purchases.
We ♥ Citations
American Academy of Pediatrics: Recommended Toddler Activity
Chicago Tribune: Bowling May Be a Sport, But Is It Work?
Better Health Channel: Benefits of Basketball
AB Creative: Why Children Climb
Center for Disease Control: Milestones for 2 Year Olds
Roller Skating: Exercise Benefits of Roller Skating
Healthy Children: Why Vitamin D is So Important for Kid