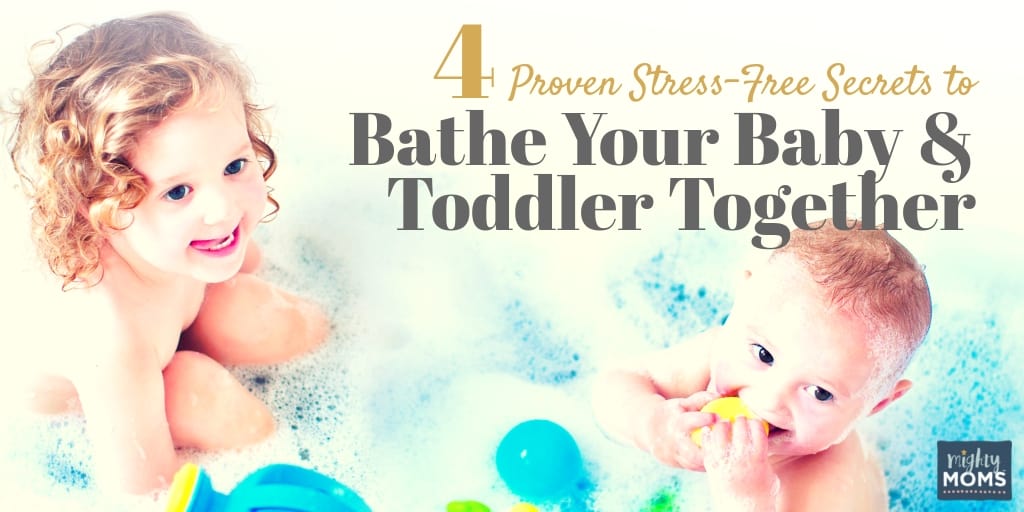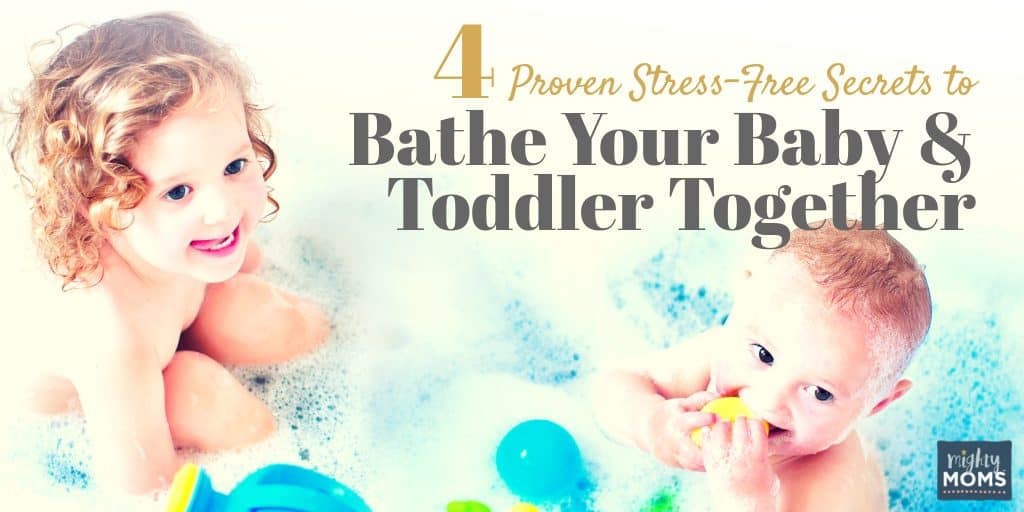 It might seem crazy and a little overwhelming, but hang with me here because I mean this – bath time can actually be easier and shorter if you bathe your baby and toddler at the same time.
You can try to bathe them separately to get that "one-on-one" time and relive the glory days, but from personal experience (and a quick poll of other moms), that tends to either end up taking far too much time or go so quickly that you don't get to soak in any of the cuteness.
If done right, bathing your kids together may actually give you more face time in less time and with less whining.
That's right, we're about to recapture the grace and harmony of bath times past by unlocking the four proven stress-free secrets to bathe your baby and toddler together: set-up, safety, supplies, and splash-time.
Dual Bathtime Stress-Free Secret #1:
Set Yourself Up for Success
The first step to a successful bathtime experience is prepping outside of the tub:
Keep a bouncer, swing, or Rock 'n Play nearby to hold the baby after she's bathed or in case of emergency.
Have your oldest go to the bathroom before getting in the tub. This lessens the chance of a "drain the tub" experience in the middle of primetime.
By being prepared for anything, you can calmly and coolly proceed like the zen-master you are.
Dual Bathtime Stress-Free Secret #2:
Don't Overlook the Safety Zone
After your older child becomes more comfortable in the bath, it is easy to forget how vulnerable newbies are in water.
Here are a few important safety tips to remember:
Adapt a "first in, last out" mentality–put the oldest in first and take him out last. Burn this into your brain, so that if you have a "Mommy I need to potty NOW" experience (or if he's already gone in the tub) you don't just grab him out and leave the baby sitting in the tub by himself. Yikes!
If you are bathing your children together (or alone, for that matter), don't let distractions or tiredness keep you from remembering the all-important rule – never leave your baby alone in the bath for even a second. Always keep a hand on that precious little one.
Be aware of the water depth and temperature, and don't let it get too close to the baby's nose and mouth.
In his zeal to jump out, your "big" one might slip. Keep a non-slip step stool nearby and make sure to give him a helping hand.
These simple safety precautions will give you peace of mind while you splash around with your kiddos.

Dual Bathtime Stress-Free Secret #3:
Have the Right Tools
The right supplies make all the difference in keeping things stress-free:
A good bath seat. I really can't say enough about how much I love the Angelcare bath support. I went through a few bath seats trying to find the perfect one, and this one really delivered.
Fun bath toys. There is bound to be a little bit of jealousy when you add a second child into the bath routine. Cut down on the fighting and make bath time fun by investing in toys that they can play with together, like the Octopus Hoopla or these stackable cups. Then, get some "special" bath paint just for your big kid to play with while you are taking the baby out of the bath. (The best part? It's actually soap!)
A reliable toy caddy. Corral your bath toys with this cute scoop. Some don't adhere well to the wall (*cough* suction cup ones *cough*), but this one sticks like a frog to a tree!

Dual Bathtime Stress-Free Secret #4:
Encourage Some Splash Time!
Now that you have all the "what" you need, let's talk about the actual "how." Here's what splash-time might look like for you and your kids:
Draw the bath water (not too hot!) and place the baby bath seat in the tub. Score some super cool mom points and add a little all-natural, tear-free bubble bath.
Put toddler in first, then baby.
Let them splash together.
Wash baby.
Take baby out. Dry her off, change her diaper, and get her into jammies.
Allow the older child to play in the bath while you feed the baby (if you need to), keeping both in view at all times.
Put baby down in her crib or seat near the tub.
Wash toddler.
Scoop up toys, wipe paint off tub walls with a wash cloth, pull drain plug.
Get toddler out. Dry, dress and play a fun tickle game.
Every home is different, so feel free to tweak this routine to meet your bath time needs.
Mighty Mom Tip: If you end up bathing your toddler solo, check out this post on how to bathe your child and clean your bathroom in only 9 minutes!
Dual Bathtime Stress-Free Secret #5:
Reward Thy Self
Your babies are alive, clean, and tucked snugly into bed.
High fives all around!
You've unlocked the four proven stress-free tips to bathe your baby and toddler together:
Set-up: Have a "baby holding station" on hand; towels, diapers, and pajamas at the ready; and make sure the toddler goes potty first.
Safety: Remember, your oldest is always first in and last out, and never leave the baby unattended even for a moment. Help your toddler in and out to avoid slips.
Supplies: Get a comfortable bath seat for the baby, fun toys for sharing, and a reliable caddy to hold it all.
Splash-time: Wash and play with baby while toddler plays. Then remove and dress baby, wash toddler, clean out toys, and help toddler get ready for bed.
Now you're ready to unlock the fifth and final secret: serenity. (I told you your dream of a perfect evening wasn't too far-fetched.)
Dishes and ice cream await you, mama!
Have You Read These Yet?
We ♥  honesty!  This post contains affiliate links that provide extra money for our mutual coffee habits addictions. Click here to learn more. As an Amazon Associate I earn from qualifying purchases.