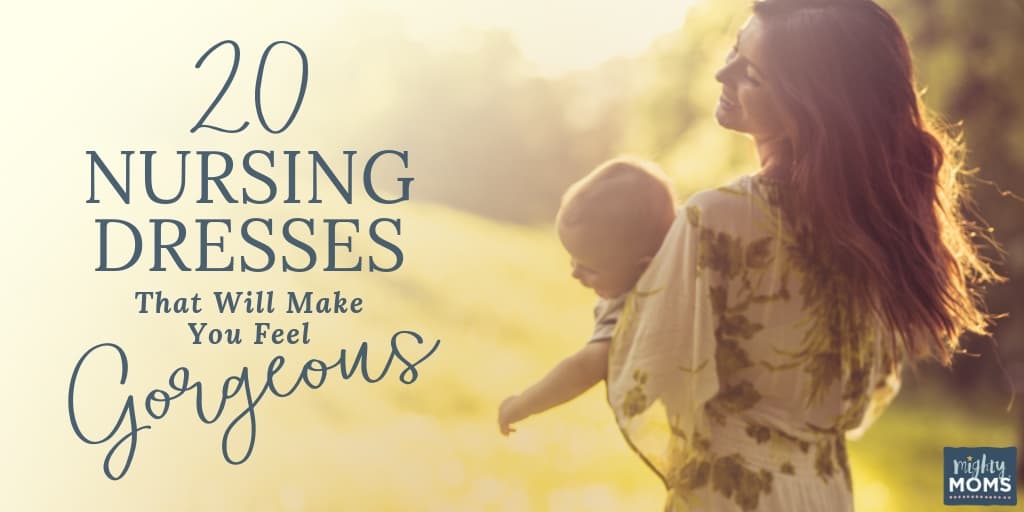 After what felt like 15 months of pregnancy, rotating through the same five shirts at the end, you are so. stinkin. excited. to shop at your favorite non-maternity clothing stores.
The colors! The prints! The options!
You can't wait to throw all the cute tops and non-stretchy jeans (okay, maybe just a little stretchy) into your cart like a kid in a candy store. It truly is a magical time.
Then you remember…you're breastfeeding and there's one clothing category that still feels off limits.
Dresses.
Sure, you could click back over to the Maternity section. But, let's be honest, many dresses advertised as Maternity/Nursing dresses look like Maternity/Nursing dresses. And accentuating your postpartum bump may not be the look you're going for these days.
Well, perk up, my friend. With just a few guidelines, you can confidently browse your favorite stores to find a non-maternity dress that lets you nurse with ease.
Nursing Dresses Pro Tip: Look for Easy Access
The key ingredient that makes a regular dress a nursing dress, is easy access to *cough* the girls.
Babies get hungry when they get hungry. You can't always predict when your little one will be looking for food, so make sure your dress lets you feed baby quickly and without many obstacles.
The Best Styles for Nursing Dresses
Here are your best style options:
Wrap-style tops
Stretchy necklines
Functional buttons
Side-access necklines
These will allow you to stay more comfortably covered while not hindering your breastfeeding relationship. Now, here are a few of my favorites in each category!
Bonus Tip: If you find a dress on Amazon like this one, but you aren't sure how friendly it is to breastfeeding, just type "breastfeeding" or "nursing" into the review search box. It will pull up those reviewers who had the same question!  
Nursing Dresses Option #1:
Wrap Dresses
A wrap dress is a great option for a nursing dress as it allows you to adjust the neckline to suit your breastfeeding needs. Wrap dresses also have the perk of being flattering for most body types, which can be especially helpful for the postpartum mom. (I can't be the only one looking for a dress that will help conceal those extra lumps and bumps!)
When you're browsing your favorite online shop, check the item description to make sure it is a true wrap dress. Many dresses have a faux wrap front that offers the same flattering style but without the option to adjust the neckline.
Just remember: wrap-style breastfeeding dresses may require a bit more privacy as you'll most likely need to loosen up the dress and then re-tie it. It is definitely specific to each dress, though, so try a few to find one that works for you!

Wrap-Style Breastfeeding Dresses
1. Cream & Dot Linen Dress
2. Green with White Flowers
3. Black Long Sleeved Wrap Dress
4. Navy Wrap Dress
5. Floral Maxi Dress
Nursing Dresses Option #2: Stretchy Necklines
Loosen up…
…Your neckline, that is. Many women find that a dress with a stretchy neckline and/or v-neck top can often be loosened up enough to breastfeed.
Look for dresses that contain spandex or are described as stretchy. If the v-neck is too low for your preference, you can add a nursing cami that clips right to your nursing bra to conceal a bit more cleavage.

Breastfeeding Dresses with Stretchy Necklines
1. Off-the-Shoulder Green Floral
2. Golden Floral
3. Cherry Blossoms
4. White and Blue Dress
5. Long Sleeve Maxi Dress
Nursing Dresses Option #3: Who's Got the Buttons?
It's no surprise that a dress with a button-front is going to be convenient for nursing.
You'll stay mostly covered as you can unbutton only what you need, and you won't run the risk of overstretching the top. You can even undo the buttons one-handed! (Which is helpful, since you'll need the other hand to bounce an impatient baby on your knee!)
Similarly to the wrap dress, a lot of dresses may have buttons that are only for decoration, so be sure to check the description to make sure the buttons are functional.
Luckily for us, shirt dresses are in style and your favorite online shops are probably flooded with them. A cute, trendy dress that you can easily nurse in? Well, that's going to be the MVO (Most Valuable Outfit) of your nursing closet.

Breastfeeding Dresses with Buttons
1. Scalloped Shirt Dress
2. Black Floral
3. Blue Striped Sleeveless
4. Orange & Blue Leaves
5. Rose Polka Dot Dress
Formal Nursing Dresses: They Exist!
Now, in case you think these nursing-friendly dress options apply only to casual dresses, don't worry! There is an elegant dress waiting for you if you need to attend a wedding or formal event this summer, nursing child (or breast pump) in tow.
Here are a few nursing friendly dresses that will still look stunning in the church pews.

Breastfeeding Dresses for Formal Occasions
1. Navy Off-the-Shoulder | 2. Elegant Floral Maxi Wrap
3. Blue Floral Dress | 4. Black V-Neck Dress
5. Coral Chiffon with Strapless Nursing Bra
Everybody's Crazy 'bout
a Sharp Dressed Mom
See how easy it can be to find a nursing dress that's both practical and stylish?
Go ahead: grab a cute nursing bra and a lightweight nursing cover and your breastfeeding-in-a-dress experience will be so smooth, you'll feel like a Super Mighty Mom.
Which you are, dress or not.
Have You Read These Articles Yet?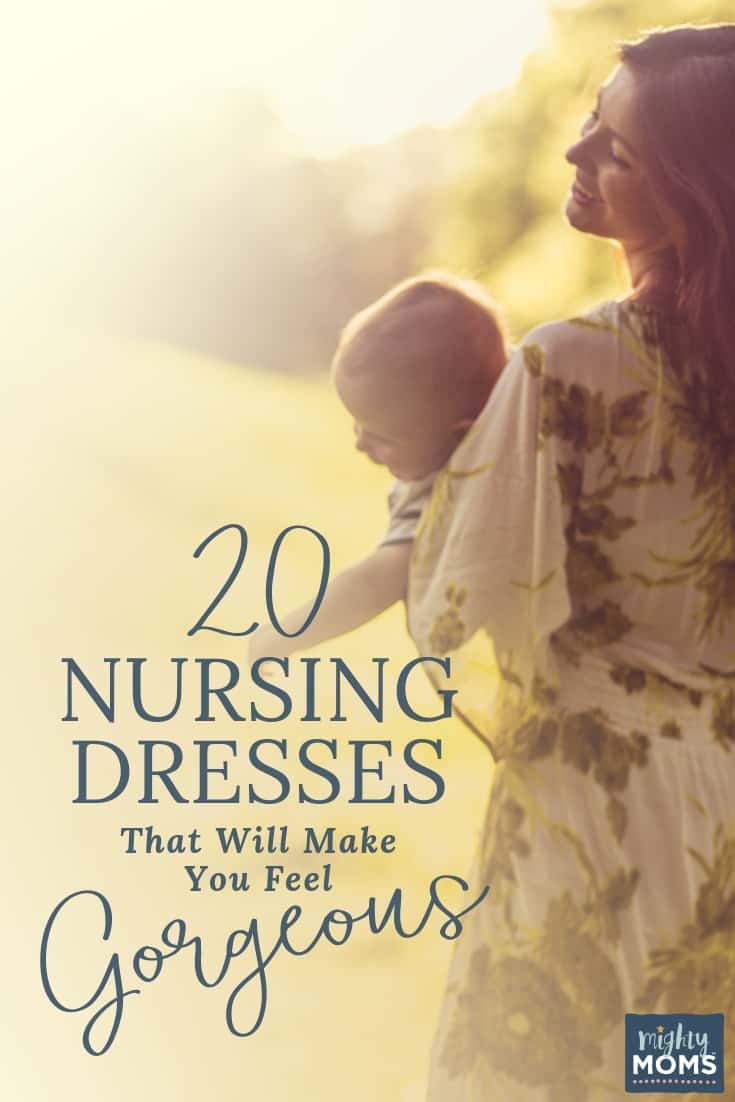 We ♥  honesty!  This post contains affiliate links that provide extra money for our mutual coffee habits addictions. Click here to learn more. As an Amazon Associate I earn from qualifying purchases.