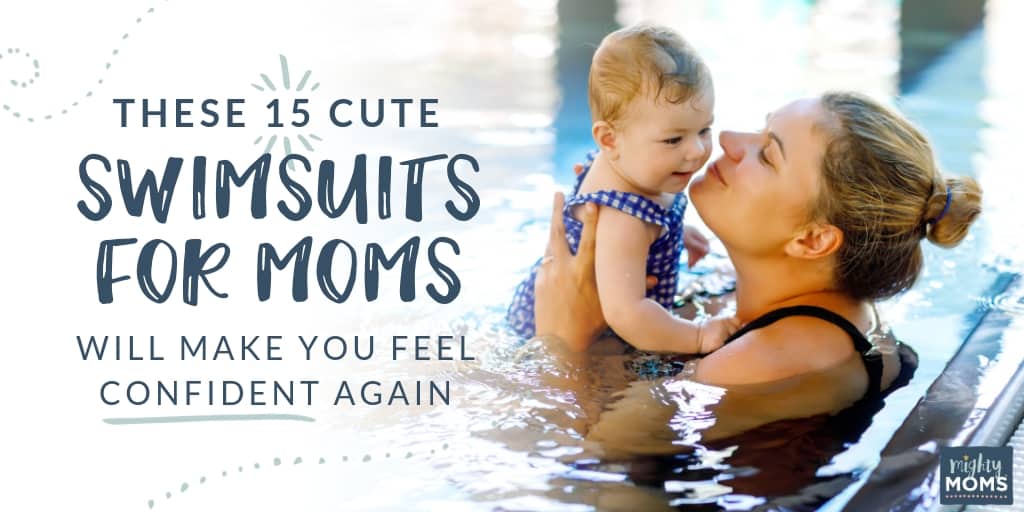 I'm about to tell you something radical: Finding cute swimsuits for moms suitable for your postpartum body doesn't have to be stressful.
That's right, I said it.
Trust me, I'm going to make it so simple and fun to find cute mom swimsuits that you'll wonder if why you didn't start this search months ago.
You Need a Cute Swimsuit Too
You can't just hang out on the side of the pool in flip flops and shorts all summer, and here's why.
Being apart of the water action during the summer with your kids, is the same as taking an interest in what they do on dry land. Kids love it when their moms jump in and have fun! It's the part of motherhood that shows them you are in it for the fun stuff too, not just to supervise.
So, with that being said, I'm here to give you a swimsuit confidence boost with:
Perfect Mom-Bod Two-Piece Swimsuits
All-Occasion Black Swimsuits
Swimsuits with Skirts
Investing in yourself with a quality swimsuit will give you the perfect blend of confidence and beauty. Now, you will look forward to having fun in the sun with your little crew because your swimsuit game will be top notch this summer.
Ready to dive in?
Cute Swimsuits for Moms:
Perfect Mom-Bod Two-Piece Swimsuits
Don't stop reading just yet! Yes I said two-piece swimsuit, but hear me out. I'm not talking about the bikini style you wore pre-motherhood. Two-piece swimsuits have made a comeback in a variety of patterns, shapes and vintage looks! (And with more coverage might I add…)
Not only are these two-piece swimsuits stylishly sexy, they make the whole "going to the bathroom with small kids around" a lot easier.

Cute Mom Swimsuits:
All-Occasion Black Swimsuits
You know that little black dress you have tucked in your closet that is perfect for any occasion? Now you need a perfect, all-occasion black swimsuit. It will become your go-to answer to Backyard bbqs, swim play dates, or even a nightly swim with adults.
Besides looking just a bit more elegant and classy, black swimsuits hide all the postpartum body things, am I right?!
Keep these sweet summer tips in your back pocket when searching for that perfect black swimsuit:
Ruching and gathering can add a nice balance between fancy and comfy.
Creative necklines that add an extra classic twist.
Vintage shapes and styles fit just the right curves.
Is that Audrey Hepburn I see out there lounging on the beach with your kids? Whoops!
Nope. It's you. Nailing that classic black swimsuit.

Cute Swimsuits for Mothers:
Swimsuits with Skirts
Swimsuits with a skirt are all the rage for cute mom swimsuits! They add a nice feminine touch to any swimsuit. Bonus: you won't have to worry about that cute suit riding up in unwanted places while you play with the kiddos in the water.
Be bold and creative with your swimsuit skirt that can boast cute patterns or gorgeous solids. It's also a smart way to hide areas that can make you feel a bit self-conscious out of the water. Bonus: Several of these come in plus-sizes!

Rockin' Your Cute Suit All Summer Long
Now you can say goodbye to the pool-side supervision and feel confident and cute jumping into the water with your kiddos!
Listen, I know that your body may not be what you wished it was. It's been through a lot in the past few years. But remember what it did. It created life. It nourished that life. And it brought that life into the world so it could…
*looking at your baby sitting on the beach*
Eat sand?
Whoops. I better let you go.
Just remember, my friend, your body is amazing. It's beautiful. These cute mom swimsuits just accentuate how wonderful curvy and life-sustaining your mom-bod really is!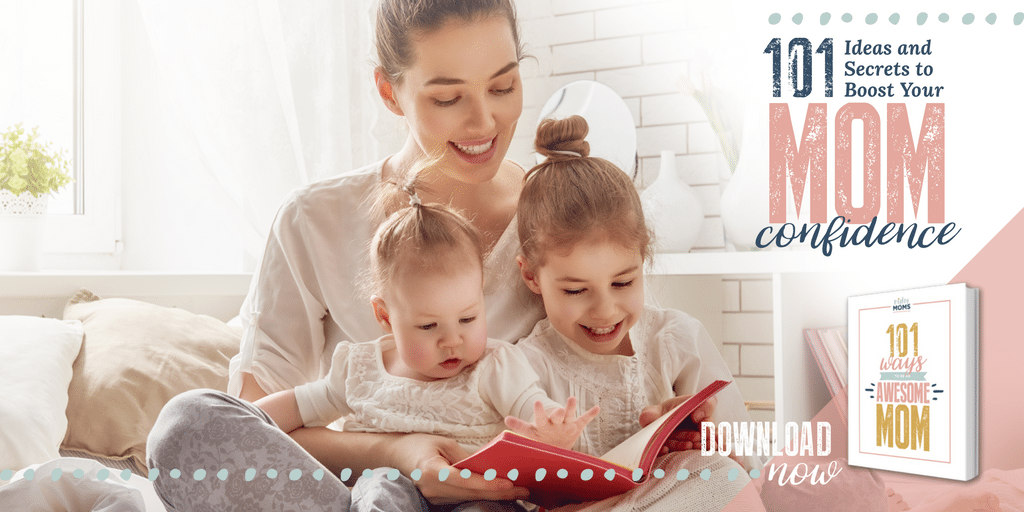 Have You Read These Yet?
We ♥  honesty!  This post contains affiliate links that provide extra money for our mutual coffee habits addictions. Click here to learn more. As an Amazon Associate I earn from qualifying purchases.