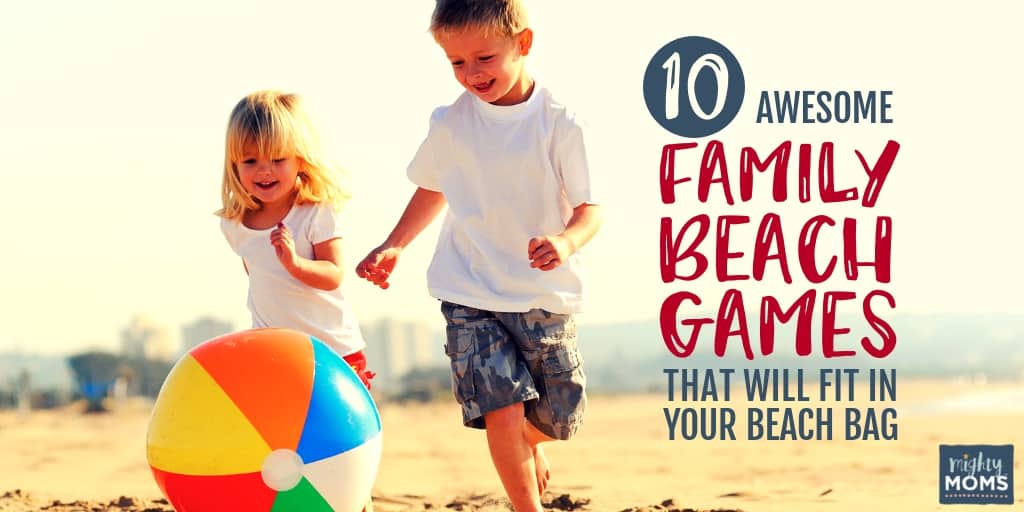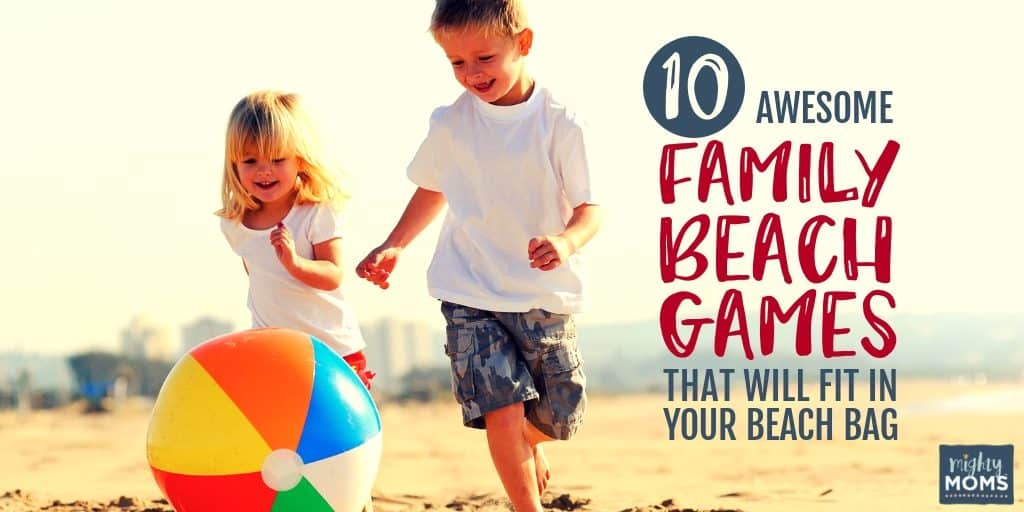 Want to create some awesome memories at the beach, but don't want to lug 15 more pounds of activities and toys onto the shoreline? These family beach games have you covered.
I've got ten amazing beach activities that use everyday items that fit into a single beach bag!
mind = blown
Pssst! If you're looking for a reliable beach bag, this one can fit more than you'd expect, and it's all mesh. Just shake the sand out at the end!
Awesome Family Beach Games:
Have a Ball!
A deflated beach ball takes up virtually no room in your beach bag and can provide hours of fun for your beach day.
Game #1: Silly Ball
Before you leave for the beach, take a permanent marker or pen and write different actions all over the ball (chicken dance, hop on one foot, spin in a circle, etc.)
Toss the ball back and forth and whichever action your right hand lands on is the one you need to perform! For toddlers and preschoolers – the sillier the better!
Game #2: Beach Ball Races
Draw two lines in the sand several feet apart. Have your kids race to the finish line with the beach ball between their knees.
If you have just one beach ball, have them take turns and time them. (For little ones – running just while carrying the ball may prove to be challenging enough.)
Awesome Family Beach Games:
Pail and Shovel Games You'll Dig
You've surely packed these for the beach. So after you've built a whole kingdom of sand castles, put that pail and shovel to use for some other beach games.
Game #3: Water Bucket Race
Line up the pails and give each child a shovel. Have them race to the water's edge, scoop up the water with their shovel, and run it back to their pail. Whoever has the most water in their pail at the end of four minutes wins!
Game #4: Diggin' Dem Holes
See who can use the pails and shovels to dig a hole big enough for them to sit in! (Or better yet, see how deep you can go!)
Awesome Family Beach Games:
Beach Towel Escapades
Beach towels like these quick-dry microfiber pool towels (fewer chances for mold growth) don't have to be purely practical!
Game #5: Beach Ball Toss
Grab that beach ball again and have your kiddos work together to use the towel to toss the ball up in the air and catch it again. See who can make the most "throws" in a row without dropping the ball.
If you can find an unused beach volleyball net, this makes an excellent group game! (Also awesome to play with filled water balloons.)
Awesome Family Beach Games:
Pool Noodle Play
Okay, so the pool noodle doesn't exactly fit in your beach bag. It does however, fit quite nicely in the hands of a helpful preschooler! 😉
Game #6: Limbo!
This beach game is fairly self-explanatory, but take turns holding the pool noodle while the others try to go under the "bar".
Awesome Family Beach Games:
Flip Flop Fun
You and your kids will probably kick your flip flops off the second you arrive at the beach, but throw them back on for these fun family beach games!
Game #7: Flip Flop Darts
Draw circles in the sand to look like a dart board and assign points for each circle. Have kids line up behind a starting line and kick their flip flops onto the "board". Play a few rounds and keep score!
Game #8: One-Legged Race
Have everybody wear one flip flop and put the other one on a line several feet away. Stand at the starting line and hop on one foot (the one with the flip flop) to retrieve the matching flip flop, put it on, and then run back to the starting line.
Awesome Family Beach Games:
Silly Space-Saving Games
If you have a little extra space in your bag, slip in one of these small beach games for even more beach day fun!
Game #9: Sand Baking
Your kids will love to cook up some fun with this unique set of sand toys. It's like making old fashioned mud-pies…but a zillion times easier to clean up!
BGame #10: Beach Bingo
Moms and Munchkins has a FREE beach bingo printable! Just print off a few sheets and use shells as your markers. Hint: If you want to use these over and over again, use this handy dandy laminator.
A Beach Bag Full of Fun
With a little clever repurposing, you won't need to pack an extra tote full of toys and games to get the most out of your beach trip. You have all you need right there in your beach bag: a beach ball, a pail and shovel, flip flops, a pool noodle, and a couple space-saving games!
Your family will think you're Super Mom when you introduce these brilliant family-friendly beach games. You know what's even better? After a whole afternoon of fun in the sun? Your kids *might* just turn into Super Sleepers that night!
Which one of these fun beach games are you most excited to try?
We ♥ Citations:
20 Beach Ball Games. BirthdayPartyIdeas4Kids.com
21 Fun and Active Games for Kids to Play on the Beach. ActiveforLife.com
Top 10 Beach Games for Your Family. LifeScript.com
Flip-Flop Party Games. TheSpruce.com
We ♥  honesty!  This post contains affiliate links that provide extra money for our mutual coffee habits addictions. Click here to learn more. As an Amazon Associate I earn from qualifying purchases.