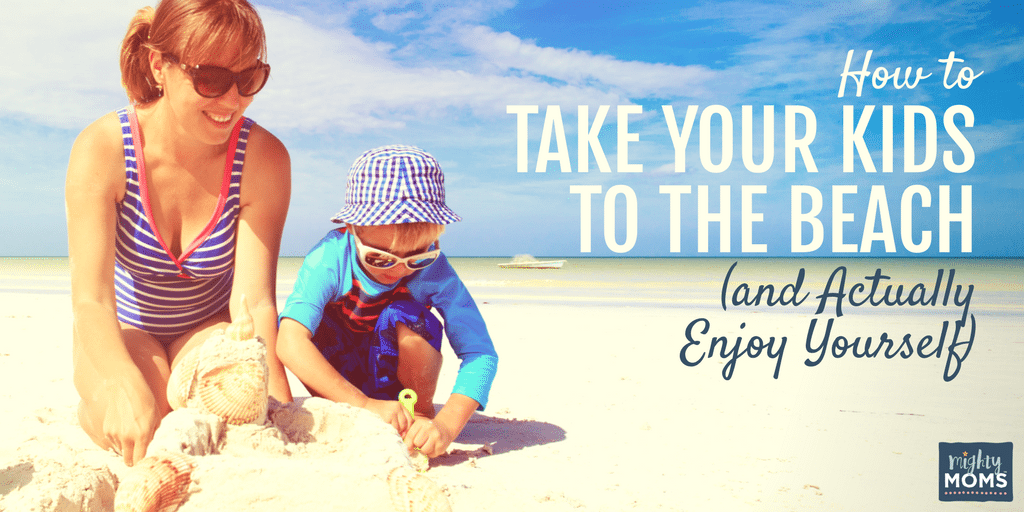 Can we be honest? "Beach Day" probably doesn't conjure up the same mental images these days as it did during your pre-motherhood days.
Is it picturing a lot less like relaxing-with-a-cocktail-and-a-good-book and more chasing-your-kids-like-a-crazy-person-so-they-don't-drown?
Is it conjuring up feelings of hesitation, stress, and perhaps a bit of dread?
Yeah. Me, too.
In fact, can I make a confession?
I live on a Caribbean island, just steps away from some of the most beautiful beaches in the world… and I kind of hate taking my kids to the beach.
*Gasp!* I know.
It's just too tempting to fill the morning with extra episodes of Sesame Street. But then I remember that I want healthy, active, and imaginative children…so it's better to just put on my big girl pants and get us all out of the house.
My boys always love playing the sand and jumping in the waves, but I've found that there are a few things I can do that will help me actually enjoy the outing with them!
I've made note of what seems to make the difference (and picked the brains of some more beach-savvy moms) and compiled a list of the best tips to help you get back some of that pre-parenting beach enjoyment.
So, now that I've got Sesame Street on the brain, let's channel our inner Sesame Street characters – mine is Cookie Monster – and practice our alphabet while we talk through how a little strategic planning, smart packing, and a touch of the right perspective will help you pull off a successful beach day – one that everyone enjoys!
Take Your Kids to the Beach:
"A" is for Aim Low
Okay, maybe this is a bit of a bummer to begin with, but I do think it is the first step to a successful beach outing with your family. If you don't expect to relax in your lounge chair with a new book, then you won't be disappointed when it doesn't happen. (In fact, don't even pack the book.)
Set realistic expectations about how the outing will go. When I take my kids to the beach, I expect that there will be at least one meltdown, that I will probably not sit down at all, and that we will come home with more sand than was even on the beach. (Seriously, so. much. sand.) When I expect those things, I'm not as thrown when they actually happen.
Take Your Kids to the Beach:
"B" is for Be Prepared
Know your child's swimming capabilities and make sure to bring any swimming aides they might need. A baby spring float is perfect for babies and younger toddlers, while a puddle jumper jacket is great for older toddlers and preschoolers.
Having your little swimmers in the proper swimming gear will give them more confidence in the water, and give you some extremely valuable peace of mind.
Psst! Be prepared on and off the beach by keeping a First Aid Kit in your car at all times. Heather's step-by-step Emergency Car Kit guide will give you all the right pointers!
Take Your Kids to the Beach:
"C" is for Cover Up
Make sure you're all covered with the proper sun protection! Dress both your boys and girls in a stylish rashguard for extra sun protection.
If you haven't picked out your kids swimsuits yet, check out these gorgeous baby swimsuits or this year's finest toddler beachwear!
Slather everyone in a safe and effective zinc sunscreen before you go, and reapply as often as the tube suggests. If your kids will tolerate a hat and sunglasses – like this cute reversible sun hat and these snazzy aviators perch those on their cute little heads, as well.
If you have extra hands to carry it, a beach umbrella with an extra-large canopy (and excellent reviews) provides an excellent space to retreat when you need to cool off. It may seem like overkill now, but let me tell you: nothing can ruin a beach day (or the day after) quite like a sunburn. (Especially when the sunburn victim is your little tot!)
Free Sunscreen Cheat Sheet!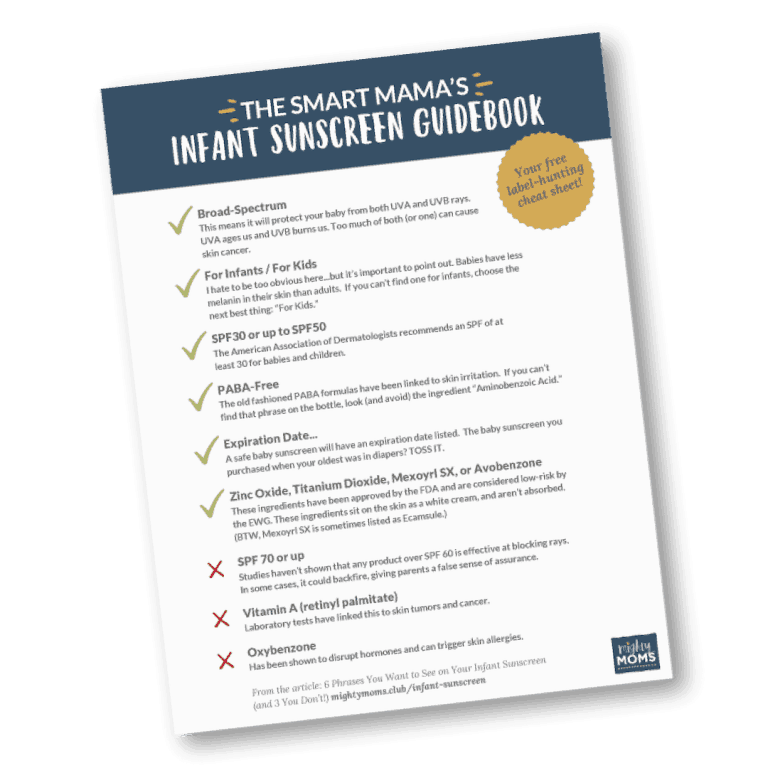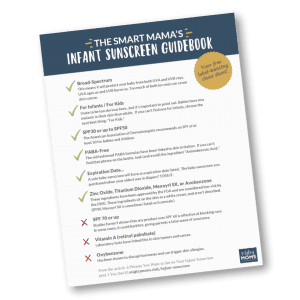 Why is that a direct link and not behind a give-me-your-email wall? Because I don't want to bully you into a friendship.
If you like the free download, why not subscribe to my weekly email and get a free copy of 101 Ways to Be an Awesome Mom?
Or, if you're grateful, but not interested in subscribing, can you share this article with your social media pals? That works too!
From one working mother to another, thanks!
Take Your Kids to the Beach:
"D" is for Drink LOTS of Water
The younger your child, the more dangerous dehydration can be, so make sure you're all staying well-hydrated when taking your kids to the beach! Keep cold water readily available and visible in insulated water bottles. (These Thermos bottles are my boys' favorites.)
You should also create "water and snack" breaks throughout the day to remind tiny busybodies to drink. Sometimes young children don't even recognize they're thirsty (especially when they're doing something fun!).
If your kids tend to get bored with plain water, bring along popsicles or flavored water drops to keep those taste buds interested.
Take Your Kids to the Beach:
"E" is for Embrace the Sand
Yes, sand is everyone's worst beach enemy. It creeps into every nook and cranny on our bodies (ever tried to change a diaper at the beach? so. much. sand.) and it infiltrates our cars and homes.
Simply put: it gets everywhere.
The worst part is, (just being honest) it can't be defeated. You're never going to remove every granule. Sand happens.
So embrace the sand. Decide ahead of time that you won't let it bother you. Let this be the one time that your kids can get unashamedly messy, and worry about the clean up later.
Even if we know we're going to end up losing the Sand War, it doesn't mean we can't put up a good fight! Keep baby powder, cornstarch, or this handy sand brush in your car to wipe off the sand before your drive home.
Take Your Kids to the Beach:
"F" is for Forget the Beach Chairs
This one might be hotly debated but I suggest leaving the beach chairs at home. Here's why:
Realistically, you'll be doing more seashell-hunting and sand-castle-building than sitting in a lounge chair.
You only have two hands so you want to pack strategically.
Why go through the trouble of carting something to and from the beach if you hardly even use it?
A beach blanket can be conveniently tucked into your beach bag and still offers a place to rest, snack, and change diapers. An outdoor blanket like this one is durable, easily wiped clean, and even machine washable. (We've had that exact blanket for years and use it every time we go to the beach.)
If you really can't resist, here's a beach chair that is lightweight and can be carried on your back, so you'll still have two free hands.
Take Your Kids to the Beach:
"G" is for Go Early
If you have young kids, you're probably not lying in bed until 11am every morning, so take advantage of that and get an early start to the beach.
It will help you avoid being outside when the sun is its strongest, and you'll get to snag the best spot on the beach. After all, the early bird gets the worm best beach spot, right?
Take Your Kids to the Beach:
"H" is for Have Plenty of Snacks
Even if you're only going to be at the beach for a short time, the heat can really wear you and your little ones out. Make sure you have plenty of snacks to keep your energy up. Goldfish crackers, granola bars, and apples all travel well.
If you have a small cooler bag, pack some grapes, berries, and cheese sticks. (For more small one-handed snack ideas, check out this article.)
Take Your Kids to the Beach:
"I" is for Invest in Good Beach Gear
I've found that my primary hangup with beach outings is all the stuff that needs to be carried to and from the car: beach towels, sand toys, swim floaties, water bottles, snacks… oh yeah, and the children. Trying to juggle all of those things between bags, backpacks, and not enough hands is a headache.
A great outdoor wagon like this one can haul plenty of towels, snacks, and floaties… freeing up your hands to carry your normally fiercely-independent toddler who is suddenly insisting he can't. take. another. step.
Remember that arch enemy we talked about earlier? While you should embrace the sand at the beach, there's no need to invite it into your home for the night. Leave the sand at the beach with a heavy-duty mesh beach bag; just shake out the excess sand!
If you want to set up some shade but are looking for something a bit more heavy duty than a beach umbrella, a beach tent is a great option. This tent is super easy to put up, weighs next to nothing, and has excellent peer-reviews!
Take Your Kids to the Beach:
"J" is for Join In!
Don't be the mom that sits on the sidelines and avoids getting her hair wet. While our kids love playing at the beach either way, they'll have more fun and create special memories playing together as a family. Help dig in the sand, jump and splash in the waves, and look for minnows.
If you simply cannot build another sandcastle, here are ten beach games you can play using things you've already packed!
Take Your Kids to the Beach:
"K" is for Know When to Leave
You know your family best, so don't push them past their limits. Even if the first 90% of your beach trip was blissful, a meltdown at the end can sour the whole memory… and make you less likely to do it again next time!
Pay attention to your little beach bums' cues as to when they've just about had enough.
OH! And don't forget to pack some dry clothes, cold water, and a snack for the car ride home. It's amazing what a huge difference these luxuries make (with the air conditioner on full blast, of course) to create a restful drive home, too.
It's Time to Reclaim
"Beach Day" as Fun Again!
Beach trips used to be so relaxing and refreshing. You'd spend the day half-reading half-snoozing in your lounge chair, getting up only to cool off in the water. You'd come home feeling calm, renewed, and just the right amount of tired.
Taking your kids to the beach is…well..the opposite.
While you shouldn't expect to snooze in your lounge chair (realistic expectations, remember?), a few adjustments to how you approach "beach day" can remove much of the stress.
Set realistic expectations for the day
Choose to embrace the sand
Strategically pack ahead of time: remembering your proper safety gear, sun protection, and plenty of water and snacks
Invest in a few well-chosen pieces of beach gear
Lastly, expect to have a great time with your kids at the beach! What seems like "another day" for you, is a grand memory-making adventure for your kids! One they will remember for decades to come.
Have You Read These Yet?
We ♥  honesty!  This post contains affiliate links that provide extra money for our mutual coffee habits addictions. Click here to learn more. As an Amazon Associate I earn from qualifying purchases.