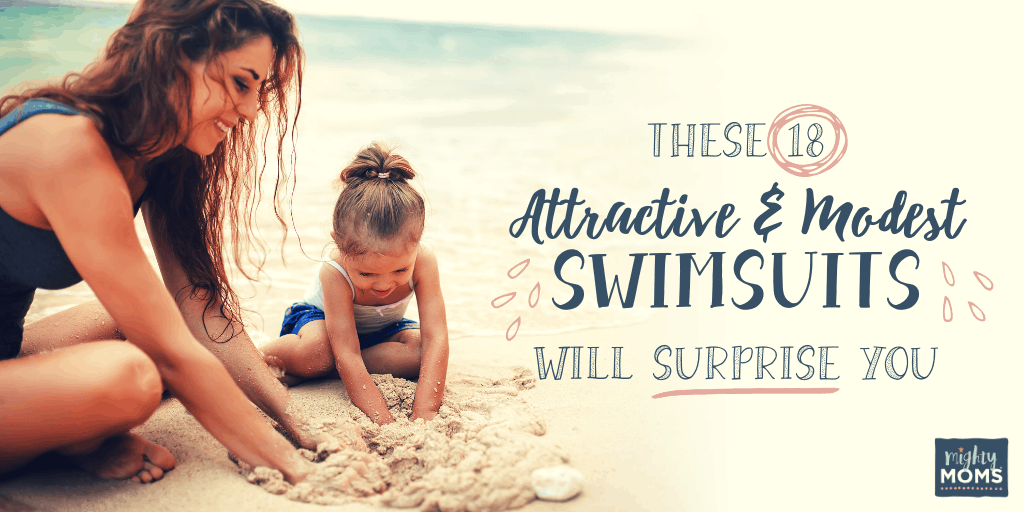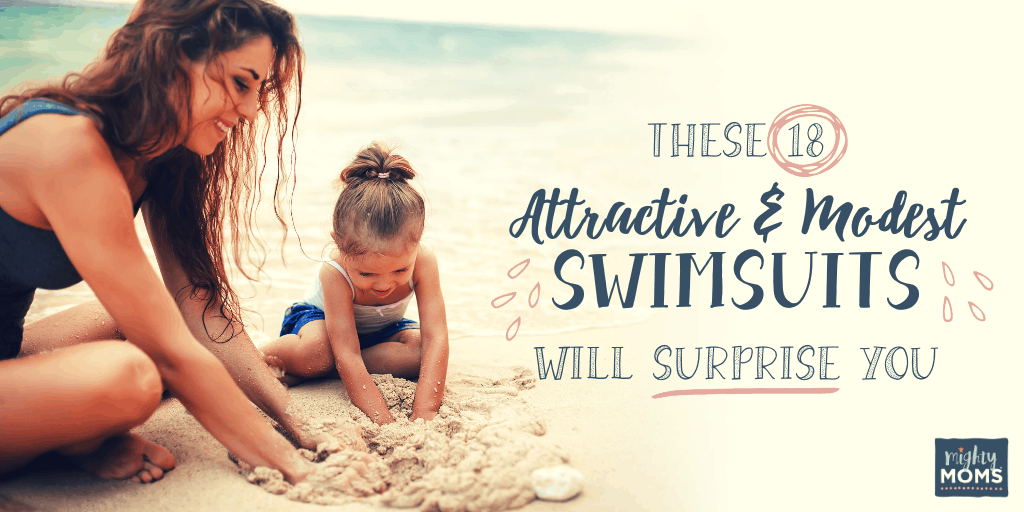 It's that time of year again. Pool season.
It doesn't matter if you're planning on hitting up the backyard kiddie pool or if you bought passes to your local public pool for the summer, one thing is for sure: You should feel confident and comfortable in whatever swimsuit you're wearing.
And that might mean it's time for a new suit.
But what if you don't want to show a Kardashian amount of skin? Are you forced to look through Grandma's closet for something a bit more modest to wear at the pool?
NO WAY!
There are actually a lot of modest swimsuits that can make you feel proud of your body, while keeping some of your more private areas…um…private. You just need to know where to look.
Modest Swimsuits:
Flattering and Fabulous
Modest swimsuits aren't a thing of the past! Despite what your instagram feed may say, there are actually a lot of cute options out there! So many that I had to split them into four main categories:
Attractive Two-Piece Swimsuits
Dazzling One-Piece Swimsuits
Cute Modest Swimsuits with Skirts
Lovely Swimsuit Cover-ups
Slap that diving cap on. Time to jump in!
6 Attractive Two-Piece
Modest Swimsuits
The words "modest" and "two-piece" don't have to be mutually exclusive. Two-piece swimsuits are your most convenient option when you've got little kids a-foot and running to the bathroom with you.
Thankfully, you don't have to throw modesty out the window if a two-piece is what you're looking for. Let me prove it!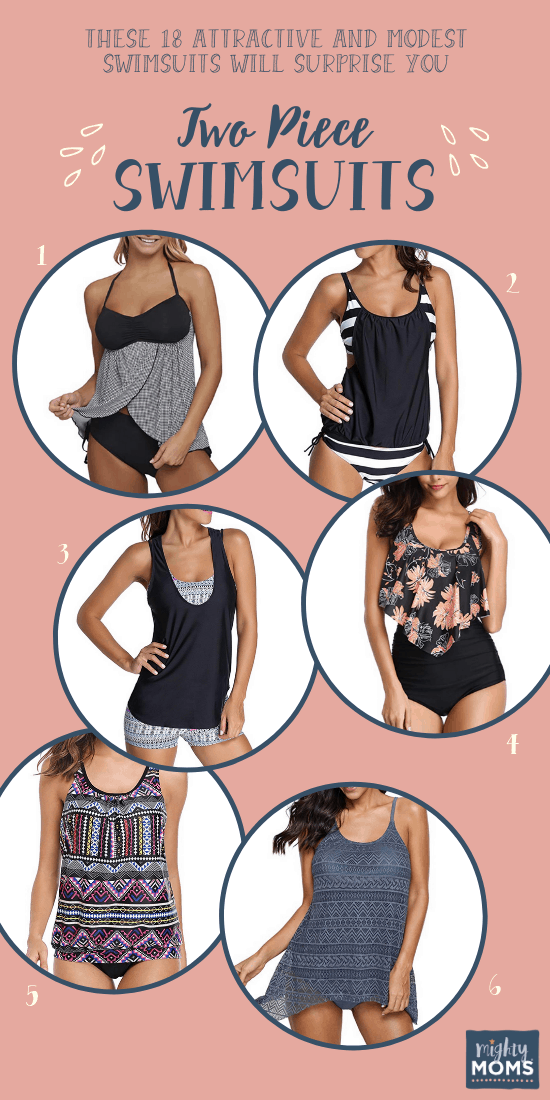 Comfortable Two-Piece Swimsuits
1. Halter Bandeau Tankini Top | 2. Double Up Tankini Top
3. Tankini and Board Short | 4. Ruffled Racerback with Highwaisted Bottom
5. Multicolor Tankini | 6. Lace Top Tankini
6 Dazzling One-Piece
Modest Swimsuits
Erase from your mind that summer camp one-piece you owned when you were a kid. I'm here to tell you that one-piece swimsuits can be fashionable and flattering. You just have to find one that fits your body right.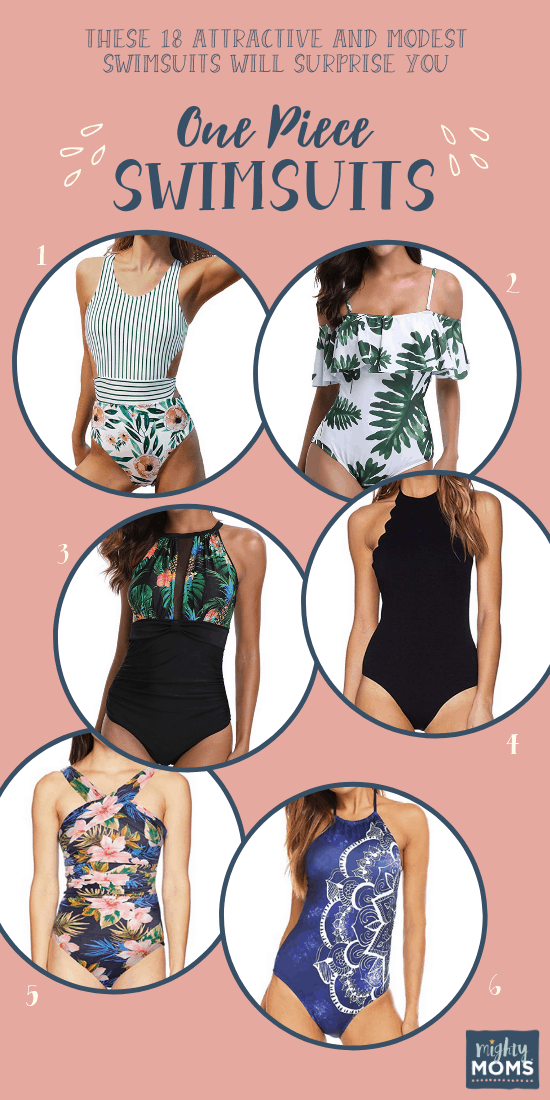 Beautifully Modest Swimsuits
1. Floral Print | 2. Floral Off Shoulder
3. Mesh Halter | 4. High Neck Halter
5. Cross-top Floral Print | 6. High Neck Halter
6 Cute Modest Swimsuits with Skirts
If your kids are young, it's possible the deepest water you'll wade through this summer is only ankle-deep. When you're trying to keep up with a toddler at the splash park, sometimes it's nice to have a little more coverage, especially if you're self-conscious about your thighs. These do the trick!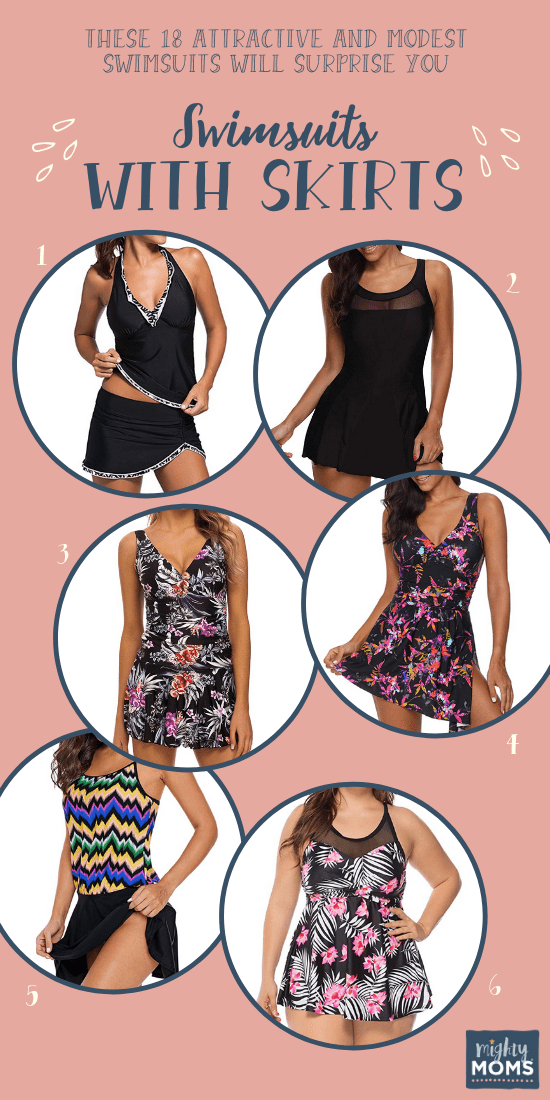 Flirty Swimsuits with Skirts
1. Halter Swimsuit and Skort | 2. Slimming Bathing Suit Dress
3. Ruched Retro Swimming Dress | 4. V-Neck Swim Dress
5. False Two Piece Swim Dress | 6. Floral Halter
Lovely Swimsuit
Cover-Ups
Now that you've got your brand new swimsuit picked out, you're probably going to need a cute new cover-up to pair with it, don't you think? There's nothing like a cover-up to slip in some extra self-confidence as you chase down your kids outside of the pool!
With one of these options, all you'll need are your sunglasses, sandals, and pool bag and then you'll be ready to go!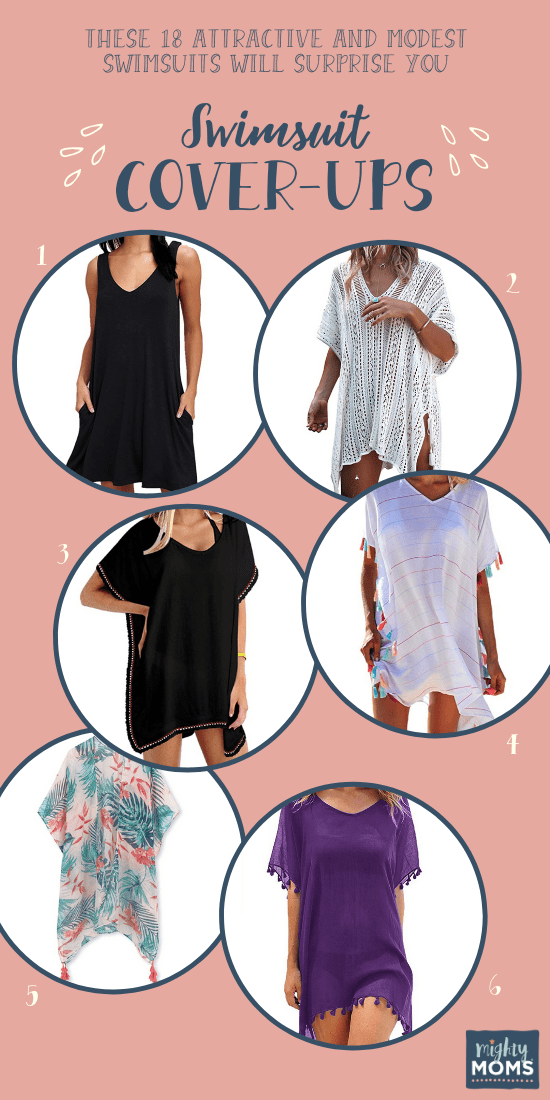 Stylish Confidence-Boosting Cover-Ups
1. Casual T-Shirt Dress | 2. White Lace Cover-Up
3. Chiffon Cover-Up | 4. Tassel Cover-Up
5. Kimono Cardigan | 6. Chiffon Tassel Cover-Up
Goodbye Frumpy,
Hello Cute Modest Swimsuits!
We make sure our babies and toddlers are perfectly outfitted for pool season, so why wouldn't we give ourselves that same attention? You don't have to try to fit into your pre-kid suit and you certainly shouldn't spend the summer in that maternity suit you haven't actually needed for two years.
Instead, there's an attractive and modest swimsuit with your name on it. Which of the swimsuits above spoke to you?
Have You Read These Yet?
We ♥  honesty!  This post contains affiliate links that provide extra money for our mutual coffee habits addictions. Click here to learn more. As an Amazon Associate I earn from qualifying purchases.