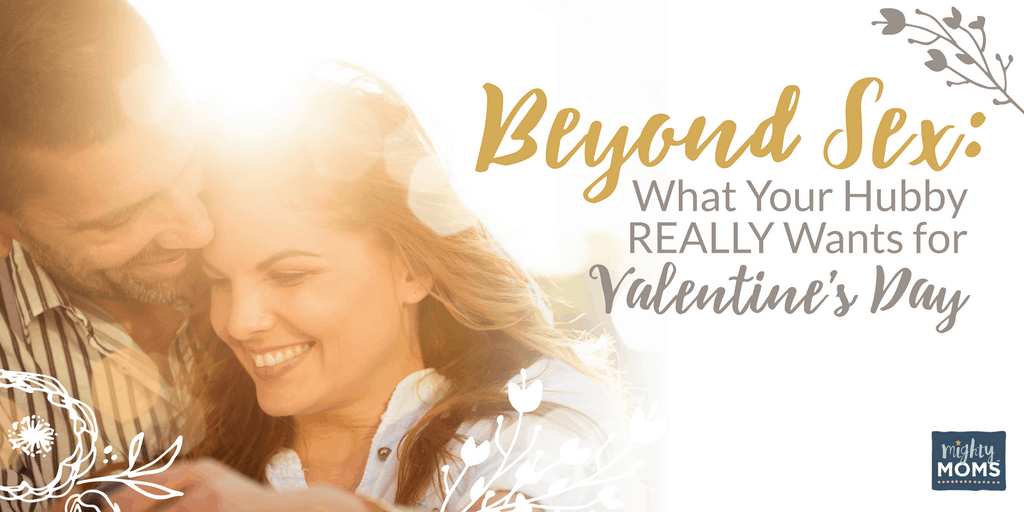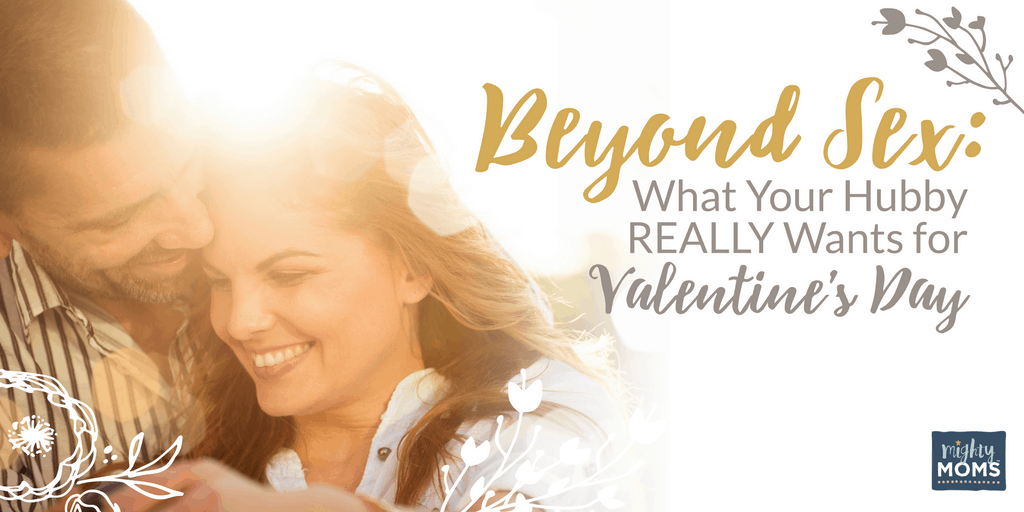 Valentine's Day is right around the corner. Do you know what you're giving your husband this year?
Imagine with me for a moment that you're a contestant on Family Feud (actually on my bucket list, y'all).
Here's the question: "What's the number one thing your man wants for Valentine's Day?"
You hit the buzzer first and enthusiastically answer, "Sex, duh!"
Steve Harvey looks up. "Survey says….Sex!" Ding ding ding!
But then comes the moment of truth. Can you come up with the other four answers or will you have to pass?
Just for fun, we took to the streets (well, to Facebook) to ask husbands and dads of littles what they really want from their wives for Valentine's Day.
Yes, they like sex. Can we blame them? 😉
But beyond sex? These guys gave us a peak into their souls and what we found was that they all tend to want one of four gifts from their wives: the gift of time, the gift of intimacy, the gift of encouragement, and the gift of grace.
Collective swoon.
And since you probably won't be able to snag any of those using Amazon Prime, we're here to help.
A Word of Encouragement
First, a word of encouragement.
Mama, you're a rock star.
You care for your family and your home day in and day out, and if you ask me, you deserve a nice long trip to the spa for your efforts. But this post isn't about you and what you deserve for Valentine's Day.
It's about your husband.
As you read, you may be tempted to think about how you do more or deserve better, but I'm challenging you not to fall into the comparison trap. For the next few minutes, try to focus on all that your husband is to you and your family.
This is about loving on him.
The Gift of Time
Life with littles demands so much of our time and energy. Does this sound anything like your husband's day?
5:30 a.m. Wakes up to a kick in the ribs from your toddler
7:00 a.m. Leaves for work
11:45 a.m. Receives series of frantic texts from mommy–he drew on WHAT with permanent marker?!
5:00 p.m. Returns home after long day to crying baby and mama at the door while two off-the-wall toddlers run around the house in super hero capes
5:15 p.m. Holds baby while mom whips up a gourmet Kraft dinner
5:30 p.m. Tries reasoning with the two-year old who has decided he no longer likes mac n' cheese
6:00 p.m. Kids take turns jumping on him
6:30 p.m. Tries reasoning with the three-year old who is suddenly deathly afraid of his potty
7:00 p.m. Struggles to get baby's feet into those darn footie pajamas
7:30 p.m. Suckered into one "last book" for the fourth time
8:00 p.m. Promptly collapses on the couch after the kids are down and falls asleep 5 minutes into "The Man in the High Castle"
Poor fella'.
With days like this, he probably doesn't get much time with his friends, with you, or to himself. This Valentine's Day, give him the gift of time.
Is your hubby the type that needs time by himself to recharge? Send him to a movie, a coffee shop, the gym or another favorite spot for a few hours of guilt-free isolation.
Does he just need to catch up on his z's? Surprise him with an unexpected morning off. Let him sleep in while you tend to the kiddos.
Is he craving time alone time with you?
"Whether we go to dinner and a movie or spend time at home alone while the kids are with a sitter, I feel it's important for us to go back in time for one day and remember why and how we fell in love before kids were a part of our lives." -Survey Hubby
If your circumstances allow, hire a sitter, make a reservation and treat him (and you!) to some kid-free time.
Or if you're like us and the prospect of dinner and a 7:00 movie makes you yawn, try a morning date. You'll have more energy, save a few bucks at the matinee, and who doesn't love breakfast food?
Can't swing a sitter? Swap kids with your friends or order a pizza and snuggle up on the couch with a good movie (you can't go wrong with Hitch or When Harry Met Sally).  Because for parents of littles, "Netflix and chill" is literal, folks.
The Gift of Intimacy
Remember the good ole' days of making whoopie anytime anywhere? Not so easy anymore, is it?
"In the chaos of having a little one, sleep and survival take over and give the old 'S word' the back seat." -Survey Hubby
Can you relate?
Let's be real for a moment. Maintaining any semblance of a sex life during survival mode is tough. You're tired, he's tired, and there's a child in the next room who depends on you for his every need.
So how do you cultivate intimacy during this sleep-deprived season?
First off, get rid of the notion that intimacy is only found in sex. Yes, it's the most intimate act you can (and should!) engage in as a married couple, but that doesn't mean it's the ONLY act of intimacy.
Get creative. Hold his hand, kiss him like you mean it, rub your fingers through his hair, give him a massage, take a co-ed shower, sit on the same couch, or send him a suggestive bitmoji text.  You may not be able to make whoopie at the drop of a hat, but with a little effort, you most likely can steal a few moments with your sweetie throughout the day.
The Gift of Encouragement
When was the last time you really encouraged your husband?
*crickets*
Over the summer, my own husband said something that made me realize I was failing him in the area of encouragement. I came across this husband encouragement challenge and decided to do it. No tearing him down for 30 days. Only encouragement.
Sure, I failed a few times, but ya know what? It made a huge difference. He was happier, and I was happier because I was focusing on his strengths, not his flaws.
Try it out with your husband. Challenge yourself to go a day, a week, or even a whole month without saying an ill word about or to him. Replace the ugly words and thoughts with positive, affirming ones.
Here are a few ideas:
Thank him for something he does around the house
Send him an email with 10 reasons why you love him
Tell him how handsome he is
Put a sticky note in his lunch with a "sweet nothing" for him to enjoy reading
Write him an old-fashioned love note (use our free printable ones below!)
In our survey responses, appreciation was a recurring theme.
Tell him, mama. He needs to hear it from you.  Follow one of the suggestions above or use our free love notes below to surprise him with your appreciation and respect!
"Dads know that moms are super tired from growing a baby and delivering one, but at the same time I think we want to feel like all the extra attention and work we are putting in matters…as a dad to a little one, I know its important for me to hear it." -Survey Hubby
Use These Free Printable Love Notes
Speaking of love notes… don't waste your money on a Valentine's Day card.  Why not use these sweet love notes instead?  Click on the button to download and print them off.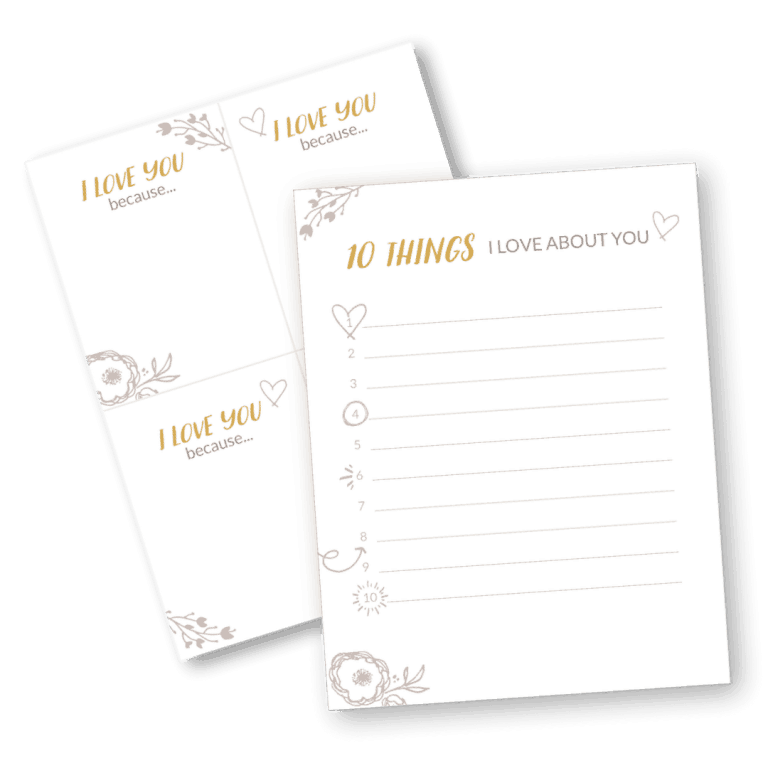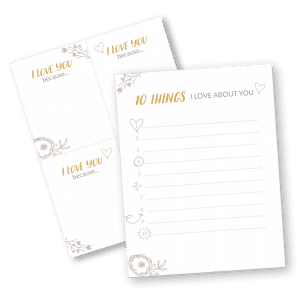 Why is that a direct link and not behind a give-me-your-email wall? Because I don't want to bully you into a friendship.
If you like the free download, why not subscribe to my weekly email and get a free copy of 101 Ways to Be an Awesome Mom?
Or, if you're grateful, but not interested in subscribing, can you share this article with your social media pals? That works too!
From one working mother to another, thanks!
The Gift of Grace
When you have two tired parents living in close quarters with tiny human beings, conflict is bound to happen.
"Is he seriously going to make me change another diaper after the day I've had?"
"How many more can he possibly stack before his cup tower falls over?"
"You can poop for half an hour but I can't have two minutes by myself?"
In this stressful stage, it's often those we love most who get the brunt of our frustration. For Valentine's Day, why not try to give him a little grace?
Our survey dads want us to know that they appreciate all we do and that they really do want to make us happy. So overlook his quirky habits, forgive his mistakes, and give him the benefit of the doubt. A little grace can go a long way.
Can't Buy Him Love
The survey results are in.  Which gift do you think your husband would appreciate most?
Time?
Intimacy?
Encouragement?
Grace?
Maybe a little whoopie?
Choose one gift you can give your husband to show him he's loved on Valentine's Day. Oh, and an extra smooch today wouldn't hurt either. *wink*
Have You Read These Yet?
We ♥  honesty!  This post contains affiliate links that provide extra money for our mutual coffee habits addictions. Click here to learn more. As an Amazon Associate I earn from qualifying purchases.