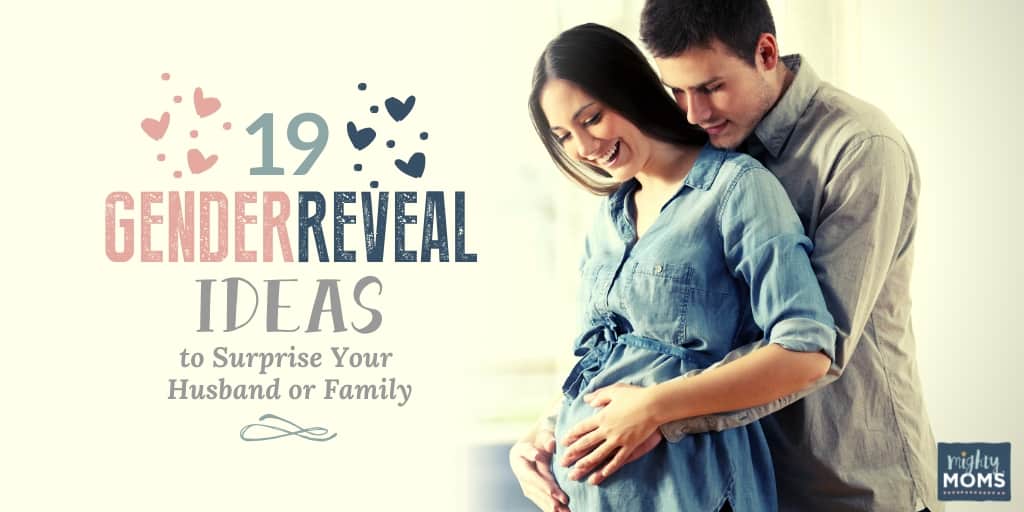 One of the most memorable ways to celebrate this new baby on the way is to throw a gender reveal surprise party!
Whether you know the secret and want to surprise your husband or family, or if you have a "Secret Keeper" who is going to surprise you, I've got 19 cute gender reveal ideas that will knock your compression socks off.
The Gender Reveal Surprise:
A Rite of Parenting Passage
There are three significant dates when it comes to your pregnancy.
The day you discover you're expecting and everyone celebrates with fancy mama mocktails.
The day you discover WHAT you're expecting. (Spoiler: it's human.)
The day your little expectation becomes a bawling bundle of reality and you come home with an awesome first place prize.
There's a prize for #1 and #3…but nothing for #2! TRAVESTY!
I think that day deserves a little memory too. It's time to plan a gender reveal surprise party!
Gender Reveal Surprise Party Theme Ideas
Before we jump in, though, why not consider one of these cute puns as a theme for your event? Which one fits your family best?
Buck or Doe?
Wheels or Heels?
Mister or Sister?
Staches or Lashes?
Guns or Glitter?
Witch or Wizard?
Once you've got a theme picked, you can start customizing your activities and decor.
9 Gender Reveal Ideas for Husband (and Wife)
When it comes to pregnancy, it's easy for Dad to feel like he's on the outside looking in. After all, the most exciting parts in this stage are nestled inside you, moving around playing the drums on your kidneys.
Why not plan a little fun by giving him the exciting news in a special way? Which of these gender reveal ideas for husband match your man's interests most?
Although this section is geared towards the husband, there's no reason why you can't use these for a couple gender reveal surprise as well!
Husband Reveal Idea #1: Get the Motor Running
You will need a non-toxic packet of powder for this idea.
Open the packet outside. (Trust me, it will get everywhere, and although it's washable, who needs extra work?)
Pour it into the end of your car/motorcycle exhaust pipe. It won't hurt the car.
Stuff a little paper in the exhaust behind the powder so it doesn't immediately blow out when you start the engine.
Count down and rev the engine!
You could also tape a packet of the powder on the tires to do a "burnout reveal"!
Husband Reveal Idea #2: Play Some Sports
Gather up the family! It's time to play a little of your husband's favorite sports, with a fun twist! Pick one of the balls below and let the show begin!
Is your man not into those sports? They also have exploding golf balls to tee off on!
Husband Reveal Idea #3: Launch a Few Cannons
Nothing says celebration like an explosion of vibrant paper! (Especially when you're at someone else's house.)
Pick up a few cannons and launch this thing into history.
Husband Reveal Idea #4: Show Off His Dart Skills
This balloon/dart kit provides everything you need to set up a wicked game of gender reveal darts! Let your man have at it or take turns for a fun husband/wife rivalry. First one to the exploding gender reveal balloon wins!
Husband Reveal Idea #5: Create a DIY Confetti Lantern
Are you a crafter with an itch to make something for your gender reveal surprise party?
This tutorial is perfect. It will show you how to create your own pull lantern guaranteed to shower your husband with gender hints.
Husband Reveal Idea #6: Gift Him a Special Shirt
Matching Daddy t-shirts and onesies are the latest trend in celebrating fatherhood. Let him open a special gift like one of these!
Husband Reveal Idea #6: Hunting for Clues
Is your man a hunter? Head out to his favorite hunting spot and put some of this non-toxic powder inside a black balloon and attach it to a deer or turkey decoy. It's target practice with a surprise!
Husband Reveal Idea #7: Fireside Cuddles
Whether you are snuggling outside in nature or are covered in blankets in the living room, sprinkle a little of this on the logs (real ones only!) and let the flames reveal your baby's gender!
Husband Reveal Idea #8: A Scavenger Hunt
This may be my favorite of all the gender reveal ideas for husband on this page. Create some clues to send him around the house (neighborhood? city?) and finish it off with a wrapped present with one of the t-shirt/onesie options above.
Need some inspiration for the clues? Here's a video of how one wife did it.
10 Gender Reveal Ideas for Family Fun
First, appreciate how much power you're holding. You have all the cards, my friend. Your family is desperate to know what's coming.
Keep them guessing with these gender reveal ideas for family fun!
Family Reveal Ideas #1: Let Them Eat Cake!
This simple recipe (yaya!) shows you how to hide a sweet gender reveal surprise inside.
Family Reveal Ideas #2: Balloon Drop
This special gender reveal bag lets you hide balloons of the right color. At the end of the night, let them pull the cord and be showered with excitement.
Family Reveal Ideas #3: The Democratic Approach
Why not put it to a vote? This scorecard and sticker set will give every family member, even the under-age ones, the right to make their voices heard.
Family Reveal Ideas #4: Scratch and Win
Let your family scratch and win! If they guessed correctly, they get to watch the baby while you're on a date. 🙂
Family Reveal Ideas #5: Sneaky Background Music
I thought this idea was super clever. Create a playlist that hints at one gender or the other, and then see if any of your guests are observant enough to notice! Here's a list of songs to get you started:
Songs for Boys:
Who Let The Dogs Out — Baha Men
Tarzan Boy — Baltimora
Boogie Woogie Bugle Boy — The Andrews Sisters
Good Old Fashioned Lover Boy — Queen
Sk8er Boi — Avril Lavigne
Let's Hear It For The Boy — Deniece Williams
It's Raining Men — The Weather Girls
This Boy — The Beatles
If I Were A Boy — Beyoncé
The Boys Are Back In Town —Thin Lizzy
Songs for Girls:
I'm Coming Out — Diana Ross
Haven't Met You Yet — Michael Buble
Oh, Pretty Woman — Roy Orbison
Uptown Girl — Billy Joel
Dancing Queen — Abba
Girls Just Want To Have Fun — Cyndia Lauper
Man! I Feel Like A Woman — Shania Twain
My Girl — The Temptations
Isn't She Lovely — Stevie Wonder
All-American Girl — Carrie Underwood
Family Reveal Ideas #6: Declare a Paint War
Pick up some squirt bottles and watered-down washable paint and let each side make their opinions know in an epic battle of paint. After you're finished, take a picture of everyone and then reveal the winner!
Family Reveal Ideas #7: Light a Candle
Maybe terrorizing the woods in a giant war of paint isn't really your family's thing. Maybe you're more of a drinks-in-the-living-room kind of clan.
No worries! This gender reveal surprise candle is the quiet celebratory event your family will love!
Family Reveal Ideas #8: Give Your Pet a Voice
Why not let your four-legged baby announce the gender? These bandanas are the perfect way to give your other baby an important role to play.
Family Reveal Ideas #9: Sherlock Holmes
Don't tell your family this is a gender reveal surprise party. Let them think it is a regular baby shower. Then fill the party with many of the hints above; music, candles, cake, etc. Then sit back and see who figures it out first!
Family Reveal Ideas #10: Jimmy Fallon Egg Reveal
Hard boil 11 eggs, leaving one raw. Then paint 6 blue and 6 pink, leaving the raw egg colored for your baby's gender. Family members take turns smashing the eggs on their heads to see which one is the baptized "winner".
Here's a video example so you can see how it works! Of all the gender reveal ideas for family fun I've listed, this one is my favorite. 🙂
The Ultimate Gender Reveal Surprise Party
There are going to be a lot of memorable moments in the months to come, but only a small handful that are unforgettable. The day you reveal your baby's gender is definitely one of them.
From that moment on, the child is no longer the "baby," but becomes something a whole lot more real. It's Isabella Rose. or Tristan Jack. It's a family member that you (and the siblings) that will be an integral part of your family forever.
We ♥  honesty!  This post contains affiliate links that provide extra money for our mutual coffee habits addictions. Click here to learn more. As an Amazon Associate I earn from qualifying purchases.