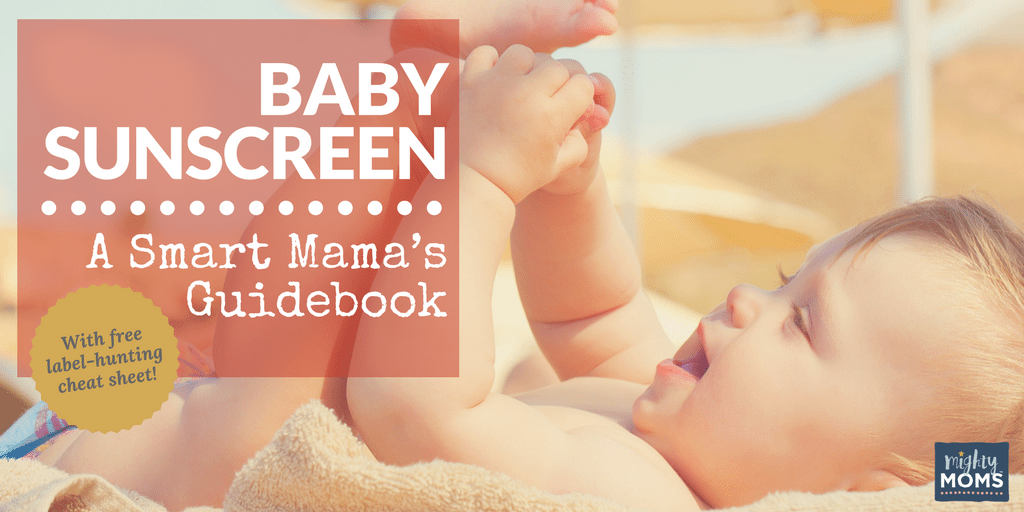 I'm not a big "Let's Freak Out Over Nothing" kind of mother.
But sometimes a few horns need to be honked.  
Check out what the Skin Cancer Foundation says…
Just ONE blistering sunburn in childhood more than doubles a person's chances of developing melanoma later in life.
22% of all children will get a sunburn in their first summer of life.
45% of all children will get a sunburn in their second summer of life.
For those of you playing along, that means that 67% of all children in the US will have experienced a sunburn before the age of 3.  A sunburn that will more than double their chances of getting skin cancer later as an adult.
Yowzers.  Not cool.
It leaves me flabbergasted.  (And a little paranoid about sun safety. 🙂 )
So what's a mom to do? Stay hidden in the shadows of our homes every time the sun shines?  Hiding away and pretty much rolling out a welcome mat for PPD? (We need those warm rays, sister, to help us conquer the hormonal rodeo!)
Or do we step out into the sun Edward-Cullen-style and shimmer like some nuclear glitter disaster? 
To make it even worse (because why not?), if your baby is less than 6 months old you've got a few other things to worry about.
Newborns have sensitive skin.  Using a normal store-bought sunscreen on a newborn increases your baby's chances of having a reaction.
The "surface area of skin" to "body weight" ratio is much higher in infants.   This means that the chemicals in sunscreen have that much more opportunity to be absorbed into the bloodstream.
They have a lot less melanin.  Melanin is the skin pigment that gives color to skin, hair, and eyes and provides some measure of protection. Without this natural protection they are quite vulnerable to Mr. Sun's damaging effects.  (BTW, it doesn't matter how dark-skinned your baby is.)
What does all this mean?
Basically, you shouldn't use baby sunscreen on a baby under 6 months old.  (Yes, it seems rather oxymoronic.)  It also means their skin doesn't have any strong natural defenses against the sun.
Adding those two things together, 99.9% of the experts are going to tell you to start a Hermit colony at home and stare out the window knitting until your baby is past the 6-month mark.
I however, am going to prove my rebelliousness yet again and say PISH POSH APPLESAUCE.
You've got stuff to do.
Instead of hunkering down to practically apply what you've learned from Knitting with Dog Hair: Better a Sweater From a Dog You Know and Love Than From a Sheep You'll Never Meet, let me offer a few suggestions to get you and your newborn safely out of the house.
The Anti-Sun Cheat Sheet for Taking Newborns Outdoors
Sun Cheat #1:  Timing is Everything
Run errands, take your walks, garden, and meet friends for an alfresco cappuccino with your newborn in the car seat.
Just do it before 10 a.m. or after 2 p.m.
Basically, avoid the midday sun when the UV rays are strongest. Click here for an instant UV check of what the index is in your area today.
Sun Cheat #2:  Dress (Your Baby) For Success
Dress your infant in clothing that covers his limbs. Be sure it is lightweight (when warm outside) but tight-weave so it really blocks those pesky UV rays.  This sunsuit will cover all your bases.
Sun Cheat #3:  Parasol Your Prince or Princess
Give your newborn the royal treatment by making sure that he is constantly covered by something.
Use an umbrella of some sort on your trips outdoors and bring that shade with you wherever you go.
Better yet, use a portable UV-protective sun bed like this one.  It's handy outside AND indoors for Grandma/Grandpa trips and July 4th picnics!
Sun Cheat #4:  Uncover the Wonders of a Wide-Brimmed Hat
Bonnets are cute, but they're not much use against the UV Monster.
Look for a sun hat with a wide-brim that will cover the head, neck, and ears.  This hat-style is an adorable blend of all the coverage your infant needs.
Sun Cheat #5:  Tint Those Windows Like a Boss
If you're going to be traveling for any length of time, help your baby out by putting a tint on the back windows.
If your windows aren't already tinted, you've got the see this window shade.  They are beyond cool because…
They fit around the entire door, so you don't have to mess with those *whistle/bleep* suction cup crappy window shades.
They let you roll down the window and still shade your baby – so if you're trying to keep him awake for naptime, or to distract him from crying, the 'ole "magic window trick" can still be used! *highfive*
Your FREE Label-Hunting Cheat Sheet
If your baby is older than 6 months and those newborn days are behind you (sob!), it's time to slather on the sunscreen as a party of your daily routine.
The main challenge here is knowing which of the 18 zillion baby sunscreens out there, you want to slather on.  (Remember! What gets slathered on, eventually soaks in!)
I sense a free printable coming on…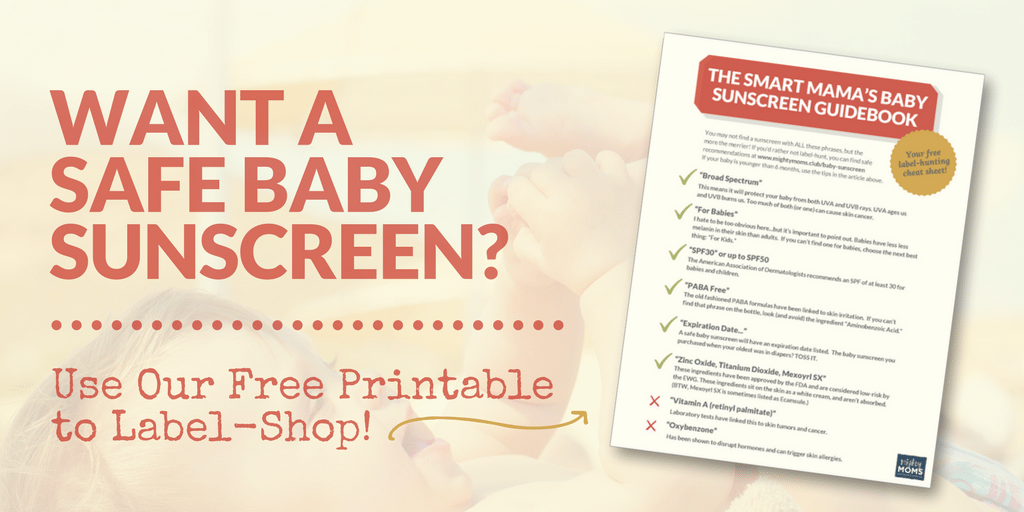 Three Smart-Buy Baby Sunscreens
For those of you who'd rather not go hunting for your own sunscreen in the forest of options, here are a few personal favorites you can grab at Amazon.  (I'm a prime member, so all my purchases are shipped for free in two days or less – one of many great benefits!)
Gold-Star Winner:  Think Baby Sunscreen
First Sunscreen to pass the Whole Foods Premium Care Requirements
Rated 5-stars by over 340 parents
Highest level of water resistance (80 minutes)
SPF: 50
Active ingredient: Zinc Oxide
Silver Choice:  Adorable Baby Sunscreen
100% Natural
Comes as a stick or as a lotion.
SPF: 30
Active ingredient: Zinc Oxide
Bronze Option:  Aveeno Baby Mineral Block
100% Natural
A stick for squirmy faces
SPF: 50
Active ingredient: Titanium Dioxide
Sun Safety – Inside and Out
Besides keeping your baby's skin safely protected, you have Keep your baby hydrated.  Always. Breastfeed more often.  Offer a bottle more than you think you should.
Dehydration is the #1 hospitalizer of children under 3.  Keep those fluids a-flowin'.  Protect your baby on the outside AND on the inside.
What are your favorite "I'm going to take this child outdoors and the rest of you 99.9% experts can shove it" tips? 🙂
I'd love to hear them in the comments!
Have You Read These Yet?
We ♥  honesty!  This post contains affiliate links that provide extra money for our mutual coffee habits addictions. Click here to learn more.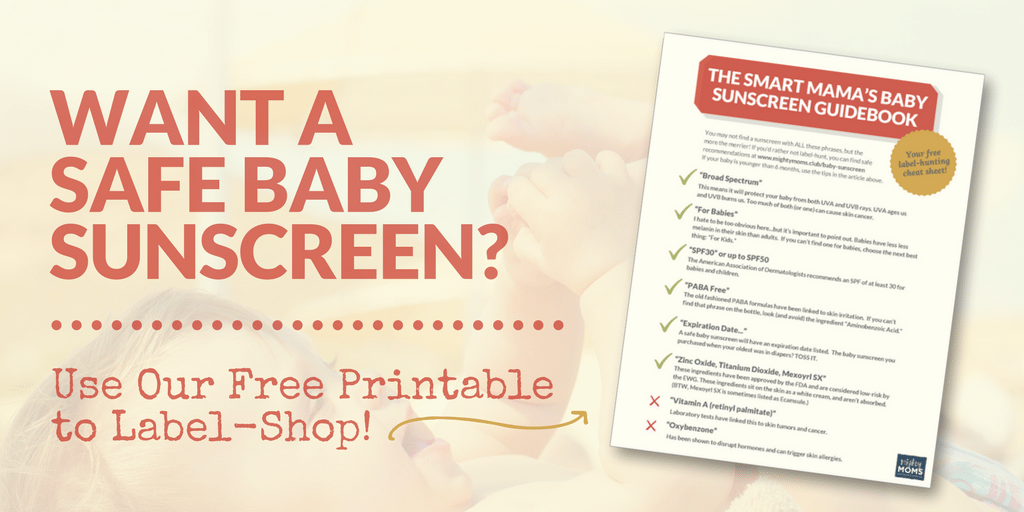 Comments