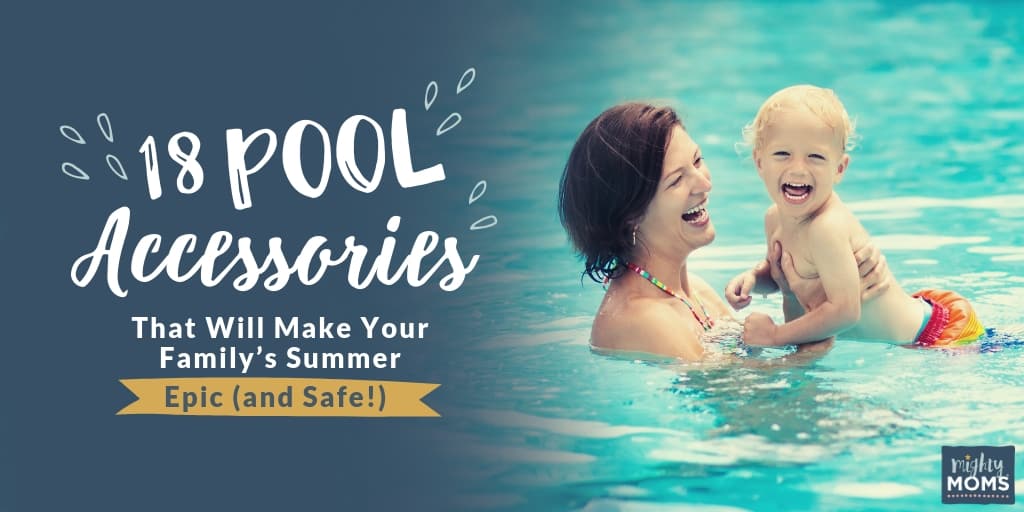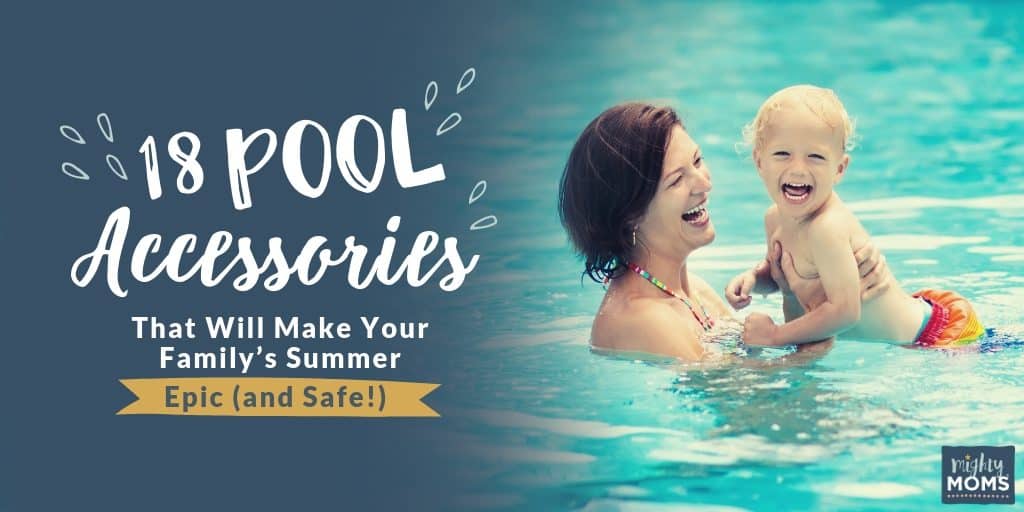 Swimming with your kids is one of the longest-lasting memories they're going to have. It's a hallmark of childhood!
So I guess it makes sense to have a few well chosen pool accessories and floats to anchor these moments in their minds.
Those are the memories that tag a particular summer as epic. Unforgettable. Cherished. And it all starts in the swimming pool.
What Pool Accessories Should You Have?
Whether your pool is up year-round or only when the summer wind blows, there are three pool accessories you want to be sure to have on hand.
Safety Pool Accessories—avoiding summer tragedies.
Pool Toys—without these, it's really just a big bathtub.
Pool Floaties—because floating is fun. (As is pushing siblings off the floatie.)
If You Don't Have These Pool Accessories, Don't Have a Pool
The first category I want to focus on is the safety pool accessories. These are BY FAR the most important things to have around.
In fact, if you don't have a safety plan (with some good safety products) don't bother with any of the other "fun" pool accessories. It's probably best if you don't have a pool at all.
Why?
Because drowning is the leading cause of death for children under four and teens. (Source.)
So don't mess around here, my friend. Make the investment to make sure your children are going to be safe around the water.
Build Up Layers of Safety
It is important that you wrap your pool in layers of safety. The more barriers between your toddler and that slippery surface the better.
Put up gates. Add alarms. Slip on a vest.
Give your child safe boundaries to fall in love with the water. One traumatic experience can strip away all of that within seconds.
Buy a few of the safety pool accessories below (if not all) and call your local YMCA to enroll your child in swimming lessons. The sooner they understand "the way of Nemo" the better.

Must-Have Safety Pool Accessories
1. Motion Sensor | 2. Immersion Alarm Wristband
3. Life Vest | 4. Electrical Current Alarm
5. Pool Safety Fence
The Best Pool Toys This Summer Are…
Okay, then! Everyone is safe and the pool is secured. Time for some fun.
It's time for diving sticks, ring tosses, basketball hoops, volleyball nets, and other energy-burning activities.

These Are the Best Pool Toys
Babies:
Fountain Funcorn (or Bubble Octopus) | Water Toys
Toddlers:
Magnet Boats | Splash Mermaids | Shark Pool Game
Older Kids:
Avengers Diving Toys | Floating Hoops
Pool Floaties for Lazy Days and Silly Plays
There are really two types of floaties in the wide world of Saturday afternoon pool parties.
Pool Floatie Type One: Recreate American Ninja Warrior and compete for Master Swimmer.
Pool Floatie Type Two: I want to laze around the pool and doze.
Recreating American Ninja Warrior in the Pool
If you want your pool floaties to get used and abused, these are just your thing:
Pool Accessories for Lazy Lounging
I know this may surprise some of you, but not everyone wants to compete in the pool. There are some people who just want to take a nap and enjoy the cool waters. These are for you.

Lazy Day Pool Floaties
Babies:
Flamingo Float | Floaty Crab
Toddlers:
Airplane Float | Swim Trainer Vest
Older Kids:
Mega Duck Float | Giant Unicorn Pool Floatie
An Unforgettable Summer
For All the Right Reasons
Playing in the pool is one of the few things you can truly all do as a family, at any age, and everyone have a good time.
Your 9-month old can't bowl, even if your six your old loves bowling.
The 13 year old may not want to go to Chuckie Cheese with your six year old, but bucking Dad off the bull definitely sounds like fun.
Grandma may not join in to play HORSE in the driveway, but she would happily push your toddler in his plane while you challenge your spouse to a mean game of water basketball.
Everyone is in the pool together, at the same time, making memories.
Honestly, these really aren't pool accessories. They're really more like family accessories. So which of these are you going to start with first?
Have You Read These Yet?
We ♥  honesty!  This post contains affiliate links that provide extra money for our mutual coffee habits addictions. Click here to learn more. As an Amazon Associate I earn from qualifying purchases.