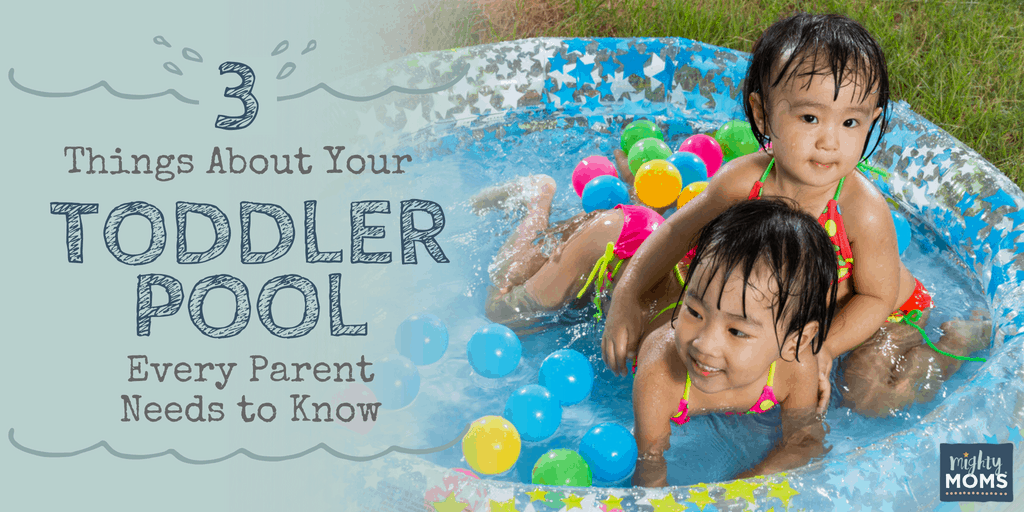 As a mom, you have plenty of things to worry about during each one of these warm, summer days.
Because you know the harmful, long-term effects of sunburns, you slather your wiggly toddler with a thick layer of sunscreen every 90 minutes.
Because you know that head injuries can be serious, you make sure your toddler has an extra cool helmet to wear while riding his scooter around the neighborhood.
Because you read this tragic story in the news a few months ago, you have decided to just go ahead and keep your toddler away from water for the next few years.
Wait. Hold the phone.
The combination of toddlers and water can be scary, can't it? Those little legs just got used to solid ground, after all.
But here's the thing: Our kids have to learn how to swim. And, even though they're not developmentally ready to learn quite yet, what better way to help introduce them to water with some highly-supervised backyard pool fun?
This doesn't have to be a terrifying experience for you or your toddler. Instead, it can actually be the foundation of some of your favorite summer memories.
As you start to think about introducing your toddler to that kiddie pool, here are three things you should know.
Few Things Will Get Your
Toddler as Excited as a Pool
A kiddie pool for the backyard is one of the best purchases you can make this summer. Not only is it a great way to beat the heat and entertain her for hours, but it is also something that is will help her developmentally. While she's splashing and figuring out her gross motor movements, she'll also be learning about floating objects. There are a lot of wins there.
Did I mention she could be entertained for hours? (Supervised hours, of course!)
Before you decide on which awesome kiddie pool you want to set up in the backyard, though, this article spells out some helpful guidelines to keep in mind:
If the toddler pool you're looking at has an arrow on the bottom side, you can safely use it for your children.
You want to choose a shallow pool when considering something for a toddler, but remember that you must stay with your child at all times even when there are only inches of water.
A toddler pool must have a water depth of not more than three feet and a width of less than 15 feet.
A toddler pool must lack an infiltration system and the design must be specifically suited for children.
Here are four super-fun options that hit all those toddler pool requirements!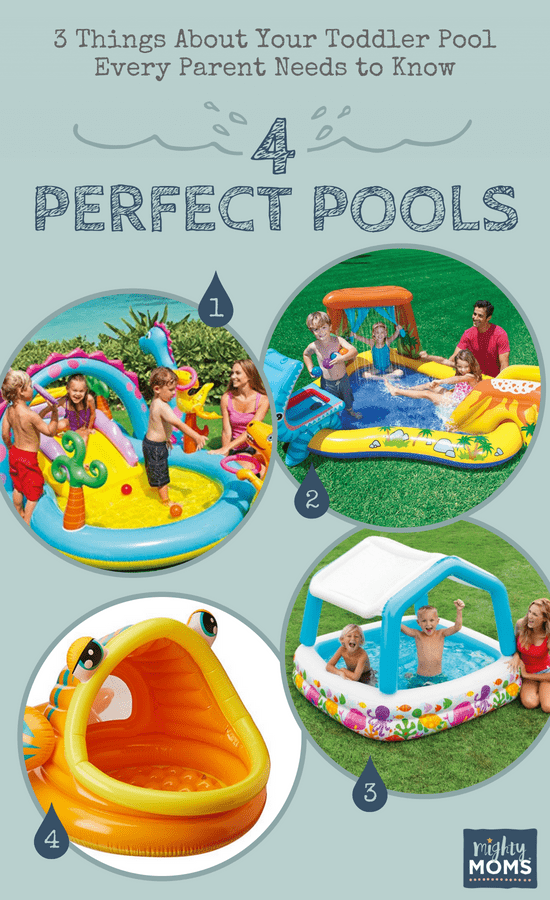 Eventually the Toddler Pool Will Get Boring…
Which Is When You Do This!
I said earlier that a kiddie pool has the potential to keep your toddler occupied for hours. I meant it, but that doesn't mean you're out of work on the effort front. Splashing will only get you so far before he starts to get bored.
Fear not! There are plenty of games and toys at your disposal to keep that pool the best part of everyone's summer!
Games to Play in the Pool with Your Toddler
This article has so many great water game suggestions. Here are a few of my toddler-specific favorites:
Have a Tea Party inside the pool. Set the "table" with a floating plastic tea set and gather grass and other plants as the "food."
Blow up a beach ball and give your toddler a water gun. See if he can get his ball to reach the other side.
Get your hands on this cool toy (literally) and see whose shark can eat the most fish the fastest.
Developmentally Appropriate Toddler Pool Toys
On that note, here are some other great toy options to keep your toddler entertained in the pool.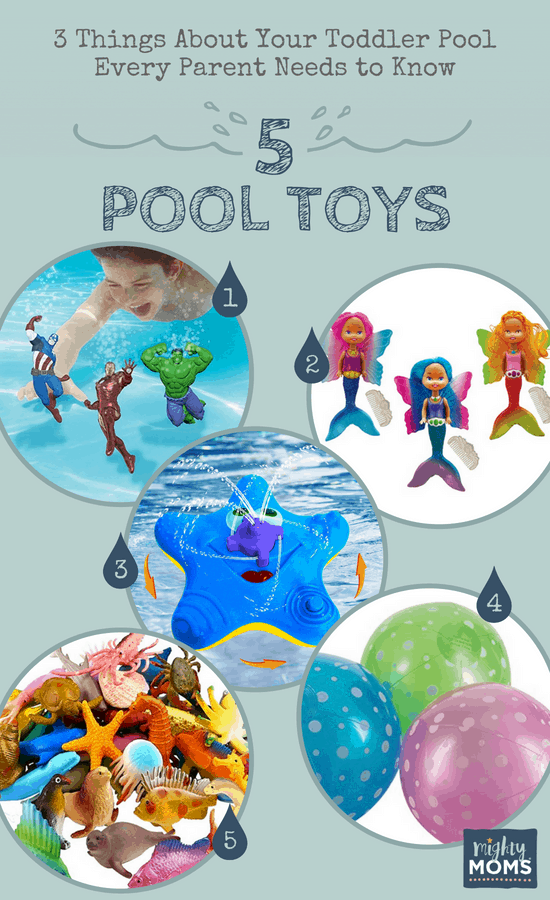 Avengers Dive Toys: Your little superhero will love watching these heroes sink to the bottom of the pool, and then he can wade around and retrieve them. (Remember, your pool is shallow enough that he won't have to go underwater to get them.)
Fairy Tales: These fun fairies turn into mermaids and even change color when submerged. Your sweet toddler will love helping them swim through the water.
Water Spray Toy: This floating toy will move around your pool, and your toddler will love watching it spray water in the air.
Catch with Polka Dot Beach Balls: Get in some motor skill practice and play catch with these brightly colored beach balls.
Ocean Animals: Toss these animals throughout the pool and practice naming them as your child catches each one.
Toddler Pools Need Safety Layers Too
You have your gear and you're ready for some summertime fun, but remember this: You can't lower your guard just because your pool is portable and small.
According to the CDC, drownings are a leading cause of injury or death for children ages 1 to 14, and three children die every day as a result of drowning. And these aren't large-pool specific numbers; kids can drown in less than two inches of water. Those statistics, while incredibly harrowing, are a good reminder to remain vigilant and have eyes on our children at all times when there is water in the vicinity.
So, as you're thinking through your safety precautions for this summer, here are some important tips:
Always stay within an arm's reach. If you need to step inside to use the bathroom or grab a drink of water, bring your child with you. Don't rely on babysitters or older children either. You should be the one to have eyes on your toddler at all times.
Drain your baby pools after you're done using them. If they're too big to drain or you're keeping the water in for some other reason, make sure there is adequate fencing and child locks on your doors that will keep your toddlers away from the water.
Put away distractions. You know how easy it is to snap a picture of your little fish and then get sucked into your Facebook newsfeed seconds later. Consider leaving your cell phone, books, and anything else that might distract your attention inside or a few feet away from you.
Learn how to perform CPR if you haven't already. In the instance of an emergency, you won't want to wait until emergency services arrive to perform life saving practices.
For a more comprehensive list of safety guidelines and recommendations, check out the American Academy of Pediatrics' list of Swim Safety Tips.
Toddler Pools are a
Great Introduction to Water
(And the BIG Pool!)
You're ready to hit that kiddie pool!
Step One: You've got the perfect pool set up in the backyard.
Step Two: You've got your backup games and toys for when she starts to lose interest.
Step Three: You have safety measures put well in place.
Here's the best part! Not only are you introducing your sweet toddler to the water this summer, but you're also laying the foundation for summers to come when she'll eventually graduate to bigger and deeper pools. That's important!
It seems to me that all you need to do before you head outside is grab your sunscreen and your adorable matching swimsuits.
Summer awaits!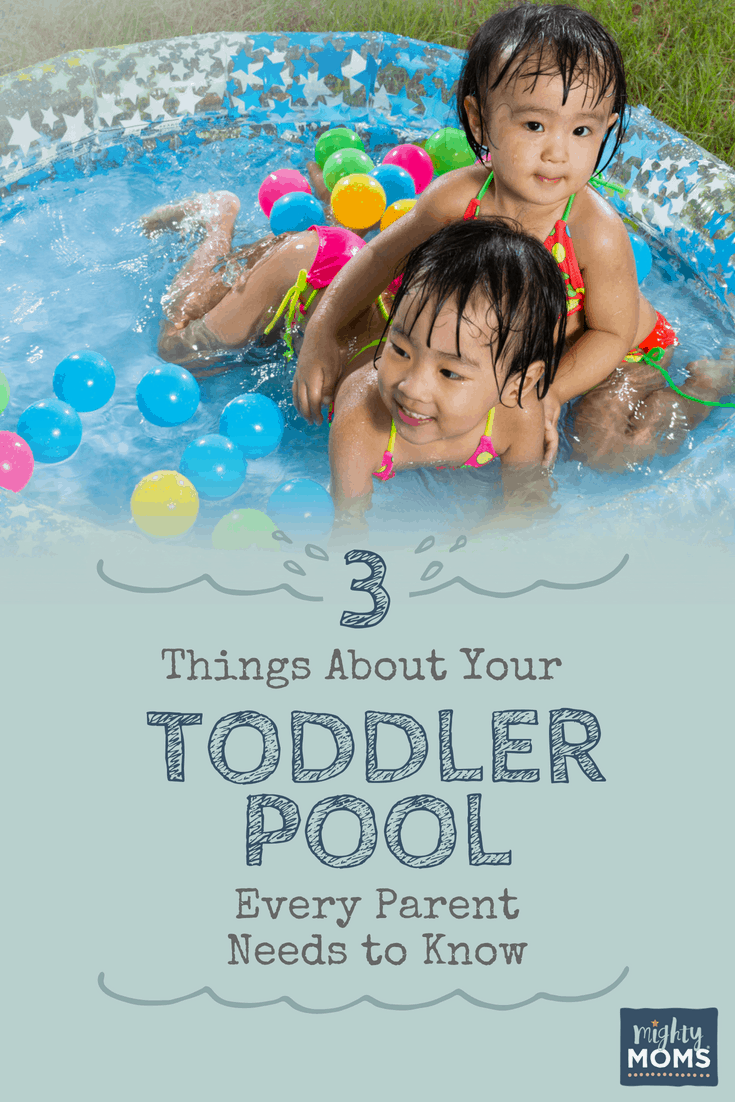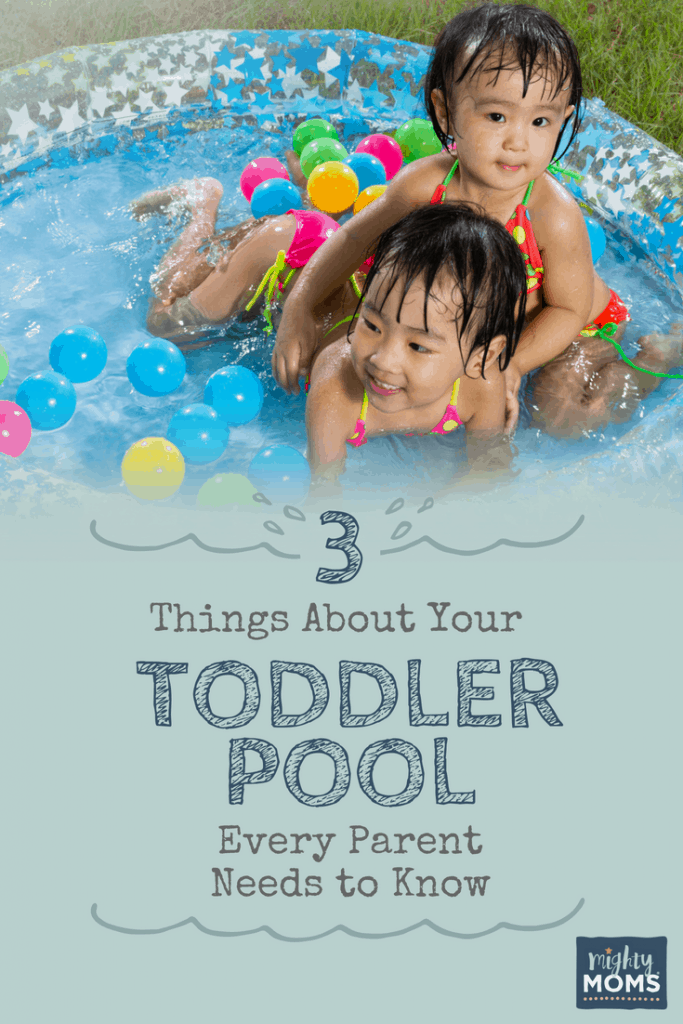 Have You Read These Yet?
We ♥ Citations
Swimming Pool Games for Young Children. PoolCenter.com
Drowning Prevention. CDC.gov
Water Safety. KidsHealth.org
Drowning Dangers: Keeping Kids Safe Near Water. Parents.com
New Pool Safety Gadgets Help Prevent Drowning. WebMD.com
Tips for Swimming Safe with a Toddler.VeryWellFamily.com
How to Perform CPR. Parents.com
Swim Safety Tips from the American Association of Pediatrics. AAP.org
We ♥  honesty!  This post contains affiliate links that provide extra money for our mutual coffee habits addictions. Click here to learn more. As an Amazon Associate I earn from qualifying purchases.