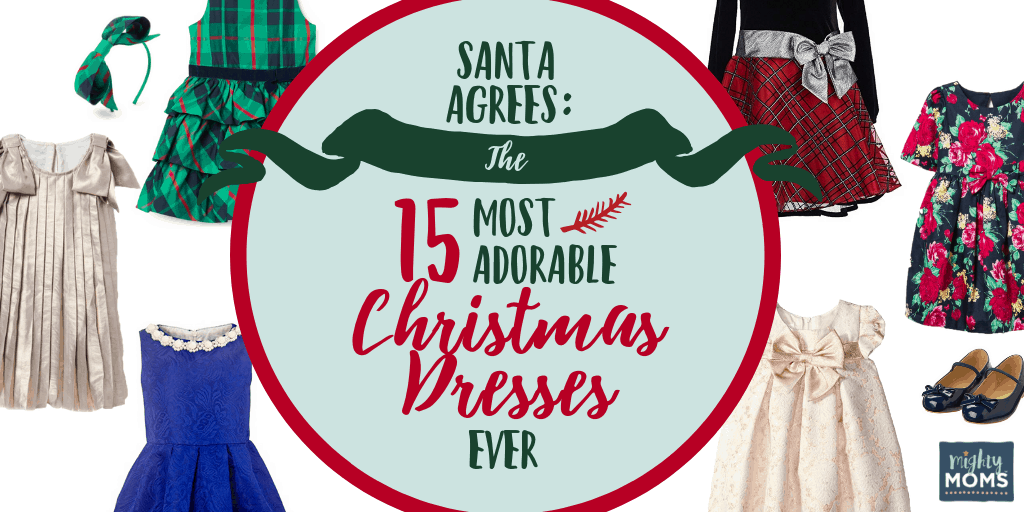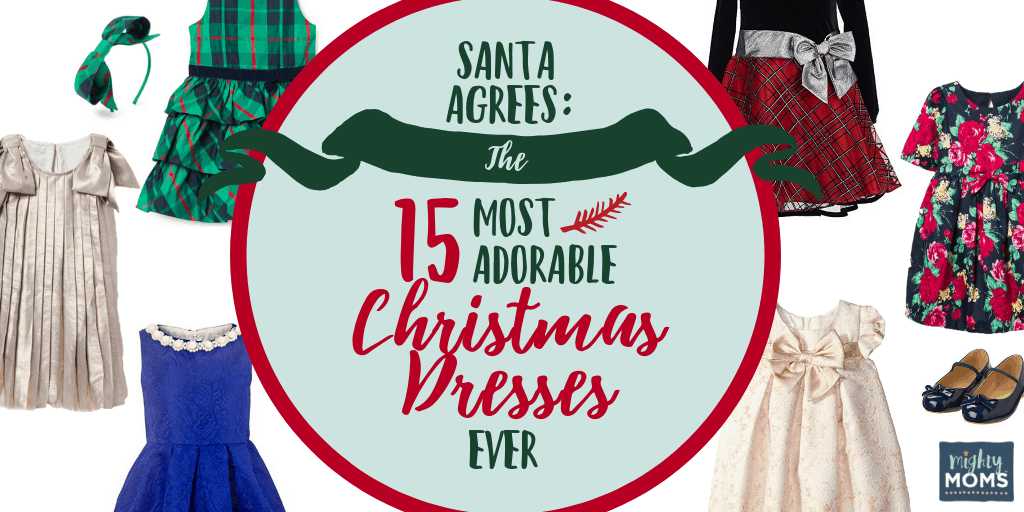 It's beginning to look a lot like Christmas!  Whether this makes you cheer or cringe, the fact is clear: It's time to start on that Christmas list.
No, I don't mean your Christmas Wish List.
I'm talking about your Christmas To-Do List.
But before you get too overwhelmed, remember: you have an adorable daughter. Which means that at least one item on that list is downright fun: finding a Christmas dress for her to wear to all the parties!
Here's the catch, though.
Everyone knows that narrowing down Christmas dress options for your little lady can take longer than all your other Christmas shopping combined. You could be spending that precious time making an Advent calendar or a felt Christmas tree for your kids instead of browsing page after page until your eyes glaze over.
Lucky for you, though, we called up our jolly friend Santa for help. Being the benevolent man that he is, he was more than willing to put together an official collection of the fifteen most adorable Christmas dresses for kids ever.
And, in case that wasn't enough, he appointed his five most trusted Christmas dress experts to be the judges:
Mrs. Claus (Santa swears he had no bias in this selection.)
The Grinch (Who only became an authority on the matter after his heart grew three sizes, of course.)
Ebenezer Scrooge (Our style representative from across the pond.)
Frosty the Snowman (Who has fashion authority on more than just old silk hats.)
Buddy the Elf (How can you go wrong with this level of enthusiasm?)
Ladies, out of the kindness of their hearts, getting nothing in return, these five festive friends spent days scouring the Internet for the most beautiful Christmas dresses for kids and managed to each select only three: one for babies, one for toddlers, and one for preschoolers. (Sure beats these ugly Christmas sweaters…). (Sure beats these ugly Christmas sweaters…). Just for you.
Thanks, guys.
So, drumroll please….
Mrs. Claus' Fabulously Floral
Christmas Dresses for Kids
Mrs. Claus has done it again helping to make our holidays merrier. Last year, she wrote an article for us sharing her best-kept secrets to a happier holiday.
This year, she selected these beautiful floral frocks for us. That generous woman keeps outdoing herself! Consider her own personal picks for floral Christmas dresses for kids: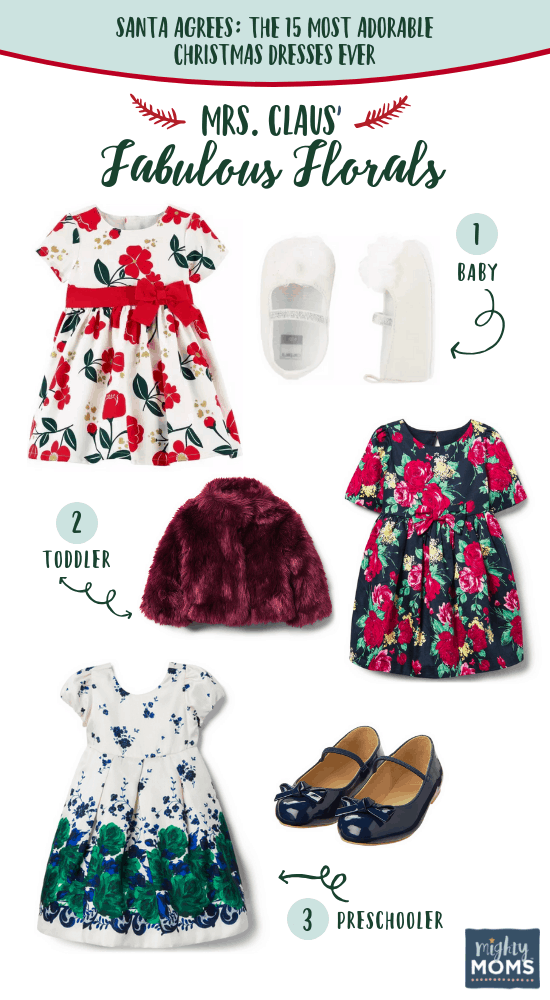 Mrs. Claus' Christmas Dress Ideas
#1) For the Baby: Your baby girl will look as festive as Mrs. Claus herself in this floral holiday dress. Add a sweet touch with these cute mary janes.
#2) For the Toddler: The colors and pattern on this navy rose dress will have even the North Pole elves swooning at your toddler. And, let's face it, you'll be swooning too as you put this faux fur jacket on her to keep her cozy.
#3) For the Preschooler: You know a dress is a winner when even Mrs. Claus decides it's ok to break away from traditional Christmas red. Your little lady will be the epitome of class in this white and green floral print dress and navy patent bow flats.
The Grinch's Gorgeous Green
Christmas Dresses for Kids
I admit I was skeptical when Santa told me that the Grinch was on his panel of selected judges.
But Santa assured me that the Grinch truly is a changed man—er, creature. And, ladies, he's actually shockingly fashion-aware! Not surprisingly, he seems to have an affinity for green, but he definitely kept his choices classy.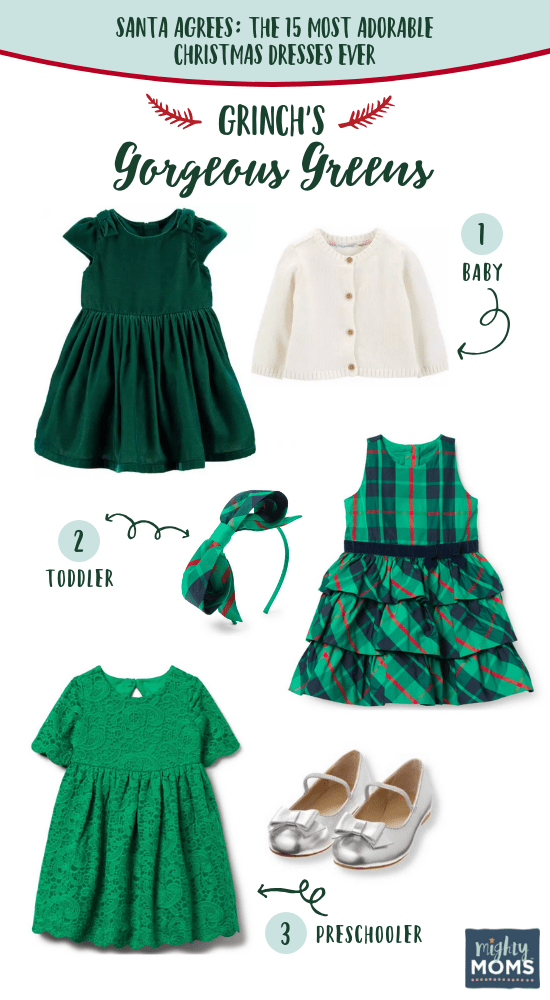 The Grinch's Christmas Dress Ideas
#1) For the Baby: For something beautiful but practical, this hunter green velvet dress is just what you need for your baby. It looks nice AND can handle her excited play when she opens her new gifts. Top it off with this sweet cardigan.
#2) For the Toddler: This emerald tiered plaid dress is the perfect blend of traditional and unique. Add a bow headband, and your girl will look cuter than Cindy Lou Who. (Oh, who am I kidding? She doesn't need a headband to do that.)
#3) For the Preschooler: This lace dress will provide a great pop of color in a sea of red in your family photo. These metallic bow flats will go great with the dress, and—bonus—they will match just about anything for the rest of the season!
If you haven't gotten those family Christmas photos taken care of yet, never fear! Check out Katie's helpful article for some tips on getting awesome family Christmas photos.
Ebenezer Scrooge's
Royally Radiant Christmas Dresses
If I was skeptical about the Grinch, I was downright opposed to Scrooge. Not only is he grumpy, but he's also 175 years old. I wondered how he could possibly be well-attuned to current Christmas fashion.
But Santa knows best, so I trusted his judgment. And I'm so glad I did! Hailing from London itself, Scrooge surprised me with these beauties that are fit for royalty! I can just picture princess Charlotte wearing these at all the royal balls this season.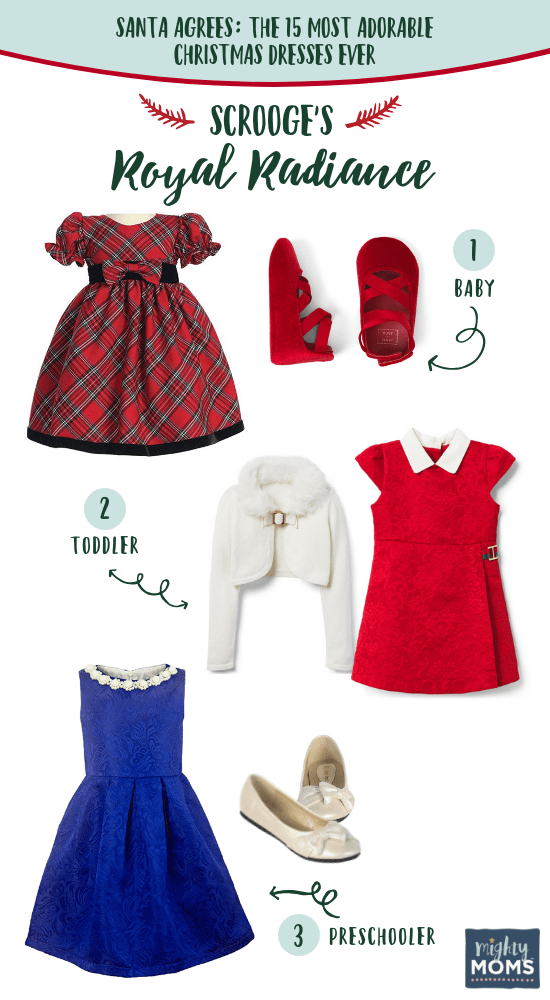 Ebenezer Scrooge's Christmas Dress Ideas
#1) For the Baby: Your baby will be the star of the show in this sweet plaid dress. Add a these velvet ballet crib shoes for a finishing touch.
#2) For the Toddler: How sweet is this?! Your toddler will be cute and classy in this subtly floral jacquard dress. And, not gonna lie, I'm in love with this cropped cardigan.
#3) For the Preschooler: It's no coincidence that this gorgeous pearl-studded dress is royal blue. Look out, princess Charlotte—there's another well-dressed beauty taking the stage! Top off the look with beautiful pearl-colored side-bow flats.
Frosty the Snowman's Frozen
Favorite Christmas Dresses for Kids
Frosty is brilliant, and here's why: The dresses he chose are winter dresses, not just Christmas dresses for kids. Which means that your little lady can wear them throughout the whole season! Excellent work, Frosty.
Frosty's Christmas Dress Ideas
#1) For the Baby: Can you picture your baby girl in this adorable party dress and white ballet crib shoes? And she could wear it again for Easter, too. (Ok, ok. I don't blame you if you want to get her something new for Easter.)
#2) For the Toddler: Featuring faux fur, ribbon, and a subtle shimmer, this metallic dress and matching jacquard purse are just perfect.
#3) For the Preschooler: This pleated metallic dress is so sweet, it's sure to melt even Professor Hinkle's cold heart. And the faux fur jacket will match more than just this dress, too!
Buddy the Elf's Classic
Christmas Dresses for Kids
Buddy the Elf is obviously not a cotton-headed ninny-muggins when it comes to children's fashion. Even he knows that the best way to spread Christmas cheer is singing loud for all to hear putting your little girl in a beautiful dress. He specially selected these gorgeous Christmas classics to finish off our collection.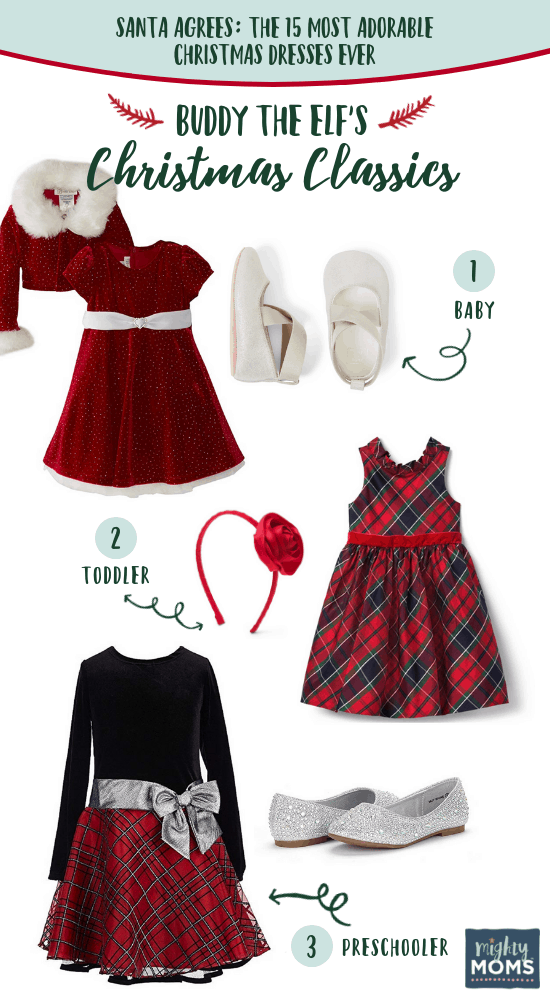 Buddy's Christmas Dress Ideas
#1) For the Baby: This velvet sparkle dress is about as classic as they get. But it's these shimmer ballet crib shoes that really get me! Please tell me I'm not the only one who has a serious weakness for tiny baby shoes.
#2) For the Toddler: You know what everyone will say when they see your sweet girl in this dress? "You have such a pretty plaid dress. You should be on a Christmas card." And she'll feel so lovely with her rosette headband, too!
#3) For the Preschooler: In this affordable velvet glitter dress and silver sparkle flats, your toddler will look more adorable than Jovie. And everyone knows it's not easy to look cuter than Zooey Deschanel AND stay within your budget.
Want some more ideas from Buddy? Check out 10 Baby Christmas Games Approved by Buddy the Elf.
He's Making a List,
You're Checking the Boxes
There you have it, friends: The Official Santa-Approved List of the 15 Most Adorable Christmas Dresses for Kids Ever.
All that's left for you to do is to pick one of these fifteen dresses and get it for your little girl. Which is much easier (and faster) than scouring the entire Internet to find the most adorable Christmas dress out there—amiright, ladies?
That's one more thing you can check off your list.
Now, kick back, make some hot chocolate, pick up a book, give yourself an uplifting Christmas gift or two, and thank Santa and his Pals for saving you so much time on your dress-shopping endeavors.
Have You Read These Yet?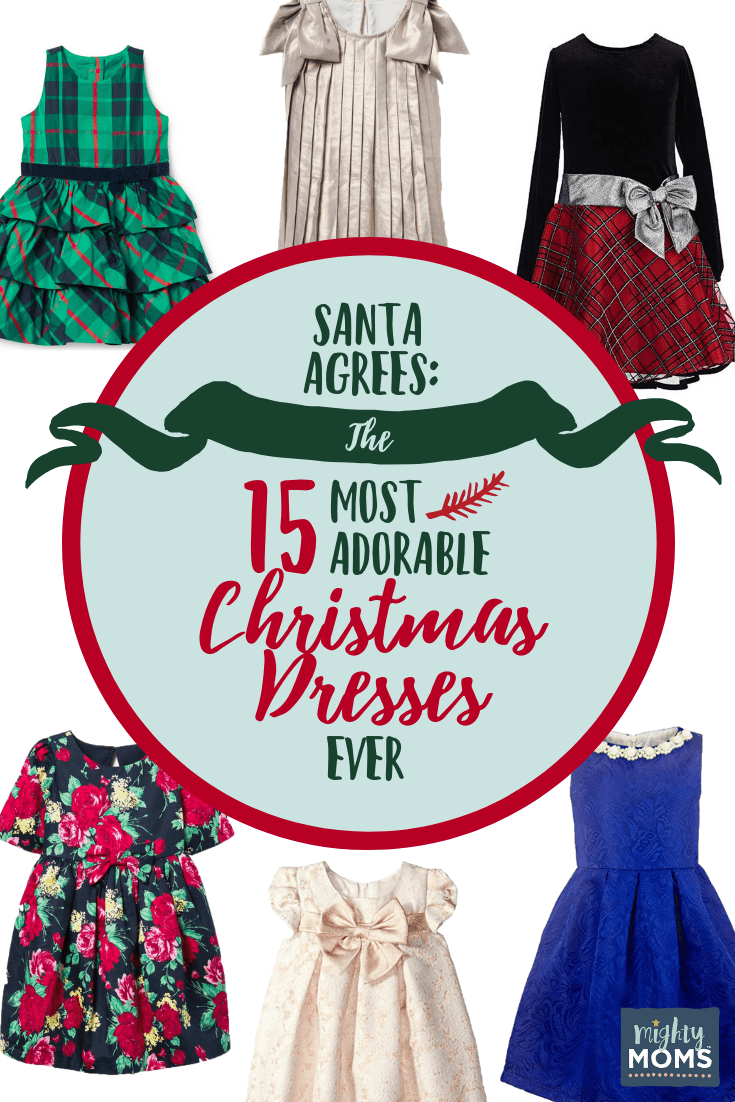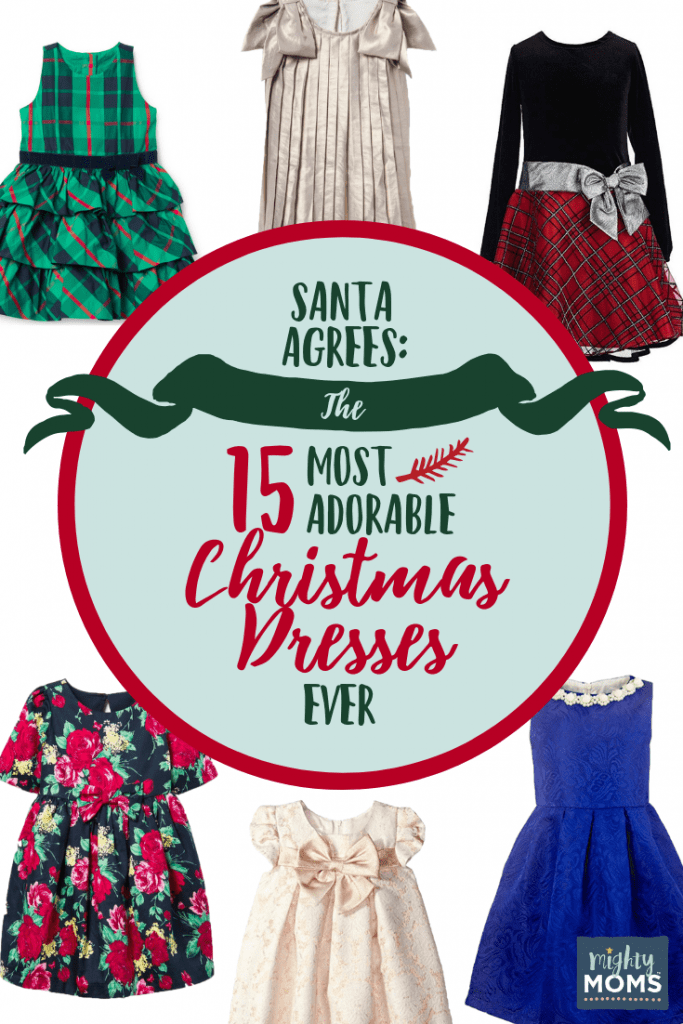 We ♥  honesty!  This post contains affiliate links that provide extra money for our mutual coffee habits addictions. Click here to learn more. As an Amazon Associate I earn from qualifying purchases.