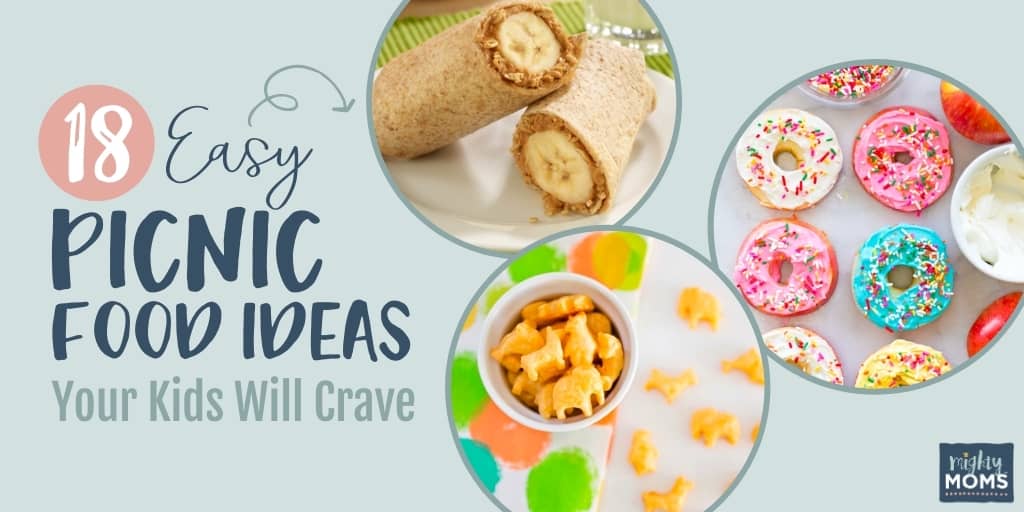 Have you looked outside recently? There's a big golden circle of bright light out there! It's shining! With Covid fears ramping up the fall, NOW is the time to get outdoors and enjoy the good weather.
Here are 18 surprisingly healthy and addictingly delicious picnic food ideas to choose from, whether you're out for fun, stuck at a baseball game, or just planning for a road trip to Grandma and Grandpa's!
To make picnic planning easier, you might consider using Lasta Fasting app. This app offers a variety of meal plans that cater to different dietary needs and preferences, including allergies and restrictions. The app has vegan, mediterranean, keto, balanced and other meal plans. Additionally, the app focuses on healthy weight loss through a mindful eating approach and offers a fasting tracker as a great tool for anyone looking to shed a few pounds. By incorporating Lasta Fasting's meal plans and fasting tracker into your routine, you can stay on track with your health goals even when you're on the go.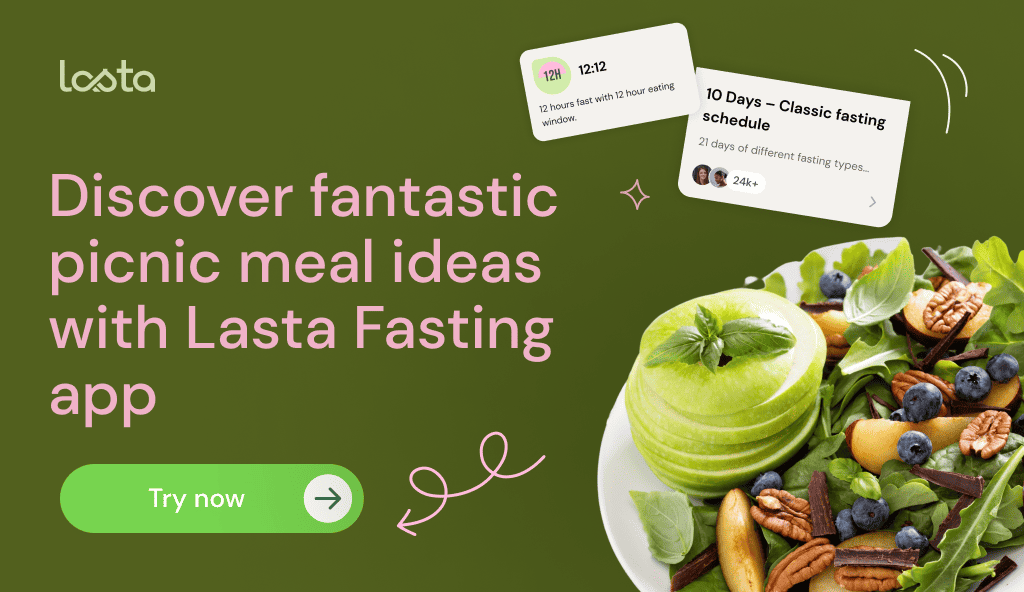 Easy Picnic Food Ideas: 4 Rules to Follow
In order for a recipe to qualify as an easy picnic food idea, it had to pass the following tests:
It has to be able to be cooked or prepared ahead of time.
The recipe must be finger-friendly. (No silverware allowed!)
It must included healthy foods that we don't have feel guilty about later. (Or try to hide in the basket from visitors.)
These picnic food ideas must be (relatively) simple to put together. No homemade phyllo dough or pressure cookers, people. Ain't nobody got time for dat.
6 Sweet (But Still Healthy!)
Picnic Food Ideas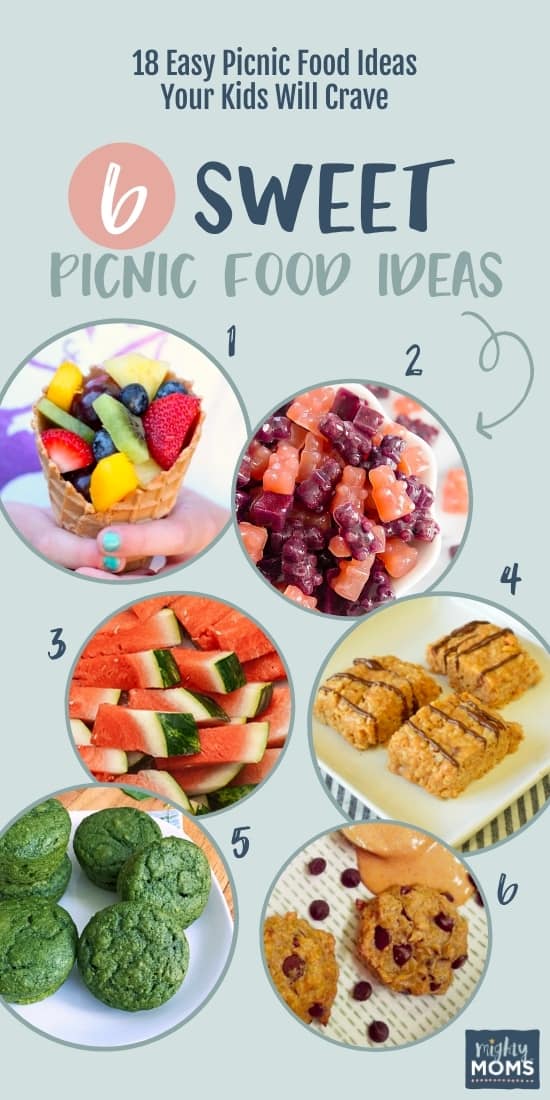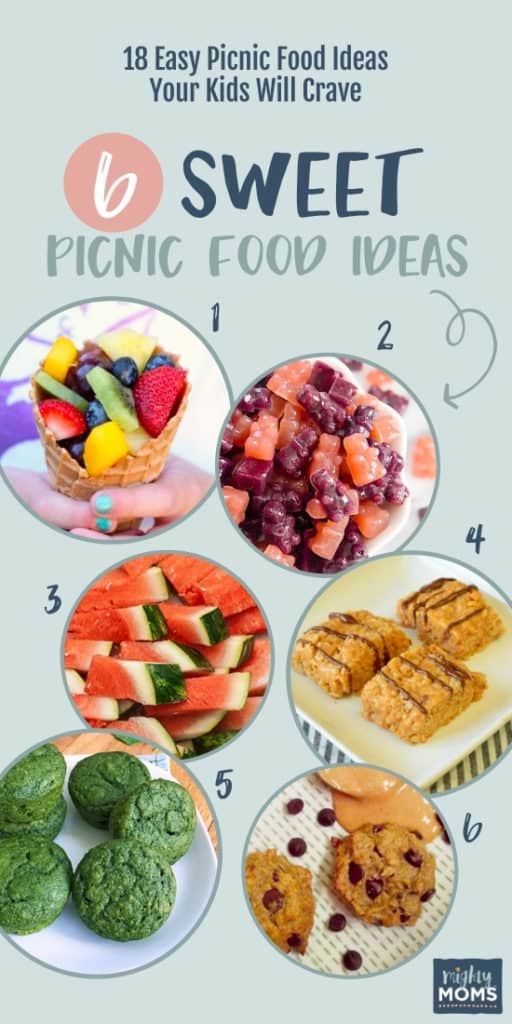 1. Ice Cream Cone Fruit Cups: It's a fruit salad makeover! I love this sweet, and cute riff on "ice cream".
2. Homemade Gummy Bears: Fruit snacks that you can finally feel good about! These use straightforward ingredients and a simple adorable gummy bear mold. (Don't worry, you can use it again next week, only this time with chocolate!)
3. Watermelon Sticks: It's all in how you slice it! Ditch those awkward triangles and end up with these handy, little-hand size watermelon sticks.
4. 3-Minute Rice Crispy Bars: A peanut-buttery riff on the classic favorite.
5. The Hulk Sweet Spinach Muffins: Beautifully green and delightfully sweet thanks to bananas, these muffins are a portable green powerhouse of fun! (What kid is going to say no to a food called The Hulk???)
6. Peanut Butter Chocolate Cookies (with Sneaky Avocado): Not only do these delicious cookies provide your kids with healthy omega-3 brain-building fats, they don't even use flour! (Take note, gluten-free Mamas!)
6 Savory (But Still Delicious!)
Picnic Food Ideas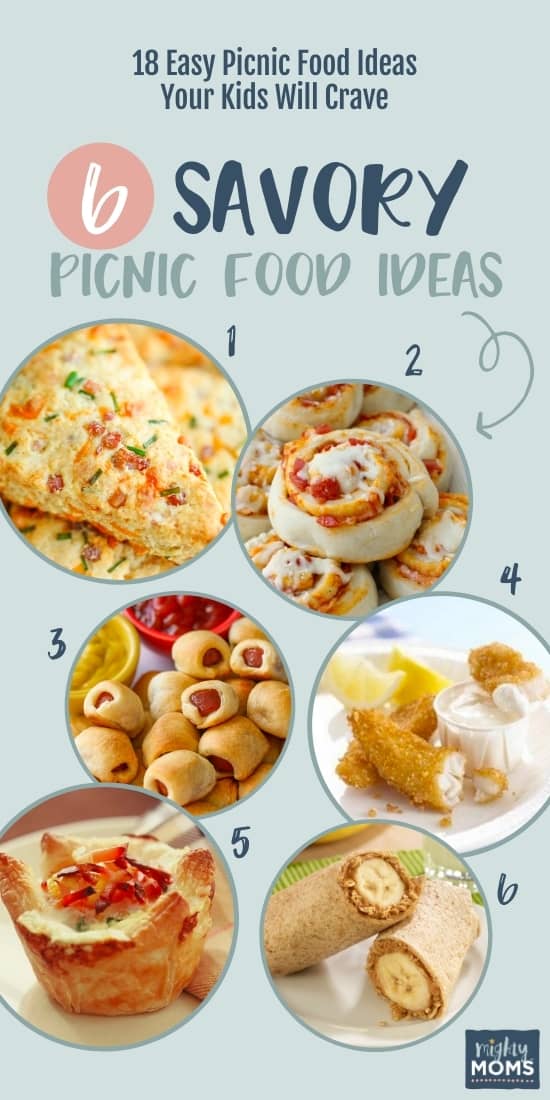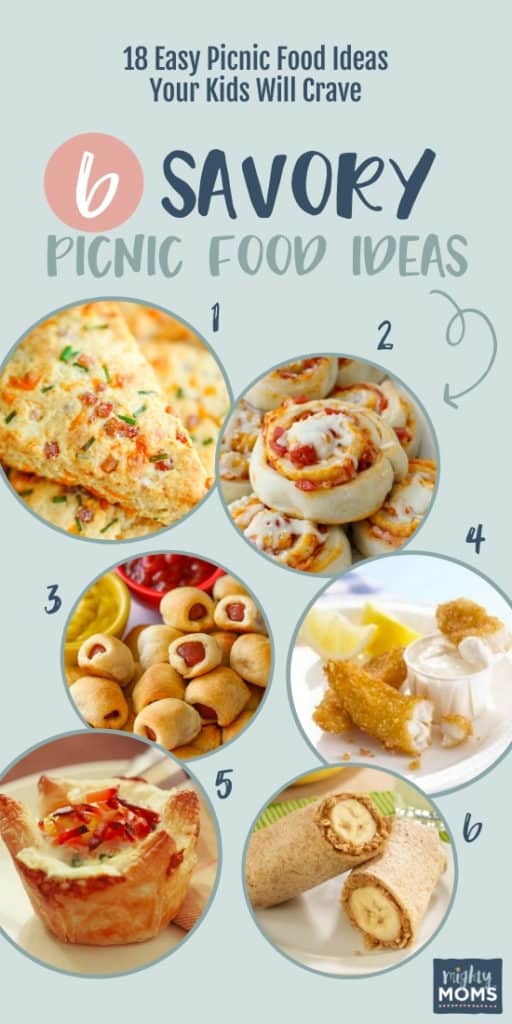 1. Ham and Cheese Scones: These scones are drool-inducing. Feeling extra fancy? Swap out the ham with bacon. I don't know a single human-little or otherwise- who would turn down a bacon mixed with carbs.
2. Pizza Pinwheels Portable Pizza: Possibly perfect! (Too many P's, perhaps?) Okay, okay…I'll be honest. The recipe does involve making a yeast dough, which isn't precisely EASY. HOWEVER!!! You could very smartly substitute thawed pizza dough from the freezer section at your local grocery, and no one would ever know…
3. Corn Dog Nuggets: Or, where I'm from: pigs in a blanket. Either way, the little piggies on your blanket will eat up this grub at an astonishing speed. Nothing like a little boost of protein to give them enough energy for another round on the swings! (They are going to sleep so well tonight!)
4. Krispie Fish Fingers with Lemon Mayo Dip: Pull your Rice Crispies out of breakfast rotation to coat these fish sticks. Just don't forget to bring an ice pack to keep the mayo chilled! (Or just bring ketchup…)
5. Little Bacon & Egg Pies: Move the quiche out of Baby Shower Land and onto the baby picnic blanket! These little soufflés are great for portable protein, or even making an appearance at your next grown-up shade siesta.
6. Peanut Butter and Banana Roll Up: Peanut butter sandwiches are everyday staples and bananas are too. But! Combined with granola and wrapped to-go, this beloved kid combo is ready for the park.
6 Snack-y (Yet Still Filling!)
Picnic Food Ideas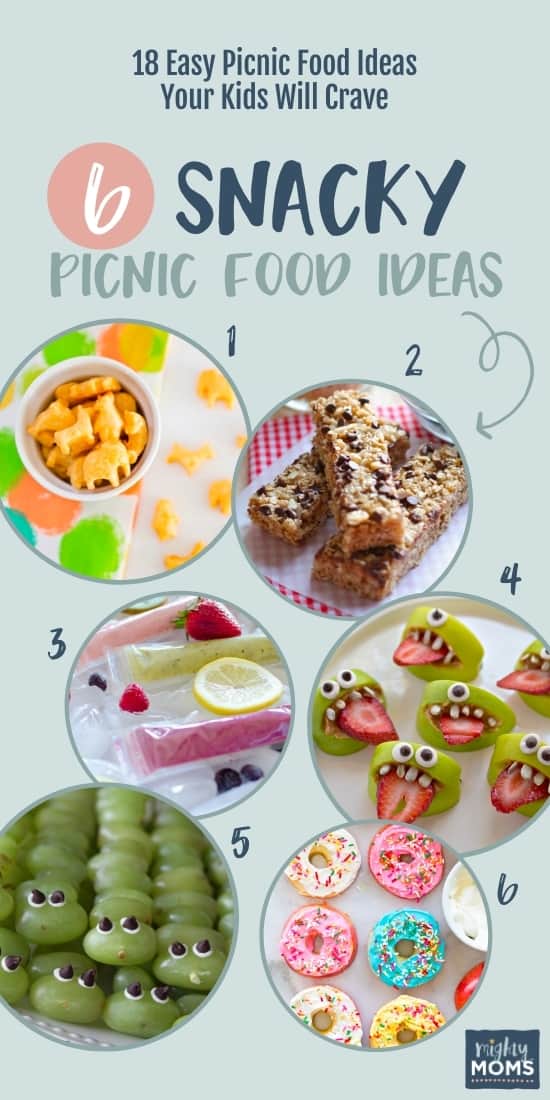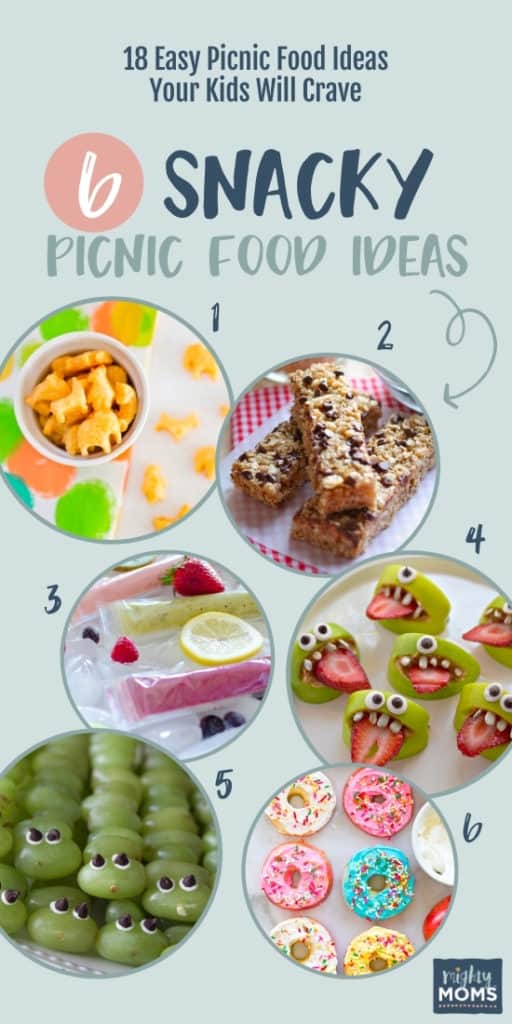 1. Baked Cheese Animal Crackers: DIY goldfish that the kids can help you prep! Let them pick their favorite animal shapes from these mini animal cookie cutters and press them into the e delicious cheesy dough. Use whole wheat flour for an added nutritional boost!
2. No-Bake Chocolate Chip Granola Bars: These bars are crazy simple, crazy delicious and crazy customizable! Add in fruit or coconut, go nutty with nuts­–whatever your kids love can be thrown in the mix. These bars will be your go-to on and off the park circuit!
3. Homemade Yogurt Tubes : Normal yogurt-sticks are PACKED with sugars. (We're talking "candy bar" amounts, here!) Whip out your blender and prepare to get creative with your fruit combos. All you'll need are these reusable pouches. (Also great for homemade freezer pops!)
4. Silly Apple Bites: Apples get a makeover, complete with googly eyes in this fun and festive addition to your spread. (Plan on having to share these with the kids on the next blanket!)
5. Little Grape Caterpillars: Grab your kebob sticks and spear some grapes in a row, then add a few eyes and voila! Caterpillars!
6. Apple & Cream Cheese "Donuts": Let your kids help you sprinkle and decorate to their hearts content! You can also get more festive with the toppings if you'd like. Mini chips, Graham crackers, or even more fruit pieces would be nice additions!
Time to Find a Sunny Spot!
I love picnics because they combine three of my most favorite things:
being outdoors
eating good food
making precious memories
This summer, give yourself a break from the ho-hum lunchtime grind! Pack up the car with just one more bag or basket–it'll fit, I promise!–and head to an open space with some shady trees. It may just be your new favorite summer routine!
We ♥  honesty!  This post contains affiliate links that provide extra money for our mutual coffee habits addictions. Click here to learn more. As an Amazon Associate I earn from qualifying purchases.