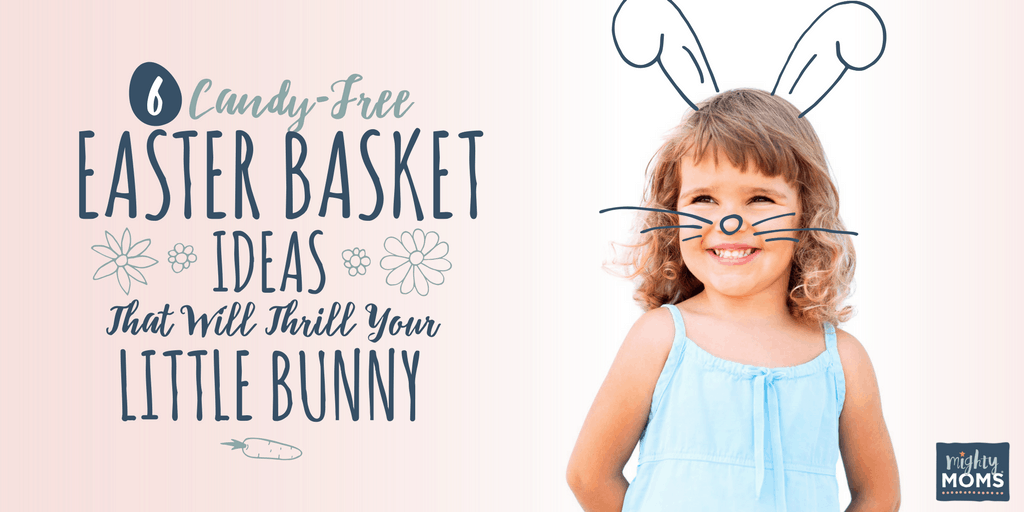 It's not hard to spot the signs of Easter anywhere you go: Adorable outfits, brightly colored eggs, springtastic decorations, and all that candy.
Aackk!
Is anybody else picturing your precious angel bouncing off the walls, all hopped up on food coloring and high-fructose corn syrup? Easter is sweet enough without sending your little Thumper into a sugar-high!
Fear not! There's no need to hunt high and low for that elusive "good egg" because I've gathered 6 egg-ceptional candy-free gift categories below. Now all you have to do is drop your favorites in your Easter basket.
Starting with Your
Perfect Easter Basket
Some like it cutesy, some not so much. Whether your little bunny is all about pink or would rather have an Easter basket strong enough to withstand a bit of rough-and-tumble, there's definitely a sweet container here for you!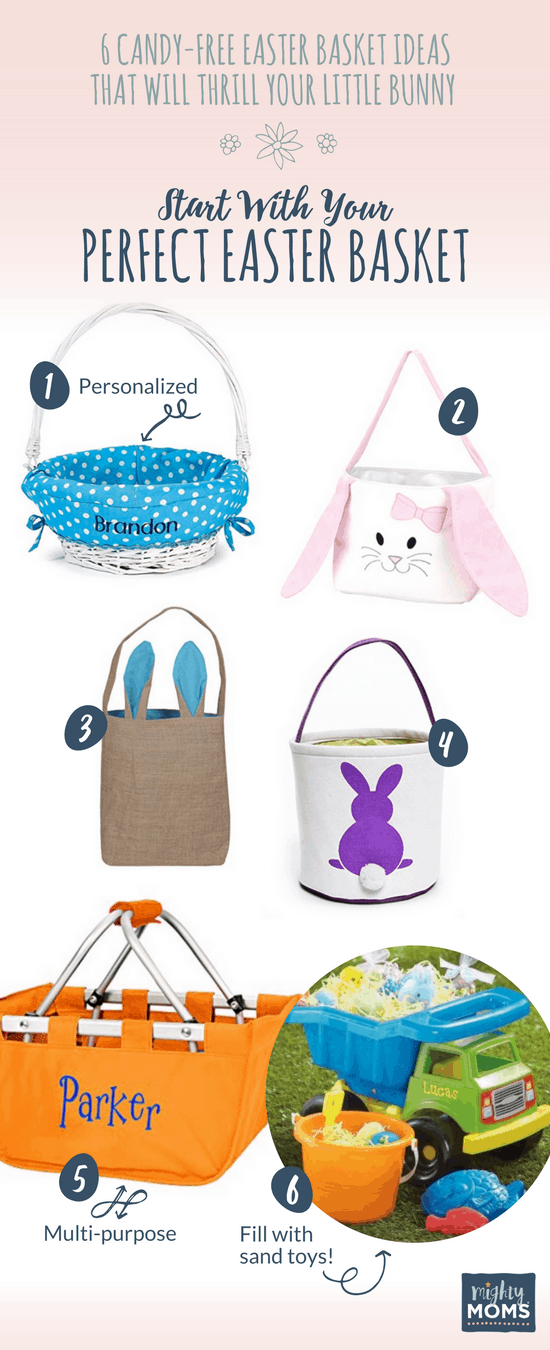 6 Perfect Easter Baskets
1. Embroidered Wicker Basket | 2. Mr. Hoppy Round
3. Burlap Eared Bag | 4. Fabric Bunny Bag
5. Multipurpose Basket | 6. Easter Truck (with sand toys)
You can also go no fuss-no muss with something like one of these simple colorful plastic options or a collapsible sand pail. As a bonus, both of these options can provide you with fun year-round.
Now all you need is some Easter grass and cellophane, and you'll be ready to fill this basket up. And speaking of filling…here are six different candy-free ideas for you to pile inside.
Candy-Free Easter Basket Ideas #1:
An Adorable Lovey
A fuzzy, floppy friend is a must for any basket, and these beloved Jellycat animals are eggstra-special treasures. Your little Cottontail will cherish them right out of the box—err, basket.
Besides, did you know that loveys can be a huge help in teaching your children how to sleep through the night? Learn the power of the lovey.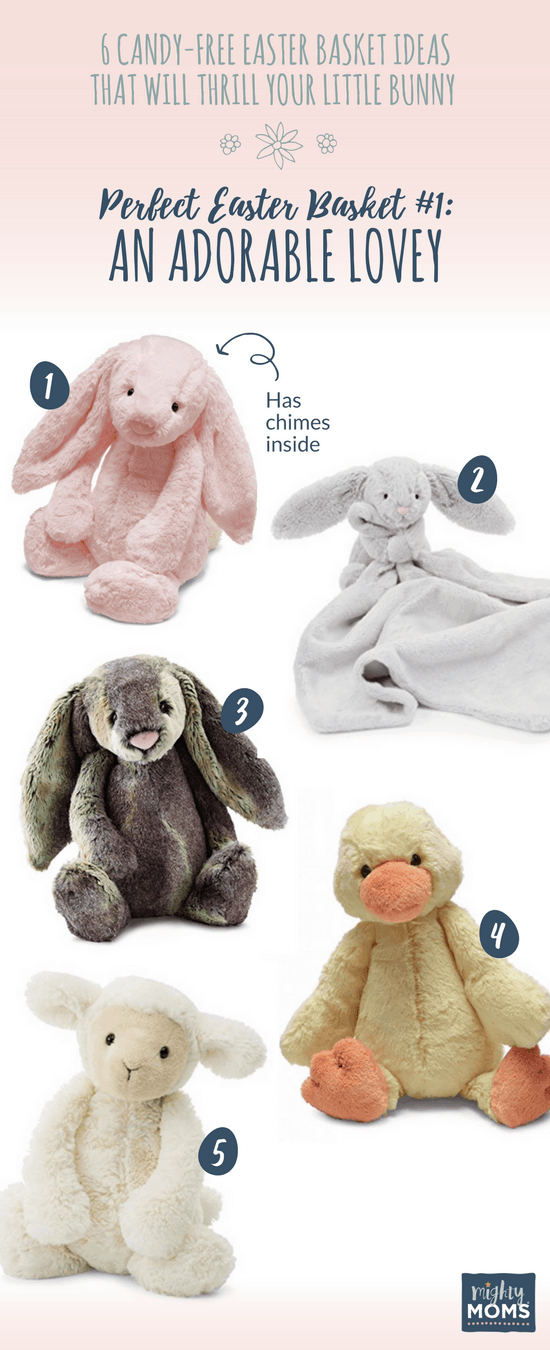 5 Cuddable Adorable Lovey Ideas
1. Pink Bunny with Chimes | 2. Bunny and Blanket Soother
3. Large Woodland Bunny | 4. Bashful Yellow Duckling
5. Bashful Lamb
Candy-Free Easter Basket Ideas #2:
A Book for Cuddles
Easter is always a good sp-egg-tacular time to gift a book.
Whether he's four-weeks-old or four-years, reading with your little hunny-bunny will help him grow more confident emotionally and intellectually. So why not slip one of these favorite Easter titles inside? Then tuck the book away when Easter is over, adding to your collection. Your kids will be thrilled to "rediscover" their favorite Easter books every year.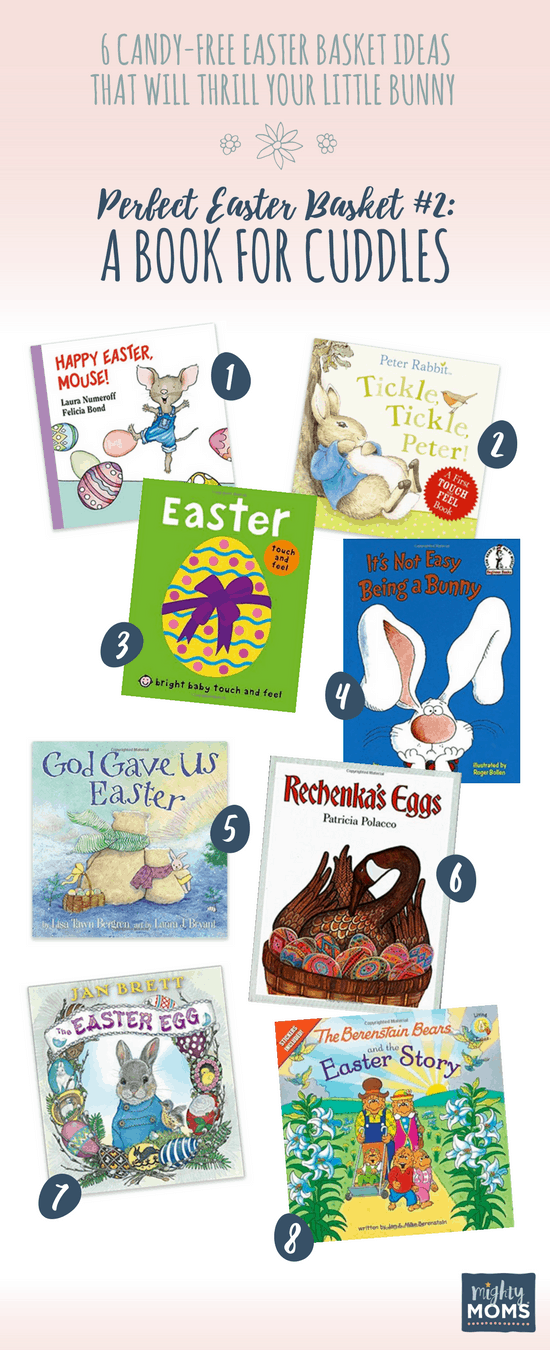 8 Easter Books Your Kids Will Love
Candy-Free Easter Basket Ideas #3:
Family Movie Night
After all the "hoppenings"—food, family, and fun—I'm betting you and your chick are ready for the sweet egg-scape of a movie. Luckily, there are some great, family-friendly Easter ones for you to choose from.
Dump all the pillows in the living room, pop the popcorn, and get snuggly with these special holiday movies!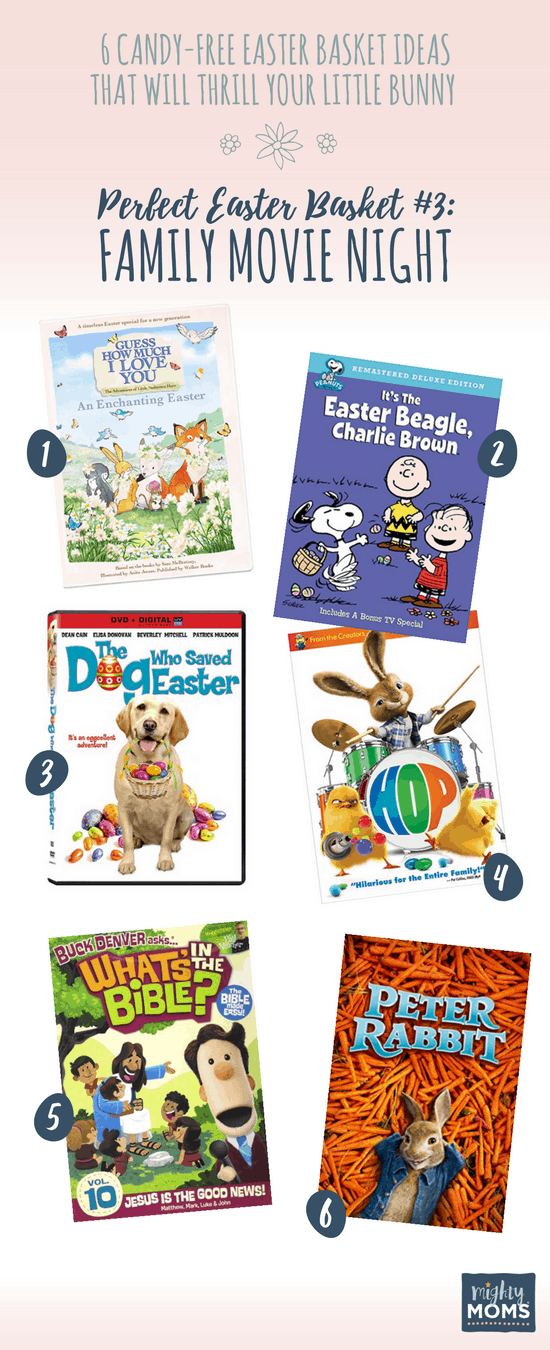 6 Family Movies Perfect for Easter
Guess How Much I Love You, an Enchanted Easter—Yep, it's based on the much-loved book, and it's free to stream if you have Prime!
It's the Easter Beagle, Charlie Brown!—A classic!
The Dog Who Saved Easter—Wholesome, funny, and an adorable dog. What more needs to be said?
Hop—The craziest Easter Bunny you've ever seen! (From the guys who made Despicable Me.)
Buck Denver Asks, What's in the Bible—A fun religious cartoon for your preschooler
Peter Rabbit—It's in theaters now, but you can preorder your own copy.
Candy-Free Easter Basket Ideas #4:
Artistic Inspiration
Easter is all about color. Colored dresses, colored eggs, and celebrating the fresh colors outdoors.
So, it's no Easter surprise that the perfect basket would encourage your little Mopsy to color her own masterpiece. With this selection, you can find the perfect-aged books and crayons for anybunny in your house.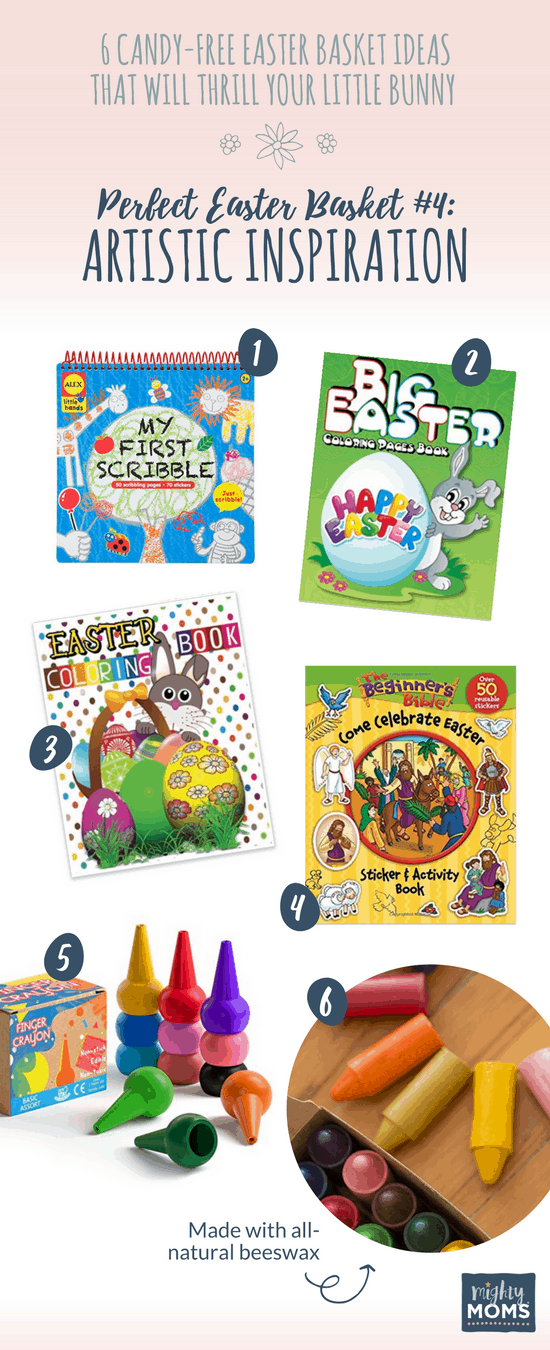 6 Creative Tools to Hide in the Easter Basket
1. My First Scribble Coloring Book | 2. Big Easter Coloring Book
3. Easter Eggs Jumbo Coloring Book | 4. Come Celebrate Easter
5. Palm-Grip Crayons for Babies | 6. Honeysticks Beeswax Crayons
Candy-Free Easter Basket Ideas #5:
Candy-Free "Eggs"
What would Easter be without that scramble for eggs? Even here, though, no need for the sugary-stuff. Check out these delightful treats that are guaranteed cavity-free!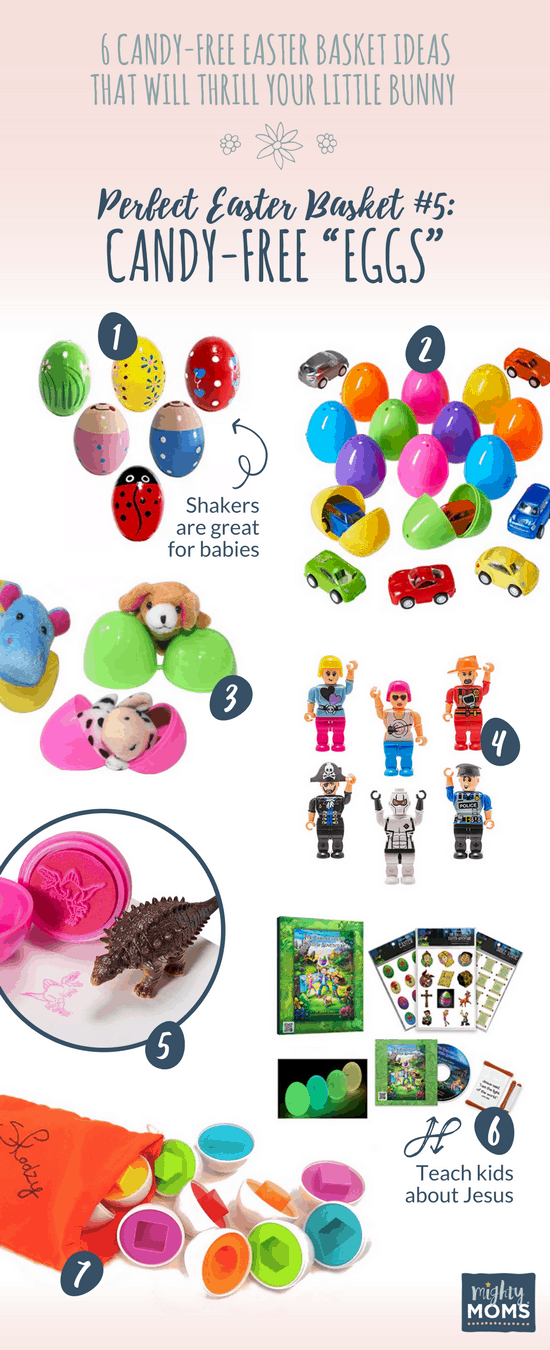 7 Toys & Games for Easter
1. Wooden Easter Egg percussion shakers | 2. Toy Car Easter Eggs
3. Finger Puppets | 4. MiniFigs (Preschool Rabbits Only)
5. Dinosaurs (Preschool Rabbits Only)
6. Glow-in-the-Dark Eggs with Scripture Verse Scrolls
7. Montessori Shape Matching Eggs
Candy-Free Easter Basket Ideas #6:
Head-to-Toe Décor
Finally, Easter outfits are just glorious. You won't want to miss these heavenly possibilities!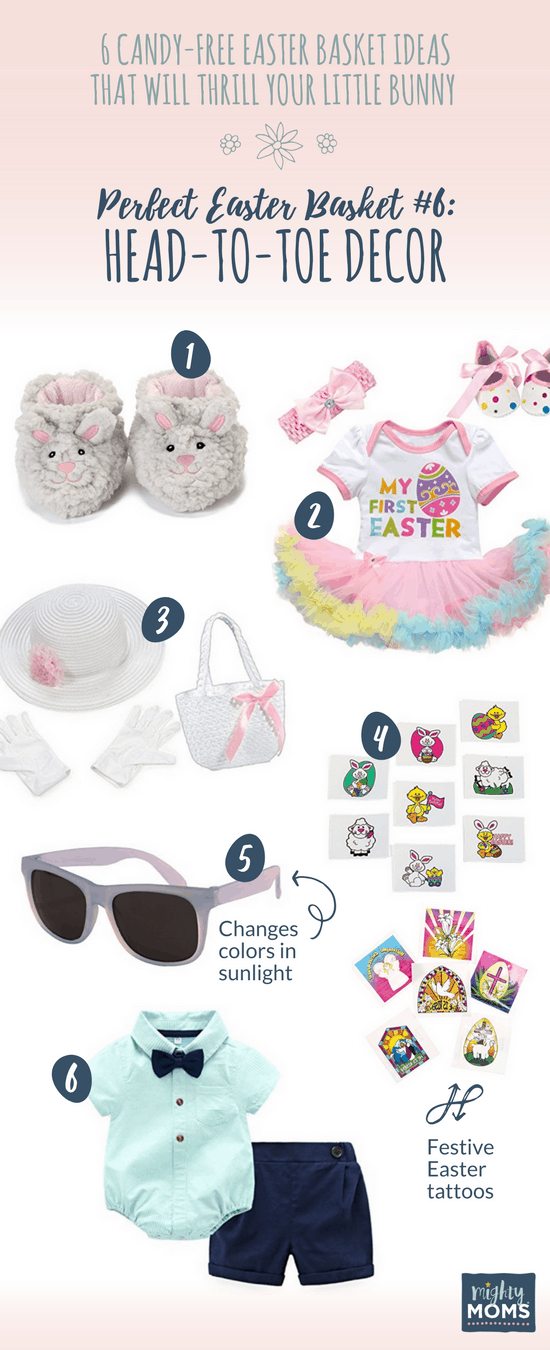 6 Precious Easter Wearables
1. Baby Sherpa Booties | 2. My First Easter Outfit
3. Easter Hat & Gloves | 4. Spring Tattoos and Religious Tattoos
5. Shatterproof Sunglasses | 6. Bowtie Baby Outfit
Want a few more options to look through? Peek at this article of Easter outfits for babies, or this post showing off toddler dresses.
SomeBunny's Gonna Be So Egg-cited!!
You did it! You've created the Picture-Perfect Easter Basket. And there's not a piece of candy in sight. These baskets will thrill your little bunny without the sugar-high on Easter Sunday—or Easter Monday's resulting crash. It can't get sweeter than that!
Your child is thrilled with these little Easter gifts that will last more than 30 seconds (and get chocolate EVERYWHERE). You will love the nap she takes this afternoon (while her cousins are all still burning off their sugar rush).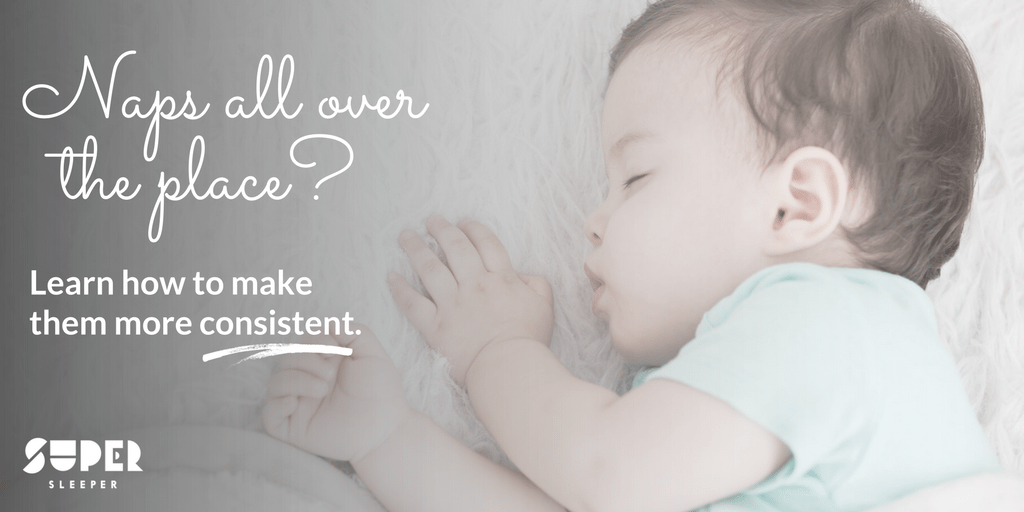 Have You Read These Yet?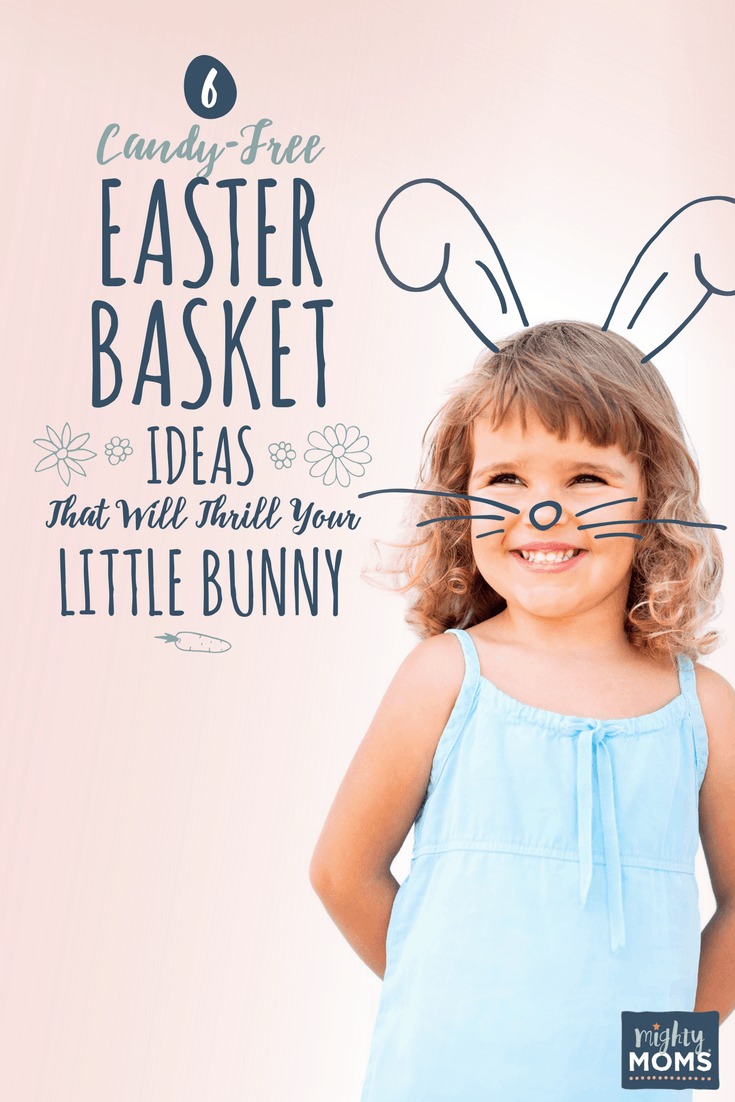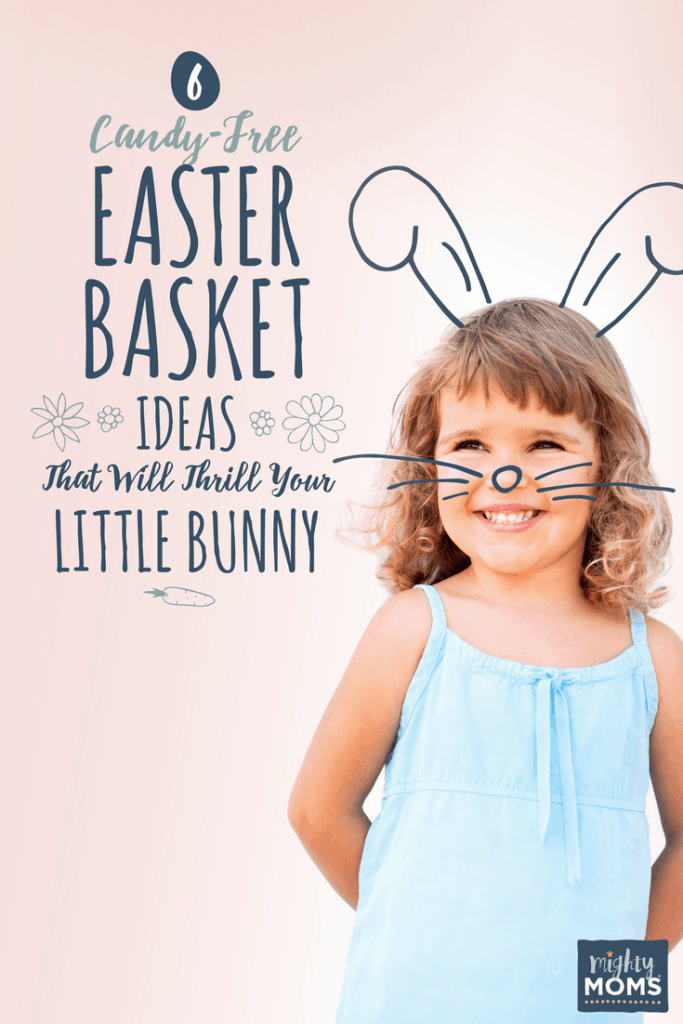 We ♥  honesty!  This post contains affiliate links that provide extra money for our mutual coffee habits addictions. Click here to learn more. As an Amazon Associate I earn from qualifying purchases.