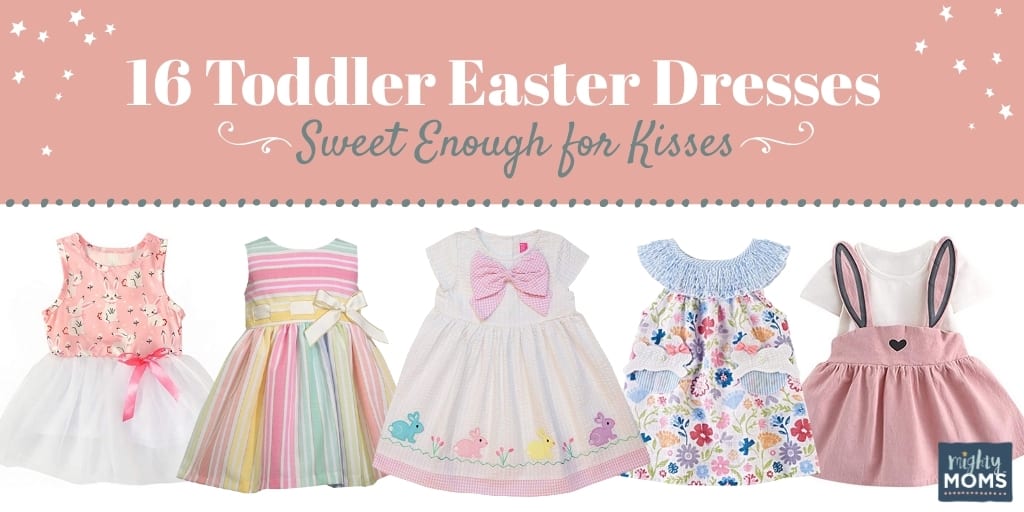 Researching toddler Easter dresses… what a difficult job I have.
Yes, friend. I have to sit here and browse through hundreds of sweet little toddler Easter dresses, and somehow narrow those down to the ten I think you will love the most.
I know, I know. Someone has to do it.
Despite all odds, I managed to identify this year's top toddler Easter dresses. So feast your eyes on the gorgeousness below, and then share it with Grandma…she may be willing to go halfsies. Especially when she realizes how adorable her little princess will be at the Easter Egg Hunt!
Happy browsing!
Okay, so I may have taken some liberties with the word "dresses". Some of these are pant sets. Living in Wisconsin, though, our Easter weather is rarely warm enough for spaghetti straps. 🙂
Toddler Easter Dresses
Bunny Hoppin'
Nothing says toddler Easter dresses like a furry rodent with twitching pink nose. Here are some sweet suggestions for your lil' bunny.

Toddler Easter Dresses
Bowed & Beautiful
There is something about a little bow that takes an ordinary dress and moves it into Preciousland. Here are my favorite toddler Easter dresses designed around the most classic of feminist style: the bow.

Toddler Easter Dresses
Fancifully Frilled
What if you need something a bit fancier than a simple sundress? What if you're looking for more of a "Southern Belle Goes to Church" for your Easter Sunday?
Here are a few ideas that won't break the budget ($20!) but still look fancy enough for that toddler Easter hat! He is Risen!

Toddler Easter Dresses
Spring Blooms
After a long hard winter like this one, it's inspiring to see some spring flowers, even if it's just on fabric. Here are some sweet designs to bring a smile to even the grumpiest of grandpas!

Time for a Heart Check
You still with me?
Or has your heart melted down to a puddle, as you contemplate your little princess parading around in one of these gorgeous toddler Easter dresses?
Yeah. Me too.
Aren't you so glad you have a daughter to dress up? In a few years, she may not be so easily influenced in her outfit choices…so seize the day and pick out a special dress YOU love for Easter while you still can.
Trust me. These moments…they are fleeting!
We ♥  honesty!  This post contains affiliate links that provide extra money for our mutual coffee habits addictions. Click here to learn more. As an Amazon Associate I earn from qualifying purchases.