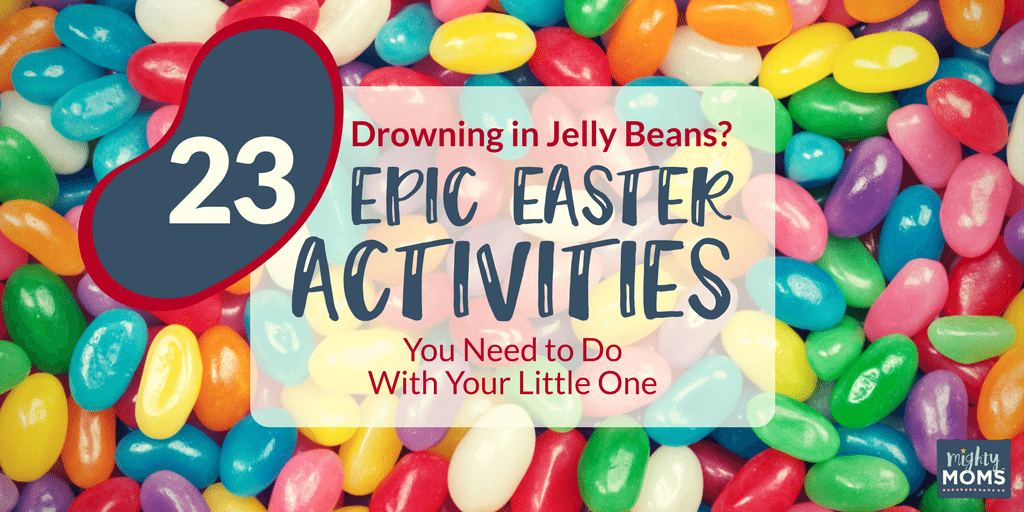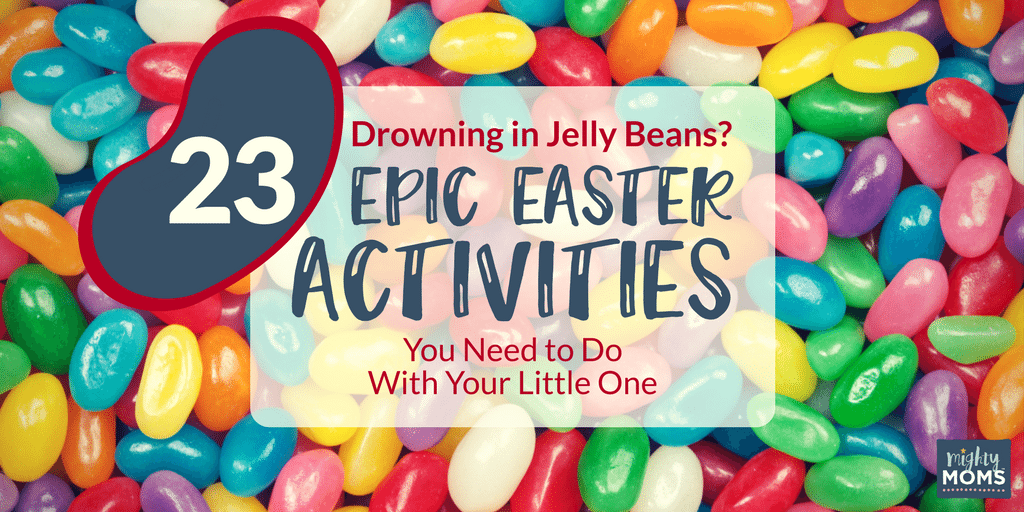 It's Easter time, and you know what that means…
You're going to be drowning in jelly beans!
Sure, you can set them out in a dish (like this fun one).
OR you can do one of these 23 epic preschool Easter activities with your little one and nab a nomination for "Mom of the Year."
Just like a jar full of jelly beans, we've got activities of every flavor for you and your munchkin to enjoy: educational, artsy, sweet and just plain silly!
Preschool Easter Activities:
Jelly Bean ABCs and 123s
Learning letters and numbers is WAY more fun when jelly beans are involved. Help your preschooler prepare for kindergarten with these sweet educational activities.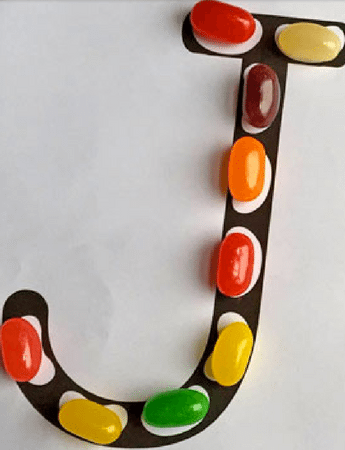 Easter Activity #1: The Tracing Game
Use jelly beans to trace numbers, shapes, and letters (you can find a free Letter J worksheet from Totschooling here). You can even write out your child's name on a large piece of paper to work on name recognition.

Easter Activity #2: Perfect Poetry
Recite this sweet little poem with your cutie pie and practice counting backwards together.
Easter Activity #3: Prayer Booklet
Christian Preschool Printables has lots of fun Easter printables, including a sweet "Jelly Bean Prayer" booklet. He'll get to color the illustrations and trace the names of colors, all while learning about the true meaning of Easter. This is one you'll want to laminate and keep forever.
Preschool Easter Activities:
Jelly Bean
 

Left-Brain Fun

These fun STEM activities are great for exercising those left-brain muscles.

Psst…STEM stands for Science, Technology, Engineering and Math in case you're like me and had no clue 😉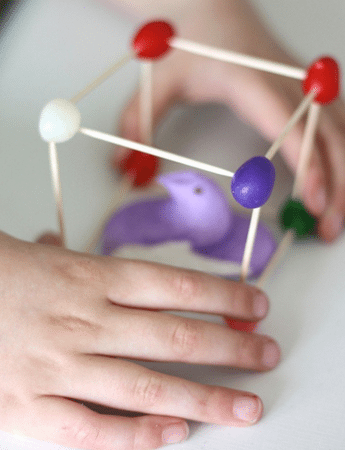 Easter Activity #4: Home Builder
Do you have a future engineer in your midst? Give her some toothpicks and jelly beans, and let her build to her heart's content. If you have some Peeps lying around, check out this fun STEM challenge from Little Bins for Little Hands.
Easter Activity #5: Color Patterns
Make a pattern using another free worksheet from the Totschooling Jelly Bean Learning Packet and encourage your child to repeat it. Recognizing patterns is a big developmental milestone. It will expand your child's mathematical mind and will also helps her to develop socially as she learns to see patterns in her daily routines.
Easter Activity #6: Sorting and Graphing
Sort jelly beans into muffin cups or an egg carton by color. Then, ask your little one to count how many beans you have in each color and practice graphing with another great printable from the Totschooling stack. We're starting to think Totschooling might have a monopoly on cute freebie jelly bean worksheets!
Preschool Easter Activities:
Explore Your Jelly Bean Senses
Your preschooler will go gaga over these sensory activities that will encourage them to explore, imagine, problem solve, and communicate.
Easter Activity #7: Sensory Bins!
Sensory bins provide hours upon hours of creative play for my boys and peace for this mama. The possibilities are endless! Invest in a plastic bin (like this one) and then fill it with various fillers, scoops and toys. Here are some ideas for an Easter-themed sensory bin:
Plastic Easter Eggs
Small stuffed bunny or chick
Plastic Easter Cookie Cutters
And of course, JELLY BEANS!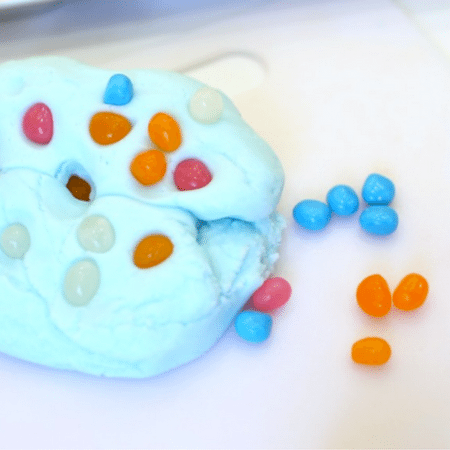 Easter Activity #8: Play Dough
Thanks to this completely edible recipe from Lemon Lime Adventures, you can combine water, powdered sugar, coconut oil, and jelly beans for some fun (and tasty) DIY jelly bean play dough.
Easter Activity #9: Blind Taste Test
Help your child make observations about jelly beans using his five senses. For added fun, blindfold him and let him guess the flavor of each bean!
If your preschooler is super adventurous, you could toss in some "interesting" flavor combinations found in the Bean Boozler game…but remember, if he has to try it…so do Mom and Dad! It's a guaranteed giggler!
Preschool Easter Activities:
Jelly Bean Arts and Crafts
Are you an artsy mama? Invite your little one to join you in doing something you love. Don't have a creative bone in your body?  Round up some friends for a special arts and crafts playdate and convince your crafty friend to head it up. Both the kids and moms are sure to have a blast!
Easter Activity #10: Watercolor Painting
Combine science and art with this jelly bean watercolor painting tutorial from Mini Monets and Mommies. Your little artist will just need paintbrushes, cups, paper and jelly beans.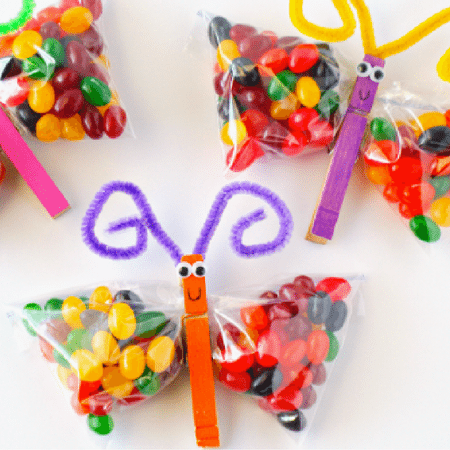 Easter Activity #11: Butterflies
These Jelly Bean butterflies from Crafty Morning would make such a sweet gift for friends or neighbors. Grab some colored clothespins, pipe cleaners, and googly eyes to get you started.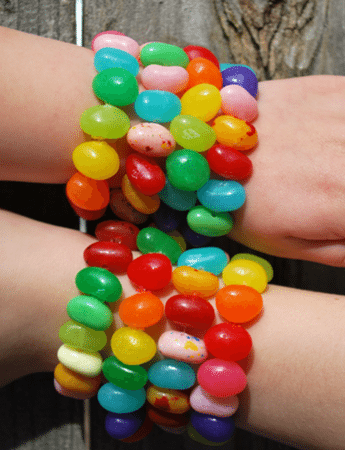 Easter Activity #12: Friendship Bracelets
Have a fashionista in the house? She'll love making these jelly bean bracelets from Artzy Creations with mommy!
Preschool Easter Activities:
Jelly Bean Stories
What better way to foster a love of reading in your preschooler than to incorporate JELLY BEANS into the stories you're reading together?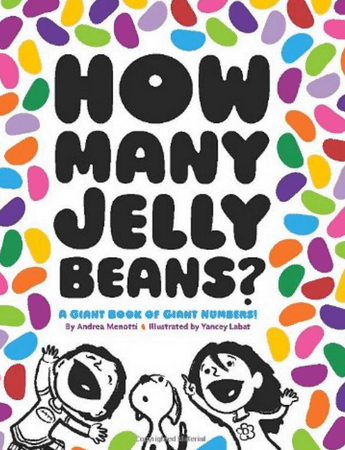 Easter Activity #13: How Many?
How Many Jelly Beans? is a jumbo-sized picture book about BIG numbers. The story follows a brother-sister duo and their sidekick pup as they try to picture large numbers.
They start out imagining ten jelly beans (have ten of your own handy for some interactive reading!) and with each turn of the page, the number of jelly beans exponentially increases. At the end of the book, you'll be in for a massive surprise–a giant fold out with one MILLION jelly beans! The New York Times calls it "ingenious," and it really is.
Easter Activity #14: The Lorax
Read The Lorax by Dr. Seuss, and teach your child about the importance of taking care of the Earth. Then rent the movie and treat yourselves to a fun snack of "Truffula Tree Seeds" from Buzzing with Ms. B. (Can you guess the main ingredient in Truffula seeds?)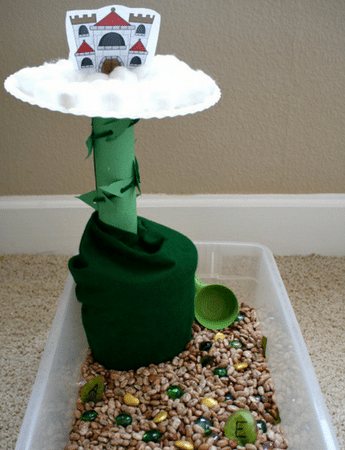 Easter Activity #15: Jack and the Beanstalk
Fee-fi-fo-fum! Introduce your child to the beloved tale of Jack and the Beanstalk. You can find all sorts of activities on Pinterest to go along with the book. I love this combo sensory + story retelling + creative play bin by Fantastic Fun and Learning. Throw all your yellow jelly beans into the bin and dub those the "magic beans."
Easter Activity #16: The Jellybean Series
Moms of girls will love The Jellybeans Series from the author of If You Give a Mouse a Cookie. In these sweet and empowering books for little girls, four friends are as different as a handful of jellybeans:
(Yes, their first initials do spell BEAN.) They embrace their differences, teaching each other about their own unique passions while supporting their friends' interests. Read it with your daughter and then ask her how she might support a friend who is different than her.
Then score extra cool mom points by letting her invite her own friends over for an afternoon jelly bean snack!
Preschool Easter Activities:
Jelly Bean Tasty Treats
Does your little one like to help you in the kitchen? Put on your (matching) aprons and make these tasty treats…together!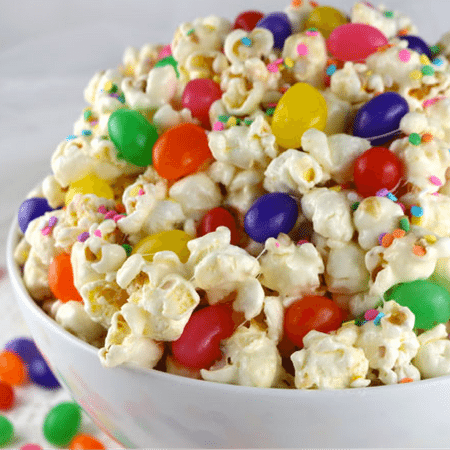 Easter Activity #17: Popcorn & a Movie
Make some yummy (and colorful!) jelly bean popcorn from Two Sisters Crafting, cuddle up with these fun popcorn bowls, and watch Hop as a family.
Easter Activity #18: Jelly Bean Bark
This jelly bean bark from A Pumpkin and A Princess is super easy to make. Melt some white chocolate (use the microwave or the double boiler method), then let your little chef help mix in colorful candy melts, spread it out on a baking sheet, and sprinkle in jelly beans.
Keep it all for yourselves or package some up in these adorable treat baskets to give away to loved ones.
Preschool Easter Activities:
Jelly Bean Games
Learning is great and all, but sometimes you just have to let down your mom bun and play with your munchkin! Have fun bonding with these jelly bean games.
Easter Activity #19: Tic Tac Toe
Print out these cute Easter Tic Tac Toe boards from So Easy Being Green and use two different color jelly beans as your X's and O's. Winner gets to eat a jelly bean!
True story: My mom always wrote "CAT" across the board when we tied because it's called a "cat's game" in tic-tac-toe apparently. Only problem? Her initials are CAT, and I resented her for years because I thought she was claiming the victory for herself. Womp womp.
Easter Activity #20: Groovy Groovin'
Fill a water bottle up with jelly beans to make a shaker, turn up the tunes, and shake your groove thang!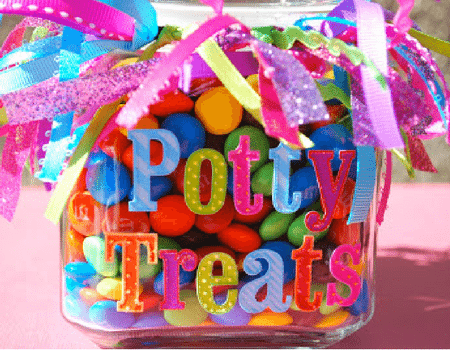 Easter Activity #21: Potty Training Rewards
Are you in the throes of potty training? Decorate a jar of "Potty Beans" as rewards (check out this fun jar from A Pumpkin and A Princess). One for trying, two for pee, and three for poo! It's a glamorous life we lead, isn't it?
Easter Activity #22: Jumpin' Jelly Beans!
Pick out five or more different colored jelly beans and put them in a bowl. Then lay out large corresponding colored circles on the floor (these rubber circles are great for this).
Pick a bean out of the bowl, ask your child to identify the color and jump on over to that color circle. A great way to burn some energy on a rainy day!
Easter Activity #23: Magic Garden
Plant a jelly bean garden. Your tot will be amazed when the "magic beans" grow into lollipops!
It's Raining Jelly Beans!
Friend, you are about to find yourself swimming in a sea of jelly beans. (Or if you're reading this at low jelly bean tide, you can pick some up here)
Instead of letting all that brightly colored sugar go to waste, why not do one of these 23 epic preschool Easter activities with your kiddo?
As a reward, treat you and your love to a jelly bean date night courtesy of The Dating Divas. Because kids can't all have the fun, right? *wink*
Which jelly bean preschool Easter activities will you try with your little one?
Other Related Articles: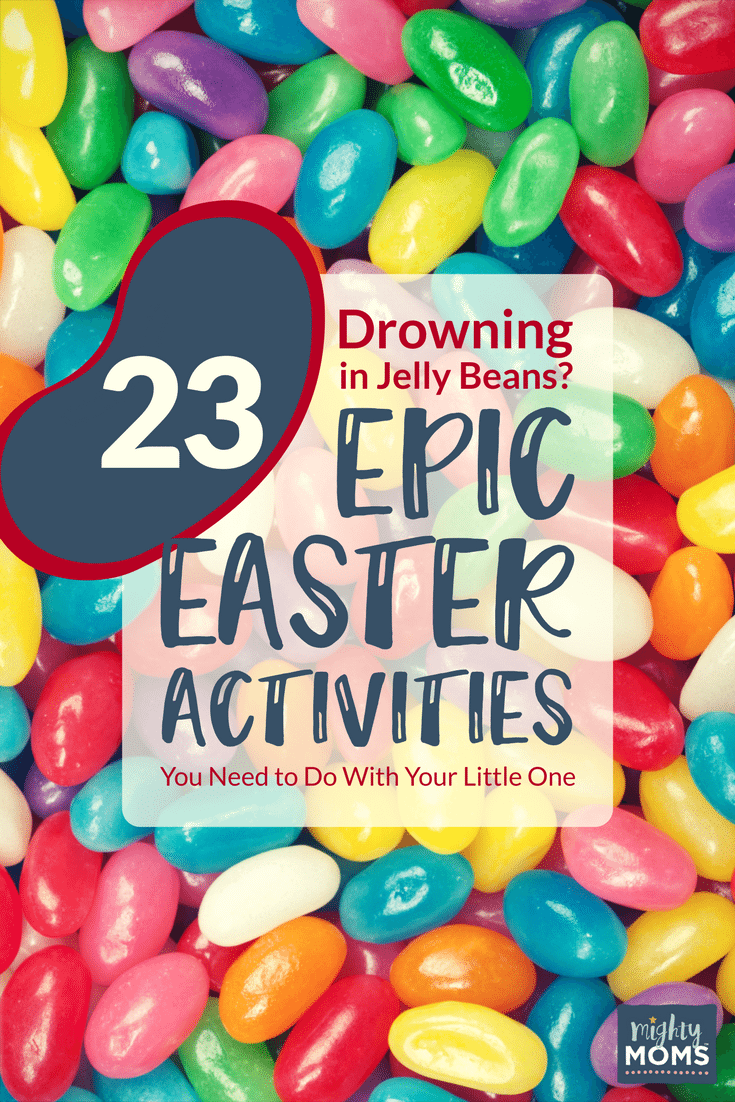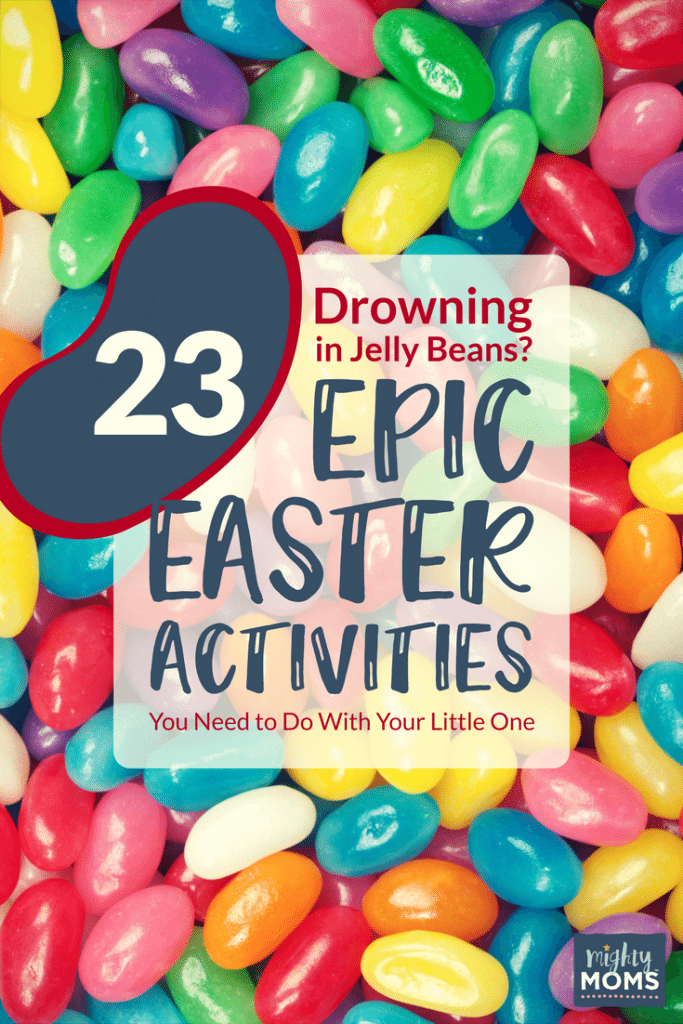 We ♥  honesty!  This post contains affiliate links that provide extra money for our mutual coffee habits addictions. Click here to learn more. As an Amazon Associate I earn from qualifying purchases.
We ♥ Citations
http://www.mathrise.com/math/how-learning-patterns-leads-to-brighter-children/