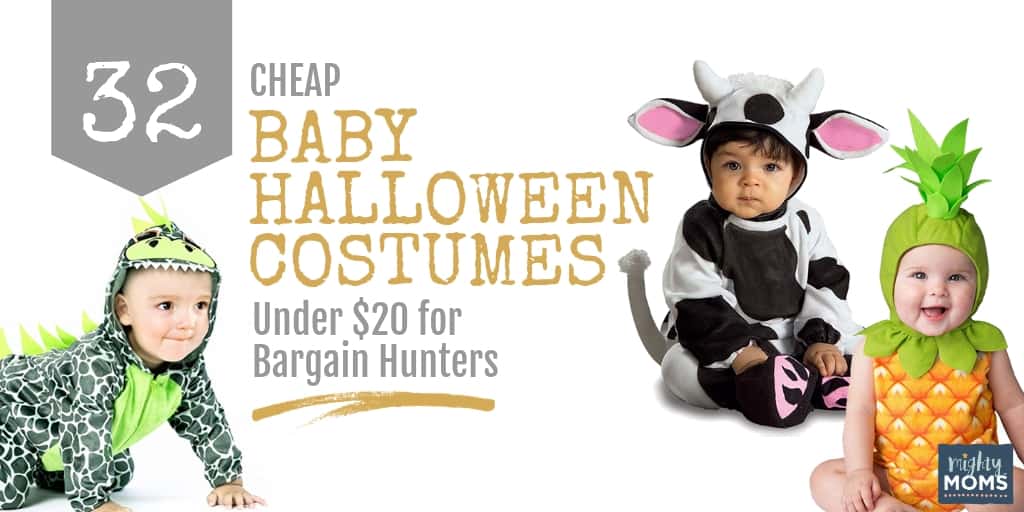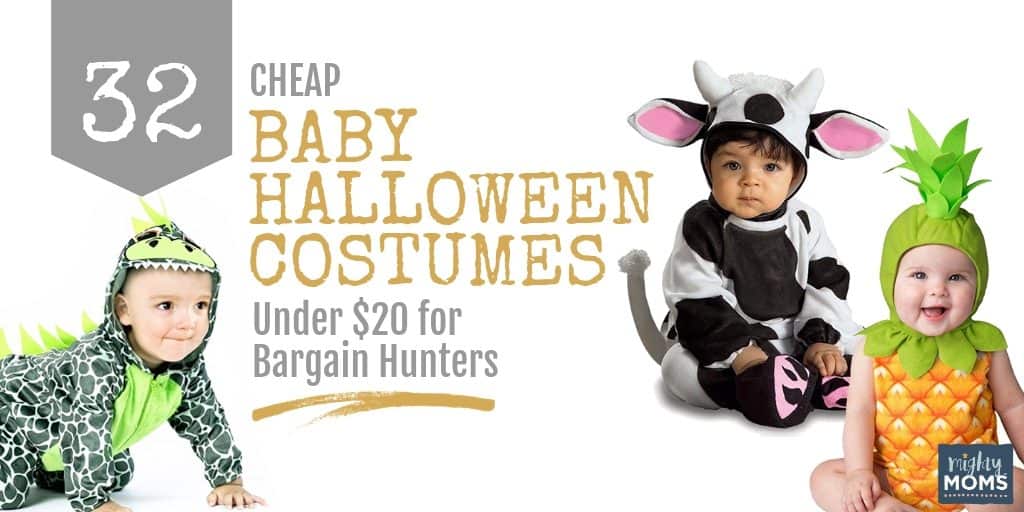 These baby Halloween costumes are not only adorable, they are CHEAP! Now you can save that money and treat yourself to a Starbucks on the way home. *wink*
Well, friend. You can have your King Sized Reese's and eat it too.
It's time to gather up a photo-worthy cheap baby costume. Today I'm offering up 32 different cash-strapped baby Halloween costumes that will maximize the delight while minimizing the dough.
What Defines "Cheap" for a Cheap Baby Costume?
Before we dive in though, I do have to offer a price disclaimer.
These were all "surprisingly cheap" when I wrote this article. This means less than $20.
I don't control anything but this website, though, so it's possible the prices have changed. It's also possible that some of these may no longer be in stock. Cheap things tend to sell fast, so act faster!
Don't forget that if you're friends with Mr. Amazon Prime, you can get FREE 2-day delivery.  Nice.
9 Surprisingly Cheap
Baby Costumes for the Farm or Zoo
As long as there is Trick or Treating, there will be adorable babies dressed up as lambs, piggies, and chicks…or perhaps a man-eating tiger. #AllTypes
But while those snooty parents are putting their $50 baby Halloween costume on their debt line, you'll be saving $30 for the next family vacation on a cheap baby costume that's just a cute. (Now who should be the snooty one? YOU! You money-saving ninja!)
8 Surprisingly Cheap Baby
Halloween Costumes in Your Garden Paradise
Break out your wheelbarrow and take your latest vegetable out for a spin around the neighborhood! These baby Halloween costumes smell perfectly ripe (too ripe?) and are so sweet you'll want to snag them up fast!
9 Surprisingly Cheap
Princess Baby Costumes
Sure you could spend $60 on this authentic Rapunzel baby halloween costume…but why shell out that kind of money when there are plenty of other gorgeous captivating princess baby Halloween costumes that will receive just as much praise and a LOT less guilt?
6 Surprisingly Cheap Baby Halloween Costumes for Boys
These sweet baby Halloween costumes provide you with plenty of options to match his natural disposition with the budget boundaries.
For those of us who are a little "rusty" with a needle and thread (and by "rusty" I mean I don't own a needle OR thread), store-bought costumes are a godsend.
Minimal effort.
Minimal cost.
More money for a post-Trick-or-Treating Pumpkin Latte! (You totally earned it.)
Have You Read These Yet?
We ♥  honesty!  This post contains affiliate links that provide extra money for our mutual coffee habits addictions. Click here to learn more. As an Amazon Associate I earn from qualifying purchases.