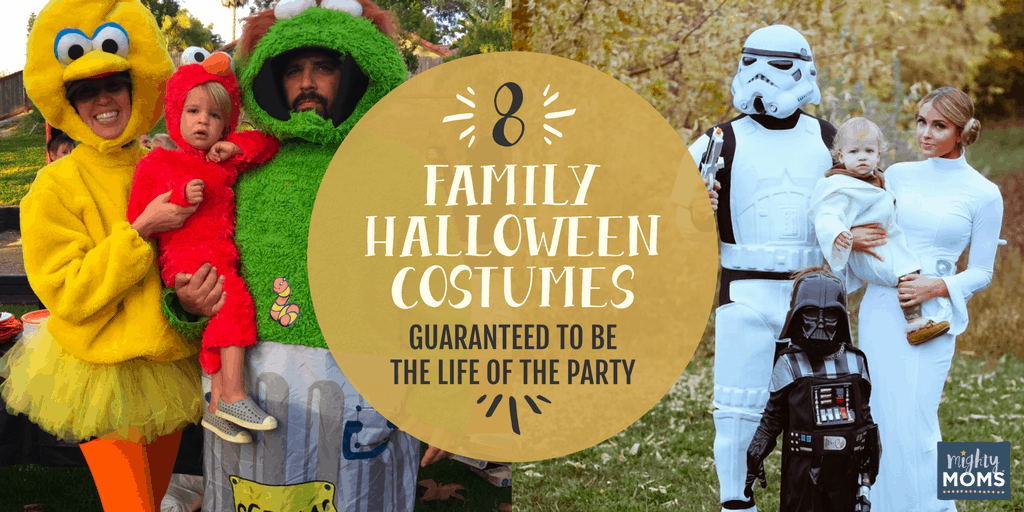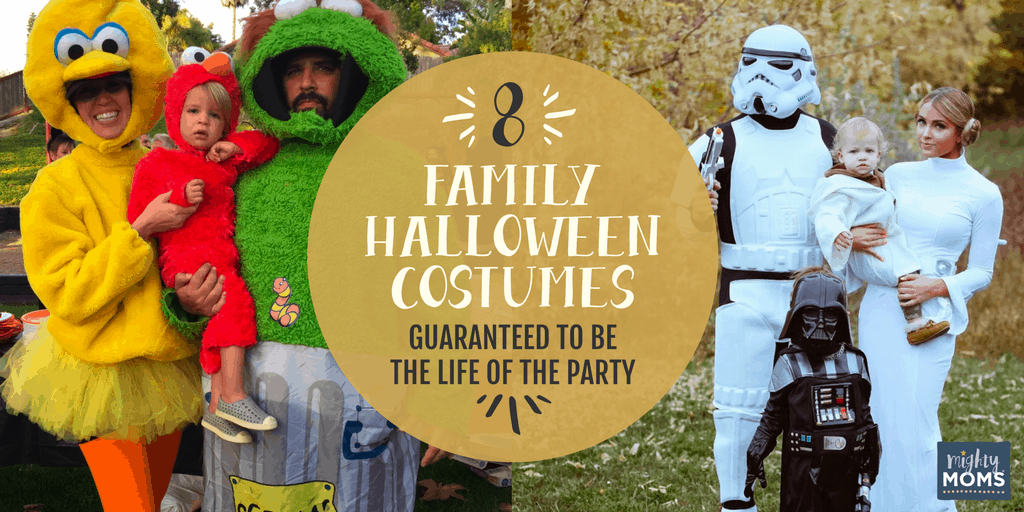 Depending on your level of creativity, the idea of family Halloween costumes probably either makes you squeal with delight or start to stress sweat.
If you're in that first category, you've probably already run to the craft closet to get your hot glue and felt. I've got to admit it, I'm JEALOUS! That creativity and drive is such a gift.
I'm guessing that most of us fall into the latter category, though. Maybe we love the idea of a perfectly executed family costume, but we're unsure of where to go with it. Maybe that "craft closet" is more like a shoebox full of dried up paint and glitter glue buried underneath a few unfinished baby books.
Well, fear not, non-crafty moms! We've got a list of family costume ideas that are not only creative, but also require pretty minimal skill to put together. Plus, there's something for everyone: From sci-fi geeks to fast food fanatics, we've got you covered.
So, let's work together and make this year stress-free. (Well, costume-related stress-free anyway. I can't guarantee good behavior from your toddler after her Halloween sugar-high wears off.)
Why Not Rent Your Family Halloween Costumes?
The hardest thing about family Halloween costumes is the money thing. It's hard to justify spending a lot of money on an adult costume. After all, when's the last time you played dress-up in your old costumes? 🙂
Yes, you could totally purchase. But you could also rent. It's less expensive! Especially since you only need it for a season anyway. The kicker, though, is you need to get your rental in early.
Halloween Costumes lets you rent for half the cost of purchasing (sometimes more). Many of these costumes below link you straight to the renting page so you can compare prices.
Happy hunting!
Family Halloween Costumes #1:
Ghostbusters
Who ya gonna call?? I just love this Ghostbusters family costume. It works great for a family of four, or, if you need more family members, just increase the number of Ghostbusters.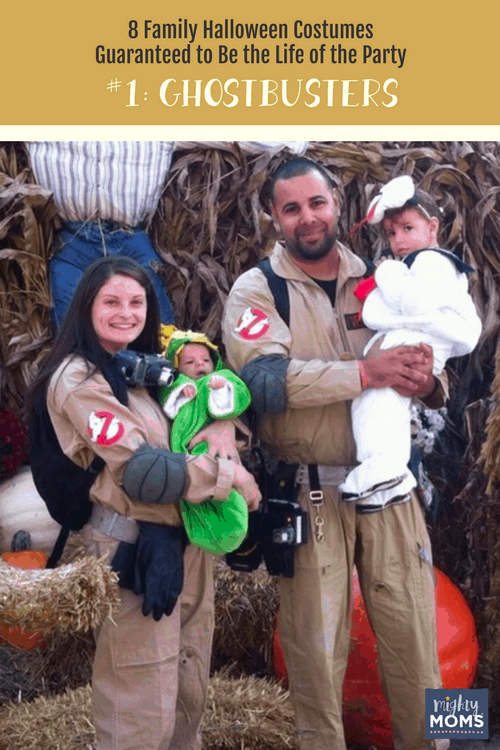 How to Build the Perfect Ghostbusters Family Costume
Parents as Ghostbusters: In order to recreate this look you'll need two adult jumpsuits complete with inflatable proton packs. Just make sure not to cross the streams.
Baby/Toddler as Slimer: Has there ever been a more appropriate baby costume than Slimer? I think not.
Older Child as Stay Puft Marshmallow Man: Recreate those cute baby rolls with this squishy costume.
Now all you have to do is stay on the lookout for something strange in your neighborhood.
Family Halloween Costumes #2:
Harry Potter
These Harry Potter costumes come straight off the Hogwarts Express. This is the perfect use for those Galleons you've been saving since Christmas!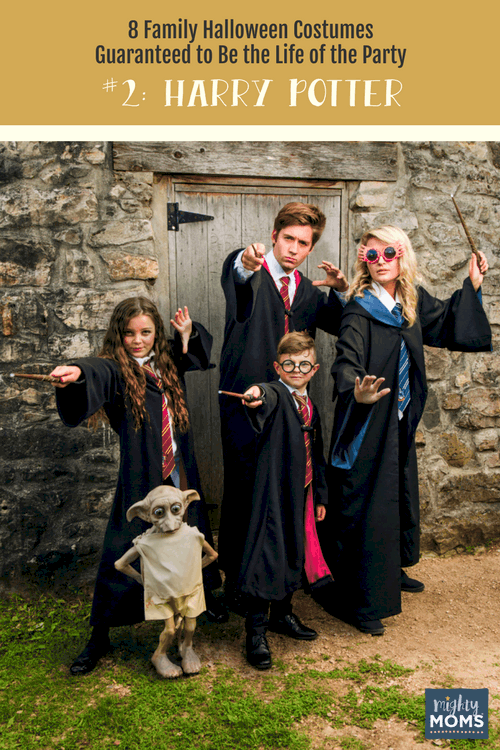 How to Build the Perfect Harry Potter Family Costume
Kids as Harry Potter and Hermione Granger: These are nearly the same, except you'll need to add glasses, a broomstick, and a lightning bolt scar for Harry.
Dad as Ron Weasley: Dad's going to have to take one for the team as the whiniest member of the trio. But hey, at least you're not making him go as Voldemort. As an added bonus with this one, jazz up those Gryffindor robes with some temporary red hair dye.
Mom as Luna Lovegood: You can secretly save the most fun costume, complete with psychedelic glasses) for yourself. 😉
Family Halloween Costumes #3:
Lions, Tigers, and Bears
You can pay subtle homage to The Wizard of Oz with this clever Lions and Tigers and Bears, Oh My! costume. It's the perfect family Halloween costume to lead you down the Yellow Brick Road!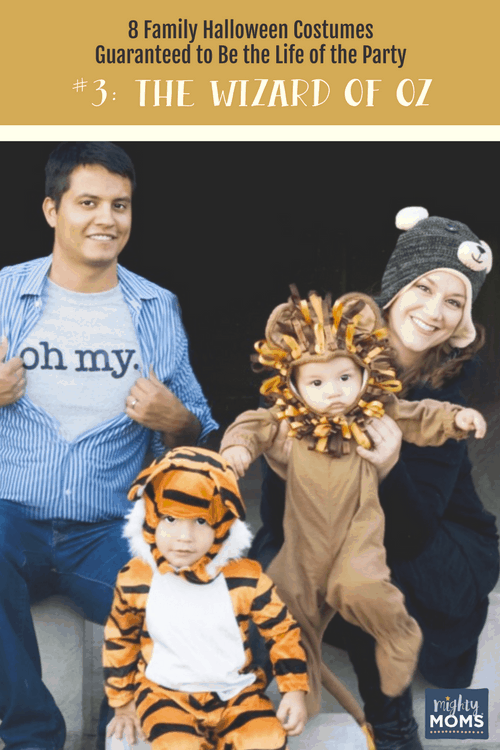 How to Build the Perfect Wizard of Oz Family Costume
Kids as Lion and Tiger: These costumes are adorable alone, but putting them together with this theme definitely takes them to the next level. (Or if you want to be a purist, try this scarecrow, the Tinman, or a Glinda the Good Witch?)
Mom as Bear: This one is perfect for the moms who don't want to go all out with the themed makeup and tu-tu. Throw on this cute bear hat and an all black or brown outfit and you'll fit right in! (Purists, try this Dorothy costume.)
Dad as "Oh my!": Again, this works great if Dad's not totally sold on the whole family costume concept. This "Oh my!" t-shirt completes the family while keeping him comfy. (Or, if he's willing, why not rent a flying monkey costume?)
Family Halloween Costumes #4:
Back to the Future
Great Scott! We almost forgot the Back to the Future family Halloween costumes! We can't forget those!
If you're the ultimate time traveler, you can even get on the list to purchase your own DeLorean. (All the serious time travelers use them, so I've heard…)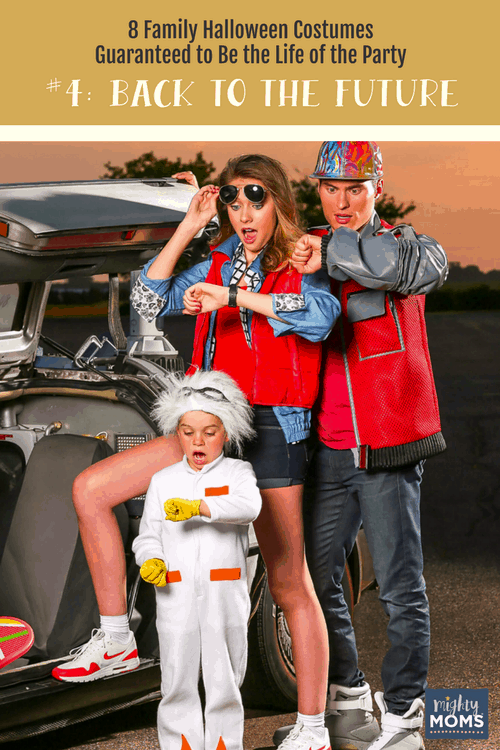 How to Build the Perfect Back to the Future Family Costume
Dad as 2015 Marty McFly (Back to the Future II): If I'm sure of anything, it's that Dad is going to LOVE dressing up as circa-2015 Marty McFly. Especially if he gets to carry his own hoverboard.
Mom as 1985 Marty McFly: The original Marty from the original movie. TBH, I'd probably wear that outfit today… are the 80's back?
Kid as Doc Brown: The only thing cuter than a tiny Emmett Brown would be hearing him try to say "flux capacitor".
Family Halloween Costumes #5:
Family Barbeque
If you're looking for the ultimate combination of things that belong together, you really can't outmatch ketchup, mustard, hamburgers, and hot dogs.
Roll down the neighborhood streets in these get-ups to be the barbe-cutest on your block. #PunsOnPurpose #BeHereAllWeek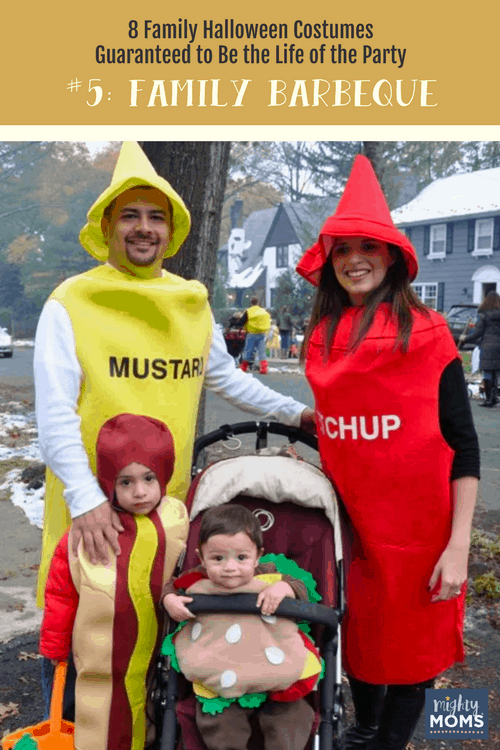 How to Build the Perfect Barbe-Cutie Family Costume
Mom and Dad as Ketchup and Mustard: These cute and comfy costumes will keep you warm so you can stick it out for that extra trick-or-treating. (It's cheaper if you buy them as a set, FYI.)
Kids as Hamburger and Hot Dog: Let's face it, these are your kids' favorite foods anyway, might as well lean into it! (Unless you've got a natural snap pea lover in the family, then, by all means…)
Family Halloween Costumes #6:
Sesame Street
While you're chasin' the clouds away, everyone will love your family as characters from our favorite neighborhood: Sesame Street. (Anyone else have the theme song stuck in their head right about now?)
Your biggest challenge will be to make sure your little Cookie Monster's impression doesn't get too accurate.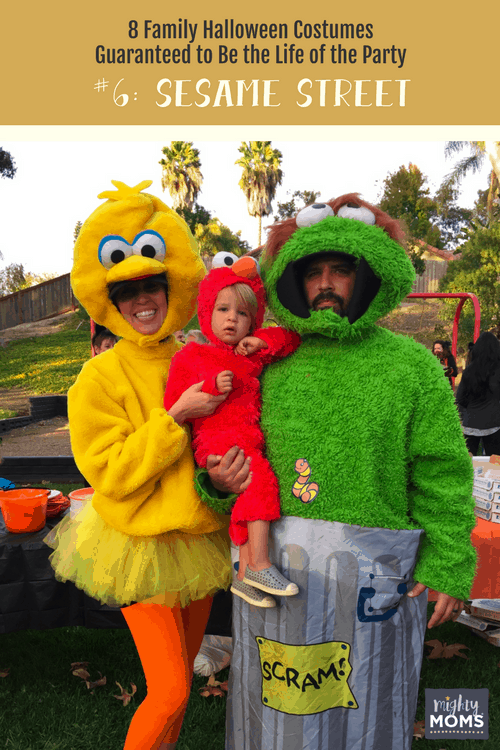 How to Build the Perfect Sesame Street Family Costume
Family Halloween Costumes #7:
The Incredibles
It's a bird! It's a plane! It's The Incredibles!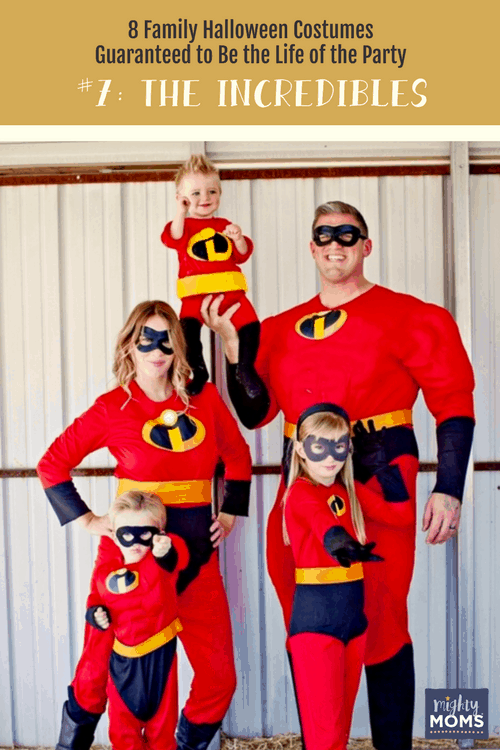 How to Build the Perfect Incredibles Family Costume
Dad as Mr. Incredible: Ok, what Dad is going to turn down the chance to wear this muscle suit?? How you doooooin'?
Mom as Mrs. Incredible: Again, I find it hard not to say "Yes" to portraying a character named "Mrs. Incredible". You can even go all out and add the wig for authenticity.
Family Halloween Costumes #8:
Star Wars
If you've read my Star Wars birthday party post, then you should know that my Han Solo-loving husband wouldn't let the holiday go by without a Star Wars family Halloween costume!
Join us—and we will complete your Halloween!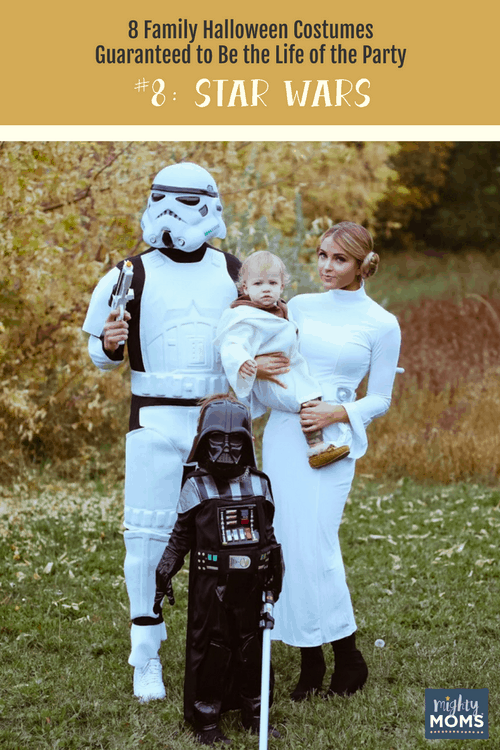 How to Build the Perfect Star Wars Family Costume
Your Family Halloween Costume:
The Guaranteed Life of the Party
Here are all the family costumes you've always secretly wanted to try. And now, you have the confidence and resources to pull them off.
The best part is that these costumes are all just a few clicks of the "Add to Cart" button away!
So c'mon mama, treat yo'self! Let that glitter glue stay in the drawer another year.
You deserve this picture-perfect moment!
Have You Read These Yet?
We ♥  honesty!  This post contains affiliate links that provide extra money for our mutual coffee habits addictions. Click here to learn more. As an Amazon Associate I earn from qualifying purchases.