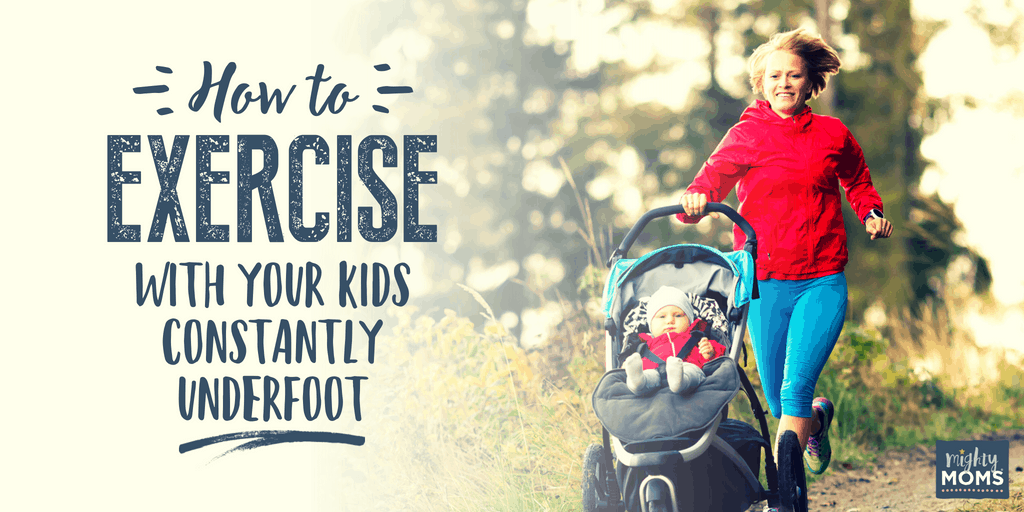 Motherhood brings so many beautiful changes to our lives.
One of these changes? The disappearance of a self-centered day.
As a mother, you now have the pleasure of a constant companion to accompany you throughout your day. Her face beams as she climbs the stairs with you. Her eyes twinkle as she sneaks into the bathroom with you. Her grin widens as she slips on her running shorts and heads to the gym with you.
Oops. Just kidding about that whole gym part.
It's hard to have a constant companion when it comes to working out, amiright? Gone are the days where you could pop in a workout DVD after work or lace up your sneakers before breakfast without thinking about anything other than the great workout ahead.
Now that you have a little one or two or three underfoot, you're left with these options when it comes to working out:
Find a gym that has child care
Hire child care so you can leave
Work out after everyone is in bed (yawn!)
Work out before everyone is out of bed (yikes!)
Here's a thought: What if instead of looking at exercise as something we need to do without kids, we instead made it a family effort?
Experts say the best exercise is the one you'll actually do, and, let's face it, the one you'll do is probably the one your kids can do right along with you.
So, it's time to get out those leotards and leg warmers because with these handy ideas you'll be sweating to the oldies in no time flat…with your kids joining right along!
Exercise Kids Tip #1:
Park Workouts
We've all seen the playground workouts that have us trying chinups on the monkey bars and pushups on the steps. Well, instead of trying to count reps from ladder to the slide, try some of these moves on for size.
Swing for the Trees
Swinging is a great workout for your abs and arms. See who can swing the highest or lean back the farthest (within safe reason of course!) Just make sure you're comfy in some stylish leggings like these for all that pumping!
Run Up and Down the Playground Equipment
Race your kids, and they'll surprise you with how fast they're able to run. Most playgrounds have a rubber or wood chip ground covering and are often surrounded by grass or trails, so a pair of cross trainers will give you the best traction no matter the terrain.
Try a Bear Crawl
The bear crawl is easier for kids than it is for adults, so you'll be building excellent muscles while you try to keep up with them. The trick to not looking silly here is to get your kids crawling with you and to wear a really cute workout tank like this one–it will wick away sweat and stay close to your skin so as not to bare anything while bear crawling.
Try Your Hand at the Monkey Bars
You can add a little flex in your arm if you want to boost the muscle building potential, but just crossing the monkey bars with your kids can help you tone while "hanging" around. If you're worried about keeping track of your things while channeling your inner trapeze artist, try an arm band to keep your things secured.
Exercise with Kids Tip #2:
Workouts with Wheels
Going for a walk or run with your baby or toddler is easier said than done. You can hope they'll snooze or enjoy the scenic route around the neighborhood, but there's no telling when they'll start getting antsy. Try a few of these ideas to change up your normal stroller routine and give your tyke a ride they can stay interested in.
Trail Running
This is a great way to challenge yourself and keep your little one entertained. There's so much to look at and the uneven ground will keep you on your toes and your kiddo laughing.
Invest in a good off-roading stroller to make even the most challenging terrain a breeze. It comes in single and double, and is super steerable. Anywhere your mountain bike can go, your stroller can go too.
Dust Off Your Bike
Take your little one for a spin with this bike trailer. It attaches easily, rides smoothly, and has a five-point harness for safety. Plus, the zippered enclosure allows you to keep books and snacks in the trailer for your little guy.
Or, if biking is your thing but trailers are not, try a mounted seat as an alternative. Even better, try this Co-Pilot Bike Trailer for an older rider!  Just make sure you're accessorized safely with some helmets.
Short little preschool legs can't run fast for long, but boy can they pedal! I dare you to try and keep up with your little biker. This bike with or without training wheels has an adjustable seat to grow with your child.  Combine it with these supportive and grippy running shoes, and you'll will keep everyone moving in sync.
If your kids really get into the bike fun, maybe a bicycle/tricycle themed birthday party this year would be a good fit.. Click here to see some wheelie awesome inspiration. 🙂
Exercise with Kids Tip #3:
Workout at Home
If we're honest with ourselves, sometimes the best chance to workout is to stay close to home. With these options, you can get your workout done in your own neighborhood, in your own living room, or anywhere you have space to unroll a yoga mat.
Institute a Family Walk
It could be around the block or to a nearby park and for just as long as everyone can keep up. A family walk gives you precious, quality one-on-one time together but also gets everyone up and moving. To make it fun or a little competitive, try step counters for everyone! This option is nice and low tech: it doesn't require a smart phone or app to track your steps, so it's perfect for family members who are too young for the digital world.
Utilize Workout Cards
The weather doesn't always permit a bike ride or walk, but you don't have to be outdoors to exercise together! Darebee has workout cards you can print off or use right on their website, plus a built-in timer to use. They show you how to do the exercises and have programs you can follow if you don't want to do stand alone exercises.
Why not make a game of it and play luck-of-the-draw with some cool new moves? Many of the exercises require a timer rather than counting, so invest in a reliable stopwatch like this one to keep track of when to start and stop.
Fire Up the Laptop
If you need a change of pace, look no further than Barre3. Created by a mom, with moms in mind, most of their online exercises are gentle enough for any age to join in. All you need is a cute yoga mat or bare floor, your bare feet or some socks with grip, and light hand weights.
Give your workout buddy a yoga mat and some very light hand weights of her own and she can have fun with this ballet/yoga/pilates combo right along with you.
The Best Exercise is the
Exercise You'll Actually Do
I know how incredibly hard it is to carve out time to take care of yourself with little ones under foot.
I also know our little ones are watching our every move (or our lack of moving!).
When we shift our mentality from our old way of exercising to making it a family event, we teach our children that it is important to take care of our bodies and that it feels good to move every day–all while helping them build self-confidence and healthy habits.
That constant companion of yours is here to stay, so go ahead and enjoy exercising with her. You never know, if you start including her now, you might have a fighting chance at making this something you do together every day.
Have You Read These Yet?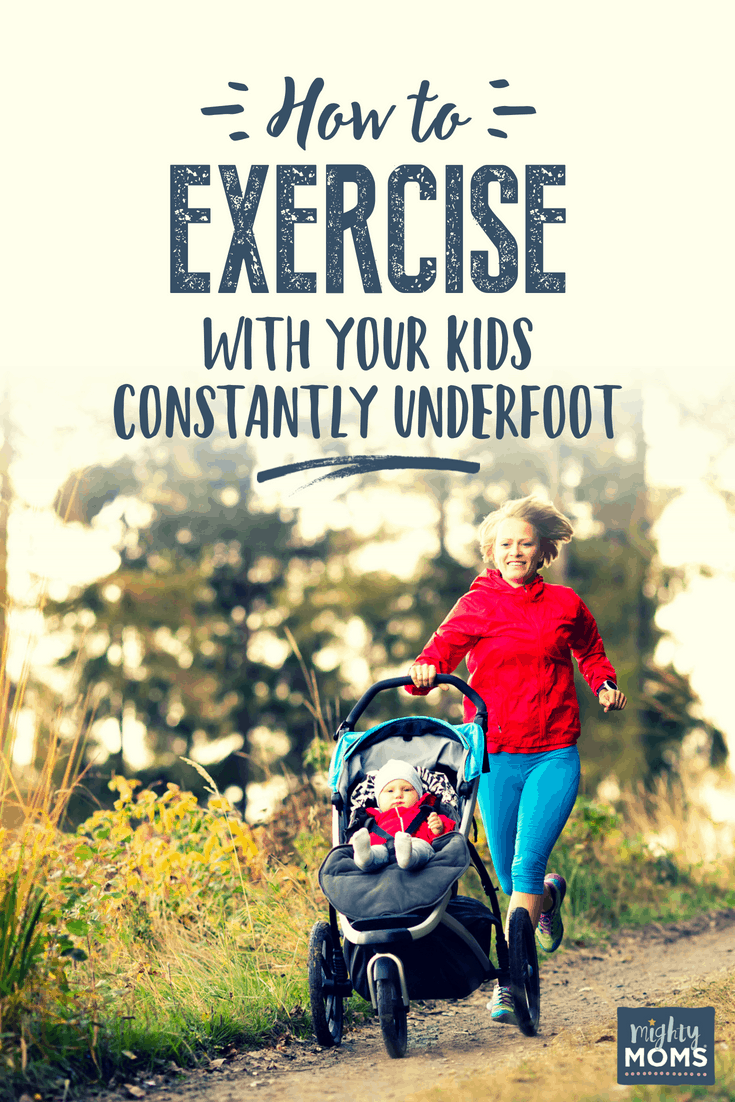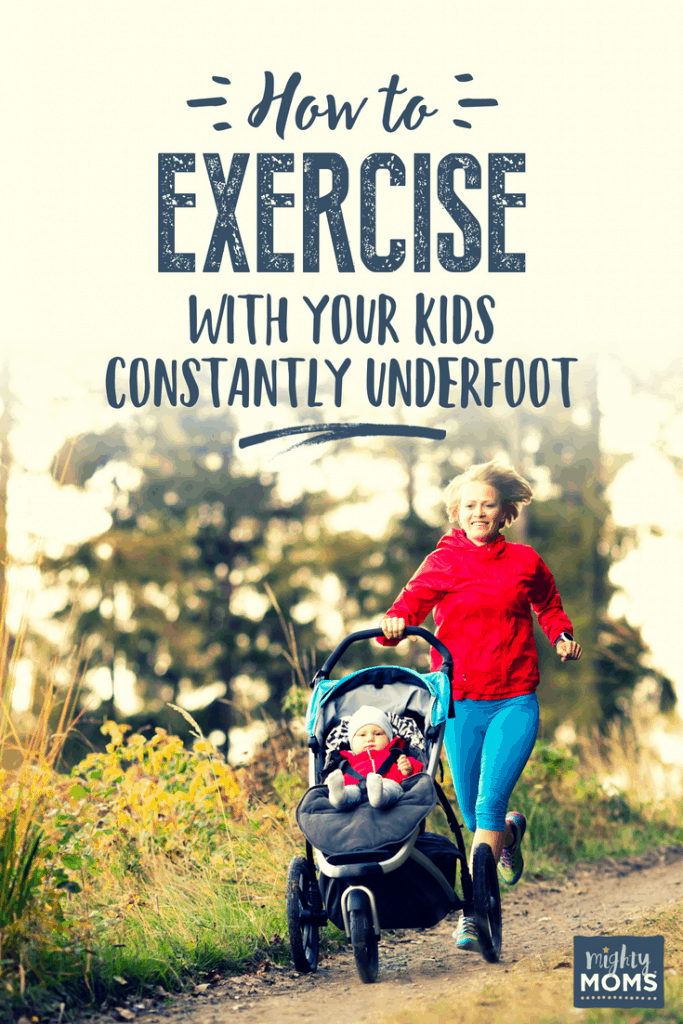 We ♥  honesty!  This post contains affiliate links that provide extra money for our mutual coffee habits addictions. Click here to learn more. As an Amazon Associate I earn from qualifying purchases.