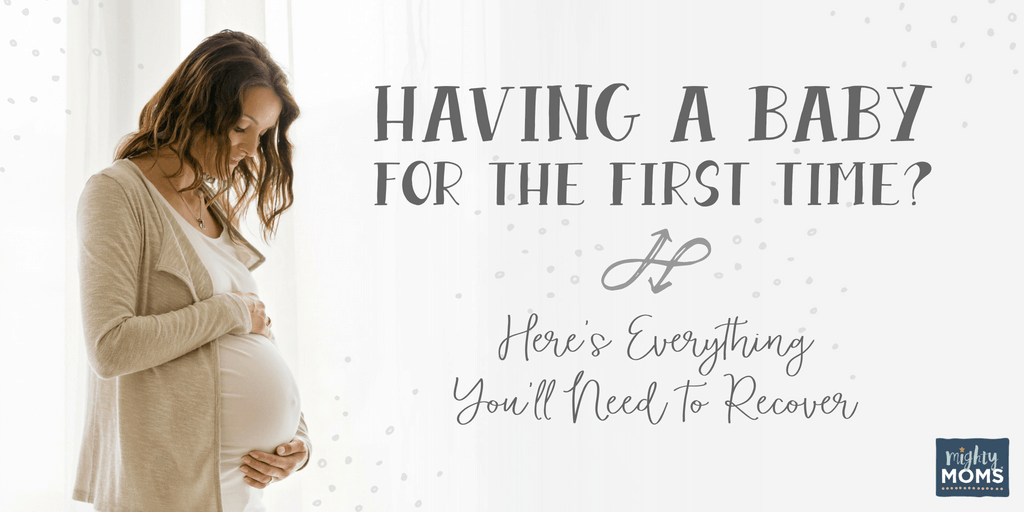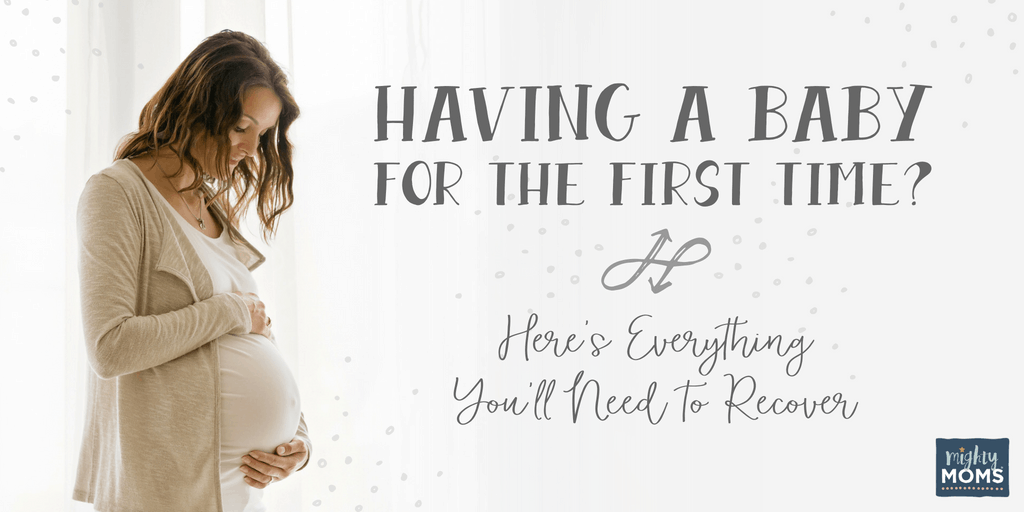 The due date of your first baby is drawing near.
Your belly seems to be running out of room to stretch, your feet are whimpering at the end of each day, and you cry even at the thought of the last time you watched that commercial with all the puppies.
You're ready.
And not only are you mentally ready to meet that little babe on the outside, you're also physically ready.
You're ready to bring a baby into your home.
But, are you ready to recover from bringing that same baby into the world?
Baby Births:
You Have to Recover Too
I was ready to bring our first baby home from the hospital, too. Everything was washed, dried, and sitting at attention, and then the first thing I did once we got home from the hospital was make a list of about 18 things I needed my mom to buy me at the store.
I was prepared for the baby. I wasn't as prepared for my own recovery.
It's the oft overlooked piece of childbirth, if you ask me. We spend so much time showering new moms with hand-woven quilts and advice about sleep-training, that we forget to tell them to put the hemorrhoid cream within arm's reach of the toilet or to stash a few granola bars on the nightstand.
Well, not on my watch, friend.
I want you to be ready for your own recovery, too, so I have compiled a few lists of everything you're going to want to make sure you have waiting for you as soon as you get home with that new little one.
Here are a few of my best suggestions.
Set up Your At-Home Pharmacy
I knew there was going to be pain involved in the delivery process. I wasn't as ready for the pain that was going to be involved in the days and weeks immediately following. Most of these items will be provided at the hospital, but in case they don't send home extras (make sure you snag that perineal irrigation bottle!) or don't give you quite enough, here are a few necessities you'll need to have waiting for you in your bathroom upon arrival home.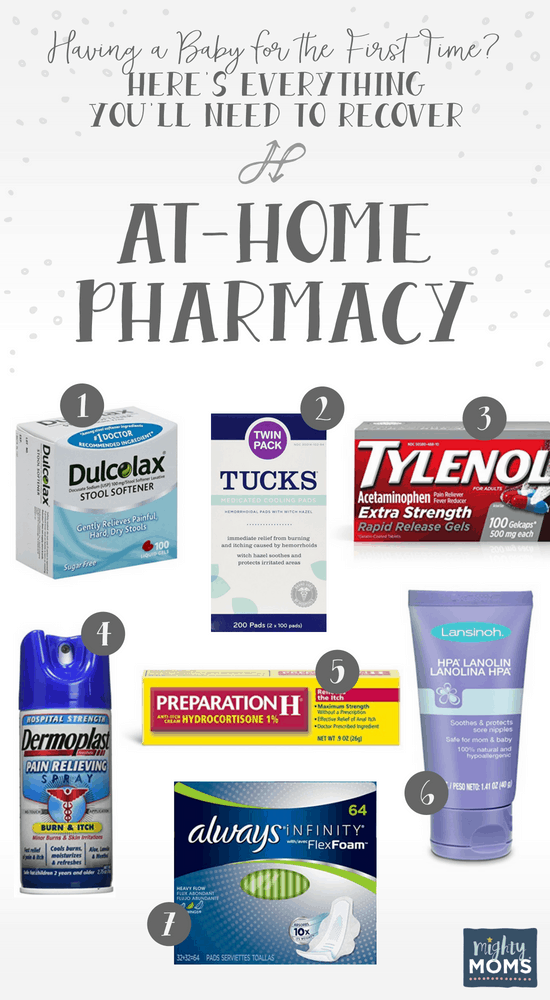 Stool Softeners: Post-partum constipation is a real thing, friend. Get ahead of the game by taking stool softeners (or Miralax) and drinking lots and lots of water.
Tucks Pads: I had never heard of witch hazel until my first baby was born, and now I'm convinced that God created it for the recovering mother. Not only will these wipes soothe potential hemorrhoids, but they can also reduce vaginal swelling and provide cooling relief.
Tylenol/Motrin: Because Tylenol is acetaminophen and Motrin is ibuprofen, you can alternate these pain relievers every four hours as opposed to every eight if you were just relying on one. But, as with any medication, discuss the use of pain relievers with your doctor first and then consider sticking to a schedule to stay ahead of your pain.
Pain Relieving Spray: Here's another thing I didn't know existed until the first time I went to the bathroom after my first baby was born. The nurse handed it to me then, and it has waited in my bathroom for me every baby since. Just make sure you grab the blue bottle instead of the red one to ensure you get cooling relief!
Hemorrhoid Cream: Hemorrhoids are unpredictable in their arrival and tend to come back periodically as a super lame surprise. If you have this on hand, you'll ease the pain of their arrival.
Lanolin: If you choose to breastfeed, there is a chance you will find the process to be painful initially. While expressed breast milk is one of your best sources of relief for sore nipples, lanolin can help ease that pain as well.
Maxi Pads: You'll lessen the absorbency as the days pass, but will likely need some heavy duty ones right off the bat.
Note: Most of these items will come in handy whether you deliver vaginally or have a c-section, but you may not need to utilize them all. It's always good to be prepared though!
Stock Your Pantry with Essentials
Another thing you may not realize is how insanely hungry you'll be those first few weeks home with a newborn or how important it will be to choose foods that can be eaten stealthily with only one hand. Foods high in protein and fiber are always winners, and here are a few of my favorites to have in-stock.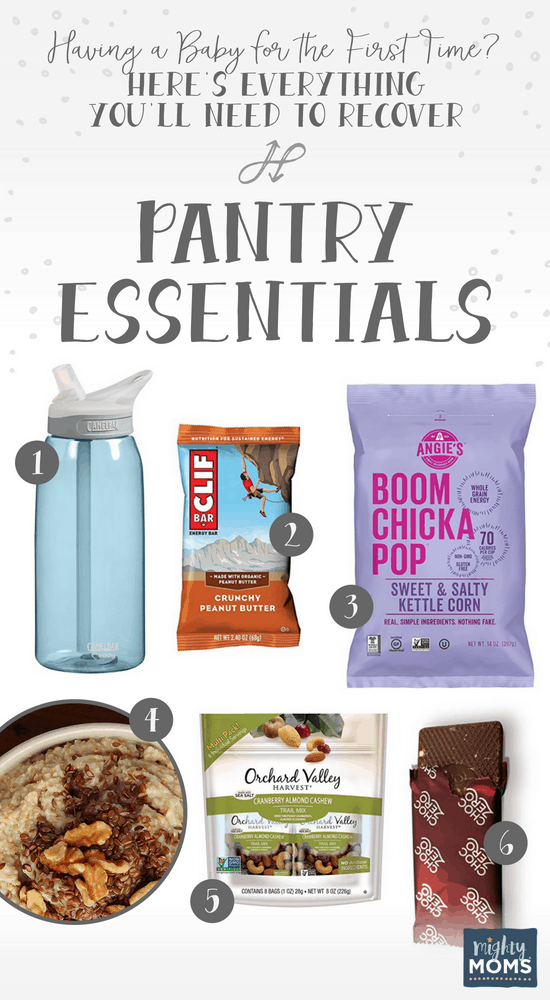 You will, of course, need to eat meals with things like proteins and some nice, leafy greens, but it's far easier to grab a handful of trail mix when you're suddenly starving at 11:00 p.m. than it is to run to the fridge and whip up a salad.
Supply Your Closet with These Must-Haves
Finally, your wardrobe needs are going to change slightly those first few weeks home with a baby. Comfortable is the name of the game here. You'll notice that most of these suggestions are black, and that's no accident. For a few weeks, you're going to be adjusting to various kinds of bodily fluid exiting your body. Trust me when I say, "Black is best."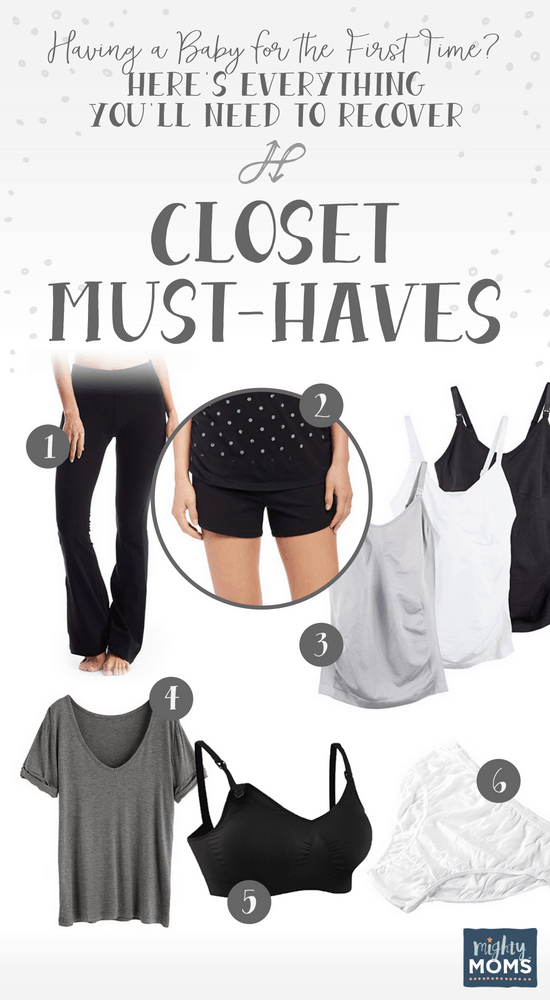 Yoga Pants: Is there a more comfortable pant option? It's not worth trying to squeeze back into your pre-baby jeans yet. In time you will, but those first days are days for comfort only.
Comfy Shorts: I wasn't quite prepared for the amount of sweating I was going to be doing post-delivery. These yoga shorts were my sleep go-to because they helped keep me cooler.
Nursing Tank Tops: These nursing camisoles are great because they come with a built-in bra. I also like to stock up on regular camisoles too, though. They're  less bulky, and if I buy a size bigger than I normally would, I can wear them under any of my pre-baby shirts and nurse easily just by pulling the top down.
T-shirts: Again, comfort is the name of the game. I love boyfriend style t-shirts because they are soft, loose, and perfect for recovery.
Nursing Bra: It took me entirely too long to discover wire-free nursing bras. You're going to be in and out of your bras a lot. Get a handful you feel comfortable in, and you'll never regret it.
Disposable Underwear:  Remember this mom who went viral a few years ago? She said it best: "Nothing says welcome to motherhood like an adorable squishy baby, and a giant mom diaper." Go for the disposable underwear at least for the first week or so. Your regular pairs will be waiting for you after that.
Pro tip: Have you tried Amazon's Prime Wardrobe option yet? You can choose three or more items to be shipped to your house, and then you have 7 days to decide what works and what doesn't. Once you decide, you mail back what you don't want in the provided box and are only charged for what you keep! 
Baby Birth: It's Go Time
Now you're ready.
Your bassinet is set up next to your bed, the car seat is thoroughly installed, and you are all set to go to the bathroom as soon as you arrive home with that adorable new bundle.
Now that the essentials are checked off your list, I'd suggest you kick up your feet, fire up Netflix, and double check that your husband has his hospital bag packed before he joins you on the couch.
It's go time!
Have You Read These Yet?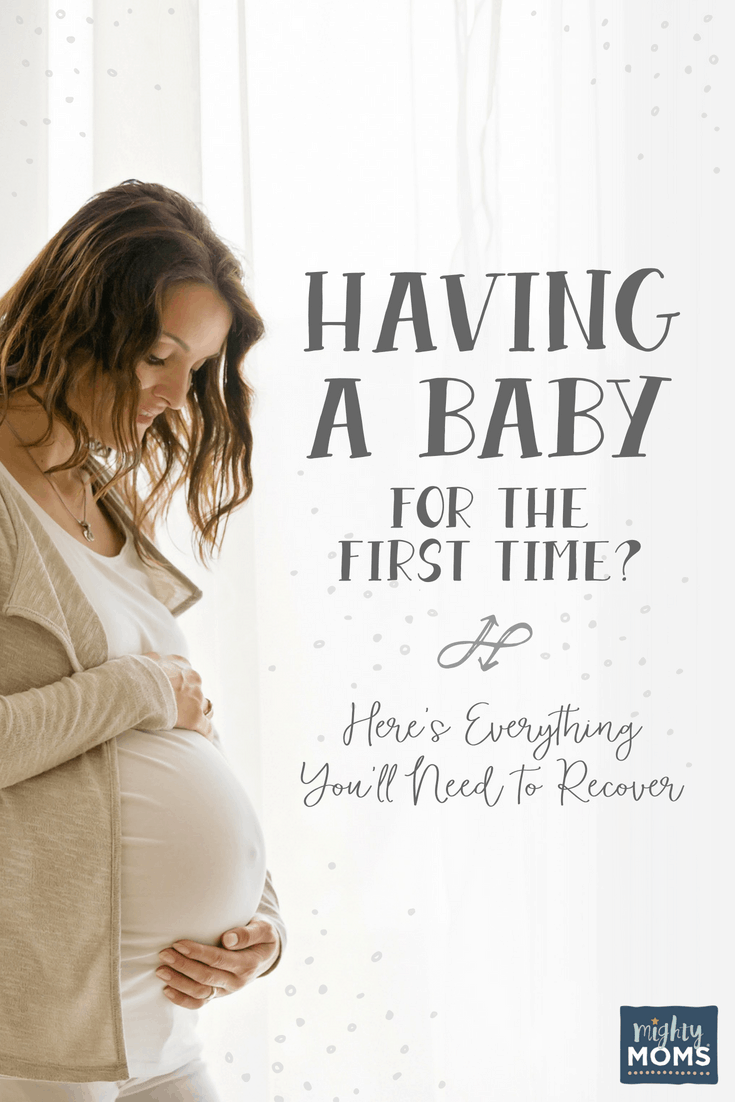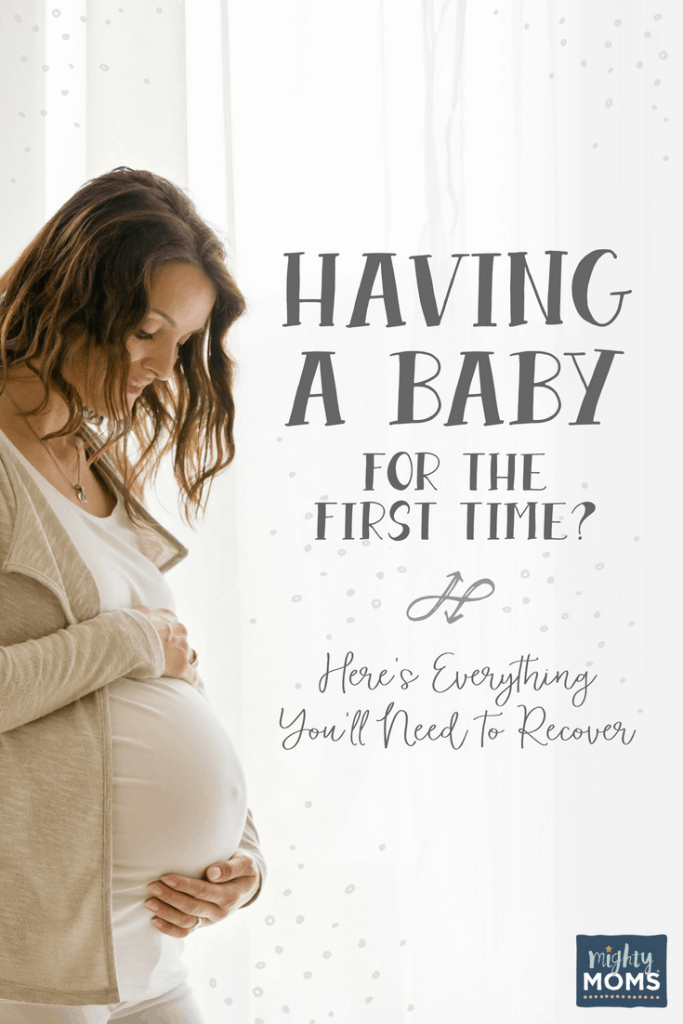 We ♥  honesty!  This post contains affiliate links that provide extra money for our mutual coffee habits addictions. Click here to learn more. As an Amazon Associate I earn from qualifying purchases.