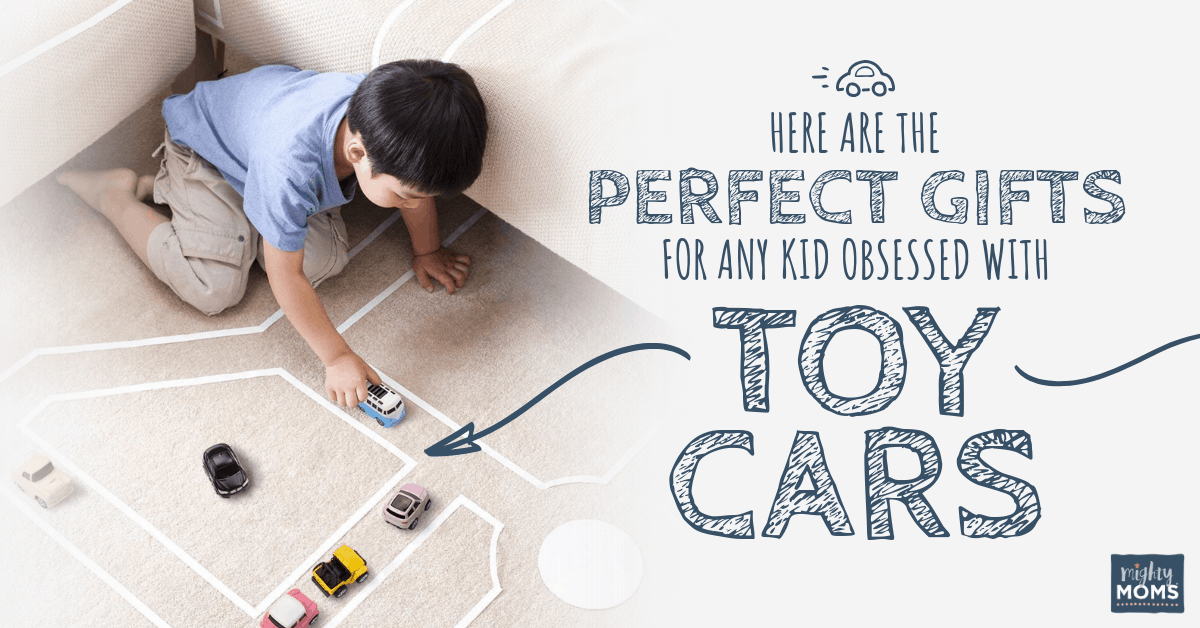 You know you have a kid obsessed with toy cars if any of the following are true:
He points out police cars, fire trucks, and ambulances every. single. time. he sees one.
She sits on the front porch every Thursday anxiously awaiting the arrival of the garbage truck.
They race their carrot sticks during lunch while waiting for you to finish spreading out the peanut butter.
I'm sorry to say that vegetables can only take your little one so far on the speedway. After a while, he's probably going to want something with a little more oomph.
Well, look no further. Here are a few great gift options for that kid in your home who is obsessed with toy cars. Start waving that checkered flag, my friend, because one of these is going to be a HUGE winner at your house!
The Ultimate
Car Toys for Children
Let's start with the most important toy: The actual toy cars. You have a lot of options available to you, but here are a few proven favorites. When it comes to car toys for children, more is more. All these toy cars are sure-fire champions.
I haven't included the standard matchbox car set here, because, let's be honest, you probably already have those. (On the remote chance that you don't… here's the set to start on!)

Excitingly Awesome
Toy Car Accessories
Now that your child has some toy cars to fill his garage, he's going to need some accessories to help with his pretend play. He needs a city. No! He needs a race track. No! He needs a transporter!
Let him build his own little Radiator Springs on the floor and slip a tiny Go-Pro on the top, it's time to bring that living room adventure to life!

The Toy Cars Kids Drive
on the Sidewalk
If you want to really fill your toy-car loving kid with glee, get her a car she can actually drive. Whether she "drives" while you push her along the sidewalk, or whether you want to hand over the electric key and let her roam the driveway, I've got some good news.
Thankfully, there's no need to start budgeting for car-payments. We've come a long way since the $400 driving options. Here are several reasonably-priced options to get your child (safely!) behind the wheel.
Of course, if you're still not sure I've got an entire article dedicated to reviewing toddler ride-on toys. I'm here to help!

Dreaming About Toy Cars:
Best Bedtime Books
Eventually, all this driving and playing is going to wear your little one out. But don't worry, once you've got him in his pajamas (car-themed, of course!), you can snuggle up on the couch and read all about cars and trucks together.
Drive him to sleep with his favorite subject…where he can count all the wheels and beep the horn to his heart's delight.

Wave the Checkered Flag!
You Found the Perfect Gifts!
While I can't promise the vegetable races around your kitchen table will end, I know that you've now got some great gift ideas for that kid in your house who falls asleep dreaming of racetracks and screeching wheels.
You've got the cars, the accessories, the drivable options, and even the books.
Now all you need is a good soundtrack, and you'll be ready to hit the road!
We ♥  honesty!  This post contains affiliate links that provide extra money for our mutual coffee habits addictions. Click here to learn more. As an Amazon Associate I earn from qualifying purchases.