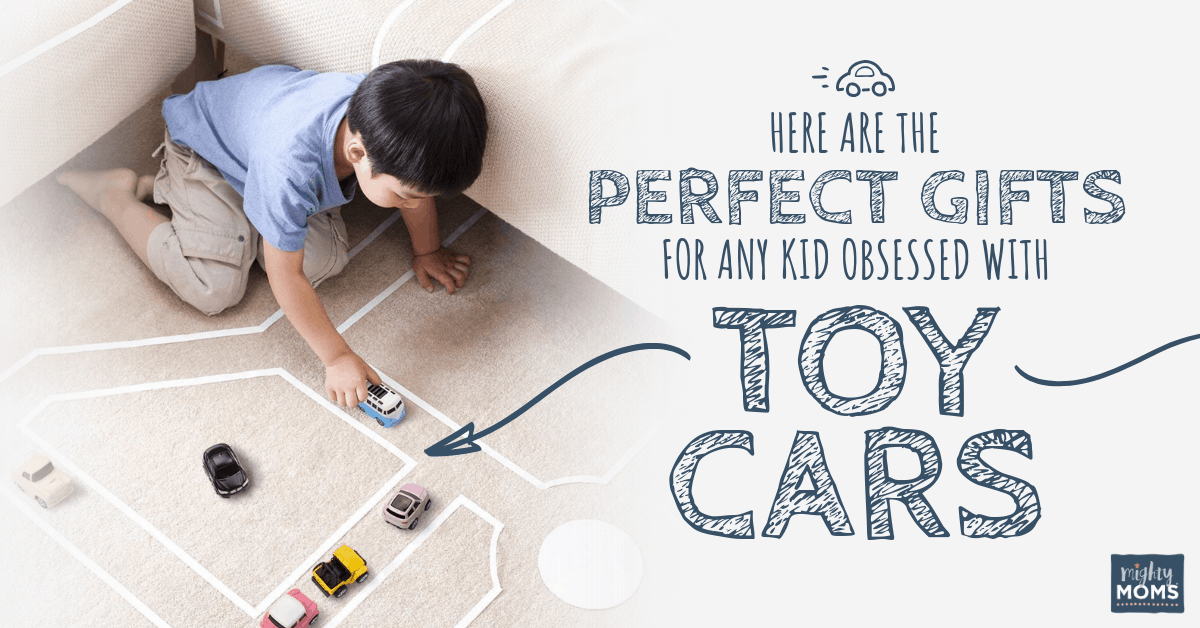 Kids develop unique personalities and interests pretty early on, don't they?
You've got one kid who loves architecture and another who loves to play pretend with dolls, but you know you have a car-obsessed kid if any of the following are true:
He points out police cars, fire trucks, and ambulances every. single. time. he sees one.
She sits on the front porch every Thursday anxiously awaiting the arrival of the garbage truck.
They race their carrot sticks during lunch while waiting for you to finish spreading out the peanut butter.
I'm sorry to say that vegetables can only take your little one so far on the speedway. After a while, he's probably going to want something with a little more oomph.
Well, look no further. Here are a few great gift options for that kid in your home who is obsessed with toy cars. Start waving that checkered flag, my friend, because one of these is going to be a HUGE winner at your house!
The Ultimate
Car Toys for Children
Let's start with the most important toy: The actual toy cars. You have a lot of options available to you, but here are a few proven favorites. When it comes to car toys for children, more is more. All these toy cars are sure-fire champions.

The Ultimate Toy Cars:  More Than Just Wheels
Transport Car Carrier: This semi-truck car carrier comes with 8 mini cars, 2 off-road vehicles, 2 helicopters, 2 roadblocks, and 1 road map. There's so much to keep your little one busy, and it's easy to put it all away when she's done.
Matchbox Gift Pack: Every car lover needs a set of Matchbox cars, and she'll get nine in this gift pack.
Cars and Pull Back Vehicles: These friction-powered cars don't need batteries to fly across your floor; just pull them back and watch them go!
Mini Pull Back Cars: Here's another great pull back option. You're bound to love these too–there's a classic VW Van included!
Hot Wheels Monster Jam Tour Favorites: These monster trucks are also friction-powered. Give them a push forward and see how many things you can get them to drive over!
Friction Powered Police Car: Every car-loving kid needs a police car to patrol her city!
Excitingly Awesome
Toy Car Accessories
Now that your child has some toy cars to fill his garage, he's going to need some accessories to help with his pretend play. He needs a city. No! He needs a race track. No! He needs a transporter! Slip a tiny Go-Pro on the top and bring that living room adventure to life!

Good Car Toy Accessories Make Pretend Play Real
The Toy Cars Kids Drive
on the Sidewalk
If you want to really fill your toy-car loving kid with glee, get her a car she can actually drive. Thankfully, there's no need to start budgeting for car-payments yet. We've come a long way since the $400 driving options. Here are several reasonably-priced options to get your child (safely!) behind the wheel.

Cars Kids Drive…But Parents Can Still Control
Dreaming About Toy Cars:
Best Bedtime Books
Eventually, all this driving and playing is going to wear your little one out. But don't worry, once you've got him in his pajamas (car-themed, of course!), you can snuggle up on the couch and read all about cars and trucks together.

The Perfect Bedtime Books for the Toy Car Obsessed
First 100 Trucks and Things That Go: This is for the kid who wants to know the difference between a skidsteer and an excavator. (Did I mention you're bound to learn a lot too?) Don't forget to pack this one for your next road trip!
Richard Scarry's Cars and Trucks and Things That Go: A classic–pickle truck included! Don't forget to hunt for Gold Bug in every scene!
Little Blue Truck: Not only will this give him some fun truck sounds to mimic, but he'll also practice naming his farm animals.
Goodnight, Goodnight Construction Site: This sweet, rhyming story is the perfect bedtime story for your car lover.
Open the Garage Door: This board book has simple words and colorful illustrations, and your little guy will love opening the flaps to find all the hidden pictures.
Pete the Cat: Go, Pete, Go!: Our groovy friend is at it again! Read along as Pete hops on his bicycle to race Turtle's car.
Cars Boxed Set: Last, but not least, every car-lover needs a few Lightning McQueen books on the shelf!
Wave the Checkered Flag!
You Found the Perfect Gifts!
While I can't promise the vegetable races around your kitchen table will end, I know that you've now got some great gift ideas for that kid in your house who falls asleep dreaming of racetracks and screeching wheels.
You've got the cars, the accessories, the drivable options, and even the books.
Now all you need is a good soundtrack, and you'll be ready to hit the road!
Have You Read These Yet?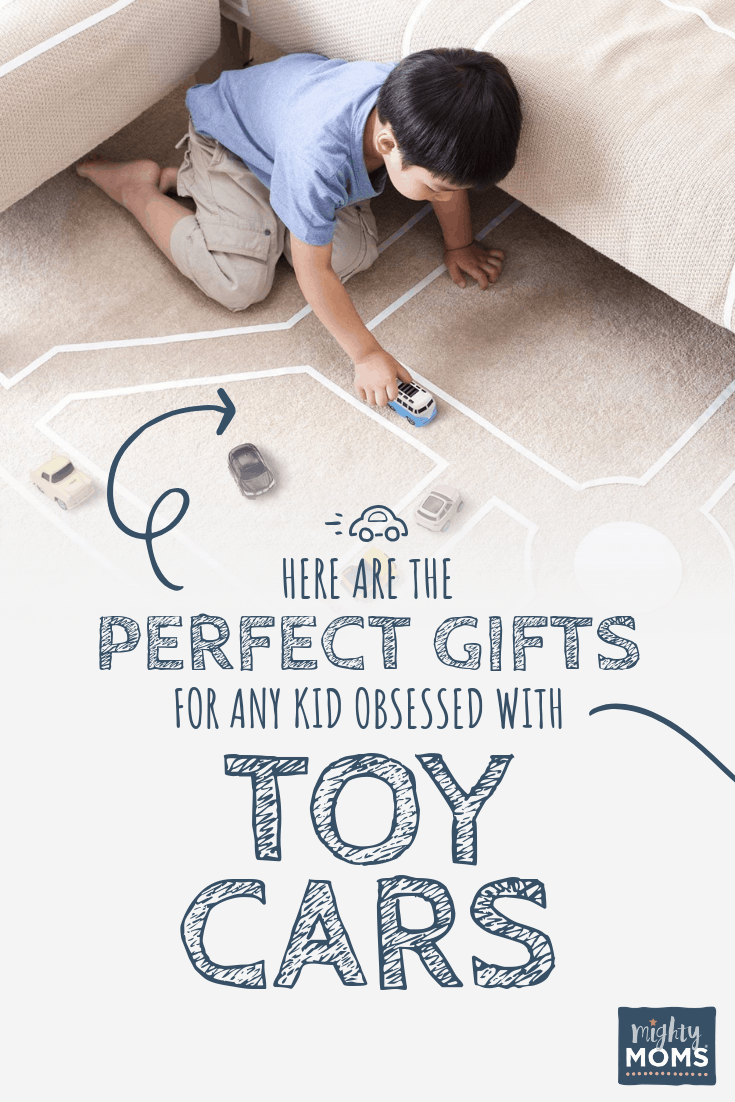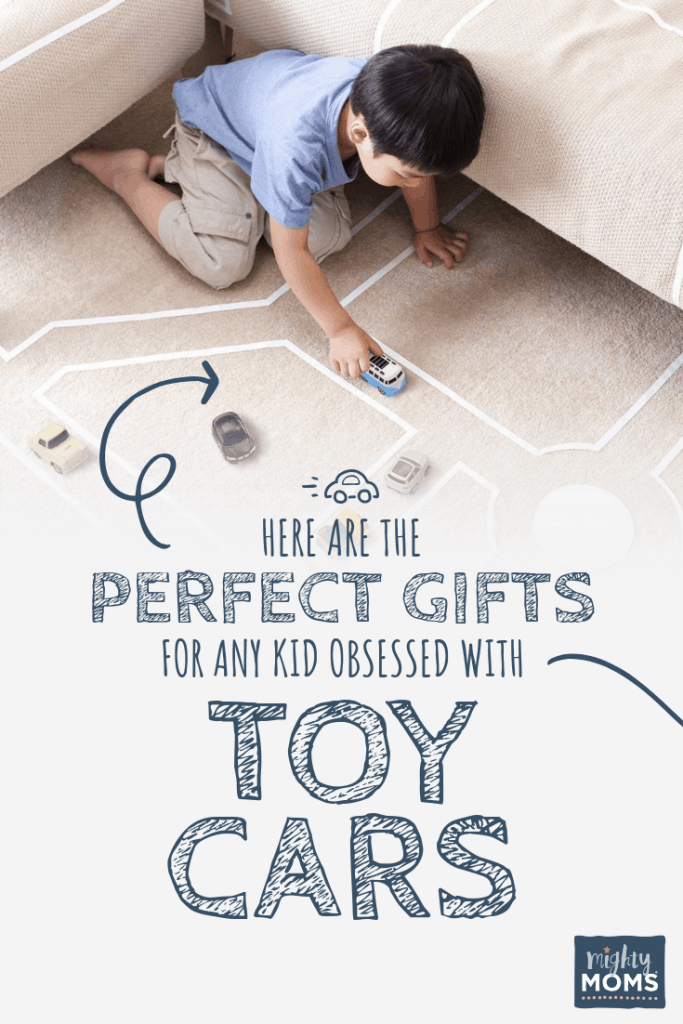 We ♥  honesty!  This post contains affiliate links that provide extra money for our mutual coffee habits addictions. Click here to learn more.