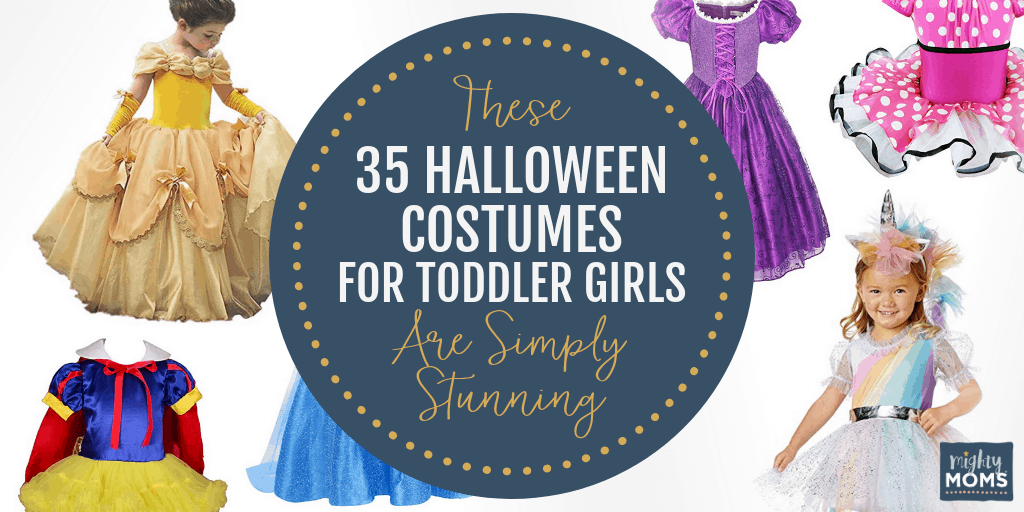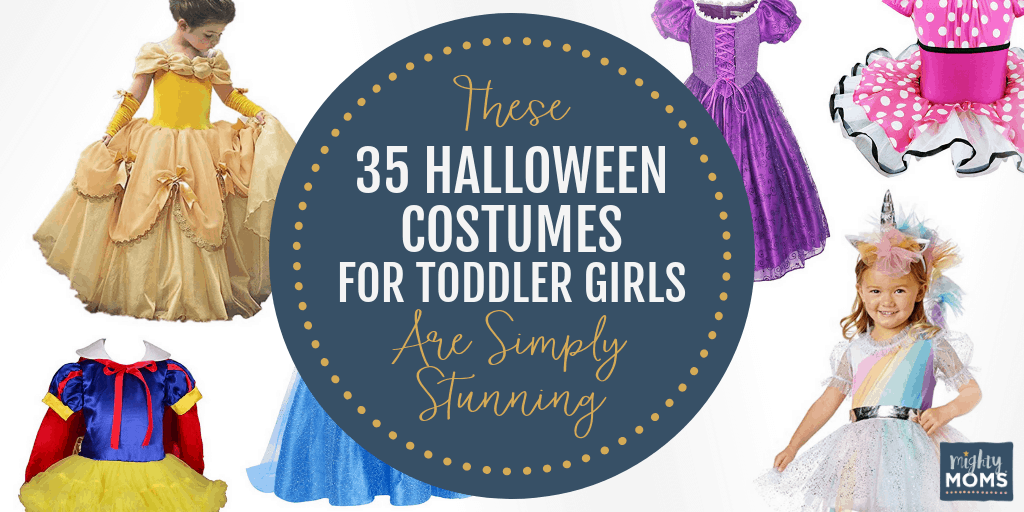 It took me a few years to really appreciate the power that comes from Halloween costumes for toddler girls. When my first child was a toddler, I thought I was just buying a toddler Halloween costume.
Oh, how wrong I was!
That no-brainer toddler costume was worn over and over and OVER again throughout the year: countless "shows" in the living room, dances through the kitchen, songs on the front porch…that fabric wonderland provided hours of entertainment.
That is, until it fell apart.
Come fall of the following year, that beloved Halloween toddler costume was ripped, stained, and (let's be honest) peed on more times that I'd like to admit. I had to "put it down" that September, despite much wailing and sobs. (Sorry babe. When the flies are following you around the backyard like a parade…it's time to go.)
Yes, you can absolutely head over to Target and browse the aisles…but why choose the $19 costume everyone else is choosing when you have the power of the Internet? Pick out a unique $19 Halloween toddler costume your child will LOVE to display again for the family at Thanksgiving…Christmas…Easter…Wednesdays…every afternoon…
So put your little toddler girl up on your lap and have her browse through this article with you. Together you can pick out which of these Halloween costumes for toddler girls will get the most squeals and sighs (and fewer tantrums!)
DISCLAIMER: Things change online, right? So if you fall in love with one of these Halloween costumes for toddler girls, act fast. Not only do they run out the closer you get to Halloween, the prices will definitely fluctuate and change.
Unicorn Halloween Costumes for Girls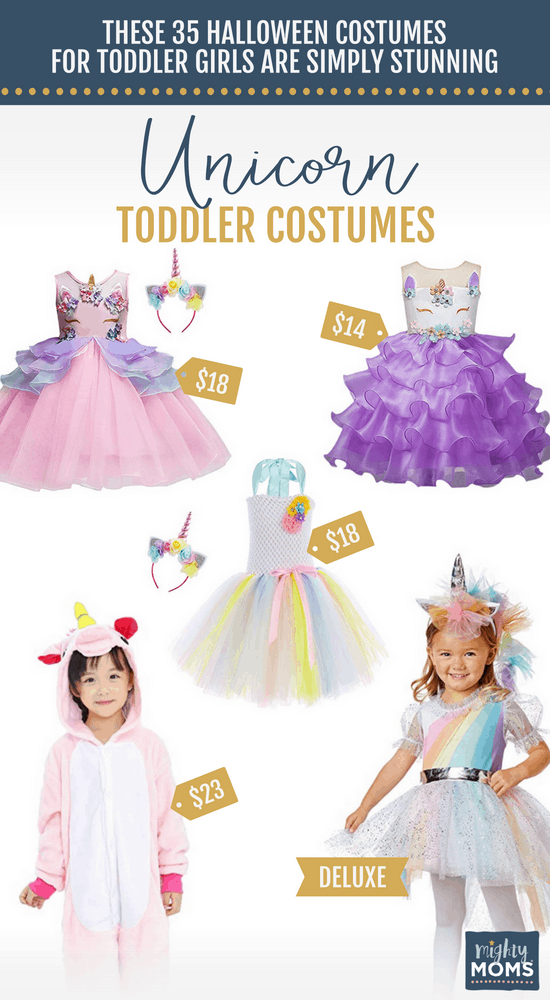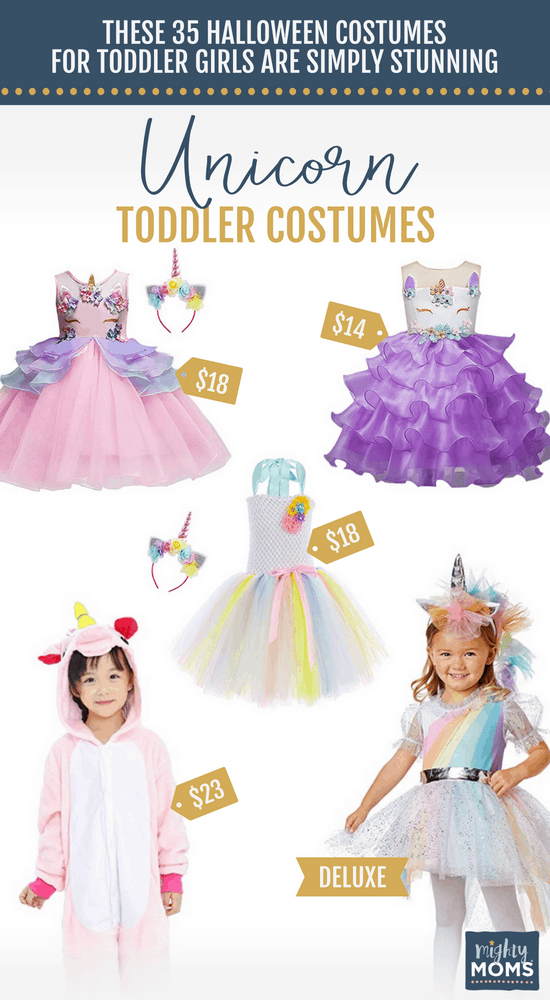 1. Unicorn Tulle Costume | 2. Purple Ruffles
3. Tutu Unicorn Toddler Costume
4. Warm Unicorn Costume | 5. Deluxe: Toddler Unicorn Costume
Belle Halloween Toddler Costumes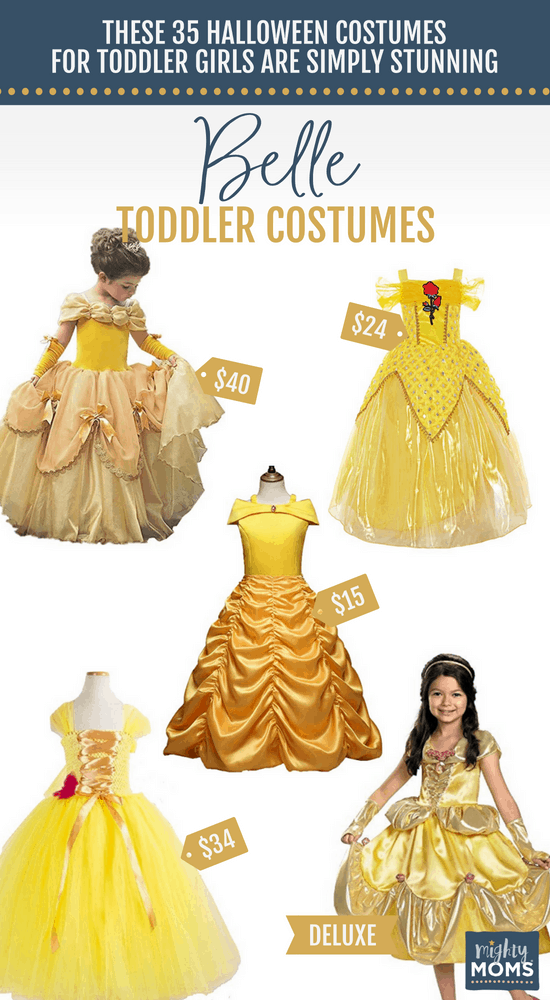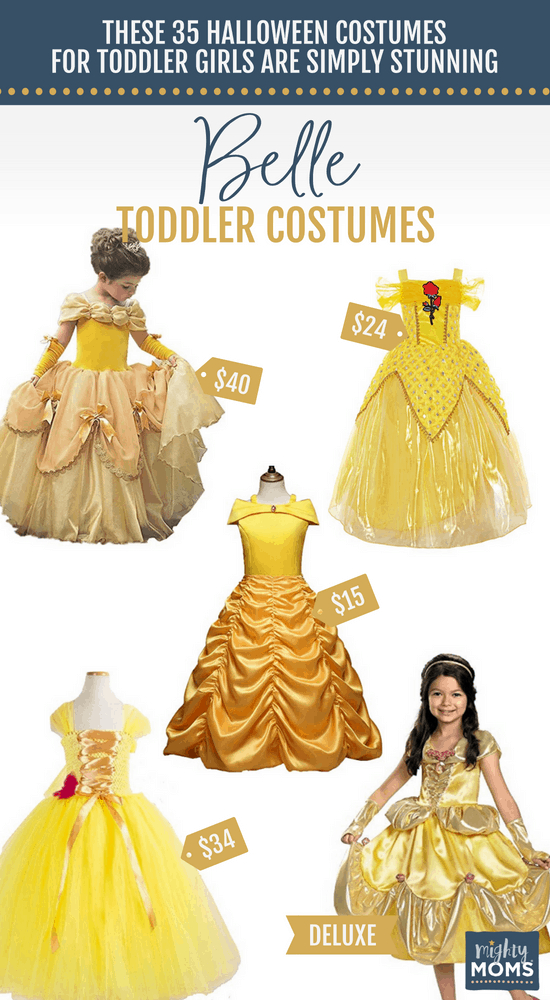 1. Belle Bow Costume | 2. Rose Belle Costume
3. Classic Belle Toddler Costume
4. Tulle Belle Costume | 5. Deluxe: Shimmer Belle Toddler Costume
Snow White Halloween Toddler Costumes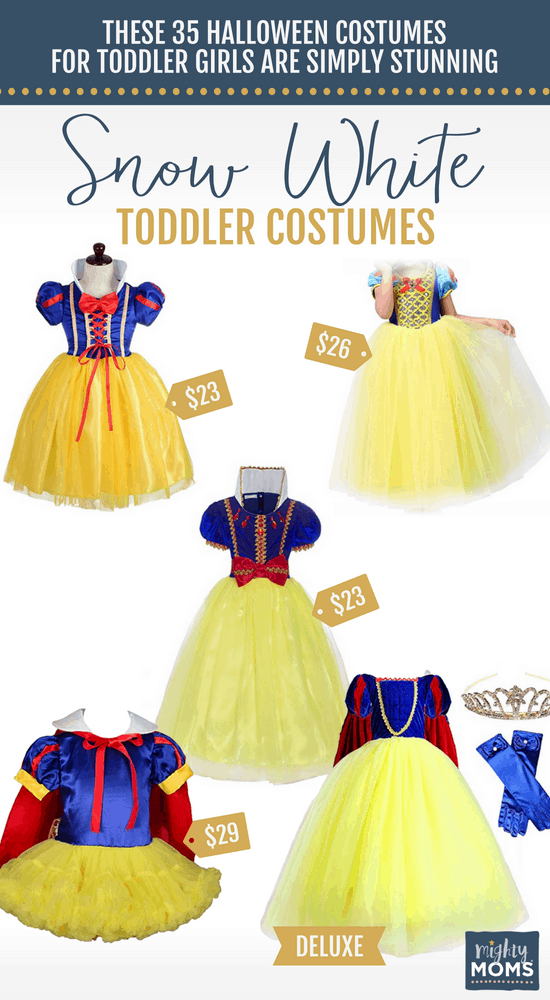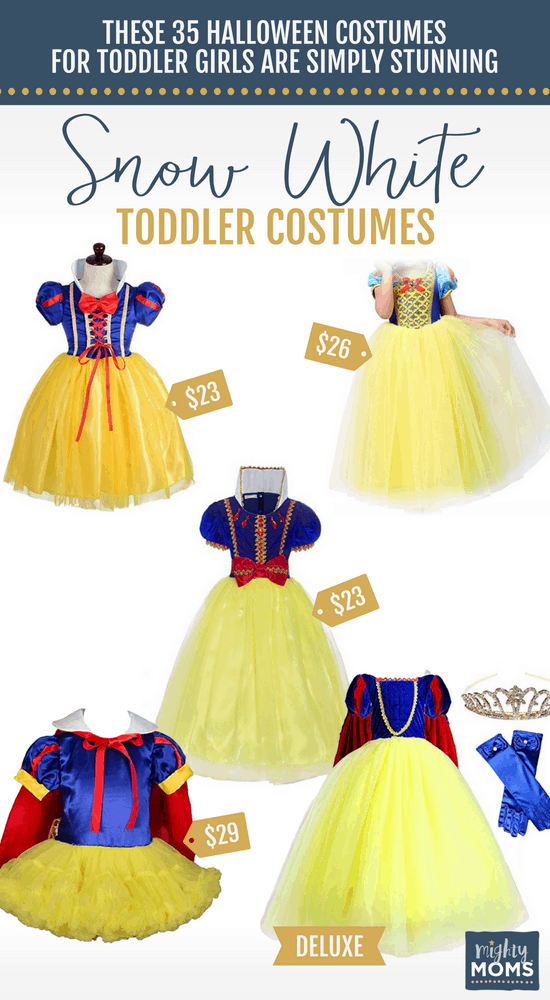 1. Ribbon Snow White | 2. Tulle Snow White Costume
3. High Neck Snow White Toddler Costume
4. Tutu Snow White | 5. Deluxe: Snow White with Cape
Tangled Halloween Toddler Costumes for Girls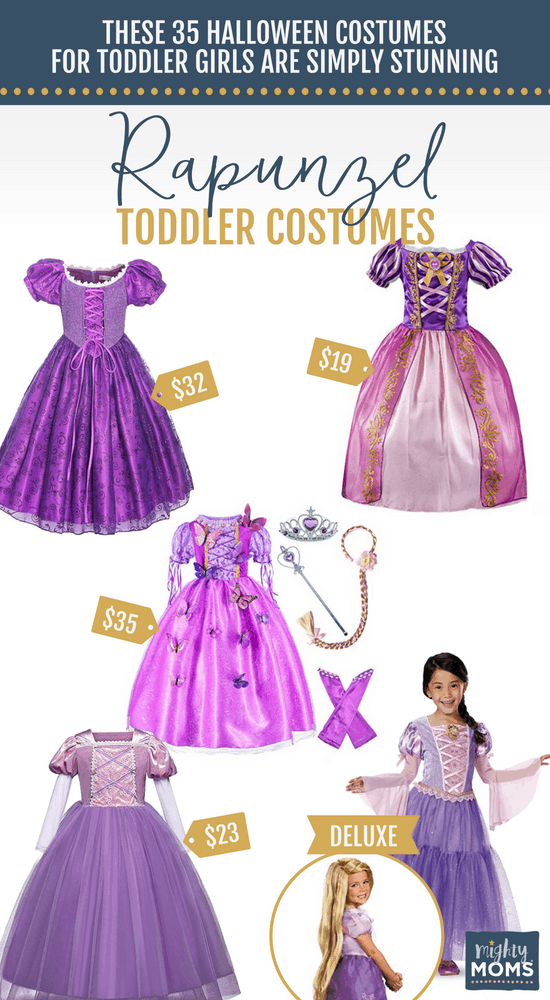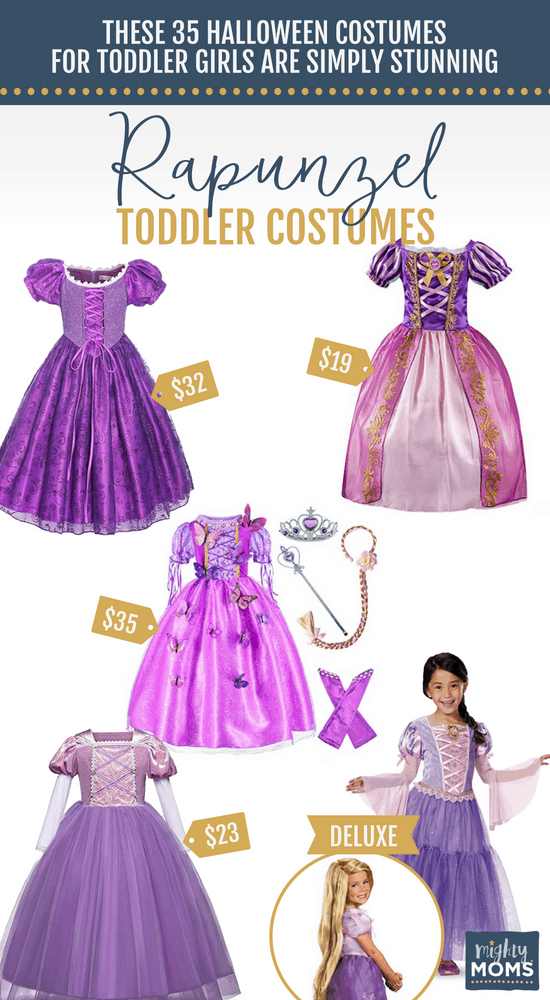 1. Swirly Purple | 2. Golden Rapunzel Toddler Costume
3. Butterfly Tangled Toddler Costume
4. Velvet Rapunzel | 5. Deluxe: Shimmer Tangled Costume
Minnie Mouse Toddler Costumes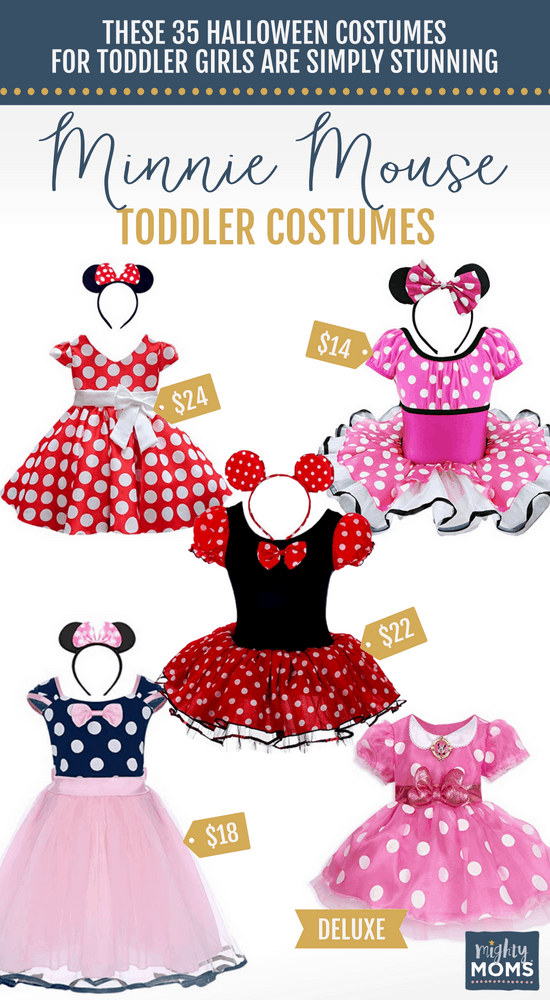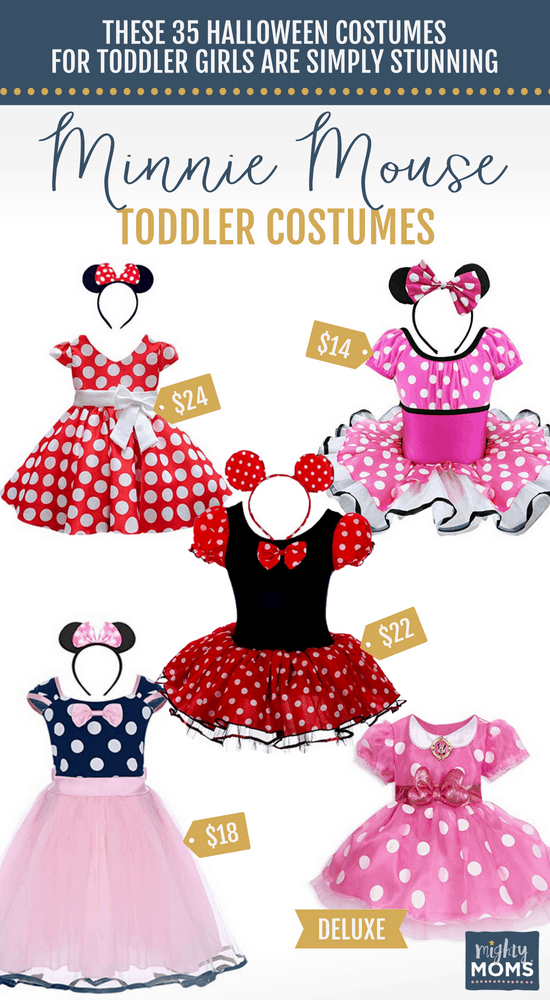 1. Traditional Minnie Mouse | 2. Pink Tutu
3. Red Tutu Minnie Mouse Toddler Costume
4. Navy & Pink Costume | 5. Deluxe: Pink Bow Minnie Mouse 
Elsa Halloween Toddler Costumes for Girls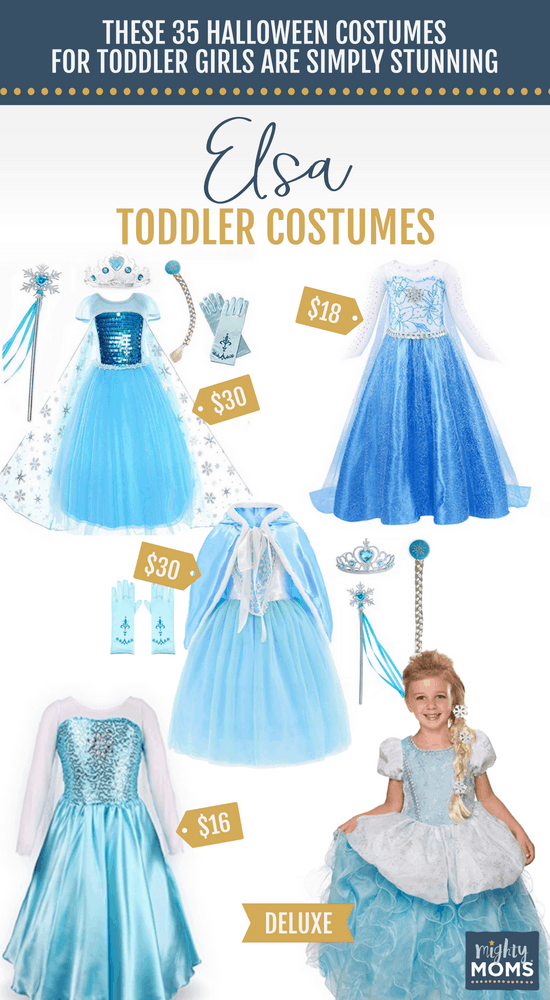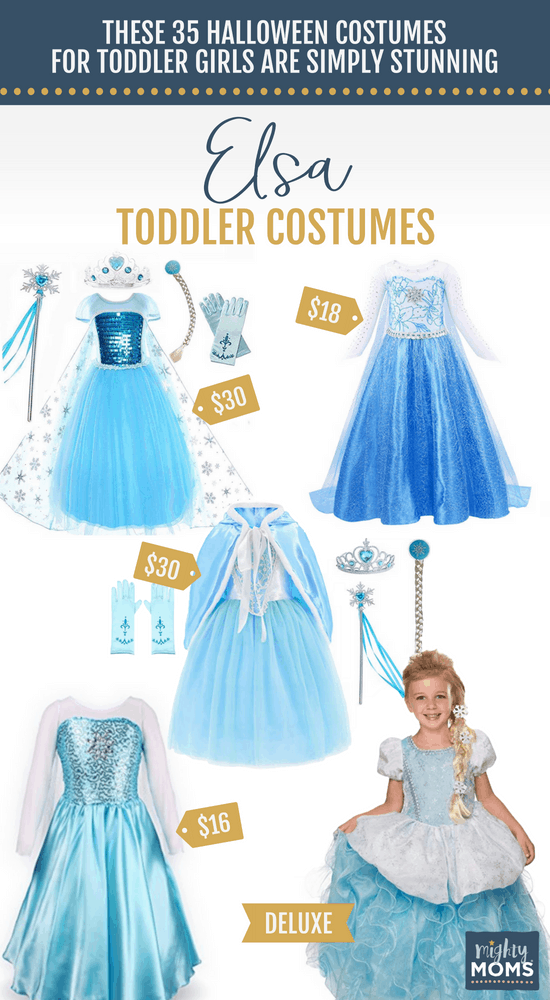 1. Snowflake Cape | 2. Shimmer Sleeve Elsa Costume
3. Tulle & Cape Elsa Toddler Costume
4. Sparkle & Silk Elsa | 5. Deluxe: Ruffle Elsa Costume
Sleeping Beauty Toddler Costumes for Girls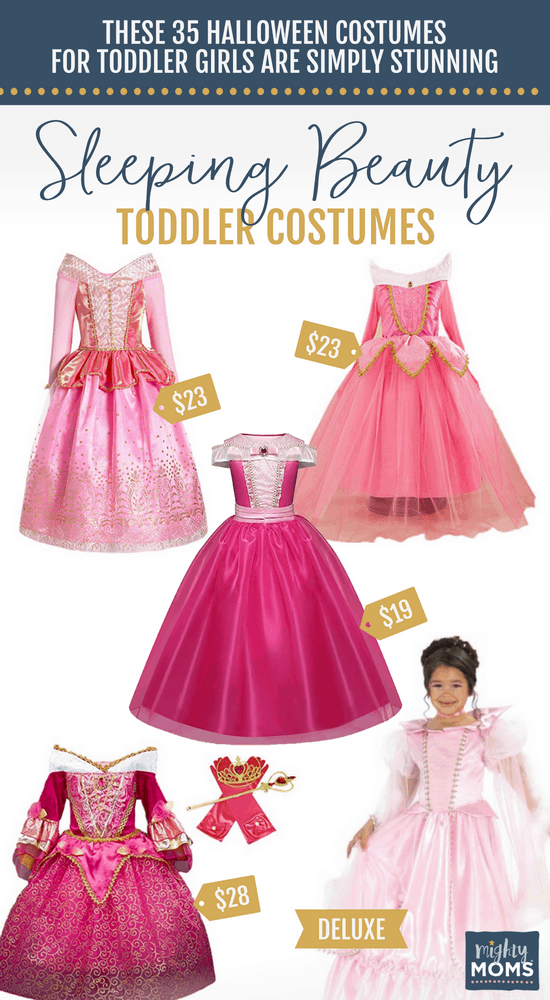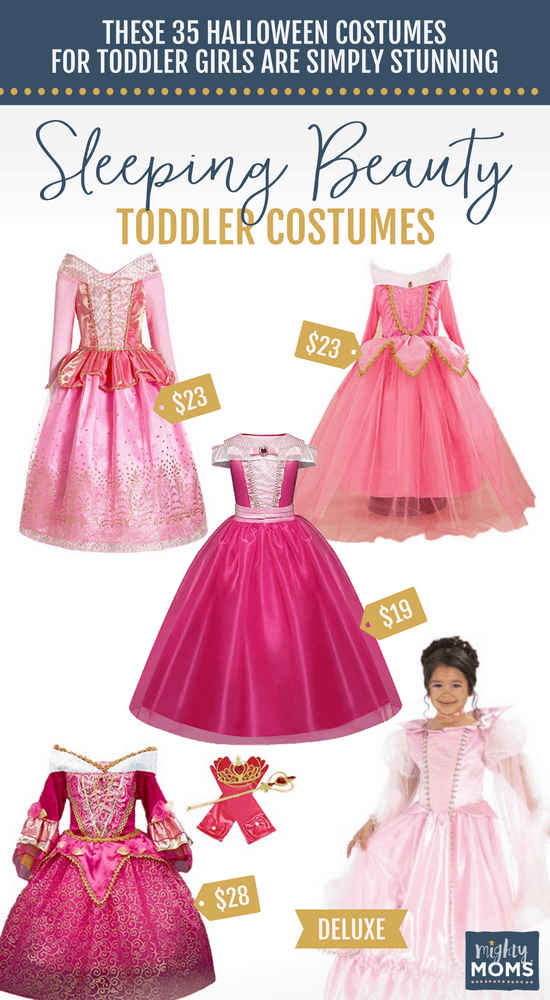 1. Sparkle Aurora | 2. Sheer Skirt Aurora Costume
3. Organza Sleeping Beauty Toddler Costume
4. Ruffled Sleeve | 5. Deluxe: Pink Boa Sleeping Beauty
Halloween Now…
Endless Dress-Up Later
One of my girls' favorite things to do, now that they are older, is to go back and watch all the dress-up shows they would put on together (and other neighborhood kids who got roped in). Like the females they are, the first thing they do is comment about their dress.
"I remember that costume! I loved how flat out it went when I spun!"
"That's the Belle dress that I wore into the grocery store that one time, remember mom? And the guy who bagged our groceries bowed to me and I felt so special!"
"Isn't that the mermaid costume you were wearing when fell off the swing set and broke your elbow?"
Don't be fooled into thinking these Halloween costumes for toddler girls are just costumes.
These are memories. And those are priceless!
Have You Read These Yet?
We ♥  honesty!  This post contains affiliate links that provide extra money for our mutual coffee habits addictions. Click here to learn more.