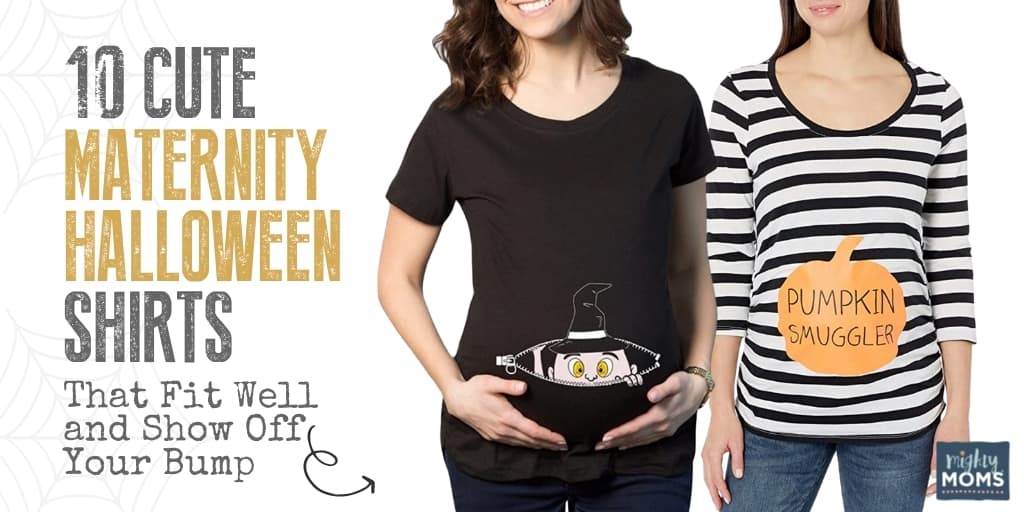 No matter where you are in your pregnancy journey, picking up one of these cute maternity Halloween shirts is a great way to have a little fun with your expanding bump!
The best maternity Halloween tees fit well on the belly, show off your bump, and don't fade in the wash.
It's my job to help you find them.
3 Smart Buying Tips for the Perfect Maternity Halloween Shirt
Before we dive in, let me share a few smart buying tips for you to keep in mind. Nothing is worse than getting your shirt in the mail only to discover the fit was terrible!
I've included the sizing suggestions below each tee, based on the reviews of previous buyers. Some shirts should be ordered a size or two larger than your normal in order to fit right.
Machine washable is a MUST. Who has time for dry cleaning? All the shirts listed here are machine washable, although you may want to turn them inside out first to preserve the print longer!
Buy early and enjoy wearing the tee for weeks before Halloween. After all, you may not be pregnant again during this season, so you might as well get the most out of it!
Here is a quick summary of the pregnancy Halloween shirts that came out on top. More specific details on each can be found further down in the article.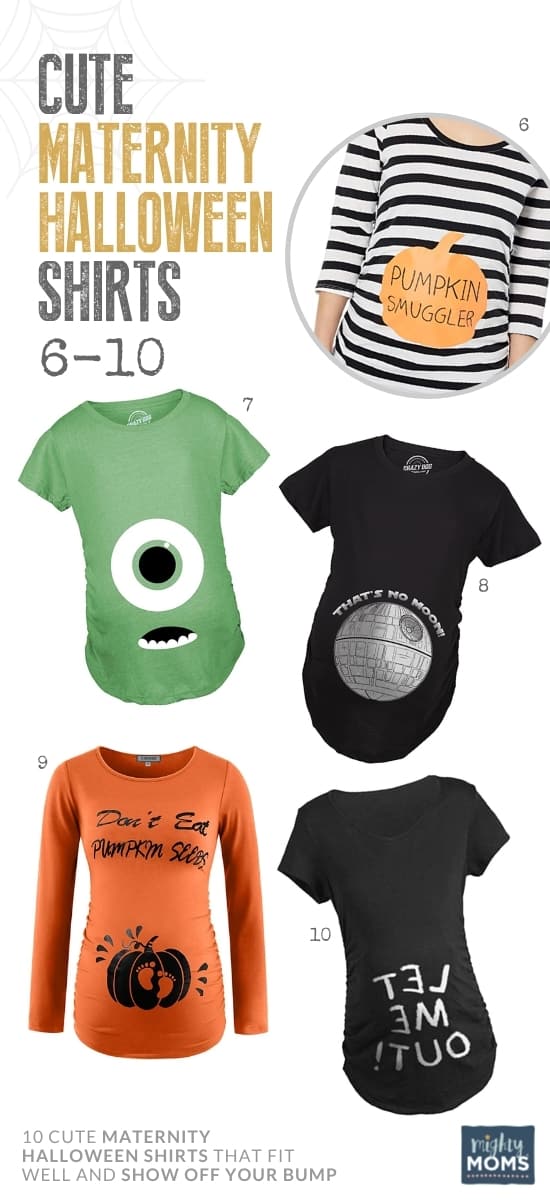 10 Clever Pregnancy Halloween Shirts Everyone Will Love
Skeleton Maternity Halloween T-Shirt
This skeleton-themed halloween t-shirt is definitely going to earn you some chuckles. Sizes tend to run small, so order a little larger so your bump has time to grow before Halloween. It also comes in a long-sleeve version for you mamas in colder climates.
If you like the original, check out these variations:
Sizing Suggestions: This runs large. Either order your normal size and shrink it in the wash, or order a smaller size.
I love that it's screen printed so it should last longer than vinyl!

Amazon
Peeking Baby Maternity Halloween Shirt
This peeking witch maternity Halloween shirt is one of my favorites. It has a ruched design on the sides to hug your bump in just the right way. Not too spooky, plenty of sweet.
Here are some additional options in that same style:
This would also be a cute pairing with spooky toddler costumes, either with another witch or vampire.
Sizing Suggestions: Fits as expected, although moms with longer torsos may find the fit a tad more comfortable.
I get a lot of compliments and laughs while wearing this shirt.

Amazon
Mummy Maternity Halloween Shirt
The mummy pregnancy halloween shirt is a huge win on multiple puntastic levels. It has ruched sewing on the sides to tighten the fabric right over your bump and a playful spooky design. The little mummy design fits right around the belly. The material is thin, so if you are wearing this in colder climates, you may want to get a cute cropped black cardigan.
Sizing Suggestions: Runs small, so consider ordering a size larger than normal.
Overall I really liked it, fit with my 2 year old's mummy costume!

Amazon
Super cute! I can't wait to wear it on Halloween!

Amazon
Pumpkin Pregnancy Halloween Shirt
This is a classic pregnancy pumpkin pun (say that 3 times fast), but done in a fresh and mondern way. The tighter fit around the tummy makes the jack-o-lantern really pop! It is longer than most tees, so you could wear it with leggings, if you want.
If you like the "pregnant pumpkin" theme, here are a few others to browse:
Check out this simple DIY baby costumes for a sibling if you're trying to save a few pennies and make your own.
Sizing Suggestions: True to size.
It fits perfectly, even after washing it. Accentuates my pregnant belly, and the material is soft and seems to be strong. I feel very confident in it!

Amazon
It hugs where it needs to and stretches where it should. Doesn't hang off you like a shapeless bag unlike some of my other maternity shirts but not too tight that you feel like a sausage roll. Super flattering!

Amazon
I have this shirt in 5 different colors. They are amazing! I love that they're only cotton and spandex. I also love how long they are. They're super comfortable, beautiful and flattering. I now plan on wearing them as under shirts for layering this winter while I'm post partum. These shirts are awesome!!

Amazon
Hocus Pocus Maternity Halloween Shirt
If you're a fan of this nostalgic 90's movie, this is the perfect pregnancy Halloween shirt for you.
Sizing Suggestions: It runs small, so order a size larger than your normal size.
I was so excited to find this shirt! It fits super well! With room to grow.

Amazon
Pumpkin Smuggler Halloween Pregnancy Shirt
This clever pregnancy shirt made me laugh out loud. I think it's the black-and-white stripes in the back, but something about it caught my funny bone. Make it even better with a cheap thieves' mask.
Sizing Suggestions: Runs small. Order at least one size larger, two if you like your shirts really roomy.
Absolutely love this shirt! I couldn't wait to use it for my day trip apple/pumpkin picking! I got some amazing baby bump pics with the help of this shirt! Also got a lot of compliments! Good quality and super cuuuute!!!

Amazon
Monsters Inc. Halloween Maternity Shirt
This Mike Wazowski pregnancy Halloween tee is an example of clever design. It's guaranteed to get your bump a lot of laughs! Your husband could go all out with this Sully costume. Or, if that's a bit expensive, tone things down with a pair of fuzzy gloves and a hat.
Sizing Suggestions: Runs true to size.
Everyone thought that it was a creative and cute costume idea. I wanted to be different and stray away from the normal pumpkin shirts, scarecrow outfits etc that most maternity options allow.

Amazon
This shirt was comfortable and fun. I wore it as a Halloween costume as well as a regular shirt. I got a lot of compliments on it.

Amazon
Star Wars Pregnancy Halloween Shirt
Take your costume to another galaxy with this Death Star maternity Halloween shirt. It has the typical ruched stitching on the sides to really accentuate your bump in all the right places. The perfect accompaniment to your toddler stormtrooper!
Sizing Suggestions: Runs very small, so order a size up.
I get a lot of compliments wearing this top! It is comfy, hasn't faded in the wash and fits well over my significant bump.

Amazon
Don't Eat the Pumpkin Seeds Maternity Halloween Shirt
A good warning for others, this hilarious Halloween pregnancy shirt reminds us to be careful about eating pumpkin seeds. If you have an older toddler, it would be cute to dress her as a pumpkin too!
Sizing Suggestions: Fits to size if you like things snug. If you like things a little looser or want to wear it all fall long, order a size larger.
Love this shirt! It is plenty stretchy without being see through and allows for a lot of give in the fabric. It is sort of like running around in a PJ top and I love it! I now wear it twice a week. It has become my favorite maternity shirt!

Amazon
Let Me Out! Pregnancy Halloween Shirt
I think this maternity Halloween shirt is really clever, with how it is written backwards. The fabric is super lightweight and comfortable to wear all pregnancy-long. There's a spooky quality here too, since the writing is backwards, that I really like.
Sizing Suggestions: Your normal size should be fine! Fits as expected!
Totally recommend to buy this shirt for those pregnant woman who want to make the most out of their baby bump! I get a lot of compliments and laughs while wearing this shirt.

Amazon
Adding a Layer of Fun to Your Pregnancy
I realize that not all pregnancies are giggles and grins. There's morning sickness. Kidney punches. And tiredness. Oh, the tiredness!
These maternity Halloween shirts can add a spice of fun to a situation that needs a little levity. Let others enjoy your adorable little bump! You are earning those compliments, my friend!
We ♥  honesty!  This post contains affiliate links that provide extra money for our mutual coffee habits addictions. Click here to learn more. As an Amazon Associate I earn from qualifying purchases.