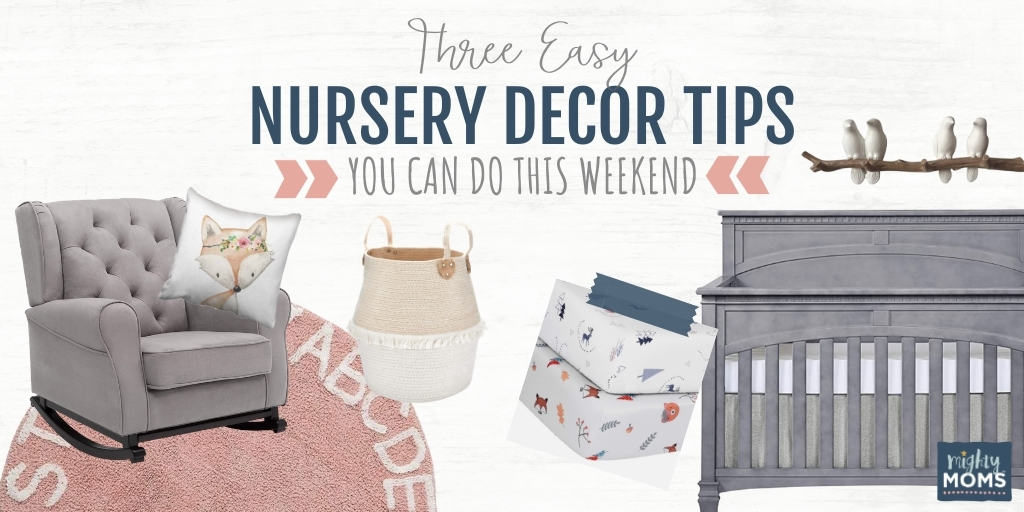 Want to up the ante in your nursery decor but don't want to spend the next three weeks painting?
I've got a few sneaky-pants tricks that will seriously up your game to Joanna Gaines levels. (Honestly, your friends will think she's a close personal friend by the time you're finished.)
Let me reveal three simple design tips to update your nursery decor, and then at the end of the article, I've included a mood board for boys and girls woodland themes, just to get those creative juices flowing!
Ready?
Update Your Nursery Decor Tip #1:
Add a Splash of Color
One of the easiest nursery decor updates you can do to freshen up the space is add a splash of color!
I'll be honest, color is something that can easily overwhelm me… which is why I cheat. Go here and browse through the color ideas other people have created. (Don't forget to follow @MightyMomsClub so you can see the new color swatches we find and pin!)
Once you've picked out your colors, choose which of the colors you want to be dominant and which are going to be accent pieces.
In the boy's mood board at the bottom of this article, you can see that I'm using orange as my main accent color in the fox pillow, caddy, and cute fox lamp.
In the girl's mood board, I'm sprinkling in pink and mint with the cute artwork, arrow rug, and raccoon lamp.
Having an accent color is a great way to pull the eye around the room without causing eye strain that makes you want to run away screaming.
Update Your Nursery Decor Tip #2:
Think About Texture
Did you know that you "feel" with your eyes? A room without texture is boring and stale. In the mood boards above, you can see that I'm keeping things interesting by choosing a variety of textures for your eyes to feel.
The texture of the rope-handled navy dresser and the fake texture of the tree stump toy basket are a subtle way to make the room more fascinating. In the girl's mood board, the spindle on the endtable and the interesting shape of the book tree break up the lines of the room and add softness.
Plants are an excellent way to add interesting dimension and texture to a room. Have a black thumb? Fake plants have come a long way. Here are some tips to make your fake plants look more natural.
As you are creating your own nursery decor, look for items that will bring more texture to your design. Here are few examples of what I'm talking about.

Update Your Nursery Decor Tip #3:
Clean Out the Clutter
The nursery is more than just a pretty room in your house. It has a function. It's going to get a LOT of use (hopefully), and you'll be making a big mistake if you neglect to think that through!
For example, your baby has to sleep in this room, which means you'll want to include room darkening shades and a comfortable rocking chair. Where will you keep diaper changing supplies? What about organizing clothes in the closet with age-dividers? The more you think about the functionality of the room, the better organized and useful it will be!
Here are a few sneaky storage ideas for you to consider.

Nursery Decor Mood Board:
A Boy's Wilderness
Welcome your son with a room that will incite him to explore the adventurous landscape from the safety of your own home. It's ready and willing to tingle his sense of conquering exploration!

1. Tree Stump Toy Box | 2. Canvas Toy Basket
3. Navy Dresser | 4. Lil' Man Cave Sign | 5. Woodland Mobile
6. Rustic Branch Hooks | 7. Fox Pillow | 8. Tree Bookcase
9. Upholstered Rocking Chair | 10. Bookshelf & Storage | 11. Beaver Caddy
12. Gray Rug | 13. Peeking Animal Art | 14. Fox Lamp
15. Baby-to-Toddler Convertible Crib | 16. Crib Sheets
Nursery Decor Mood Board:
A Girl's Wonderland
Prepare for your little princess by taking inspiration from a misty wood! Here's an example of a mood board that's less robust-and-get-em and a bit more soft-with-fairies.

1. Woodland Hamper | 2. Closet Clothes Dividers | 3. Spindle Endtable
4. Canvas Storage Basket | 5. Birds on a Branch Hook
6. Woodland Wall Art Set | 7. Nursing Pillow Cover | 8. Bear Pillow Cover
9. Gray Book Tree | 10. Glider Rocker | 11. Arrow Rug
12. White Crib & Changing Table | 13. Owl Mobile | 14. Raccoon Lamp
15. Room Darkening Shades | 16. Woodland Crib Bedding
WWJD:
What Would Joanna Do?
I'll tell you what Joanna would do. She would use these concepts and present you with nursery ideas that will knock your pregnancy compression socks off. 
Of course, my favorite part about these designs is that it doesn't involve a single can of paint. See how gorgeous your nursery will be without taping off anything or making endless trips to Sherwin Williams?
Your "Chip" will be thrilled! Why not reward him with a Demo Day on the kitchen? Time for the next Fixer Upper project!
Have You Read These Yet?
We Love Citations!
5 Tricks to Make Your Fake Houseplants Look More Real. BHG.com
The Basics of Interior Design: 3 Design Principles. Masterclass.com
The 3 Principles of Interior Design. HGTV.com
How to Use Basic Design Principles to Decorate Your Home. LifeHacker.com
7 Most Important Interior Design Principles. MyMove.com
We ♥  honesty!  This post contains affiliate links that provide extra money for our mutual coffee habits addictions. Click here to learn more. As an Amazon Associate I earn from qualifying purchases.