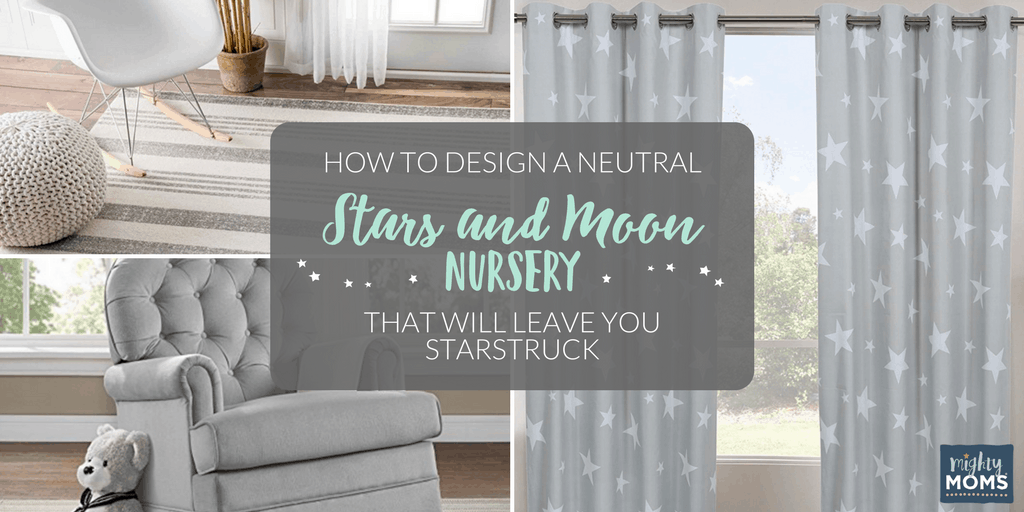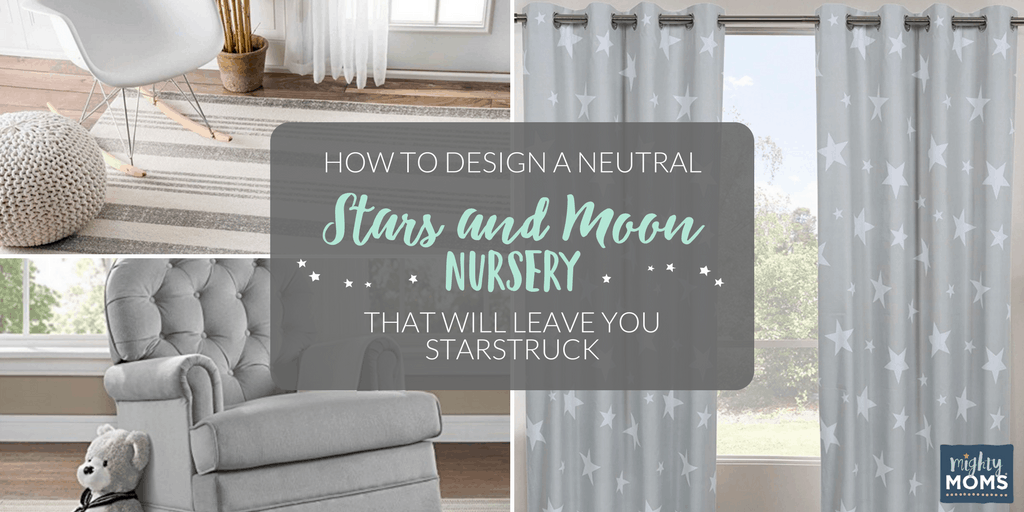 Expecting a baby is an exciting time filled with lots of joy, anticipation… and PLANNING.
You have to think through and plan so many different things:
Which doctor should I see?
What's the safest car seat?
Should I get a regular stroller or a jogging stroller?
And, of course, where will the baby sleep?
Planning and decorating a nursery can be a fun and creative distraction from all those pregnancy aches and pains, but there are several scenarios that may make setting up a nursery slightly more stressful:
You're renting at the moment and can't paint walls or do anything too color crazy.
You're planning to keep the gender of the baby a surprise, so you want to keep the theme gender-neutral.
Your baby will be sharing a room with an older sibling, so you don't want a nursery that's too babyish.
Whatever your reason, there's definitely a way to make nursery planning a little less complicated. You know that old cliche, "less is more"? We're going to take that to heart and focus on a simple design with neutral pieces for stress-free nursery planning.
A Nursery that is Out of this World
A stars and moon theme is the solution to your needs-to-be-neutral nursery dilemma.
With a color palette of white, gray, and mint, we keep it gender neutral but not boring (no yellow here!).This color palette also lends itself quite well to plain white walls, so no need to pick up that paintbrush! (Renters rejoice!)
Baby will be sharing with an older sibling? No problem. There's nothing in this room that screams "baby" so it works perfectly for older siblings, as well.
You can go ahead and close that Pinterest tab, because I've rounded up some of the CUTEST nursery items I could find for a stars and moon themed nursery.
Designing a Stars and Moon Nursery:
Picking Out the Big Pieces
The key to designing a themed, yet understated, nursery is to keep the big pieces (such as the crib, dresser, and rocking chair) neutral. Look for simple pieces that fit the color palette, but aren't too flashy on their own. You can then add in the stars and moon accents throughout the rest of the room without it being overpowering.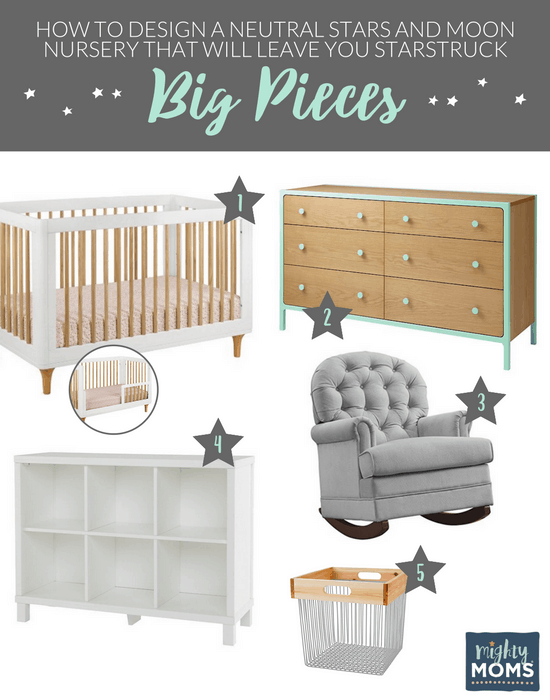 With modern lines and a neutral color palette, this Babyletto crib is an excellent choice for your baby's nursery. It also converts to a toddler bed, which means you'll get your money's worth!
A great way to save space in a nursery is to find a piece that can work as both a dresser and changing table. This changing table has six drawers which makes it a perfect candidate to play double duty. The pop of mint is an adorable addition, too!
A good rocking chair is another crucial piece of furniture for your baby's nursery. You'll be spending lots of quality time feeding, snuggling, and rocking your baby in those first few months, so you'll want to invest in a comfortable chair.
Don't forget about storage! A simple cube storage piece like this one is super versatile. Use it for blankets and extra diapering supplies for now, and fill it with toys and books as your baby grows. Grab a few of these wood and wire bins to add a hint of style to your organization.
These are likely going to be the most expensive items in your nursery, so make sure they are something you can get YEARS of use out of!
Designing a Stars and Moon Nursery:
Choosing Fine Textiles
After you have chosen the major pieces for the nursery, layer in different textures and patterns that introduce your stars and moon theme.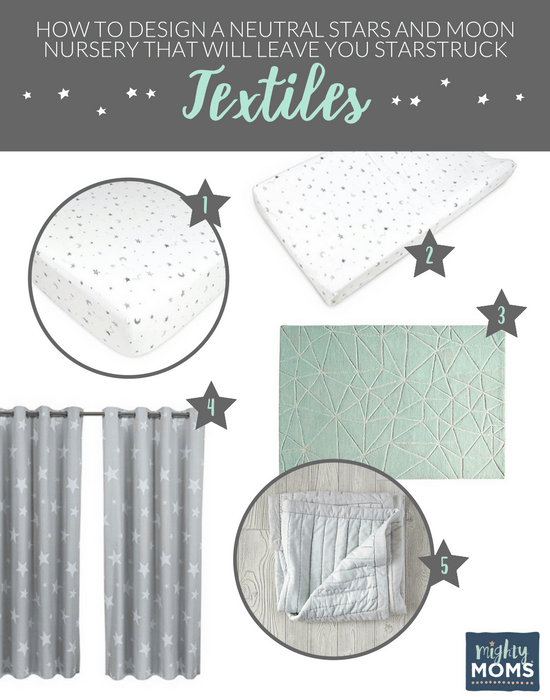 The little details often have the biggest impact on a room, so don't overlook how choosing coordinating curtains, blankets, and rugs will add to your stars and moon nursery theme!
Designing a Stars and Moon Nursery:
Selecting Those Finishing Touches
The accessories for a nursery can be some of the most fun pieces to choose! Choosing items in the same theme and color palette can really pull the room together.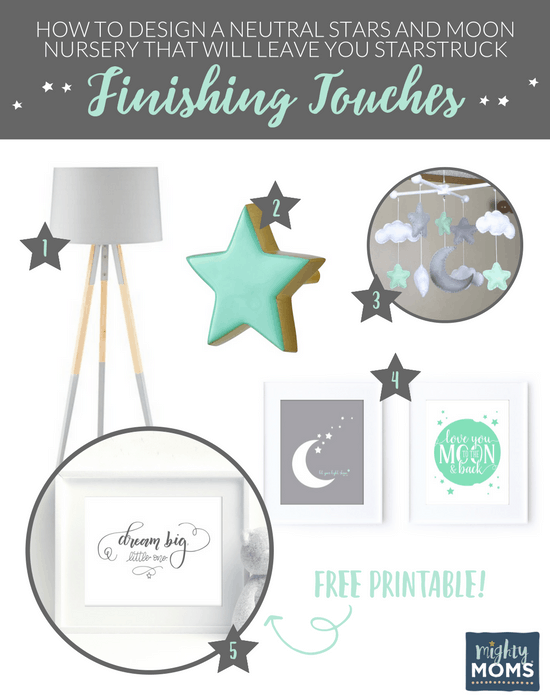 This tripod floor lamp with natural wood and gray color palette will help tie all the different pieces of furniture together.
These star-shaped wall hooks are both adorable and practical, which make them a perfect choice, if you ask me!
This stars and moon crib mobile is just too perfect not to mention!
One of the easiest ways to make a nursery feel personal and homey, is to decorate with unique wall art. Both the "Let your light shine" print and the "Love you to the moon and back" print (each designed by one of our very own Mighty Moms) would be perfect additions to your baby's stars and moon nursery!
We're also giving away this sweet hand-lettered print (designed by yours truly) as a FREE digital download. Just click the button below if you're interested. (And why wouldn't you be? It's free art!)
Finishing touches like these are like the sprinkles on top of your triple chocolate sundae. You might think they are unnecessary…but after you taste it all together, you couldn't imagine leaving them off.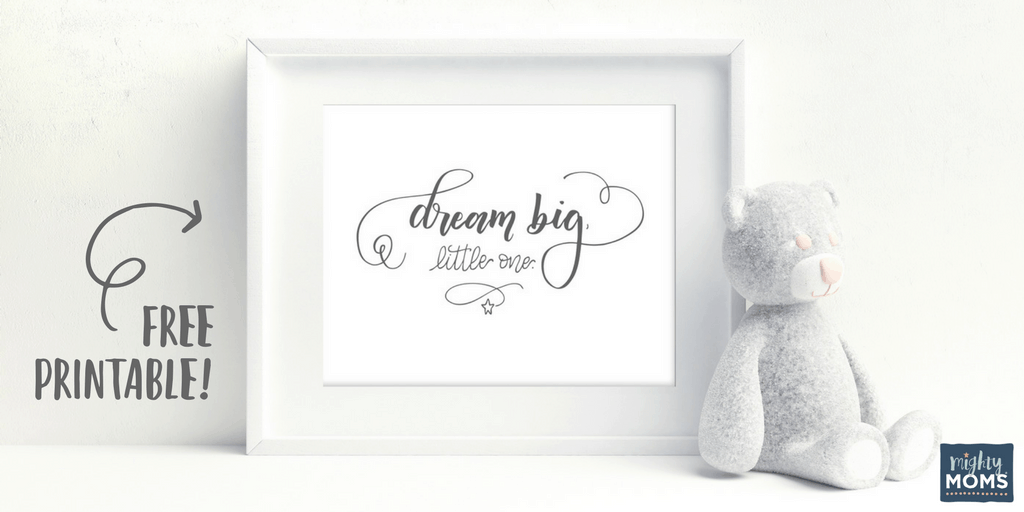 Why is that a direct link and not behind a give-me-your-email wall? Because I don't want to bully you into a friendship.
If you like the free download, why not subscribe to my weekly email and get a free copy of 101 Ways to Be an Awesome Mom?
Or, if you're grateful, but not interested in subscribing, can you share this article with your social media pals? That works too!
From one working mother to another, thanks!
Another Surprising Benefit of
Choosing a Neutral Nursery Design…
Babies Grow Up!
If all that adorableness hasn't convinced you (or your husband) let me appeal to your more practical side.
One of the best reasons to go with this neutral nursery theme is that it can easily be adapted to older ages as your child grows.
Voilà! With just a few swaps (and very little money spent), you've got a room that feels fresh and fun for a toddler or preschooler.
Shoot for the Moon!
Don't let the stress of decorating your baby's nursery take away from the exciting time that it is!
Choose simple pieces within a color palette of gray, white, and mint, and then layer in textiles and accessories that fit the stars and moon nursery theme. And voila! You've got a simple, charming, neutral nursery perfect for your little shining star.
For more helpful tips on nursery design, pop over here and read through The Ultimate Checklist: How to Create the Best Baby Nursery.
Have You Read These Yet?
We ♥  honesty!  This post contains affiliate links that provide extra money for our mutual coffee habits addictions. Click here to learn more. As an Amazon Associate I earn from qualifying purchases.